The "Let's Learn Judo with Vladimir Putin" DVD sets. The shirtless strolls through Siberia. The bizarre rendition of "Blueberry Hill." Say what you will about Vladimir Putin's politics and tendency to "erase" those who criticize him, the man has built one helluva PR machine over the past several years.
Putin came into power in 1999, and was almost immediately catapulted into widespread adoration. His portrait can be seen in classrooms throughout Russia, and you can find his face plastered just about anywhere–be it from "12 moods of Putin" calendars to coloring books to Putin-shaped chocolates. Thanks to digital photography and the Internet, Putin-mania can be seen by more people than ever before: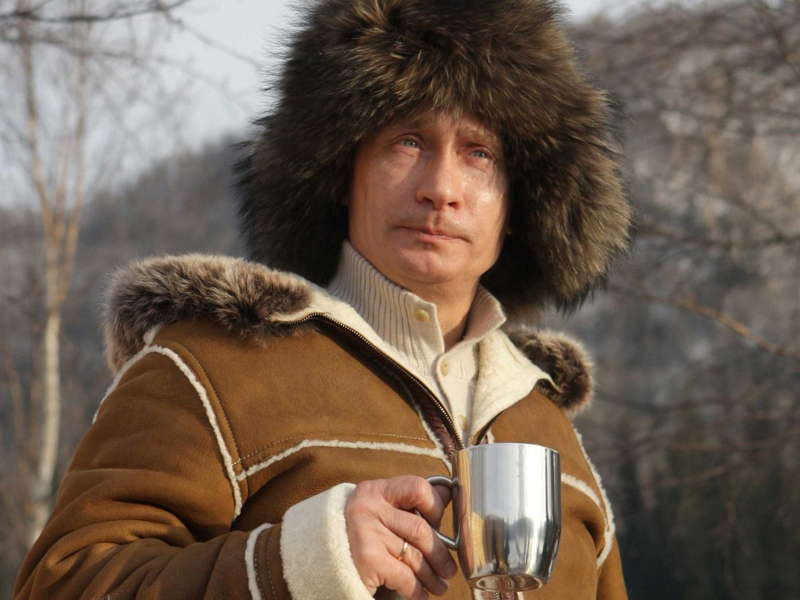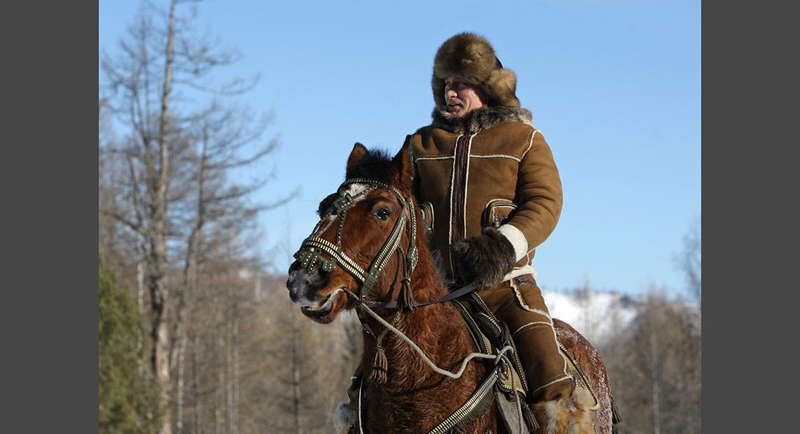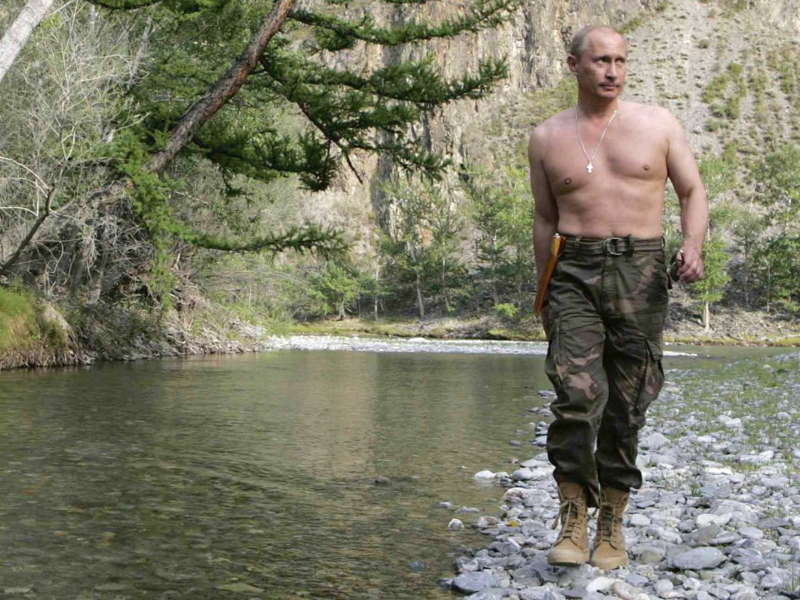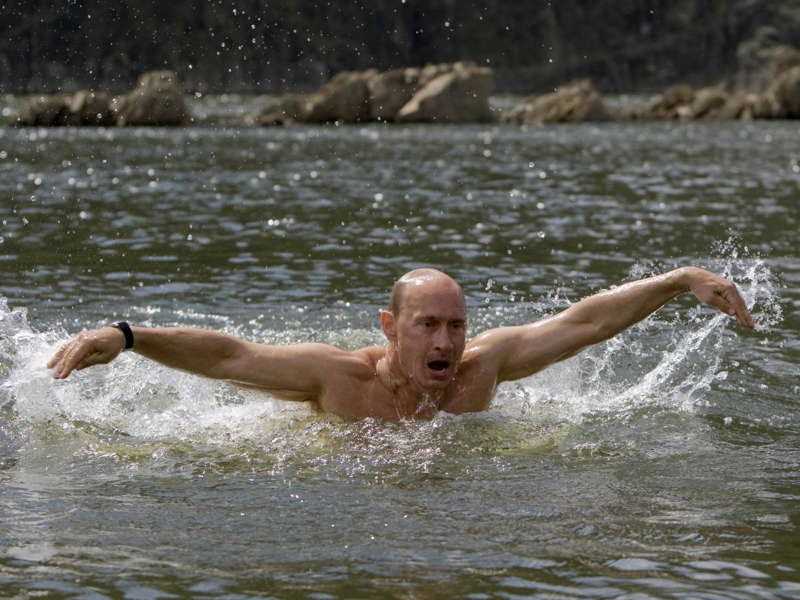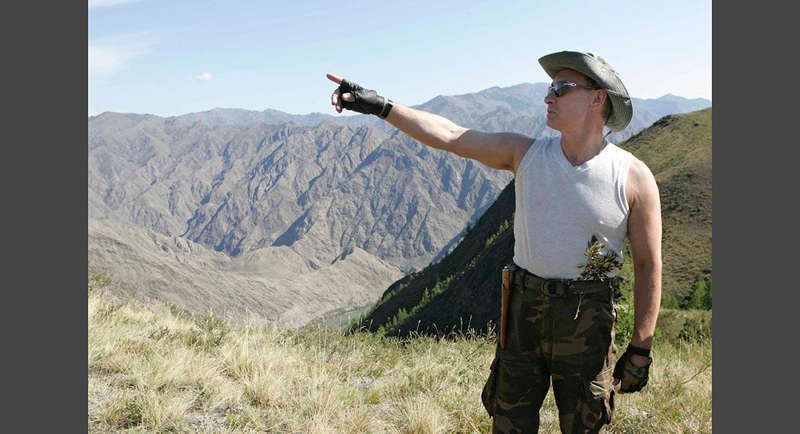 Siberian temperatures can be pretty forbidding, with average temperatures hovering anywhere from -4.2 to 27 degrees Fahrenheit. Seen in the Siberian Khakasiya region in February 2010, Vladimir Putin warms his bones with a drink just outside the city of Abakan. Source: Ria Novosti/Alexei Druzhinin/Reuters.
In this photo, Russian Prime Minister Vladimir Putin rides a horse in the foothills of Karatash, near Abakan, Siberia. Source: AP
Putin struts along southern Siberia's Khemchik River in August 2007. Prior to this photo, only two photographs featuring a country's leading political figure had appeared in the media: a 1937 photo of Mussolini, and a 1966 image of Mao swimming in the Yangtze River. Source: Reuters
It's unclear what kind of swimming Putin enjoys the most, however what
is
certain is that he does an exemplary butterfly. Here, Putin swims just outside the town of Kyzyl in August 2009. Source:
CNN
Russian President Vladimir Putin seen during a trip in the Western Sayan Mountains in Siberia's Tuva region, August 2007. Source: AP
Sometimes all you need is a little nature to clear your head. Putin recognizes this, and in 2007 took a moment to fish in Siberia's Yenisei River. At the time, he was touring the region with Prince Albert II of Monaco. Source: Reuters
Putin strolls with his gun in Siberia's Tuva region in August 2007. Source: Reuters
Vladimir Putin in August 2010, completely rapt by a scientist's description of the bones excavated on Samoilovsky Island. Source: Reuters
During a 2010 visit to the Ubsunur Hollow Biosphere Preserve, Putin takes a moment to bask in the scenery with his horse. Source: Reuters
A master of land and water, Putin shows off his catch at the Ubsunur Hollow Biosphere Preserve in October 2010.
Putin takes a nice stroll through the great outdoors.
Equestrian Putin feeds his loyal steed on a 2009 jaunt in Siberia. Source:
CNN
Putin seen in August 2009, guiding a horse through the treacherous Siberian mountains. Source: AP
Putin pays tribute to his cloven-hoofed devotees in June 2010, seen here feeding young elk in northeast Moscow. Source: Reuters
Putin gets up close and personal with a baby bird at a 2008 agricultural exhibition in Moscow. Source: Reuters
Vladimir Putin meets with water-inclined constituents, seen here shaking hands with a walrus residing at the Primorsky Aquarium in 2013. Source: Reuters
Putin takes the time to feed a Beluga whale named Dasha during a 2009 visit to Chkalov island. Source: Reuters
Putin holds a tiger's head while scientists place a satellite tracker-equipped collar on its head in the Ussuri reserve, 2008. Source: Reuters
Putin holds a Persian leopard cub in Sochi. During the Sochi Olympics, Russians voted for the animals that they would like to be their Olympic mascots. The leopard was one of the winners--and one that Putin himself endorsed. As you might expect, some brought up the possibility of vote rigging. Source:
CNN
Putin pays his respect to a female tiger cub in October 2008. Source: Reuters
Here, we see Putin studying the delicate composition of a crane. It's not just for his own knowledge--this composed part of Putin's 2012 "Flight of Hope" campaign to help save the rare bird species. Source:
CNN
Influencing those who can't even vote, Putin prepares to lead the endangered cranes on a migration route. Source: Reuters
Putin soars to the sky in his motorized delta plane. Source: Reuters
As part of his naturalist pursuits, Putin aims a crossbow at a grey whale in Olga Bay. According to CNN, he hopes to collect a piece of skin for analysis. Source:
CNN
And a close-up, just so it becomes clearer how much attention Putin pays to his subject. Source:
CNN
A jocular Putin poses with his parents, Maria and Vladimir, in 1985.
Putin holds a bouquet of flowers in 1985, next to his then-wife Lyudmila and their child, Masha. Source: Getty Images
In August 2011, Putin takes a moment to ponder the sites of Karelia, northwestern Russia. Source: Reuters
While on board the nuclear missile cruiser Pyotr Veliky (Peter the Great) in August 2005, Putin observes the launch of a missile during naval exercises in Russia's Arctic North. Source: Reuters
Sometimes you just need to hit up the Gulf of Finland in a fancy bathyscaphe. That's what Putin can be seen doing here in July 2013. Source:
CNN
Putin prepares for his descent into the Black Sea in August 2011. Source: Reuters
Putin can be seen here expertly handling scuba equipment while participating in an August 2011 trip to an underwater archaeological site near the Taman Peninsula. Source:
CNN
Putin's journey to the depths of the Black Sea was quite fruitful. Remarkably enough, even though Putin traveled a mere seven feet underwater, he managed to unearth two ancient Greek amphorae from what was Phanagoria, an ancient Greek settlement. Source: AP
Sochi isn't just a winter sport destination. Vladimir Putin plays badminton with Dmitry Medvedev in Sochi, August 2009. Source: Reuters
Putin works to keep his aim sharp while visiting a Moscow shooting gallery in 2006. Source: Reuters
Sometimes you have to give back to the people. Here, Putin throws someone to the ground at a St. Petersburg athletics school in December 2009. In case you were wondering, Putin is playing judo, in which he has a black belt. Source:
CNN
Vladimir Putin and Dmitry Medvedev enjoy some lighthearted fishing on the river Volga in August 2011. Source: Reuters
Here, Vladimir Putin tests his racing chops by driving a Renault racing car at the race track outside St. Petersburg in November 2010. Source: Associated Press
Harley Davidson? Putin is into that. Here, Putin rides a Harley to an international biker convention in southern Ukraine in the summer of 2010. Source:
CNN
Another shot of Putin's arrival at a biker convention in Ukraine. Source: Reuters
Putin rides with Alexander Zaldostanov, leader of the Night Wolves biker group. Source: Reuters
In August 2005, Putin takes a moment to pose for the camera before a supersonic flight in a Tupolev Tu-160 strategic bomber jet. Source: Getty Images
Russian winters will test the will of even the strongest men and women, but Putin perseveres. Here, he rides a snowmobile with Dmitry Medvedev at the Krasnaya Polyana resort near Sochi. Source: Reuters
Vladimir Putin takes part in a friendly hockey match at Sochi's Bolshoy Ice Dome. Source: AP
Russian Prime Minister Vladimir Putin plays ice hockey in a training session with teenage players at the Luzhniki stadium in Moscow, 2011. Source: AP
Nothing keeps your approval ratings high like taking down a young man in a game of ice hockey. Vladimir Putin can be seen here visiting young ice hockey players before the 2011 "Golden Puck" youth tournament finals in Moscow. Source: Reuters
Vladimir Putin hits up the ski slopes in Sochi's Krasnaya Polyana area in February 2007. Source: AP
After a long day at Sochi's ski slopes, Putin enjoys a nice apres-ski with former Italian prime minister Silvio Berlusconi and Dmitri Medvedev in 2012. Source: AP
Putin serenades an audience at Moscow's Theatre of Nations in September 2011. Source: Reuters
Putin enjoys the views from Russia's first high speed train in the Leningrad Region, December 2009. Source: Reuters
But why the hysteria over Putin, specifically? According to Russian professors Julie Cassiday and Emily Johnson,
"Putin mania offers Russians, many of whom felt themselves deprived of both cultural and individual identity during the chaotic 1990s, the opportunity to articulate new modes of subjectivity that, although they seem to pay homage to a vanished past, also reflect a contemporary social, political and communicative reality...the Putin phenomenon constitutes a part of a larger cultural trend of stylized expressions of nostalgia for the Soviet past that have flourished in Russia since the Soviet Union's demise."
Academic explanations aside, maybe it's just because Putin wears the timeless Russian hat really well and, through gratuitous displays of manliness, taps into memories of a tough, won't-take-your-shit Russian heritage.
According to the authors, one of Putin's biggest draws is that he can be whatever a Russian wants him to be. Say Cassiday and Johnson in "Putin & the Post-Soviet Cult of Personality," "Even after being invested with sobriety, strength and sex appeal, Putin's image has the curious ability to absorb multiple personae...not only does Putin seem to be a Russian everyman, but everyone also has the potential to become a Putin."
Check out Vladimir Putin singing below:
And an excellent documentary on his rise to power:
https://www.youtube.com/watch?v=IpiZw1R8w-c
All images come from Business Insider, Politico, Time and Reuters