In March, the snapping turtle was euthanized. By June, the teacher Robert Crosland faced charges of animal cruelty for which the jury acquitted him.
An Idaho middle school teacher made headlines last March when he fed a live puppy to a snapping turtle as part of a science demonstration. State officials said shortly afterward that the snapping turtle was euthanized and after a short trial on animal cruelty charges, teacher Robert Crosland was found not guilty.
According to a school parent, someone had brought a sick, abandoned puppy to Crosland's science classroom at Idaho's Preston Junior High School because he was known for taking in sick animals. The turtle in question, which had been kept in that science classroom, was subsequently fed the live puppy.
Three students were in Crosland's classroom at the time feeding the other animals Crosland kept there. They watched as Crosland attempted to help the puppy, but eventually deemed it unable to be saved. Then, they watched as Crosland put the puppy into the tank of his snapping turtle, where it drowned and was eaten.
Following the event, Crosland and Preston Junior High School received backlash from outraged parents, community members, and animal rights groups. Though a school staff member filed a report, Crosland remains teaching at the school. The school and Crosland both received threats of violence online, resulting in police officers being stationed outside the school to protect the safety of the students.
The snapping turtle, however, was not so safe.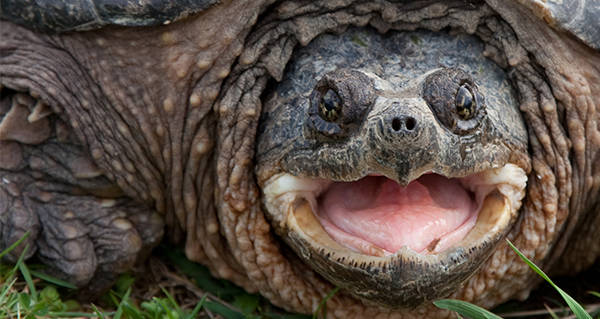 As a result of the investigation into the allegations of animal cruelty, the Department of Agriculture was made aware of Robert Crosland's possession of the animal. In Idaho, snapping turtles are considered an invasive species, and without a permit, are considered illegal to own. On March 13, the Idaho Department of Fish and Game seized the turtle and "humanely" euthanized it.
Though the turtle is gone, animal rights groups and concerned online citizens are not resting. However, despite the horrific event, the students at Preston Junior High School remain on Crosland's side.
"It's really hard on a small community, like Preston, to watch them tear apart somebody that everybody loves," River McKay, a former student and "really good friend" of Crosland said. According to the mother of two of the boys, McKay said, the three boys who watched the ordeal all understood what was happening as they'd grown up on farms. The incident was only turned over to police when a school official overheard and reported it.
Thus in June of this past year, Crosland was brought to court on charges of animal cruelty. But a jury of six found him not guilty after about 30 minutes of deliberation. The trial included testimony from students and his son, Mario Crosland, and the defense insisted that the incident took place after hours and the puppy was close to death prior to being eaten anyway.
Further, the defense showed that the puppy drowned before the turtle ate it and so moved that the case be dismissed based on lack of evidence that the puppy suffered. Crosland reportedly told his lawyers, "I honestly thought I was doing the right thing by putting it out of its misery."
Both his son and students testified that Robert Crosland was nothing short of an animal lover and that he was "A guy who will do anything he can to save an animal. His whole life has been for animals, and seeing people try to destroy him when he's has devoted his life to them. He has done all he can to help animals."
The judge ultimately ruled to let the jury decide who took less than an hour to let the small-town teacher Robert Crosland off.
---
Next, read about the live donkey that was fed to a tiger at a zoo. The, read about the sea turtle who had almost 1,000 coins removed from its stomach.