Saddam Hussein spent billions on lavish palaces throughout Iraq outfitted with expensive ornamentation, swimming pools, ballrooms, and murals of the dictator.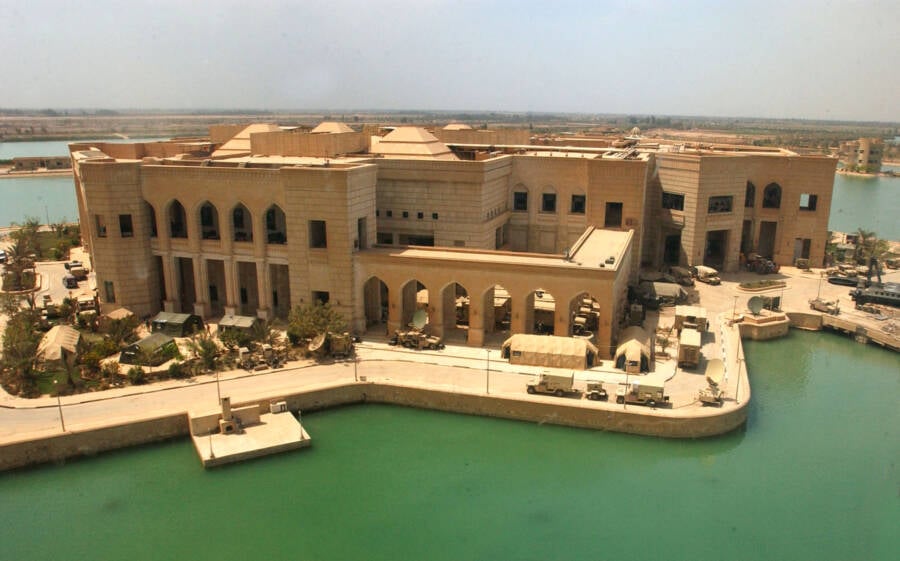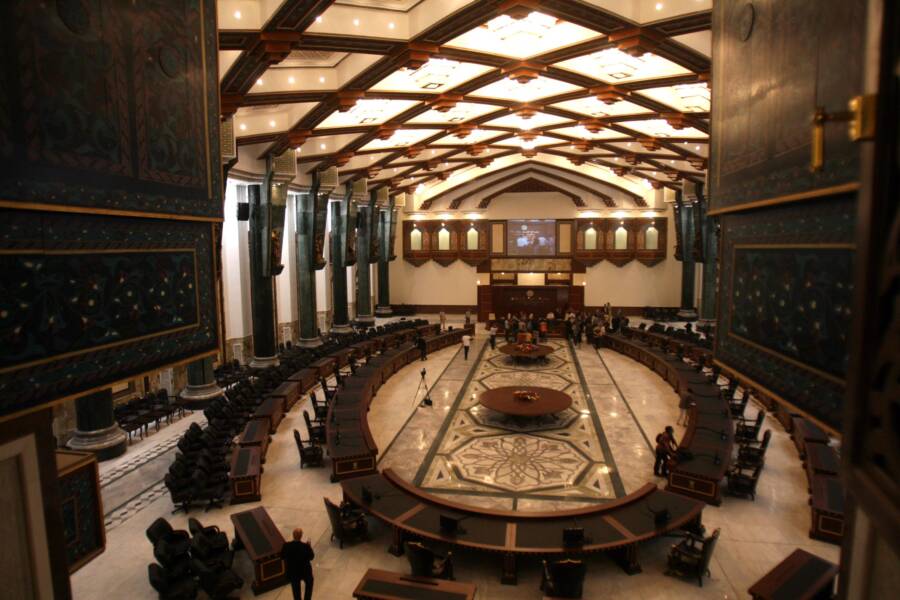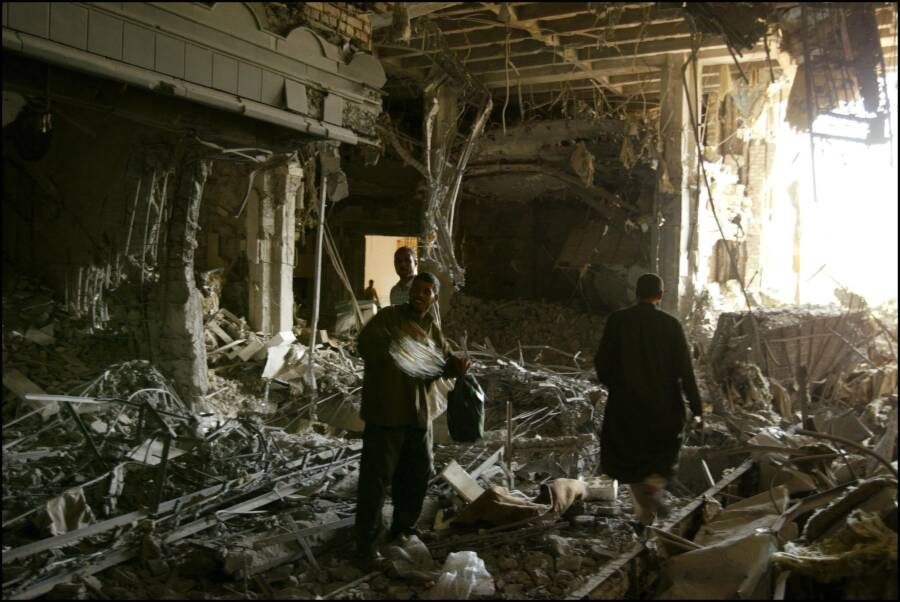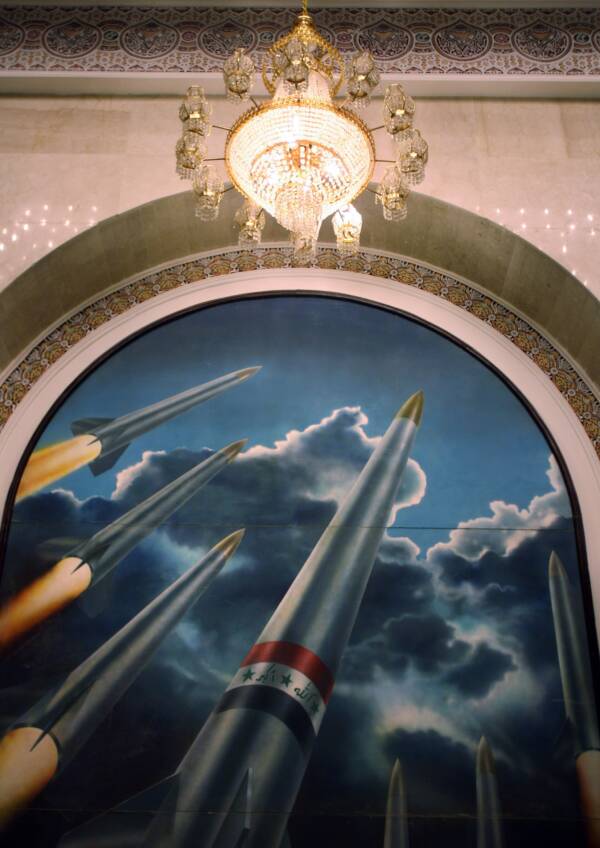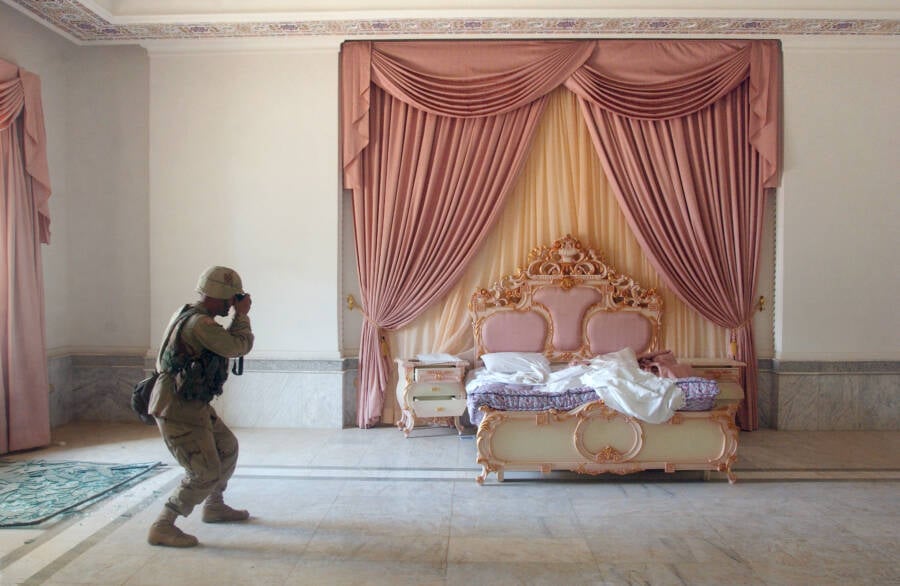 David K. Dismukes/U.S. Army/Getty Images
Gilles Bassignac/Getty Images
Gilles Bassignac/Getty Images
Gilles Bassignac/Getty Images
Gilles Bassignac/Getty Images
Stan Honda/AFP via Getty Images
Muhannad Fala'ah/Getty Images
Muhannad Fala'ah/Getty Images
Ameer Al Mohammedaw/Getty Images
Ameer Al Mohammedaw/Getty Images
HomoCosmicos/Getty Images
Hussein Faleh/Getty Images
Carolyn Cole/Los Angeles Times via Getty Images
Carolyn Cole/Los Angeles Times via Getty Images
Timothy A. Clary/Getty Images
Patrick Robert/Getty Images
Daniel Mihailescu/Getty Images
Patrick Robert/Getty Images
Patrick Robert/Getty Images
Carolyn Cole/Los Angeles Times via Getty Images
Marco Di Lauro/Getty Images
In 2003, President George W. Bush took the occasion of the September 11th terrorist attacks to order U.S. forces to invade Iraq and finally defeat their unruly dictator. There was a plan to save some of Saddam Hussein's palaces from the more extreme bombing, and turn them into command centers. Hussein possessed between 80-100 palaces — most built after the 1991 Gulf War.
The military succeeded in their mission to end Hussein's dictatorship — and life. They also secured their headquarters. U.S. troops moved in, with some factions occupying palaces longer than others. However, as soon as the troops moved out, the looters took their turn. Anything of value not nailed down was removed and sold for whatever cash it could bring.
The Iraqi government now owns all the dictator's former residences. Some locals think Saddam Hussein's palaces should be restored — even if the history is full of horrors. Others believe they should be left to fall apart, taking the unsavory memories of war and death with them.
The Republican Palace
The U.S. government ended up with the opulent Republican Presidential Palace for one of their headquarters in Iraq. This palace was one of the largest and most luxurious. A Tomahawk Land Missile had hit part of it, but it remained mostly intact.
The government also believed the palace could contain important documents, as it was Hussein's favorite place to meet other important politicians.
However, foreign dignitaries who visited the palace were not duly impressed with its comfort. They found the mattresses rock hard, the tap water always hot — never cool. The old, tube televisions only picked up a handful of stations, and the halls echoed in sterile silence.
At least one U.S. soldier jokingly said that he was going to enjoy his first shower in weeks here. The taps still dispensed water, signifying that the palace was evacuated in a rush.
Though Saddam couldn't swim, he also insisted that each wing of the Presidential Palace have its own pool.
Al-Faw Palace
The Al-Faw palace was another of Saddam Hussein's palaces that was mostly spared from Gulf War II bombs. This one has an unreal amount of space: almost half a million square feet, with 62 rooms — 29 of them bathrooms.
There is an artificial lake surrounding it, stocked by Hussein himself with a special breed of large bass. The giant fish is dubbed the Saddam bass; U.S. troops enjoyed fishing for them in their downtime when they occupied the palace.
The funny thing about this particular palace; the rooms are huge, and everything is as ornate as you'd expect, but much of it is an illusion. A giant chandelier is part plastic, walls are thin as paper, and what seems like gold is just the fool's variety — that is to say, fake.
Saddam Hussein's Tikrit Palace
The village of Tikrit along the Tigris River is known as the "city of palaces", as Hussein built dozens upon dozens of them along the riverbanks. Many of the residences contain rare marble features, artillery-resistant walls, and beautiful swimming pools.
Saddam Hussein's palaces in Tikrit form a compound 50 times as big as that of the White House. Contained within are his own palace, and one for his mother and sons. There are hundreds of rooms and an enclosed, man-made lake with towers surrounding it. After it was returned to the Iraqi people, the plan was to make it a lush resort. However, looters took everything within a matter of weeks — even the light switches.
Today there are dozens of visitors to the complex; mourners visit one particular courtyard overlooking the river. Here, in June 2014, Islamic extremists executed 1,700 air force cadets, throwing bodies into the Tigris. The Camp Speicher massacre victims are also buried on the grounds.
Search teams are still excavating bodies.
Go inside the splendor and decrepitude of Saddam Hussein's palaces with these 33 photos.
---
Now that you've learned about Hussein's palaces, read about the mysterious fate of Saddam Hussein's first wife and cousin. Then, check out the fascinating ancient palace uncovered in a dried-up Iraqi water reservoir.