The World's Coolest Libraries: Library of Congress
In 1800, Congress established the Library of Congress in Washington D.C. Fifteen years later, Thomas Jefferson offered up his personal library to replace books that were lost when when the British set the building on fire in 1814. His books, which took nearly 50 years to collect, varied from texts on science, literature, and philosophy, to books written in a variety of foreign languages. Though considered one of the finest in America, Jefferson's book collection created controversy because it contained a number of books that many found irrelevant to legislation.
Jefferson's belief that all subjects were worthy and important in terms of American legislative history now directs many of the Library of Congress' policies. These days, the Library of Congress offers more than 155 million items and the largest rare book collection in North America. The library also houses a copy of the Gutenberg Bible and the world's smallest book which is 1/25" x 1/25", or about the size of a period.
Bibliotheca Alexandrina
Centered in the intellectual capital of the ancient world, the Ancient Library of Alexandria was known for centuries as the epitome of knowledge and learning. Hundreds of thousands of scrolls filled the shelves, and scholars from all over the world flocked there to study. Sadly, a period of neglect, accidental fires, and continued war with the Romans, led to the ultimate destruction of this magnificent library.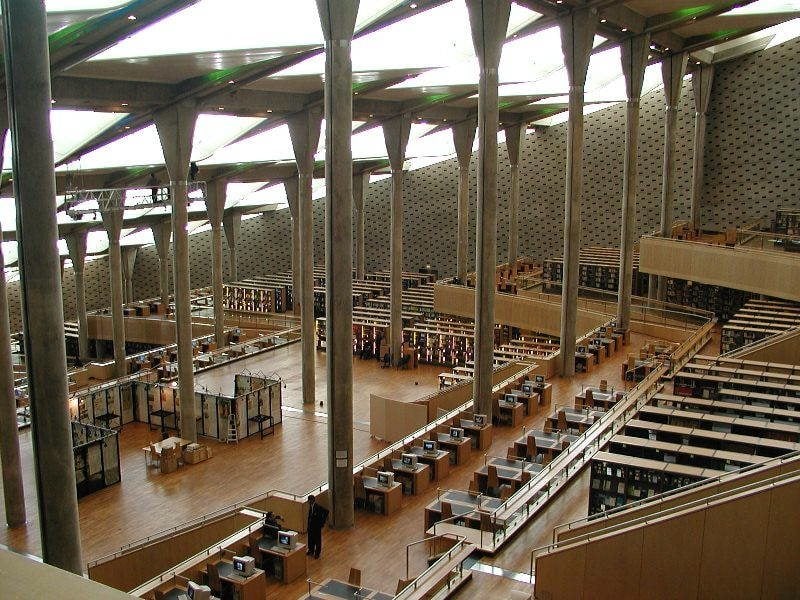 In 2002, the Bibliotheca Alexandrina was opened near the site of the original Ancient Library. The new library is still home to many ancient texts, as well as museums, art galleries, and a planetarium.