Juanita Broaddrick made waves when she tweeted that Bill Clinton raped her in 1978. Who is she, and what is her story?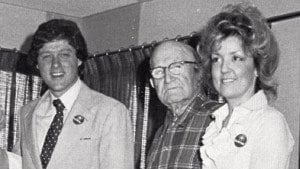 In 1978, Bill Clinton was campaigning to be Arkansas' governor when he made a stop at a nursing home, where a woman named Juanita Broaddrick worked as a nurse.
In a 1999 interview with NBC News, Broaddrick says she remembered the then 35-year-old Clinton as "a very charismatic man with bright ideas" — she even campaigned for him. In the interview, Juanita Broaddrick says that Clinton told her to drop by his campaign office in Little Rock, Arkansas, if she were ever in the neighborhood. At the time, Clinton was serving as the state's Attorney General.
A short while later, a nursing conference took her to Little Rock, Broaddrick said. She told NBC News correspondent Lisa Myers that when she called Clinton's headquarters to let Clinton know she was in town, they informed her that he was in his apartment and that she should call him there directly. When she did, Broaddrick says that Clinton suggested they meet for coffee.
"I did call and ask him if he was gonna be at the headquarters that day and he said no he didn't plan to be there," Broaddrick said in the interview. "Clinton said, 'Why don't I just meet you for coffee in the Camelot coffee shop?'"
But then Broaddrick says that Clinton's concerns about local reporters led to a change in meeting place: her hotel room.
Juanita Broaddrick told Myers that she thought Clinton's interest was entirely professional, and although she felt a bit uneasy about his coming to her hotel room, she said she didn't feel any danger. After Clinton arrived, Broaddrick said that they looked out the window from the hotel room. At this moment, Broaddrick said, Clinton reached around her to point to a building he hoped to restore if he became governor.
On the next breath, Juanita Broaddrick claims, he turned her around and began to kiss her.
Broaddrick pushed him away, insisting that she was married and was not at all interested in him. She claims that Clinton implied she must have understood what his true intentions were when he asked to come to her hotel room, but Broaddrick felt she had not given him any indication that she would accept his advances. In the interview, she says she rejected him emphatically, but he kissed her again, pushed her down onto the bed, and raped her.
"He was a such a different person at that moment, he was just a vicious awful person," Broaddrick said in the interview:
---
Several weeks after the incident, plagued by thoughts that she had somehow led Clinton on, she attended a fundraising event for his campaign. It was here, she says, that she was approached by Hillary Clinton—and where a strange, terse exchange occurred.

Broaddrick says that Hillary took hold of her hand and said that she and Bill appreciated "everything [Broaddrick] did for him." At first, Broaddrick hoped Hillary meant only the campaigning she'd been doing. But when Broaddrick tried to leave, she says Hillary grabbed her hand tighter and said, "Do you understand? Everything that you do."

In a 2003 interview with Fox News, Juanita Broaddrick says she felt Hillary knew what had happened in her Little Rock hotel room and that she wanted Broaddrick to keep quiet.

When asked why she did not go to the police in 1978—when the incident was said to have occurred—Broaddrick shrugged: at the time, Bill Clinton was the law in Arkansas, as he served as Attorney General.

Juanita Broaddrick tries to hold back tears during her January 1999 interview on 'Dateline NBC'.

Juanita Broaddrick kept silent for 20 years after the alleged rape—14 years after Arkansas' six-year statute of limitation on rape ends.

When she eventually went to the press with her story in the 1990s, Broaddrick conceded that there were no witnesses to back up her claim. She also knew that the hotel had no record of Clinton ever being there, and in fact, had no records dating back that far to prove that even she had stayed there. Bill Clinton—as well as his legal team—have not commented on the allegations.
Why Is Juanita Broaddrick's Story Being Brought Up Again?
In the wake of Hillary Clinton's bid for the Democratic Party nomination for president, and ultimately the White House, Juanita Broaddrick's story has resurfaced, this time, with a few more details that weave a compelling web. On January 6th of this year, Broaddrick tweeted:
I was 35 years old when Bill Clinton, Ark. Attorney General raped me and Hillary tried to silence me. I am now 73….it never goes away.

— Juanita Broaddrick (@atensnut) January 6, 2016
When asked by Gawker why she's taking to Twitter now, Broaddrick explained that this tweet sent by Hillary Clinton's campaign struck a bitter chord with her:
"She's just not the one," Broaddrick said of Clinton. "I can't imagine what made her possibly do that."
Broaddrick's initial statement made the news just after the election in 1992, and she's been persistently hounded by the press ever since. But with social media playing a more pervasive role than ever, she is more engaged in telling it—as well as communicating her political beliefs, which do not involve a vote for Hillary.
In a tweet from January 5th, Juanita Broaddrick writes, "Was dreading seeing my abuser on tv campaign trail for enabler wife……but his physical appearance reflects ghosts of past are catching up."