Some of America's favorite pop singers, boxers, and reality TV stars have been banned from entering the United Kingdom. Here's why.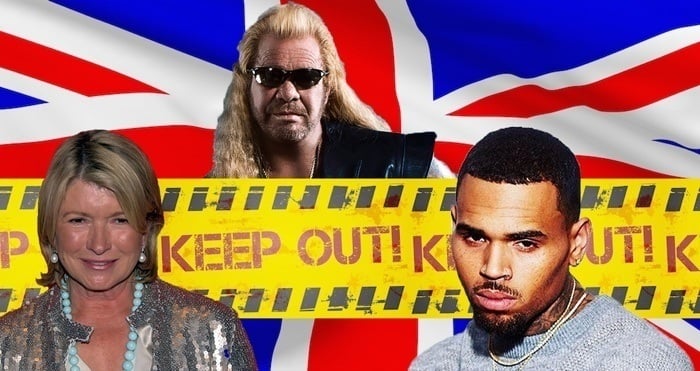 There's no doubt that over the course of his presidential campaign, Donald Trump has made some enemies. Other candidates, Fox News anchors, and, just recently, even Samuel L. Jackson have all made a stand against The Donald. Now, the entire United Kingdom is debating whether enough is enough with the real estate mogul turned reality star turned presidential candidate.
To date, more than 550,000 people have backed a petition asking Trump to be banned from the country, which is a record number for the government's petition website. And the government is taking notice. Parliament will now discuss whether or not to ban Trump from the country, using his statements against Muslims after December's San Bernardino shooting (which were simply more in a long line of absurd Donald Trump quotes) as cause.
If the ban goes through, it wouldn't be the first time a high-profile American was kept out of the U.K. But, unlike Trump, some of these other Americans banned from entering Britain might surprise you.
Martha Stewart
The supreme leader of cooking and home decor was denied entrance to the U.K. back in 2008. Stewart's 2004 federal conviction of obstruction of justice after her insider trading scandal led to the U.K.'s decision to ban America's favorite homemaker. The U.K. Border and Immigration Agency released a statement about the ban, saying that the government opposes entry into the country for people found guilty of "serious criminal offences abroad."
Snoop Dogg
Snoop Dogg, Calvin Cordozar Broadus, Jr., or Snoop Lion. No matter what name he used, he was, for a few years, not allowed to set foot on British soil. He and his entourage started quite a scene back in 2006 at London's Heathrow Airport after British Airways kept his full crew from getting into the first class lounge. So, naturally, they ravaged the nearest duty-free shop in the airport. That kept the rapper out of the country until 2010.