What began as a group to combat the violence of and compete with the Crips quickly devolved into a rival crime syndicate that persists even in the prisons of New York City today.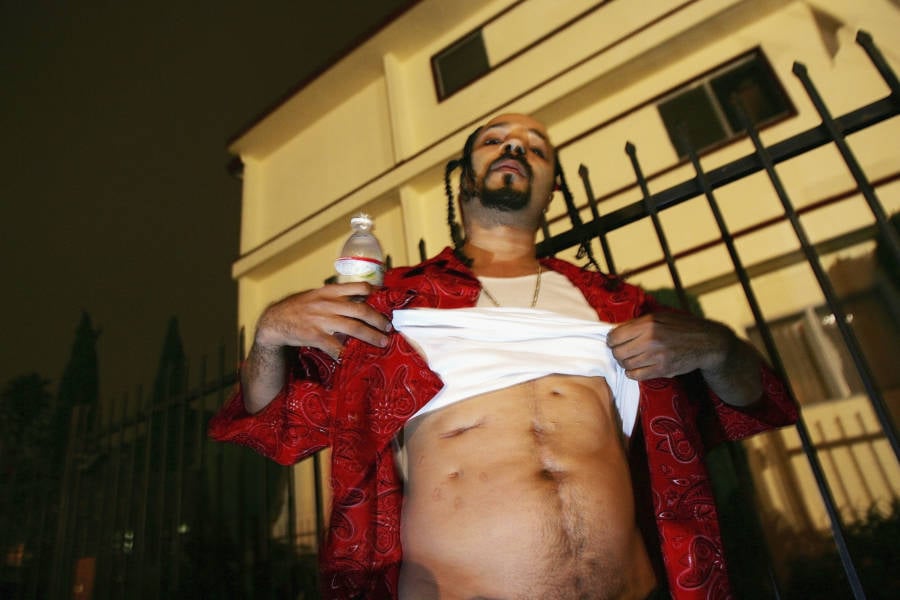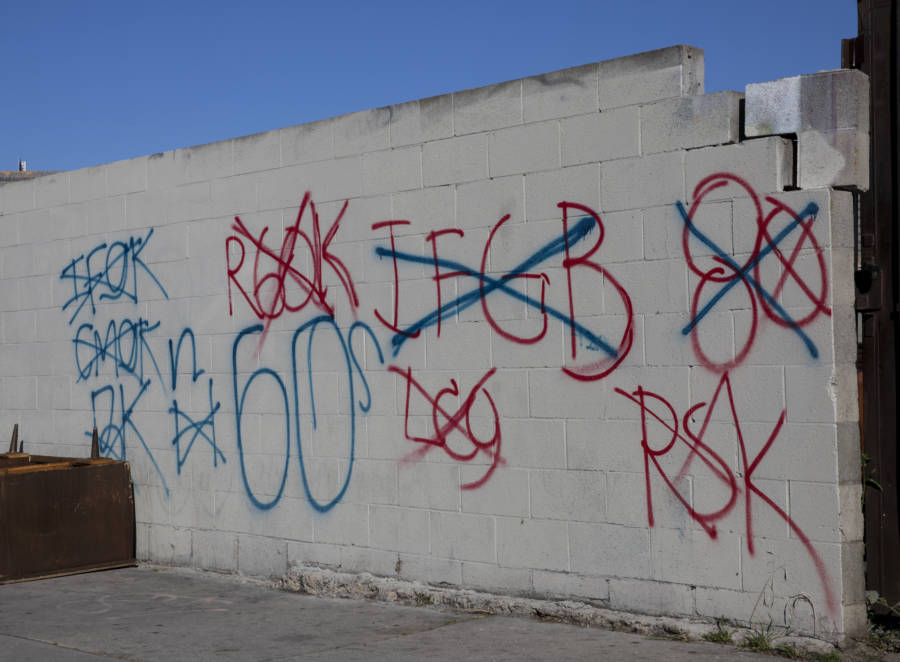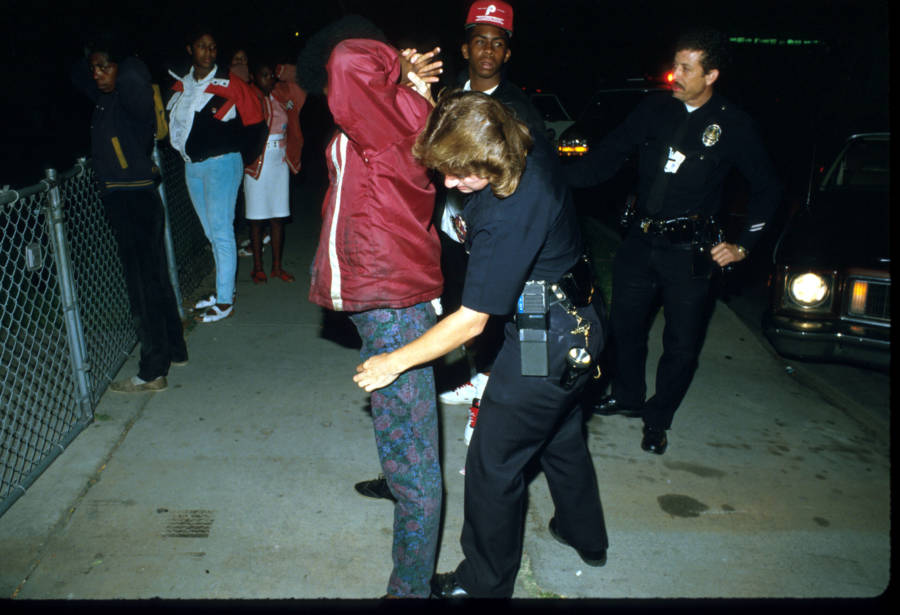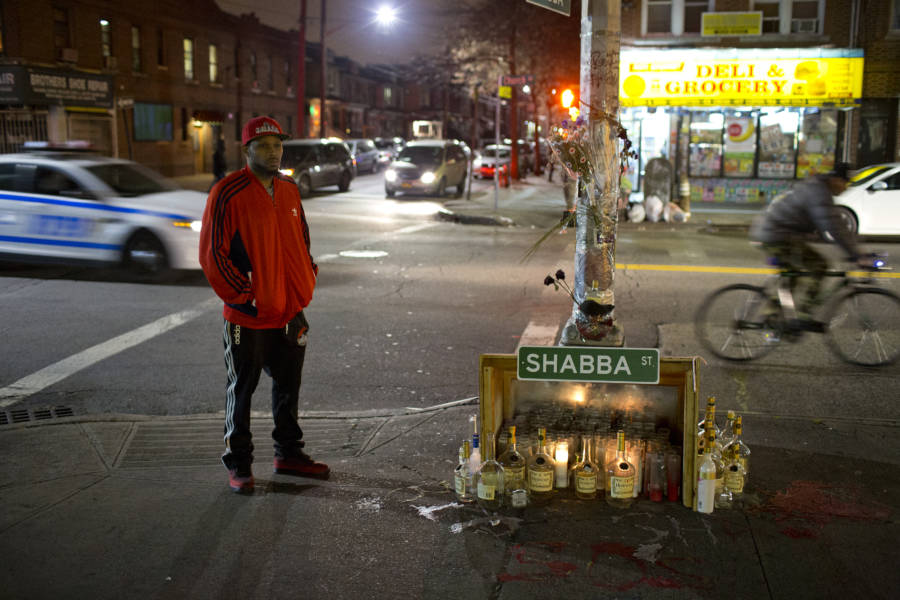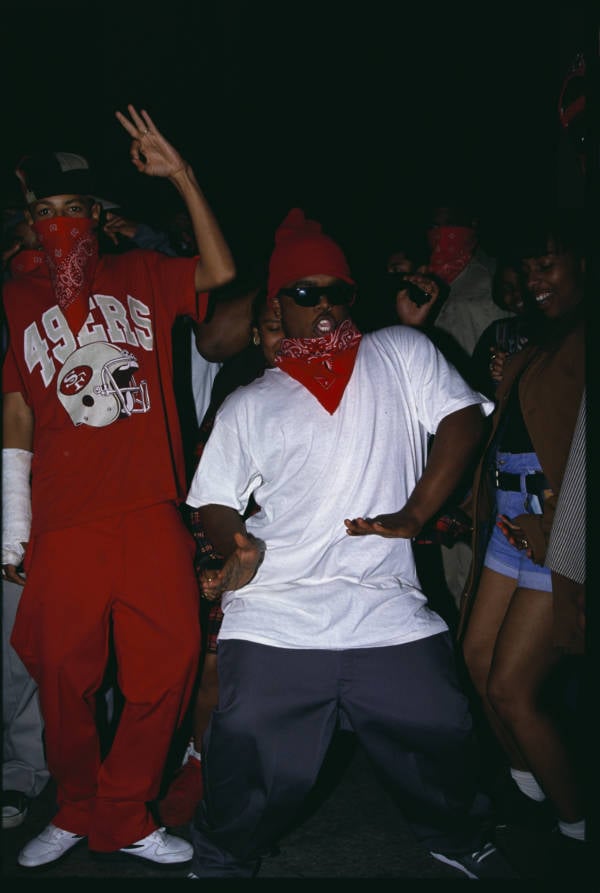 Robert Nickelsberg/Getty Images
Jean Marc Giboux/Liaison/Getty Images
Andrew Lichtenstein/ Corbis via Getty Images
Steve Starr/CORBIS/Corbis/Getty Images
Robert Nickelsberg/Getty Images
PYMCA/UIG via Getty Images
Mark Peterson/Corbis/Getty Images
Jean Marc Giboux/Liaison/Getty Images
Mark Peterson/Corbis/Getty Images
Joe Sohm/Visions of America/UIG/Getty Images
Steve Starr/CORBIS/Corbis/Getty Images
Robert Nickelsberg/Getty Images
Andrew Lichtenstein/ Corbis via Getty Images
Axel Koester/Corbis/Getty Images
Most Americans have the luxury of being entirely uninformed of gang culture, the minutiae of street life, or the adherence to the vitally imperative code one needs to follow in order not to be killed. Even this majority, however, living on the periphery, has been culturally made aware of the Los Angeles Crips and the Bloods.
"A gang is an interstitial group, originally formed spontaneously, and then integrated through conflict," Frederic Thrasher wrote in his 1927 book The Gang. "It is characterized by the following types of behavior: meeting face to face, milling, movement through space as a unit, conflict, and planning."
Though Thrasher's social analysis is now nearly a century old, the main tenets of gang culture — namely the "attachment to a local territory" he mentions further on — really haven't changed too much since then.
According to Stanford University's Julia Dunn in Poverty & Prejudice: Gangs of All Colors, gang culture shifted from petty crimes such as theft and forgery in the 1920s and 1930s to extortion and gambling in the 1940s.
It was the 1950s that introduced lowrider culture to Los Angeles, though the weapons of choice back then consisted of now nearly charming knives and bats. In the 1960s, however, the foundation for a more thoroughly armed, consolidated and violent variety — the Crips — fell into place in South Central L.A.
The gang's activities largely originated in high-school campuses across L.A. with factions springing up in Compton. Eventually, these groups were all war with each other. In the 1970s, in an effort to protect themselves against these countless sets of Crip gangs, alternative gangs and leaderships were birthed. Namely, the Bloods.
Welcome to L.A.
The Bloods In 1970s Los Angeles
The Bloods distinguished themselves from the rest of L.A.'s gangs in the 1970s by engaging in more violence and crime than their peers. The gang established itself around West Piru Street in Compton.
Two native Angelenos, Sylvester Scott, and Vincent Owens, initially founded the Bloods as the Compton Pirus. Naturally, with the Compton Crips set having established itself in the same neighborhood years earlier, severe conflict ensued between the two groups.
Outnumbered and outgunned, the Compton Pirus were viciously demolished. As a result, however, multiple sets of Pirus bonded together and joined forces with smaller groups like the Laurdes Park Hustlers and the LA Brims. The latter were content to unite against the Crips, as they had recently killed one of their members.
Soon various other gangs who had been attacked or had their territory encroached upon by the Crips came under the fold. All of these crews were now united under the Bloods umbrella.
While all Bloods are encouraged to and proudly wear red to distinguish themselves, not everyone wearing red is necessarily a Blood. In Compton, those who don the primary color refer to themselves as Pirus, while the Brims, Bounty Hunters, Swans, and the Family are known as Bloods.
In the late 1970s, having established a firm "take no prisoners" attitude, the Bloods, wrote Marcus Hoover, "began to claim certain neighborhoods as their territory. Their gang rivalry became vicious and bloody."
The 1980s: The Bloods Expand
By the early 1980s, nearly 30,000 gang members who repped either Crips or Bloods sets were now living in Los Angeles.
The 1980s were a prolific decade of expansion and diversification for the Bloods. Children as old as 14 were now viable candidates for gang membership, but not without a requisite act of violence to prove themselves that these gangs called "jumping in."
This usually entailed fighting a member, in addition to committing a particular crime in a decided-upon neighborhood. Alternatively, future members could opt to attack a member of a rival gang.
Most notably, the decade of America's crack epidemic had the Bloods eager to partake in the unprecedented profits and subsequent splendor. What was once a gang centered on neighborhood protection and a unified defense against rival groups, was now firmly entrenched in the local drug trade.
The Bloods Join The Crack Game
"By 1983, African-American Los Angeles gangs seized upon the availability of narcotics, particularly crack, as a means of income," Marcus Hoover explained. "Crack had supplemented cocaine as the most popular illicit drug of choice."
The Reagan era and its mythologized trickle down economics didn't find its way into the inner city communities of South Central, unfortunately. Buying cocaine in bulk and selling its crack variety — which had never been in higher demand — seemed like a financially savvy way to become a more independent gang.
Between poverty and unemployment, and a choice between welfare or crime, the Bloods grew and began to make a substantial portion of their funds from dealing drugs. A member could easily make anywhere from $300 to $500 per day from slinging a few crack rocks around the neighborhood.
Dunn explained that both Crips and Bloods controlled a significant portion of the crack cocaine operations across the country. The business had rapidly outgrown local cash exchanges and spread to cities nationwide.
Members would simply announce their visit to a certain city and be informed as to who is in charge, link up and garner their local protection. This naturally led to an exorbitant increase in violence which was once limited to certain L.A. neighborhoods.
The Bloods "have migrated throughout the country and are seen in most states and their prison populations. There are literally hundreds of sets for individual gangs under the main Blood and Crip names."
Astoundingly, the L.A.-based Bloods have even established themselves in New York City, where prison life in facilities such as Rikers Island is largely coordinated by the gang.
Modern Times
The Mac Balla Bloods are currently one of the most established and influential gangs in New York City, particularly inside the city's prison system. From smuggling both sensitive information and illegal contraband in and out of city jails and an upstate prison, crack, scalpels, and opioids are sold.
Indeed, according to The New York Times, the Mac Balla Bloods have successfully orchestrated "an enterprise of violence emanating from Rikers Island."
One of the Mac Balla Bloods left a member of the rival Trinitarios gang with an eight-inch facial gash in 2018, while two others have since been indicted on charges of conspiracy, attempted murder, and assault.
The nearly five-decades-long evolution of the Bloods is not all negative, however. According to Gothamist, hundreds of current and former Bloods and Crips marched in solidarity against violence in the South Bronx in early April.
Honoring Nipsey
Inspired by the tragic murder of West-Coast rapper and activist Nipsey Hussle, these marches for peace by a united front of rival gangs naturally also occurred in the artist's hometown. According to VIBE, the April 5, 2019 "Unity Walk" saw hundreds of Bloods and Crips march through South Central.
"We having a gang truce and rally so all the different gangs from L.A. can get together and celebrate the life and the gift of Nipsey," said community leader Big U. "It's a lot of people who were calling who said they wanted to get together and come to the vigil and pay respect."
Ultimately, these reunifications are an ironic parallel to what a gang like the Bloods was originally created for. What was once constructed as an effort to protect a community against violence, rapidly became a network of infighting, increased violence, and death. Hopefully, the gang mentality of yesteryear and its focus on protection, defense, and unity can make a modern comeback.
---
After checking out these captivating photos of the infamous Bloods gang, explore the most brutal gangs around the world. Then, take a look at 1980s New York: when crack was king.