The Delaney sisters are craniopagus twins — a condition that occurs once every 2.5 million births. They've now been separated.
At ten months old, sisters Abby and Erin Delaney had still never seen each other's faces.
The girls from North Carolina are craniopagus twins — meaning that they're connected at the cranium. This is the least common type of conjoined twins, only occurring in about one in every 2.5 million births.
Out of those, 40 percent arrive as stillbirths and an additional third die within a day.
Abby and Erin, though, made it to the stage when they were healthy enough to be separated.
These crazy little girls!! We love them so much! Only 11 days till their first surgery. They are little miracles!!

Posted by Delaney Twins on Friday, October 14, 2016
The girls underwent an operation last week, during which a team of neurosurgeons, plastic surgeons, critical care physicians and anesthesiologists from the Children's Hospital of Philadelphia all worked meticulously for 11 hours straight.
The twins' parents — Heather and Riley Delaney — first learned that the girls were conjoined when Heather was only 11 weeks pregnant.
She gave birth by C-section ten weeks early, when each of the babies weighed only two pounds.
Since then, the family has lived in hospitals while the girls received intensive care and therapy as experts worked to determine the best way to disconnect them.
"Depending on where the heads are joined and how much they are fused, that determines the complexity of the operation," Alan R. Cohen, a Johns Hopkins chief of pediatric neurosurgery who was not involved in the Delaneys' case, told The Washington Post.
"The most feared complication of the surgery is how to manage the shared blood vessels — particularly the veins that drain the brain," he continued. "Because usually one twin gets the good veins and the other doesn't."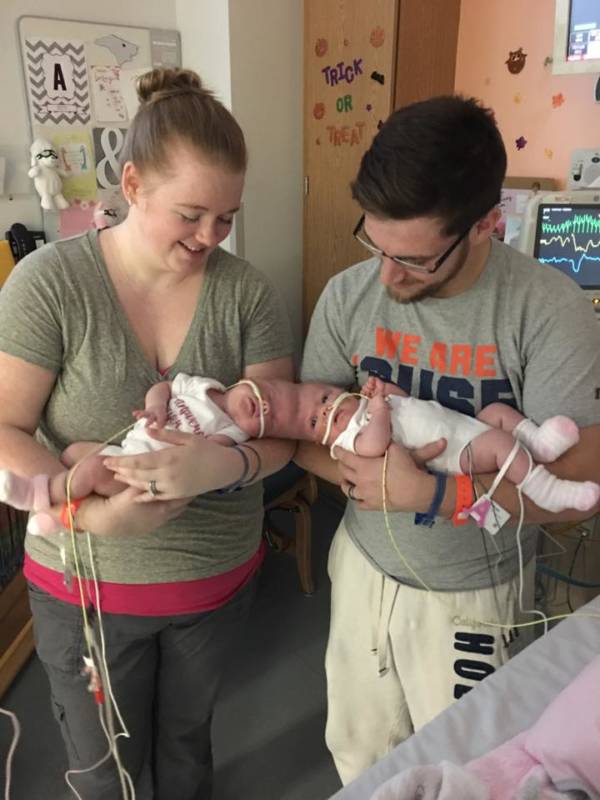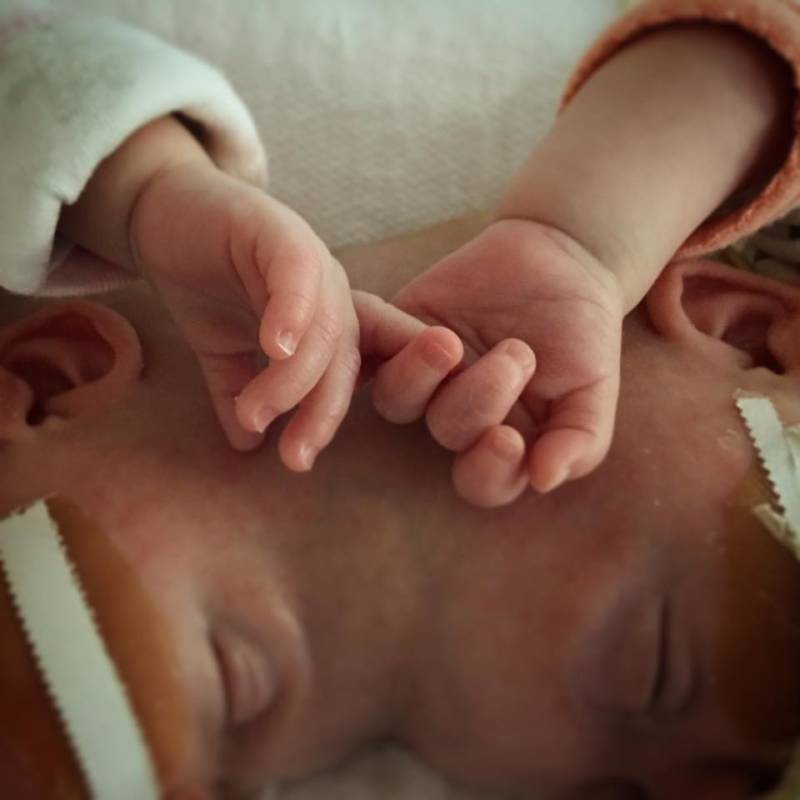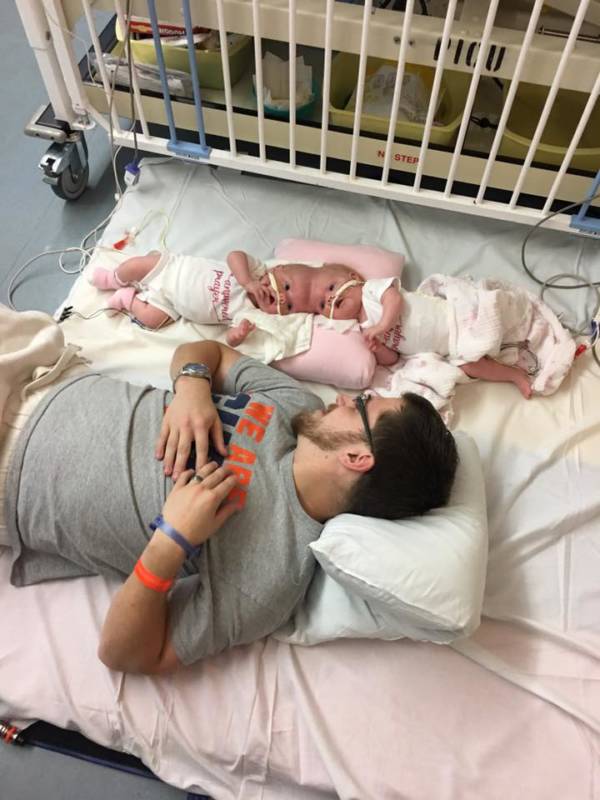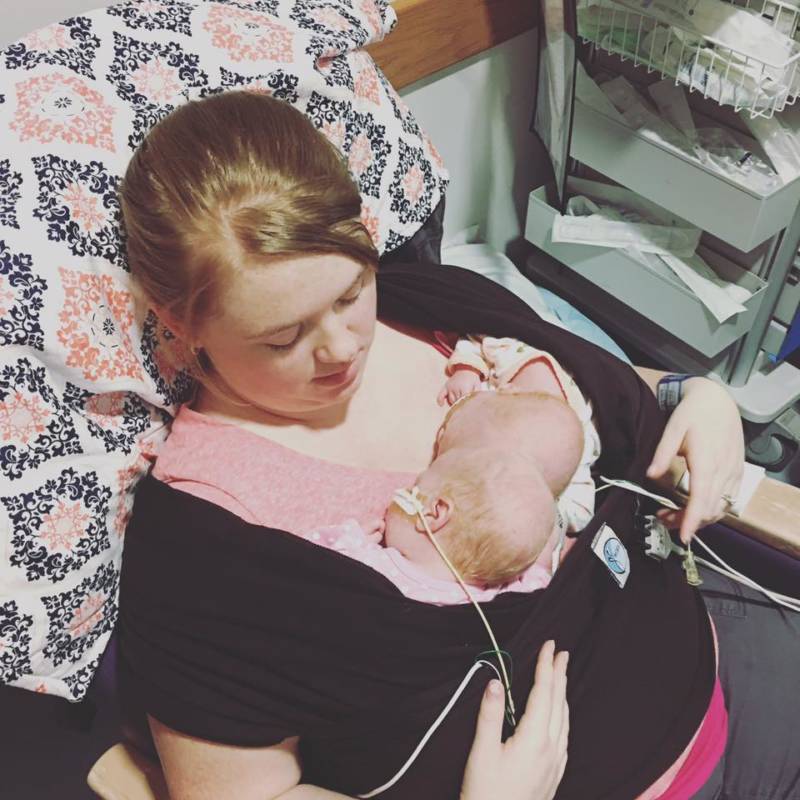 In this particular case, Erin had the advantage — something her parents were told only after the surgery was underway.
"I wouldn't have a chance to give her a little extra kiss, be able to give her a pep-talk and tell her to be extra strong. To tell her how big and brave she was. I wouldn't have chance to give her that little extra umph," Heather wrote on their blog. "Not that I didn't do all those things before, but to know that her sister had a better chance than her broke me. I felt so broken in half."
Oftentimes, one or both twins don't survive the operation. Though this procedure wasn't without complications, Abby and Erin both did.
"At that moment I stood in the middle of the room in-between two beds and realized what had happened," Heather wrote of the first time she was in a room with the twins after surgery, continuing:
"We had two girls. Two separate girls independent of each other. They were on their own. They were fighting on their own. They each looked almost lonely in their beds without the other. It almost felt wrong in a way that they couldn't be with each other. I realized that I was now going to have to split myself between two children. Before I could stand in one spot and read them both a story. I could change Erin's diaper while chatting with Abby. I realized I couldn't do that anymore. I couldn't kiss them at the same time, and it blew my mind."
The girls will remain in intensive care and will likely require further operations, but for now, their parents and the medical staff are hopeful.
They should be able to bring the girls home for the first time later this year.
"When we go home, it's going to be a big party," Heather said in a statement from the hospital. "Welcome home, baby shower, first birthday."