Three generations of Tylers have managed to span across three centuries.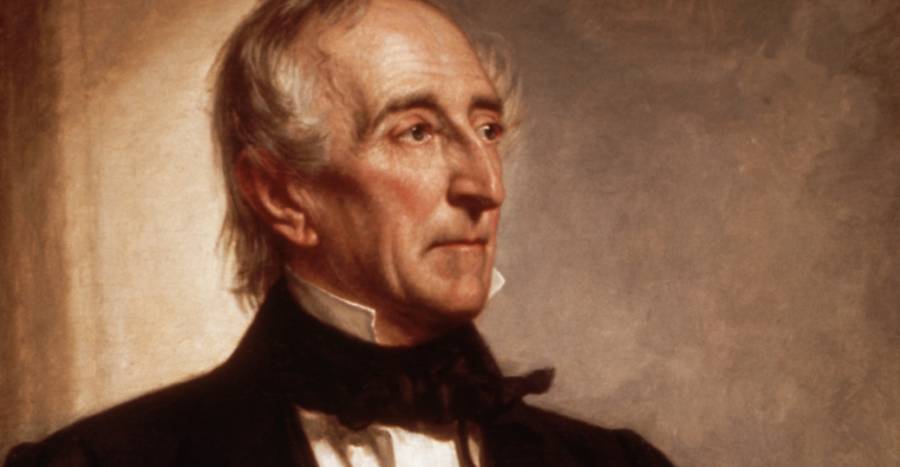 President John Tyler didn't live to see the births of his last grandchildren. Far from it.
After having 15 children with two different wives, the 10th U.S. president died at the age of 71 in 1862 — 60 years before his youngest grandsons were born in the 1920s.
One of them is still alive today, meaning just three generations of Tylers have managed to span 227 years and counting.
The man — now in his eighties — is the son of Lyon Gardiner Tyler Sr., the president's fourth son.
"Both my grandfather — the president — and my father, were married twice," Harrison Ruffin Tyler (born in 1928) told New York magazine, explaining how the hell it is he's still alive. "And they had children by their first wives. And their first wives died, and they married again and had more children. And my father was 75 when I was born, his father was 63 when he was born."
Harrison's brother, Lyon Gardiner Tyler Jr., was born in 1924 only died in 2020.
Harrison himself lives at Sherwood Forest Plantation — the historic Tyler family home where the President Tyler once lived and visitors are still given tours.
President Tyler was not the most popular leader. (To be fair, he didn't have many examples to learn from in 1841. Also, he never even ran for president.)
He took office in 1841 following the unexpected death of William Henry Harrison, who died after 32 days in the White House.
Though Harrison's death is commonly attributed to a case of pneumonia caused by giving a long and boring inaugural address in the freezing cold — modern historians now believe that it was actually caused by drinking contaminated water.
Either way, his early death gave the reins to his Vice President, John Tyler, who most historians agree did not live up to the task.
Tyler was the first president to have a veto overridden by Congress. Many of his opponents referred to Tyler as "His Accidency," and sent him letters addressed to the "vice president" or the "acting president." These notes were returned unopened.
For the most part, Tyler's presidency is regarded poorly mainly due to its uneventfulness. He notched few memorable accomplishments during a time of extreme national divide, which would eventually culminate in the Civil War — at which point he sided with the Confederacy.
Even so, Tyler's living grandchild (still seems weird to write) stands by his decisions.
"He's been maligned in some ways, because he was elected to the Confederate Congress, so people say he's a traitor," Harrison said. "But actually, he should be known for his efforts as the organizer of the Peace Conference in Washington in 1861. He tried to get the uncommitted states to all agree on a program, and then get the other states to join in, and get everybody back together."
Harrison was also quick to note that a 2010 book titled "Recarving Rushmore" ranked Tyler first for promoting peace, prosperity and liberty.
Another ranking published by C-SPAN on Friday, though, ranked him 33rd out of 44 (President Trump was not included).
The heated national climate during Tyler's presidency has actually been compared to current politics — though Harrison himself has lost interest.
"They're killing each other, on both sides," he said of today's politicians. "The campaigns are just horrible. It has nothing to do with what we really need."
But that doesn't mean things were any different in his grandfather's time.
"Politics has always been like that," he said. "Nothing new."
---
After learning about John Tyler's grandchild, read about the daughter of a Civil War solider who just weighed in on the Confederate symbols debate. Then, check out these living descendants of other famous people you may know.