"Organization and demonstration" was the name of the game in New York following a slew of grand jury decisions that seem to encourage police brutality.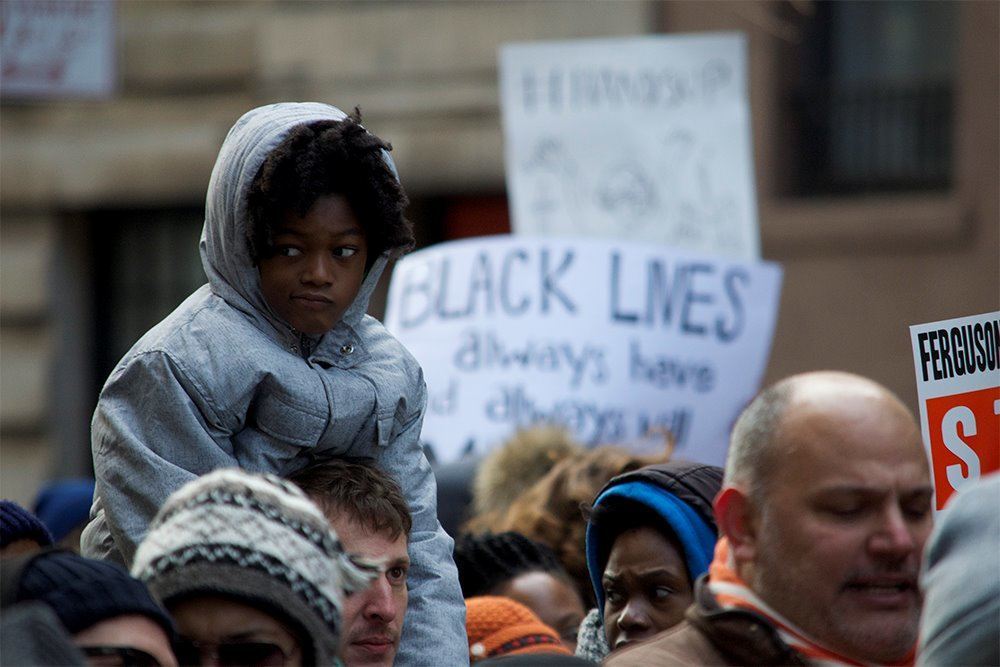 Christian crosses and Communist Party flags. Gil Scott-Heron and Frederic Chopin. Wizened women in floor-length coats and raw-throated university students shouting "This is what democracy looks like". Children carrying hand-drawn posters of other kids, just like them, being gunned down by police officers. This is just a taste of what today's "Millions March NYC" demonstration looked and sounded like.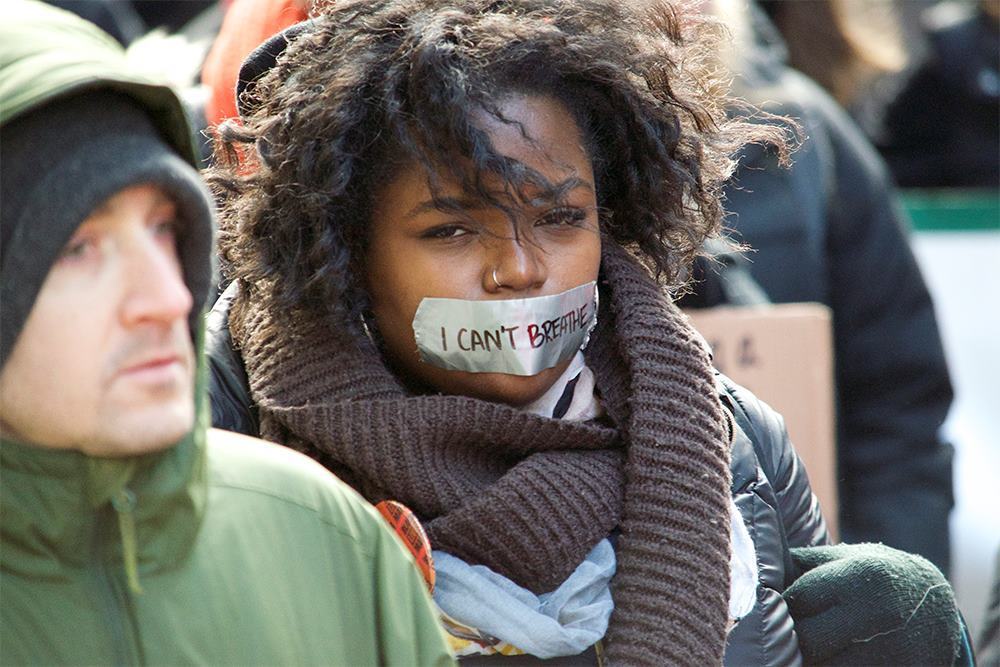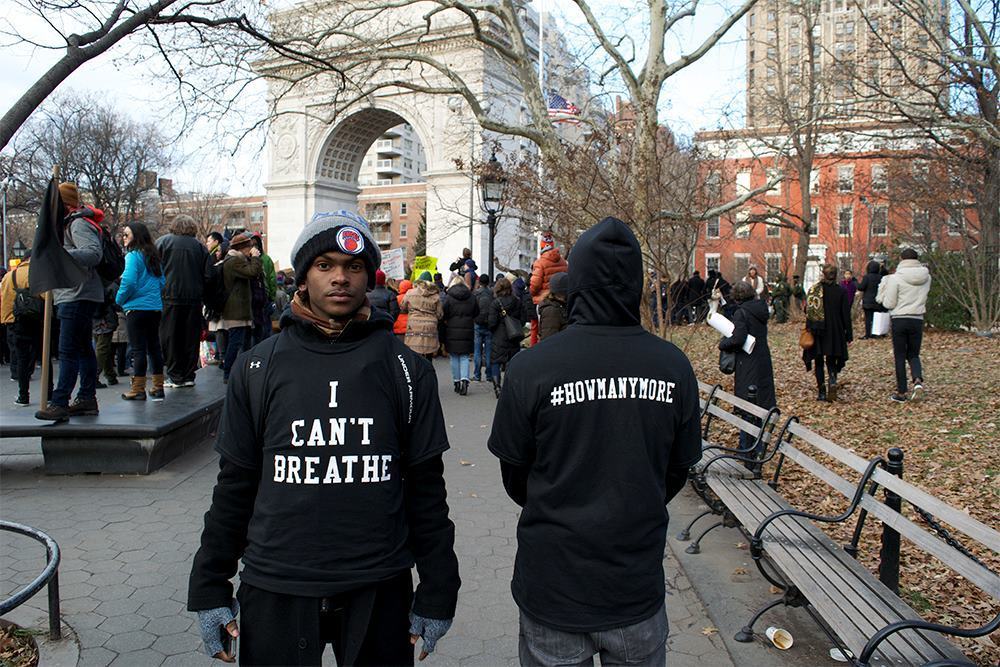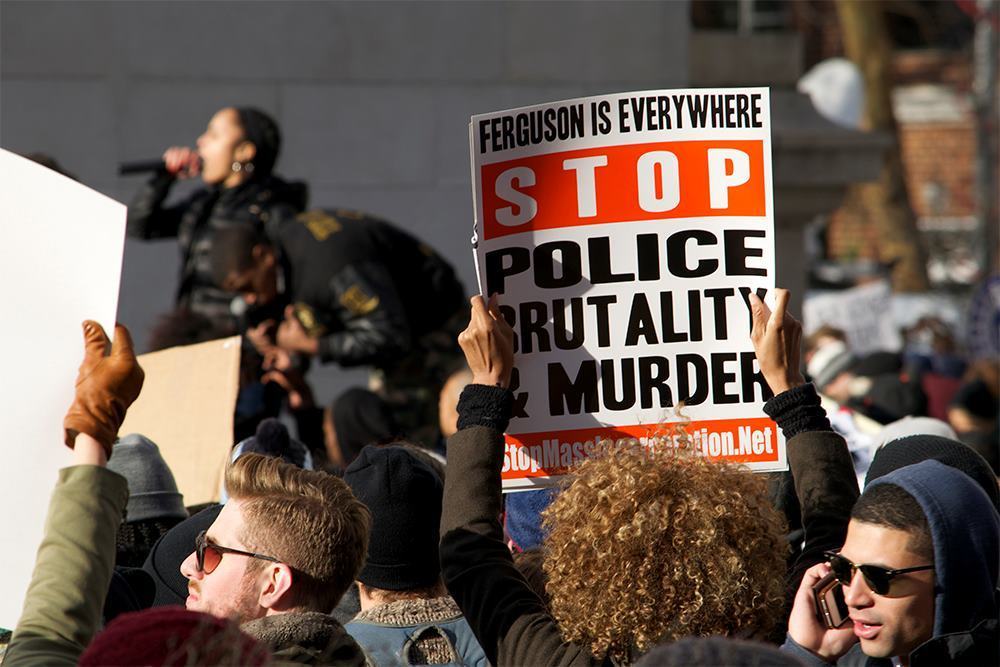 Coming in on the tails of the Eric Garner and Michael Brown grand jury decisions as well as the Cleveland, Ohio police shooting of 12-year-old Tamir Rice, this weekend's march started at New York's Washington Square Park and culminated at the New York Police Department.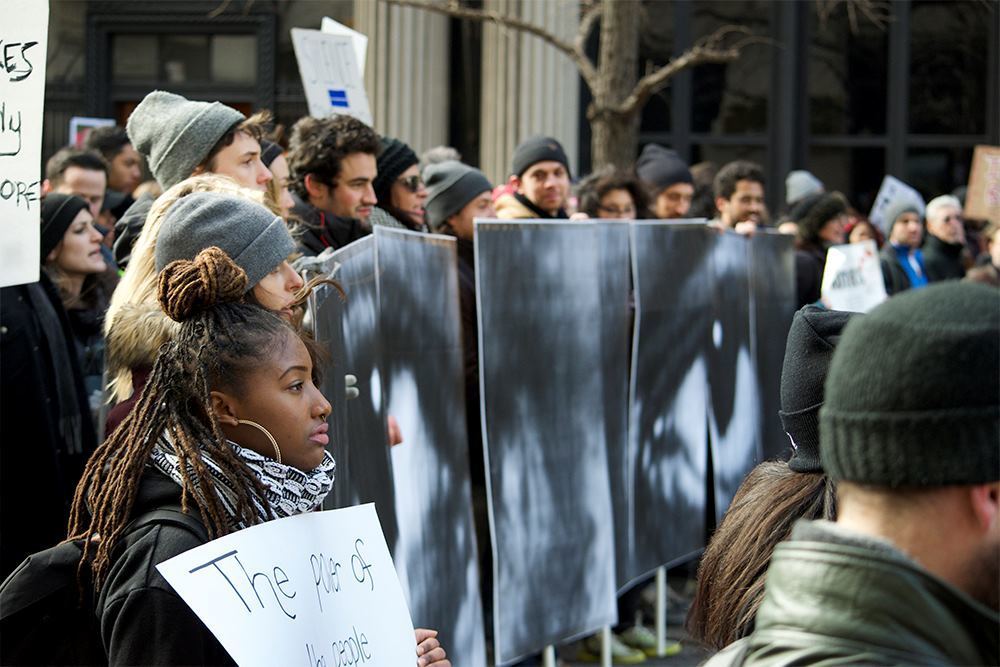 Thousands of people took to the streets to protest everything from police brutality to white supremacy to capitalism writ large. What they all had in common, though, was the pursuit of justice–one that does not legally permit police officers to shoot at will and leave a body lying cold on the ground.
The participants and messages present were as diverse and peaceful as they were organized and sustained. Justice for Eric Garner Assembly members distributed flyers that clearly iterated their goals, all arranged by proximate attainability.
Immediate demands included the firing of Officer Daniel Pantaleo and Police Commissioner Bill Bratton; reparations made to the Garner family; the introduction of independent prosecutors in cases like Garner's and Brown's, and the end of lowest level priority prosecutions (ie: marijuana). Institutional changes centered upon community control of police, an end to the War on Drugs, and the ceasing of funds toward militarizing the police.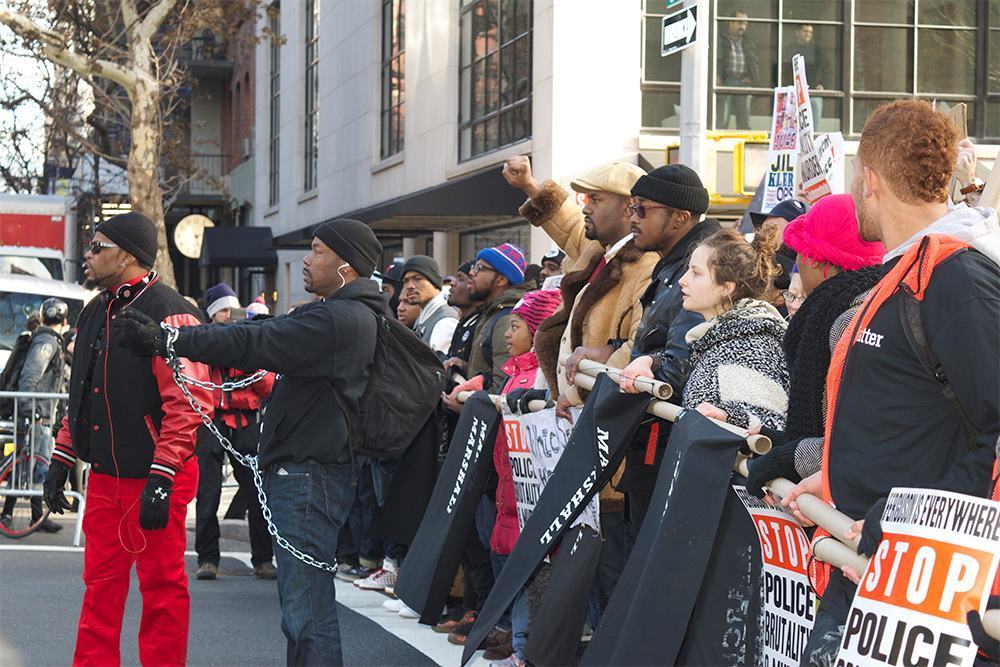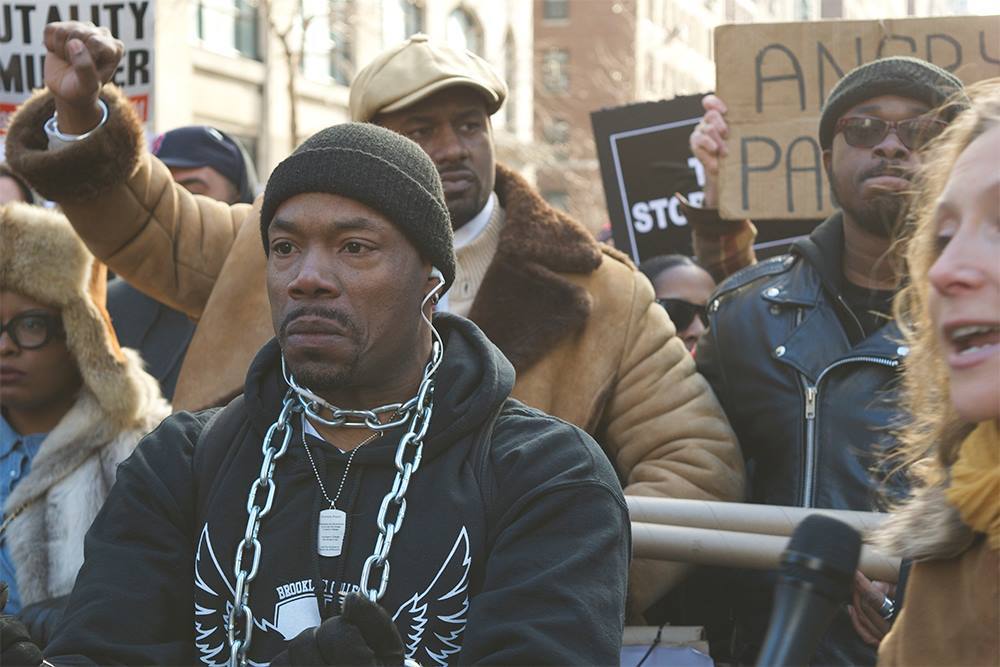 It remains to be seen how New York City and the rest of the country respond to demonstrations like the one that unfolded today. Our takeaway: "I can't breathe" is quickly evolving into "We can—and will—be heard".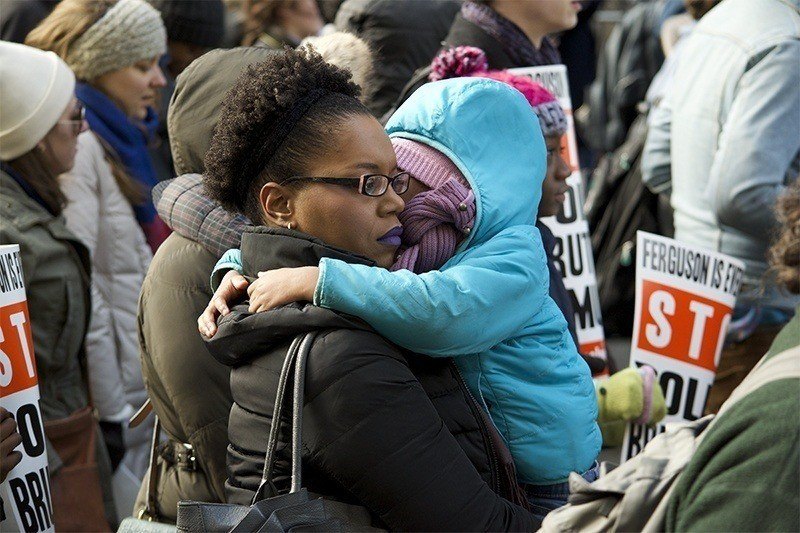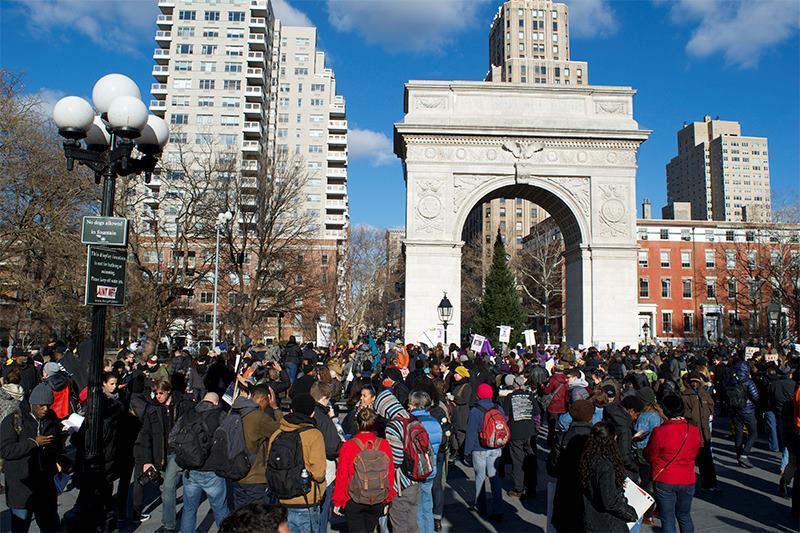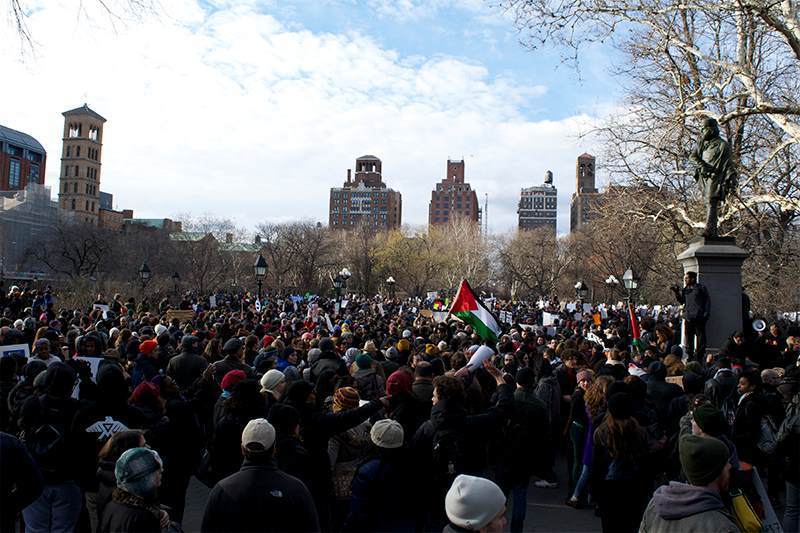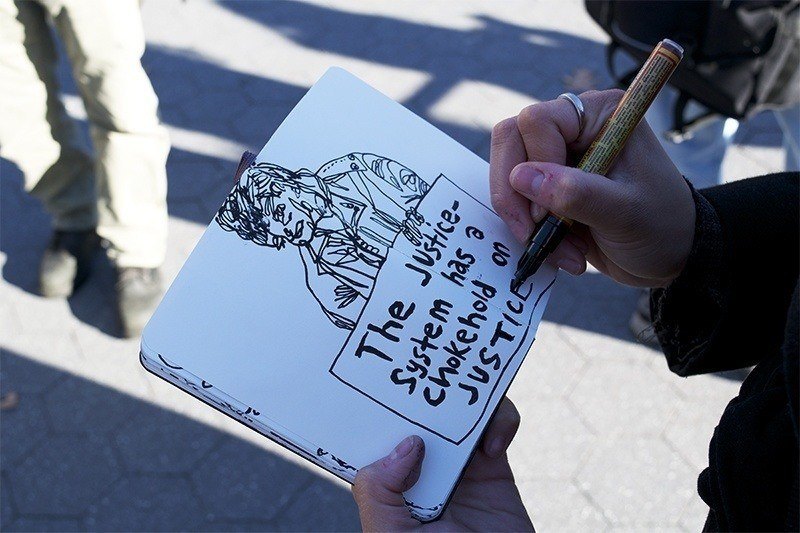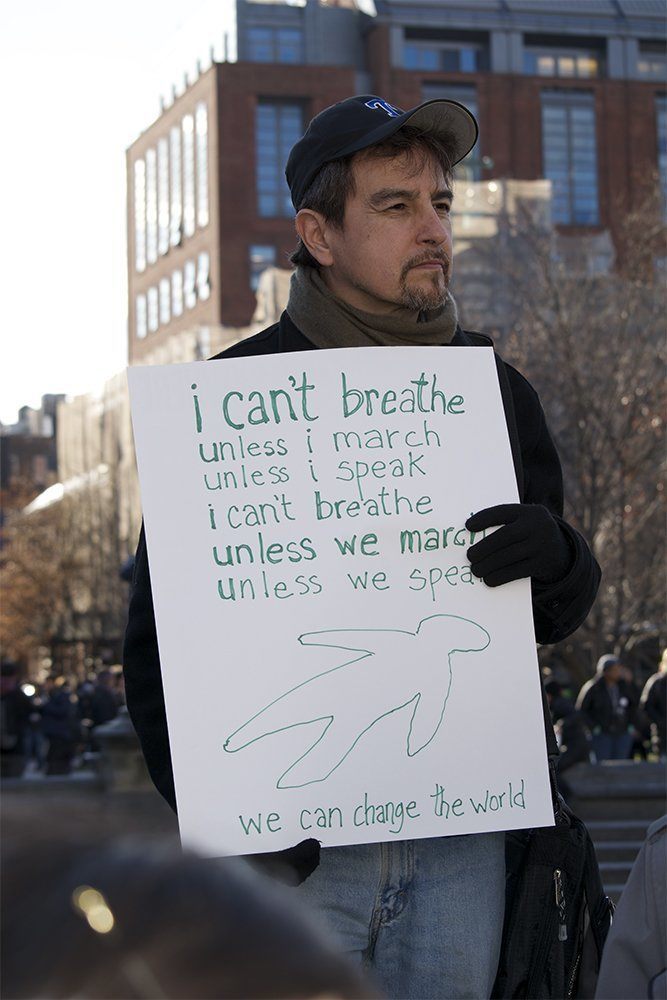 Thousands gathered in New York's Washington Square Park in protest of police brutality.
Eric Garner uttered "I can't breathe" 11 times before he died at the hands of NYPD officer Daniel Pantaleo.
"Millions March" marshals galvanize a crowd of thousands.
Police presence was heavy during today's demonstration--on the ground and in the air.
Barack Obama has requested
$263 million
for police body cameras. But as the Eric Garner grand jury decision has shown, camera documentation of police brutality does not ensure transparency.
Police drape the corners of Washington Square Park.
The New School expresses solidarity with the #BlackLivesMatter movement.
The father of
17-year-old Jordan Davis
, gunned down in Florida in 2012, helped lead today's demonstrations. Michael Dunn, Davis' killer, cited Florida's "Stand Your Ground" laws in his defense.
Michael Brown's last words before being killed by Darren Wilson: "I don't have a gun. Stop shooting."
Photos by Chris Altman.