Read these inspirational quotes from Mr. Rogers, the beloved television host who was awarded the Presidential Medal of Freedom, received more than 40 honorary degrees, and once sued the KKK.
As you'd expect, these simple but insightful Mr. Rogers quotes are representative of the exemplary man that he was. The iconic TV host was soft-spoken in the fact that he never seemed to raise his voice — but that's because nearly everything he said carried its own weight in kindness and truth.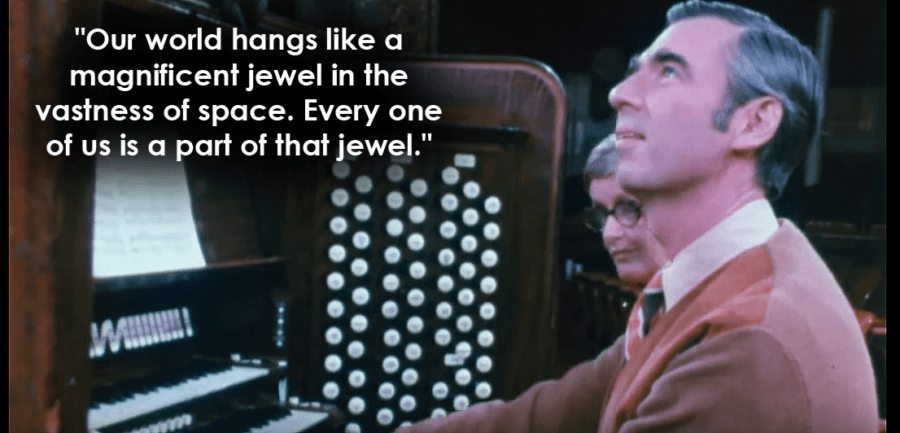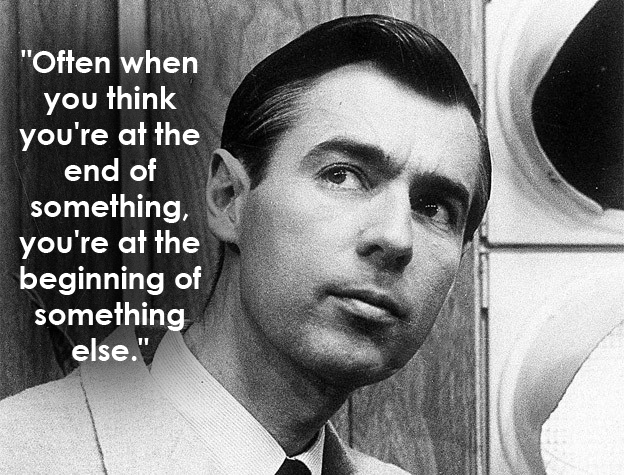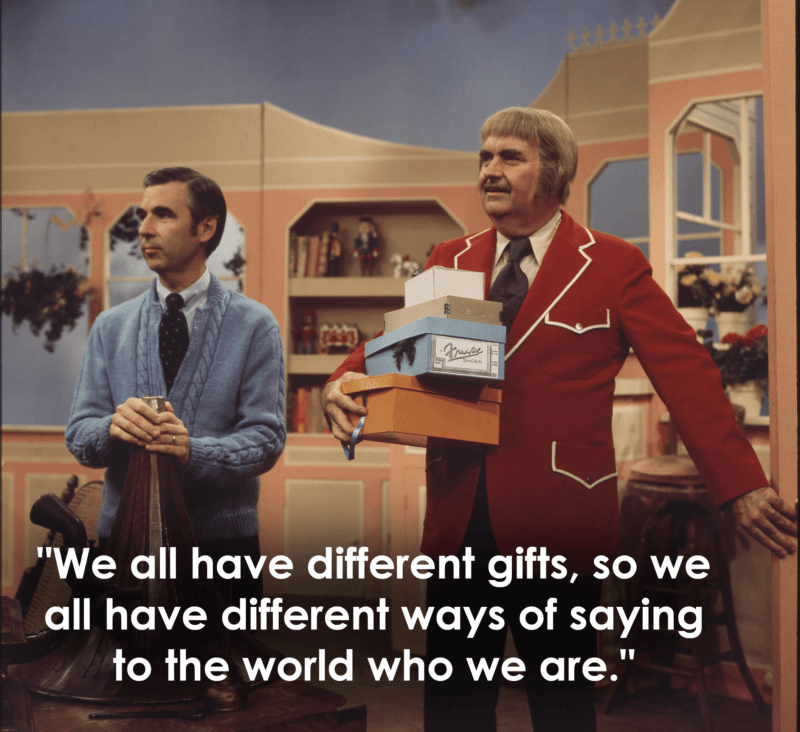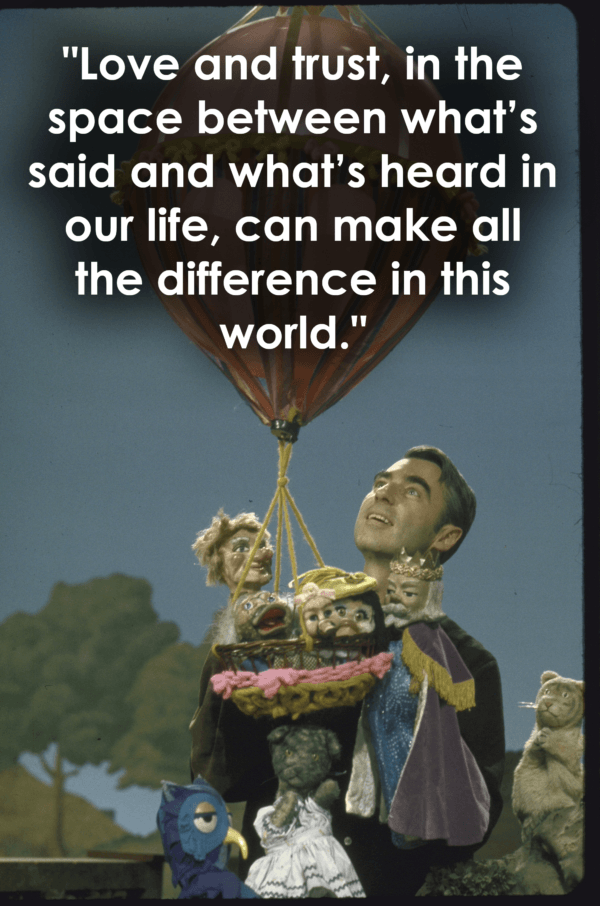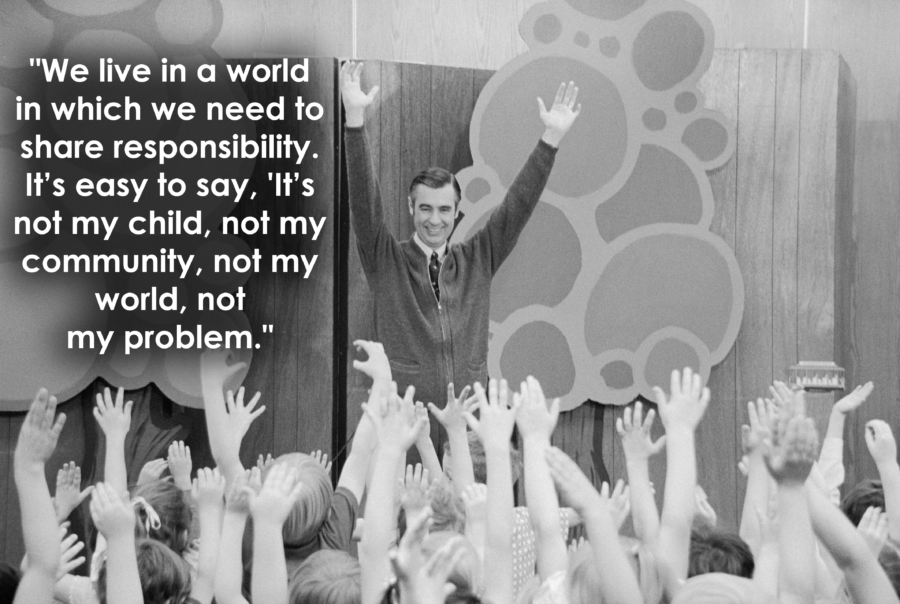 Pittsburgh History Journal
CBS Photo Archive/Getty Images
J.DAVID AKE/AFP via Getty Images
Deborah Feingold/Corbis via Getty Images
Ron Galella Collection via Getty Images
Brooks Kraft/CORBIS/Corbis via Getty Images
David Hume Kennerly/Getty Images
The Mercury News via Getty Images
Paul Morse/George W. Bush Presidential Library/Wikimedia Commons
Heinz Kluetmeier/The LIFE Images Collection via Getty Images
Fotos International/Courtesy of Getty Images
Ron Galella Collection via Getty Images
NBCU Photo Bank/NBCUniversal via Getty Images
Mr. Rogers never needed to yell to get children's attention, and his soft demeanor wasn't an act for television.
Fred McFeely Rogers (yes, that was his middle name) was a real man. One that was, by every count imaginable, the very same man that appeared onscreen. He was so wholesome, it seems, that people made up rumors debunking his purity.
But thankfully, Mr. Rogers had no time for your cynicism. His endgame was the well-being and mental health of every young child. He still is the ultimate embodiment of this cause today — so many years after his death in 2003.
He looked to pass that torch on to us — and in a lot of ways, it feels like we're really screwing it up. However, we can look to one of Mr. Rogers's quotes here to know that all hope is not lost. "We all make mistakes as we grow," he insisted. " ... and not only is there nothing wrong with that, there's everything right about it."
So let's put on our virtual cardigans and learn more Mr. Rogers' life, so we can better understand his message. Not only for our children — but for ourselves too.
Mr. Rogers' School Years
Fred Rogers was born on March 20, 1928 in the small town of Latrobe, Pennsylvania. He had a tough childhood: He suffered from asthma, and he was bullied for being chubby. "We're going to get you, Fat Freddy," his classmates would say.
"I used to cry to myself when I was alone," he remembers. "And I would cry through my fingers and make up songs on the piano." He also explored his love of puppets and puppetry as a child, using them as a tool to work through anxiety.
After high school, Rogers left Latrobe for New Hampshire's Dartmouth College. He then transferred to Florida's Rollins College after a year and graduated magna cum laude with a bachelor's in music in 1951.
Let's not glaze over the fact that Mr. Rogers was a great musical talent. His future wife, a pianist herself, would later remember his prowess on the piano.
"He sat right down and started playing some pop stuff. And we were so impressed, because none of us could do that... we couldn't just sit down and play jazz. And he could. He could do it all. So we were very impressed, and... he was fun."
Early Adulthood
During his senior year of college, he returned home for a visit and found a television in his parents' living room. He immediately saw the potential in this new technology as a tool for learning. Needless to say, he was instantly disappointed by the meaningless, slapstick antics that flashed before him on screen.
Mr. Rogers' destiny had just come calling.
So he put his post-graduate plans of attending seminary and becoming a Presbyterian minister on hold. He would pursue a job in the television industry, so he could help transform it into something with educational merit.
Mr. Rogers landed his first television job on NBC's Kate Smith Hour in New York in 1951, the same year he graduated college. The next year, he married his college sweetheart, Joanne.
After that, Pittsburgh's WQED-TV hired him to write and produce a program called The Children's Corner with host Josie Carey. He was thankful for the ability to move back closer to home and was soon promoted to station program manager.
With a foot in the door and a job with creative input, Mr. Rogers spent his time on The Children's Corner writing songs and developing puppets, many of whom would later be regulars on Mister Rogers' Neighborhood.
He also decided to continue with his theology studies on a part-time basis. He earned his divinity degree in 1962, ordained with the special mission to use television as a means to educate children.
Mister Rogers' Neighborhood
Another Fred stepped in and nudged Rogers in front of the camera. Fred Rainsberry, the head of youth programming at the CBC in Canada, invited him to do a show on Canadian television. They called it Misterogers. This new opportunity varied from his work in the United States; Rogers interacted with children directly onscreen.
In 1966, Rogers returned once again to Pittsburgh with the rights to Misterogers. He incorporated elements from his previous programs to create the PBS show for which he is known and loved, Mister Rogers' Neighborhood.
https://www.youtube.com/watch?v=FP10t_d3Fs0
There were no special effects, no animations. Rogers simply fostered self-esteem, tolerance, kindness, creativity, and empathy in young viewers. He focused mostly on the inner lives of children and speaking to them as their equal, not as a blustering authoritarian.
Fred Rogers' Lasting Legacy
The show that bears his name is far from Mr. Roger's only crowning achievement.
Mr. Rogers famously challenged funding cuts for public television in a 1969 U.S. Senate hearing. Sen. John O. Pastore, the chairman of the subcommittee, was unmoved for the first days of proceedings, but Rogers' speech touched him.
"I'm supposed to be a pretty tough guy, and this is the first time I've had goose bumps for the last two days," Pastore said. "Looks like you just earned the $20 million."
https://www.youtube.com/watch?v=J9uIJ-o2yqQ
Rogers successfully sued the Ku Klux Klan in 1990 over using his voice likeness and show sound effects on recorded telephone messages, and President George W. Bush awarded him the Presidential Medal of Freedom in 2002 for his service to children. This ceremony took place 7 short months before Fred Rogers died of stomach cancer on Feb. 27, 2003.
We've been without Mister Rogers' Neighborhood for 18 years, just enough time for the Rogers-deprived generation to be teetering on adulthood. It bears the question: Do we need Mr. Rogers now more than ever? Are we living up to his expectations?
When asked about her late husband's politics in 2018, Joanne Rogers said that Fred, although a lifelong Republican, had values that are "almost completely opposite" of America's current leader.
When asked if she thought Fred, who mainly stayed out of politics, would have spoken up about that, she nodded. "I think he might have to."
---
After reading these quotes from Mr. Rogers, learn more about how Mr. Rogers was the real deal. Then take in these 21 inspirational Nelson Mandela quotes that will bring you hope.