The King of Pop purchased Neverland Ranch in 1987 for $19.5 million. It remains an abandoned artifact of a time gone by – and the scene of alleged child sexual abuse.
There has arguably never been a single human being as famous, invigorating, talented, polarizing, and controversial as Michael Jackson. His home — a 2,700-acre property in Los Olivos, California named after a fantasy land from a children's fairy tale — was just as curious.
The sprawling property was initially famed in the late 1980s and early 1990s for its exorbitant amount of amenities and attractions, including its train station, fantasy-inspired statues, swan-shaped boats, and Ferris wheel. However, in the decades following, Neverland's reputation has soured.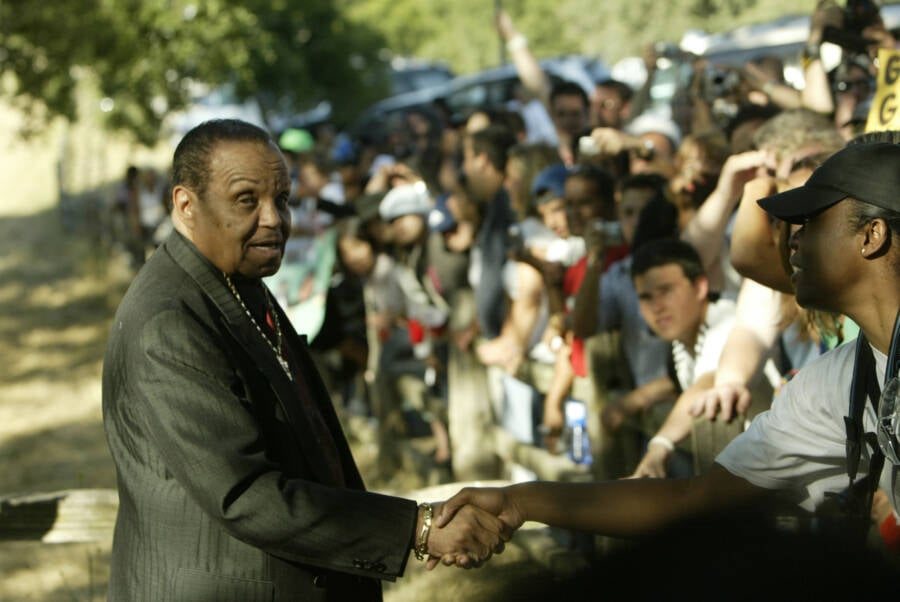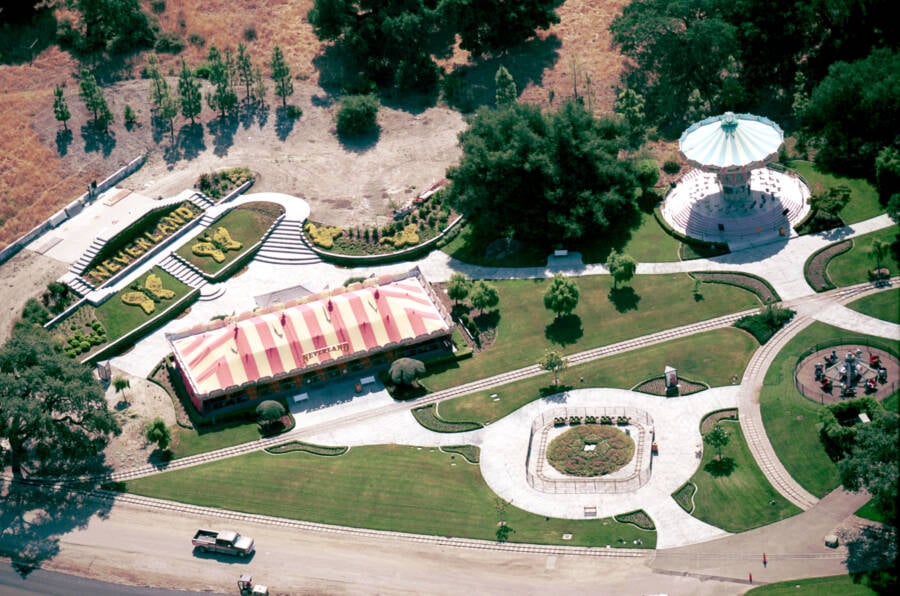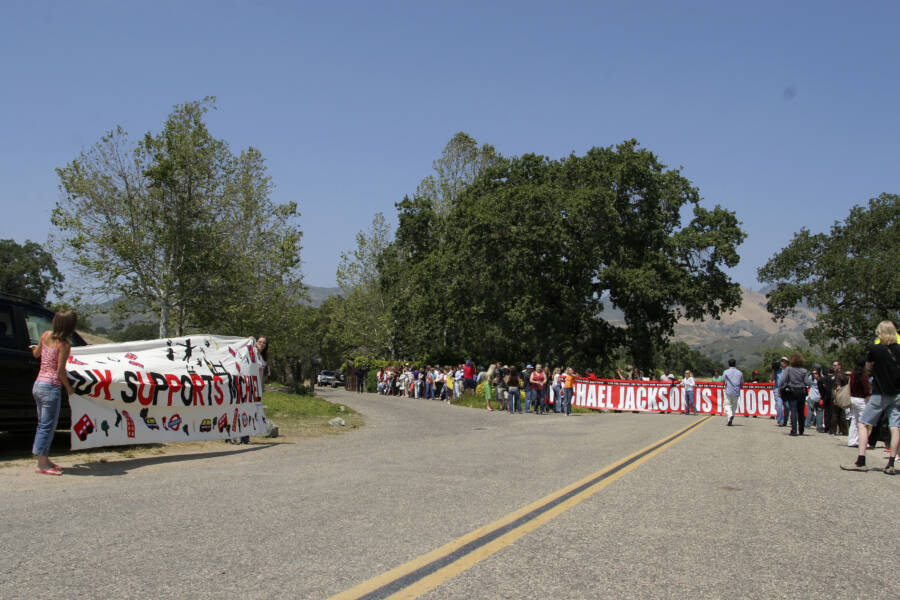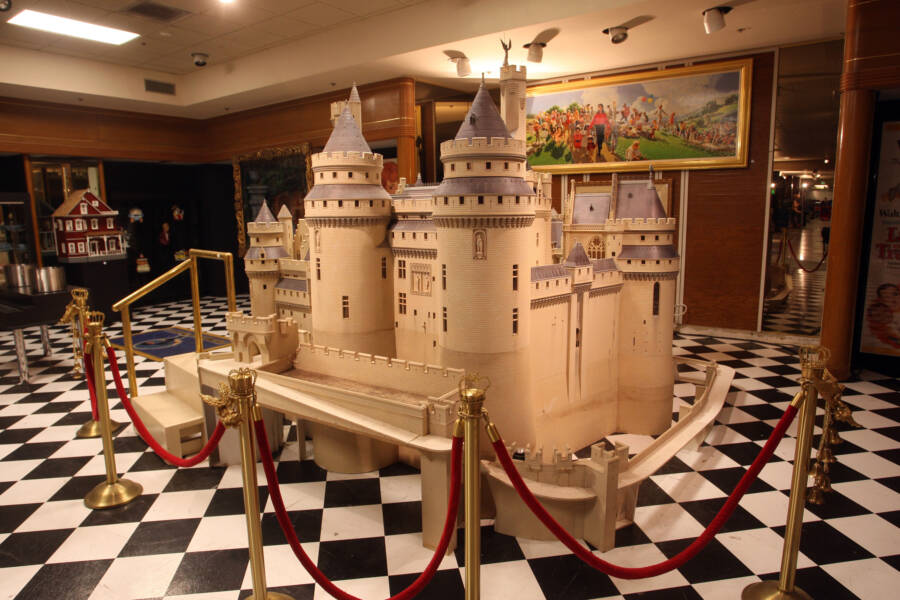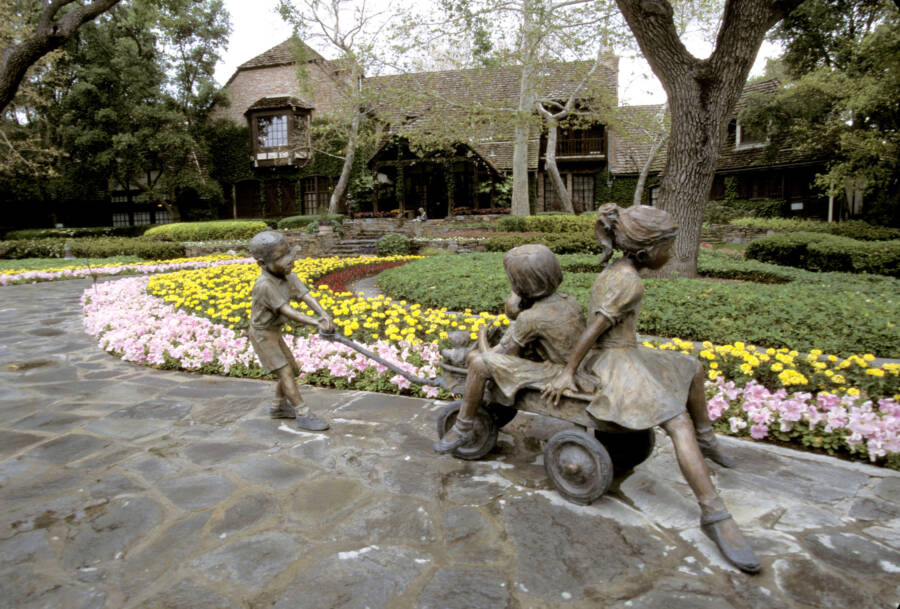 Mel Melcon/Los Angeles Times/Getty Images
Christina Barany/Getty Images
Jason Mitchell/BuzzFoto/FilmMagic
Kevin Winter/Getty Images
NICHOLAS KAMM/AFP/Getty Images
Jason Mitchell/BuzzFoto/FilmMagic
Kim Kulish/Sygma/Getty Images
Kim Kulish/Sygma/Getty Images
Steve Starr/CORBIS/Corbis/Getty Images
Stephen Kim/WireImage/Getty Images
Steve Starr/CORBIS/Corbis/Getty Images
Jason Mitchell/BuzzFoto/FilmMagic/Getty Images
Yvonne Hemsey/Getty Images
ROBYN BECK/AFP/Getty Images
Jason Mitchell/BuzzFoto/FilmMagic
Kim Kulish/Sygma/Getty Images
Kim Kulish/Sygma/Getty Images
Stephen Kim/WireImage/Getty Images
Kevin Winter/Getty Images
Jason Mitchell/BuzzFoto/FilmMagic/Getty Images
Jason Mitchell/BuzzFoto/FilmMagic/Getty Images
Frazer Harrison/Getty Images
Stephen Kim/WireImage/Getty Images
Steve Starr/CORBIS/Corbis/Getty Images
Ever since the 2019 release of HBO's Leaving Neverland — which details child sexual abuse allegations against Jackson in horrific detail — his image took a hit he could no longer defend.
After all, the King of Pop had already died of cardiac arrest at age 50 in 2009 after his doctor, Conrad Murray, irresponsibly treated his sleep deprivation with the powerful medication propofol.
Now, a decade after Jackson's death, the world sits divided between thinking him either a defamed humanitarian who used his music and riches to unite people or a criminal pedophile who allegedly abused kids on his property.
At the end of the day, Neverland Ranch remains universally intriguing. It's a remnant of a time long gone, when singers could be kings, and money could seemingly buy innocence.
Finding Neverland
According to Business insider, Michael Jackson purchased the Los Olivos property for $19.5 million in 1987.
That was one year after reports of him sleeping in a hyperbaric chamber to slow aging hit the tabloids, according to J. Randy Taraborrelli's Michael Jackson: The Magic, The Madness, The Whole Story.
According to the BBC, that was also around the same time that tabloids reported that he bid $1 million to buy the skeleton of "Elephant Man" John Merrick. Clearly, Jackson's fame had begun to reach new heights, with stories of eccentric curiosities and vast expenditures being routine.
At Neverland, the world superstar renovated the ranch from top to bottom. The main residence — a five-bedroom, eight-bathroom, 12,598-square-foot French-Normandy style affair — was not the only building on the property.
The property also boasted guesthouses, which common folk would find spacious enough to consider as full homes. There was also a four-acre lake with a waterfall to make the whole area a bit more picturesque.
In addition to a 14-foot lagoon-style pool, a dance studio, and a tennis court, the property also included a 50-seat movie theater.
Oprah Winfrey famously interviewed the singer within that theater in 1993. That same year, Jackson faced his first child sexual abuse allegations.
"I am not guilty of these allegations," Jackson said after he was strip-searched and his genitals were photographed and compared to descriptions given by an accuser in 1993. "But if I am guilty of anything, it is of giving all that I have to give to help children all over the world."
He settled out of court with 13-year-old Jordan Chandler and his family, reportedly for more than $20 million.
Tales From Inside Michael Jackson's Neverland
In 2004, one year after Jackson was charged with seven counts of child molesting, the singer held a children's event on his ranch.
According to The Los Angeles Times, the event consisted of 200 children playing at his home just days before Christmas.
"I hope you have a wonderful day. Merry Christmas. I love you," he told the kids coming in through his driveway.
Spokeswoman Raymone K. Bain explained that her boss decided to spread joy and surprise the kids with some holiday spirit. She also said there was no connection between this event and Jackson's impending trial.
Investigators had already raided the property multiple times on numerous ocassions, and described Neverland as "a veritable paradise" for children. For those who got a chance to visit, it certainly appeared to be.
His guests, ranging in age from preschoolers to teenagers, hopped on the Neverland train, rode various rides, pet the zoo animals, and even watched The Polar Express in his theater.
"Considering everything going on, he seemed to be well," said Bain.
According to HBO's documentary Leaving Neverland, however, things were not at all what they seemed.
Leaving Neverland
After the 2005 trial that took the media by storm — and ultimately led to a not guilty verdict — Jackson died in 2009.
Ten years later, HBO's Leaving Neverland heavily implied that Michael Jackson was indeed guilty of pedophilia. Unfortunately for the Jackson estate, the narrative it painted was fairly convincing to many viewers.
While Jackson told journalist Martin Bashir in 2003 that people who objected to the singer sharing a bed with a young cancer survivor were "ignorant," Wade Robson and James Safechuck's allegations claimed that there was much more to his "slumber parties" than just sleep.
According to The New York Times, Wade Robson initially came to Jackson's defense in both 1993 and 2005. He claimed the overnight stays were harmless. Safechuck also defended Jackson in 1993. However, he did not defend him in 2005, as Robson did.
In 2013, with Jackson dead, Robson sued the late star's estate and claimed the singer had molested him for seven years — beginning when he was seven years old. Robson claimed "brainwashing" was a primary method of Jackson's, which led him to initially testify on the late star's behalf.
Robson's case was later thrown out for being filed too late. In 2014, Safechuck filed his own lawsuit. He claimed Jackson had molested him "hundreds" of times between 1988 and 1992, beginning when Safechuck was 10 years old.
He claimed Jackson kissed his genitals and rewarded the boy with jewelry for performing various sexual acts. His case was also dismissed.
In the meantime, both of the men decided to take matters into their own hands — and re-litigate the case on television. In their HBO film, both Robson and Safechuck allege a lengthy grooming process by Jackson, which involved adoring letters, financial rewards, and psychological manipulation.
The four-hour documentary premiered at the Sundance Film Festival — with health care providers available nearby for anyone disturbed by the film's content. Meanwhile, the Jackson estate condemned the documentary.
"Yet another lurid production in an outrageous and pathetic attempt to exploit and cash in on Michael Jackson," the statement from the Jackson family read.
"We are furious that the media, who without a shred of proof or single piece of physical evidence, chose to believe the word of two admitted liars over the words of hundreds of families and friends around the world who spent time with Michael, many at Neverland, and experienced his legendary kindness and global generosity."
Macaulay Culkin is one of the many people referred to in that statement. He famously defended Jackson throughout the singer's life, and maintains to this day that Jackson was innocent all along.
In the end, with trials that were either settled out of court or completed with not guilty charges, the matter will eternally remain disputed, debated, and voraciously discussed among generations to come.
Some people believe that Jackson was a mentally unstable predator, with countless resources to manage alleged child abuse in his home.
Other people believe that Jackson was being plotted against, lied about, and defamed for a variety of reasons, money perhaps being the most often cited.
Ultimately, it's likely that this is the end on that front. Michael Jackson is dead. His home was sold off, while an attempted auction to sell 2,000 of his personal items in 2009 came and went. The 50-show London extravaganza planned for that same year never happened.
Only a tour documentary called This Is It was left to placate the thousands of heartbroken fans who were missing their favorite superstar.
Neverland Ranch Today
According to Rolling Stone, Julien's Auctions planned to sell 2,000 items of Jackson's memorabilia to the highest bidder on April 22, 2009.
Just months shy of his death, the singer managed to cancel the event by suing the auction house, which promptly returned his belongings in exchange for dropping the suit.
These items included his famous gloves, various jackets, portraits, the gates to Neverland itself, and more. They were originally claimed in 2005 after Jackson's financial troubles left him in millions of dollars of debt. The London tour was essentially planned to be a response to that.
When he was unable to pay his dues on the estate, he lost all possessions within. Only his stake in Sony/ATV Music publishing and its Beatles catalog kept him afloat.
As for Neverland Ranch, it came back on the market as recently as August 2019. Listed at $31 million, it was previously available for $100 million in 2015, and $67 million in 2017. It was renamed Sycamore Valley Ranch during the first attempt to resell the property.
In the end, Neverland Ranch remains one of the most famous pieces of land in the world. Besides the amusement park rides, Peter Pan-influenced decor, and extravagant amenities, it housed one of the most globally celebrated and publicly scrutinized entertainers that the world has ever known.
---
After learning about Michael Jackson's bizarre Neverland Ranch, read about Michael Jackson's doctor revealing the King of Pop was actually chemically castrated as a child. Then, learn about six famous acquittals of powerful people who most likely got away with rape and murder.