Teenagers and adults from around the country have been voicing their support for the shooter online and through macabre fan mail.
Mass murderer Nikolas Cruz is receiving stacks of fan mail, dozens of love letters, and hundreds of dollars in commissary money from fans across the country.
Since his incarceration, Cruz, who killed 17 people and injured 17 more when he opened fire at Marjory Stoneman Douglas High School in Parkland, Fla. on Feb. 14, has become something of an icon to fascinated people across the country. Teenage girls, women, and even some men have been writing to the Parkland shooter declaring their support, offering their friendship and sending him encouragement.
Some of them are also sending him their photos or notes about themselves, most of which are highly suggestive. On March 15, Cruz received a letter from a teenager who claimed to be attracted to him.
"I'm 18-years-old. I'm a senior in high school," she wrote. "When I saw your picture on the television, something attracted me to you."
"Your eyes are beautiful and the freckles on your face make you so handsome," she continued, before going on to describe herself. "I'm really skinny and have 34C sized breasts."
Another woman enclosed suggestive photographs of herself, including a shot of her cleavage, one of her backside, and another of her in a bikini eating a Popsicle.
In addition to the lewd photos and obscene letters, some of the notes include bizarre words of support for the killer, complete with hand-drawn hearts and happy faces.
"No one else is dealing w/your demons, meaning maybe defeating them could be the beginning of your meaning, friend," wrote one 18-year-old from New York. "I know you could use a good friend right now. Hang in there and keep your head up."
Men are also sending Cruz letters as well. One note came with a photograph of a man from New York, with a large grey mustache, sitting behind the wheel of his 1992 Nissan convertible.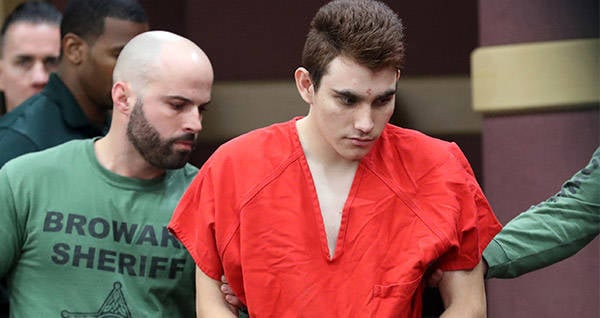 So far, none of the letters have reached Cruz, as the 19-year-old is under suicide watch at the Broward County jail, and has been residing in a bare cell. Jail officials open all inmate mail, aside from legal documents, and confiscate anything suggestive or dangerous. Much of the fan mail has been returned to the senders.
While Cruz himself has not touched any of the mail, Cruz's lawyer has read a few choice ones to him.
"We read a few religious ones to him that extended wishes for his soul and to come to God," his lawyer, public defender Howard Finkelstein said, "but we have not and will not read him the fan letters or share the photos of scantily-clad teenage girls."
Finkelstein worries that the letters portray Cruz in a positive light, and is concerned that the fame and notoriety could be dangerous.
"The letters shake me up because they are written by regular, everyday teenage girls from across the nation," he said. "That scares me. It's perverted."
In addition to sending physical mail, fans of Cruz have banded together online, starting multiple support groups on Facebook and other social media outlets. One group, titled "Nikolas Cruz for Punishment or Apologize," has over 1,000 members and regularly posts messages of encouragement for the killer. Many people also use it to post photos of Cruz, calling him "cute" or "handsome."
Some fans have even created merchandise, featuring the hashtag "#NikFam," and other messages of support.
Many of the messages do come with some confusion, however, as some of the posters don't seem to understand their own feelings.
"I feel bad for him and after reading about him I want to get to know him so he's not as lonely," one person wrote. "[I don't know] why I feel like this because he committed an awful crime I can't help it but I want to talk to him."
Though the letters may keep coming, Finkelstein wants people to remember how tragic the case really is.
"It's important that the community understand that as this case continues, the awfulness will continue to spread," Finkelstein said. "Everything about this case is awful and evil."
---
Next, take a look at these dramatic images from the Parkland Shooting. Then, read about Harvey Robinson, one of America's most infamous teenage serial killers.