Ohio's Hitler family includes Dr. Gay Hitler and George Washington Hitler. We kid you not.
If you were to get a little freaked out while taking a tour of Circleville, Ohio, the residents would probably understand.
After all, your hypothetical tourbus would have passed Hitler Number 1 Road, Hitler Number 2 Road, Huber-Hitler Road, Hitler Pond, Hitler-Ludwig Cemetery and Hitler Park. Maybe a few of the remaining Hitler descendants would have waved hello from their porches.
We know what you're thinking — Hitler is bad. We probably shouldn't pay tribute to him with cute Midwestern parks.
But don't worry! These Ohio landmarks are tributes to the other Hitlers. You know, the county pioneer ones.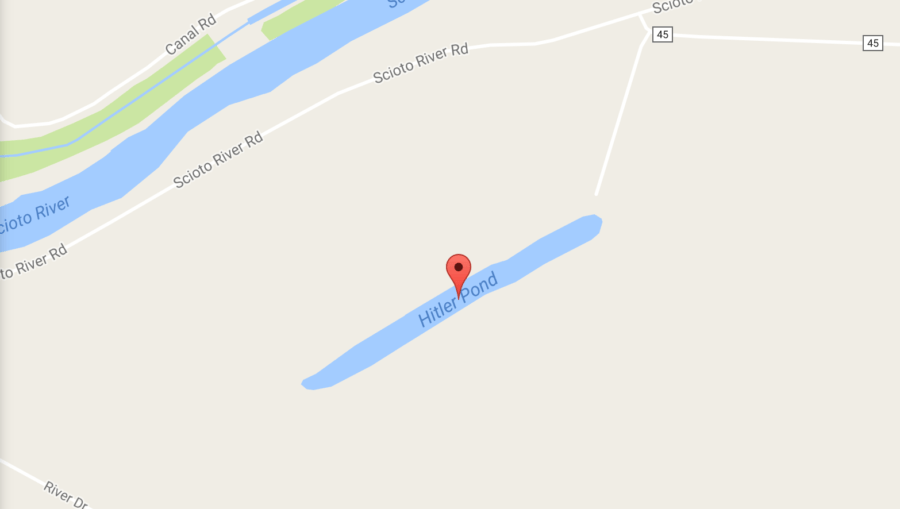 No? Not ringing any bells?
Well, according to the Circleville Herald, the Hitlers who settled Pickaway Township in 1799 were actually "fine, upstanding citizens."
They were farmers with good reputations, who couldn't have known the burden their surname might put on their descendants.
"During the war, my parents went through quite a siege of it," George Hitler Jr. told Ynet News of the stigma that comes with such a name. "They had to change their telephone number."
His family, he argues, actually has more of a claim to the name than the genocidal leader who ruined it for everyone.
Adolf Hitler's adopted father (he was born out of wedlock) was possibly named "Hiedler," but eventually changed it, possibly due to a misspelling.
The first Circleville Hitler was George Hitler. Born in 1763 — more than a century before Adolf — George married Susannah Gay in Pennsylvania, and together they had four children.
One of them was George Washington Hitler.
And — just as you thought it couldn't get better — George Washington Hitler had a son named Gay Hitler.
In 1922, Gay became the local dentist.
Dr. Gay Hitler. That was a real person's real name.
The only thing funnier than this family tree is the complete nonchalance with which local residents regard it.
"It's one of a kind," World War II veteran, Jay White, said of why he hopes his street keeps its name.
Jonathan Chait, a New York Magazine writer who did a whole series on Ohio, decided that the story of Circleville might answer the question that served as a catalyst for his reporting.
"What is the problem with this state?"
"Ohio was settled by Hitlers."
The idea of living with the name Hitler intrigued filmmaker Matt Ogens.
In an effort to explore how much a name can influence a person's life, he created a documentary called "Meet the Hitlers" in 2014.
"I have a friend from college who married a guy by the last name of Hitler," Ogens told VICE of how he thought of the topic. "I remember visiting them and seeing the name on the buzzer. I would get Christmas cards saying, 'Happy Holidays from the Hitlers!' and there was something quirky about it. It got me thinking what it must be like to take on that name or to be born with that name. How it would affect your life, positively or negatively."
https://www.youtube.com/watch?v=kSypS1lQ7Rs
The overall takeaway from making the film, Ogens said, was that we can't always say the name "Hitler" in a hushed and horrified tone. That gives the guy too much credit.
"Besides that point," he added. "People should be judged by their actions and who they are as people — something that says much more about you than your name."
Maybe the same principle can be applied to towns?
---
Next, listen to the only known audio of Hitler's conversational voice. Then, read about how the 10th U.S. president, born in 1790, could possibly have two living grandchildren.