Classic rock icon Rod Stewart would take his trains on tour with him, requesting an extra room so he could build while staying in hotels.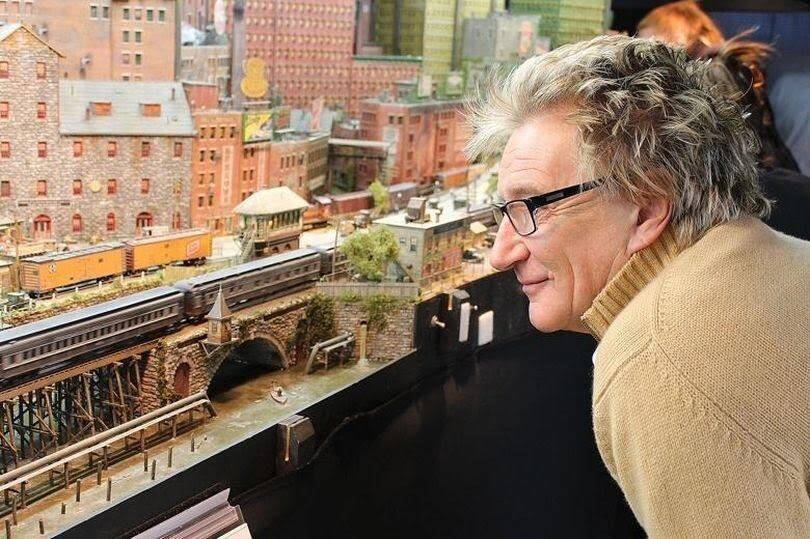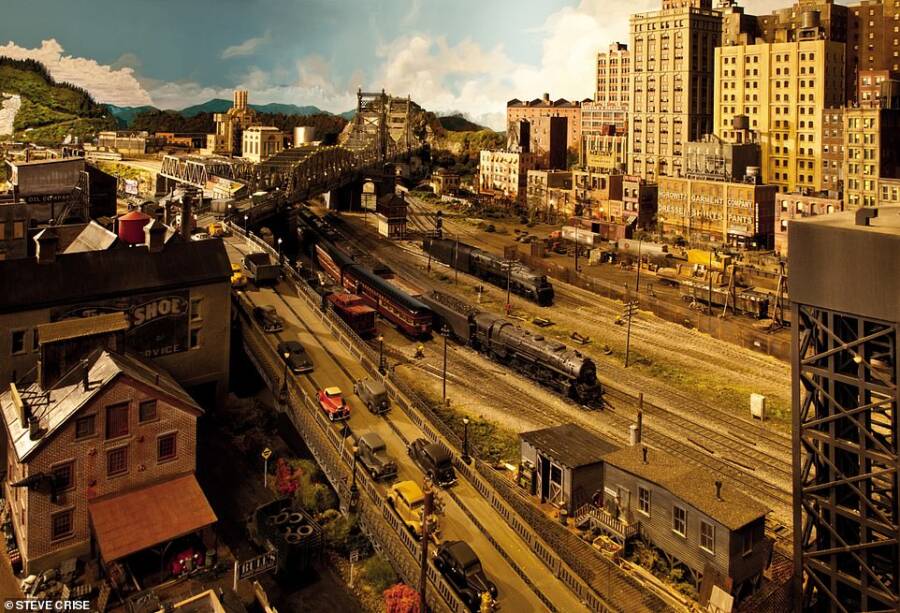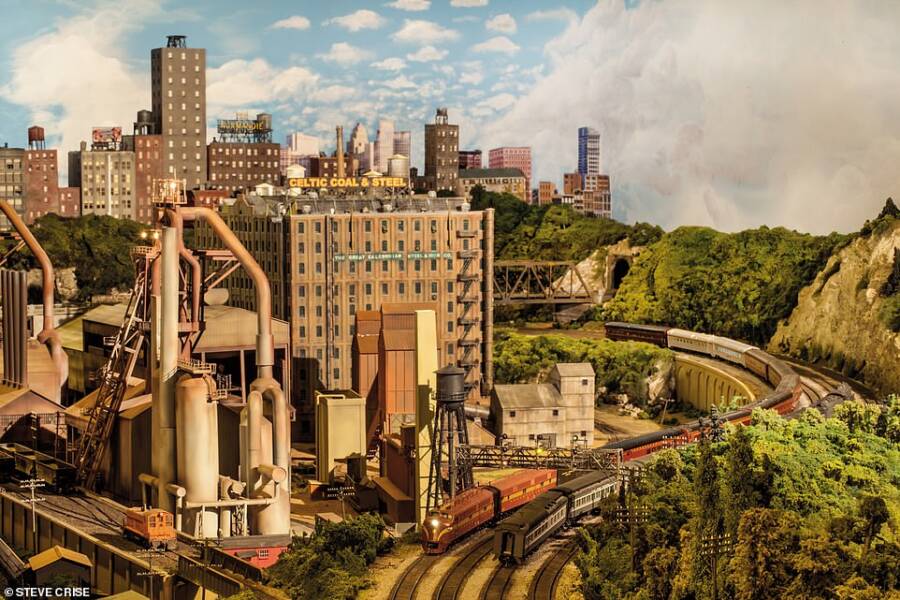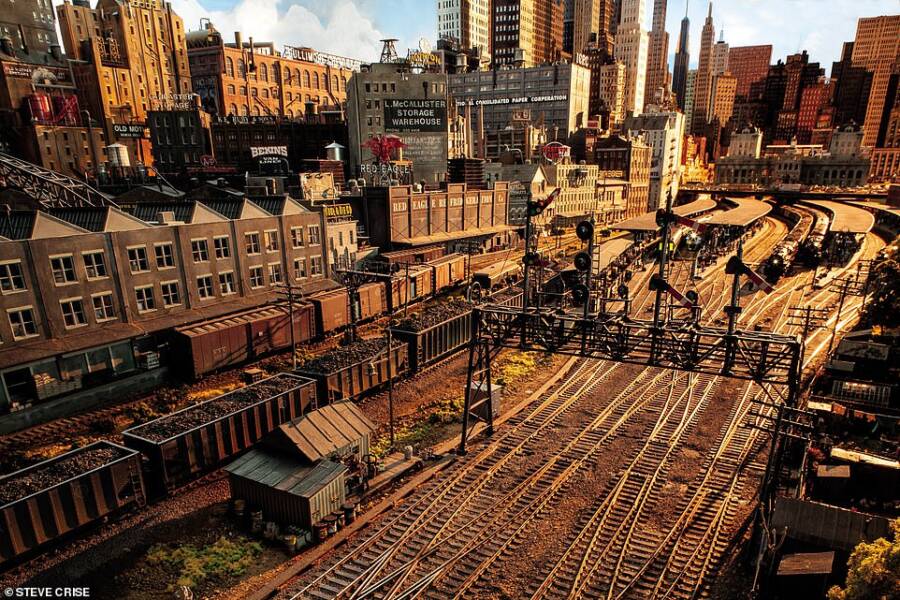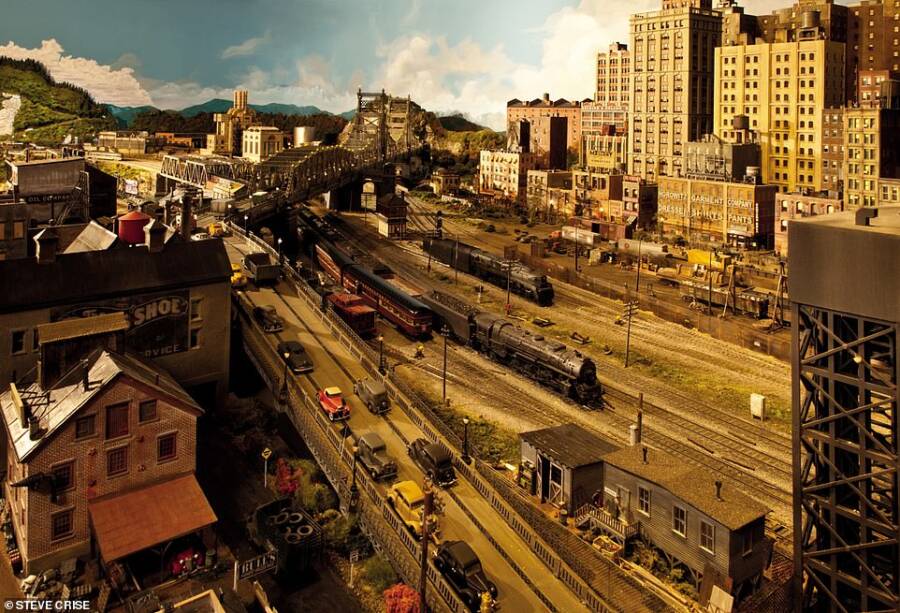 Steve Crise/Railway Modeller
Steve Crise/Railway Modeller
Steve Crise/Railway Modeller
Steve Crise/Railway Modeller
Steve Crise/Railway Modeller
Steve Crise/Railway Modeller
Steve Crise/Railway Modeller
The star who crooned "If you want my body and you think I'm sexy," back in 1978 has had a secret hobby since he was a boy.
It's one that he feared his fans would think was greatly lacking in the sex appeal department. After all, what would you think of Rod Stewart back then if you knew that instead of flirting and partying offstage, he was building elaborate model trains?
The rocker recently unveiled his absolute masterpiece, a 1,500 square-foot replica of post-war Chicago and New York railway systems, to shocked and charmed audiences. He named his labor of love Grand Street and Three River City and his photo-realistic creation took 23 painstaking years to build — some of it while on tour.
Years In The Making
Rod Stewart's 1:87-scale railway features five-foot skyscrapers, period locomotives, a river, ship, power station, and tiny passengers in period dress. It takes up almost the entire third floor of his Beverly Hills mansion.
Stewart reported that the idea of the railway model and cityscape came from the tracks near his boyhood North London home. He said he was given a toy railway as a child and then developed the hobby. But when he asked his father for a toy rail station too, his father allegedly gave him a guitar instead.
His recent model became more of an homage to the mid-20th-century industrial American city than to his boyhood home, however.
The magazine Railway Modeller recently published photos of the intricate and, frankly, startling model.
Stewart recently went on BBC Radio to clear up some claims that he didn't construct the masterpiece himself.
"I would say 90 percent of it I built myself. The only thing I wasn't very good at and still am not is the electricals, so I had someone else do that."
Up Close With The Model Masterpiece
Stewart described to the BBC the minutia that was necessary in crafting such an intricate work.
"You start off with a grey. And then you add a little concrete color, so every paving stone is slightly different...And the cracks have to have some black chalk...and then you add a little bit of rubbish in the gutters, you add a little bit of rust here and there..."
Though Stewart refers to the model as a "hobby," by the way he speaks about it, it is clear that the activity is more than that.
"It's the landscape I like. Attention to detail, extreme detail, is paramount. There shouldn't be any unsightly gaps or pavements that are too clean," he added.
The 124-foot-long railway also has sound. "It's really noisy because we have sound effects. When the trains go through the city, there's a city sound of New York...When they go through the country, there's birds singing. It is quite incredible."
Rod Stewart's not saying how much money he has invested in his railway, but for comparison, the intricate train model on the show Big Little Lies cost the production team $30,000 to have built.
Rod Stewart's is roughly six times bigger than that.
The 74-year-old singer has had 16 top ten singles in the U.S. and 62 in the U.K. including; "Maggie May," "Handbags and Gladrags," and fittingly a cover of Tom Waits' "Downtown Train." He has been on 19 tours during the time it took to build the model.
Stewart took parts of the model on tour with him. He worked on gluing and painting parts of the cityscape and skyscrapers in particular in an extra hotel room. "We'd tell them in advance and they were really accommodating," Stewart said of renting two hotel rooms while on tour. "Taking out the beds and providing fans to improve air circulation and ventilation."
But Stewart isn't the only rock star who dabbles in model trains. The Who's Roger Daltrey, Phil Collins, Neil Young, The Rolling Stones' Ronnie Wood, and pianist Jools Holland also share in the hobby.
The Spark Of Interest And Inspiration
Despite its scale, the model was allegedly pretty ad hoc. "None of it was really planned," Stewart said. He added that he "just winged it."
Stewart's wife, photographer Penny Lancaster, also helped with some of the model landscapes. Her photos acted as a sort of reference for Stewart's layout. Often the couple would stop somewhere to take pictures of a scene that seemed right for the build.
These land and cityscapes were the rocker's favorite part of the build. "I find beauty in what everyone else sees as ugly — rugged skyscrapers, beaten-up warehouses, things that are very run down," he mused.
"They say model railroads are never finished, but this one is. There's not much more I can do with it," Stewart insisted. But considering the decades of effort put into this masterpiece, that's a tough notion to sell.
---
Next, feast your eyes on Charles Jencks' astounding and detailed landscape art. Then for more in miniatures, check out these tiny but mighty gadgets.