Who's to say that horror should only be consumed by adults? These scary stories for kids will make you want to sleep with the light on.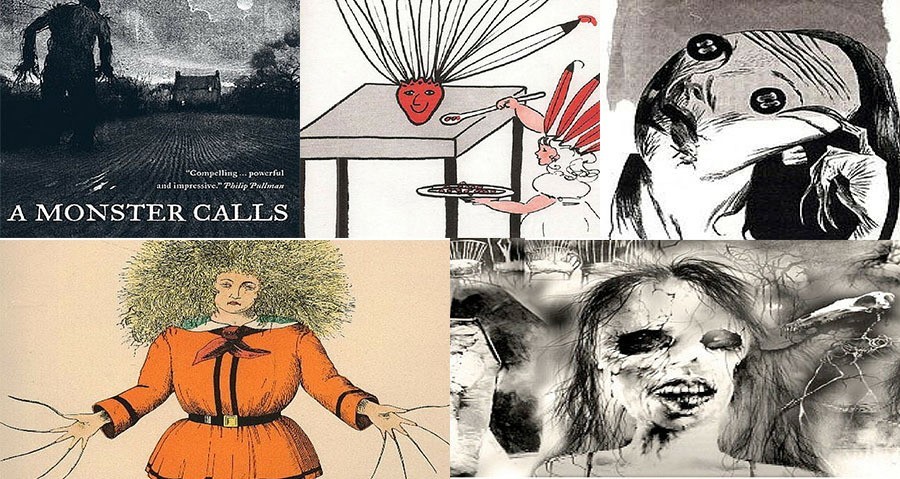 It's no secret that some of the best-loved fairy tales come from a rather horrifying collection of folktales by the Brothers Grimm. While many classics like Little Red Riding Hood and Cinderella were eventually toned down to be child-friendly, some authors have refused to give up their edge. Here are five children's books with truly scary stories for kids still around today…
Struwwelpeter (1845)
An 1845 German collection of "cautionary tales" has gone down in history as one of the most terrifying children's books to exist, mostly because of its illustrations — which depict violent acts like a person getting their fingers lobbed off (blood spray included) to a young girl who literally cries her eyes out.
The book outlines all nature of adverse fates that could befall a child who had behaved naughtily — and those consequences run the gamut from being unpopular to having your thumbs cut off by a roving tailor. One little girl plays with fire and gets more than burned:
So she was burnt, with all her clothes,
and arms, and hands, and eyes, and nose
Till she had nothing more to lose
Except her little scarlet shoes;
And nothing else but these were found
Among her ashes on the ground.
The collection of stories has been referenced in many other pieces of literature and even got a shout out on The Office.