In 1993, TV writers took a risk in avoiding sex and skimpy clothing They created Dana Scully and mainstreamed women in STEM careers.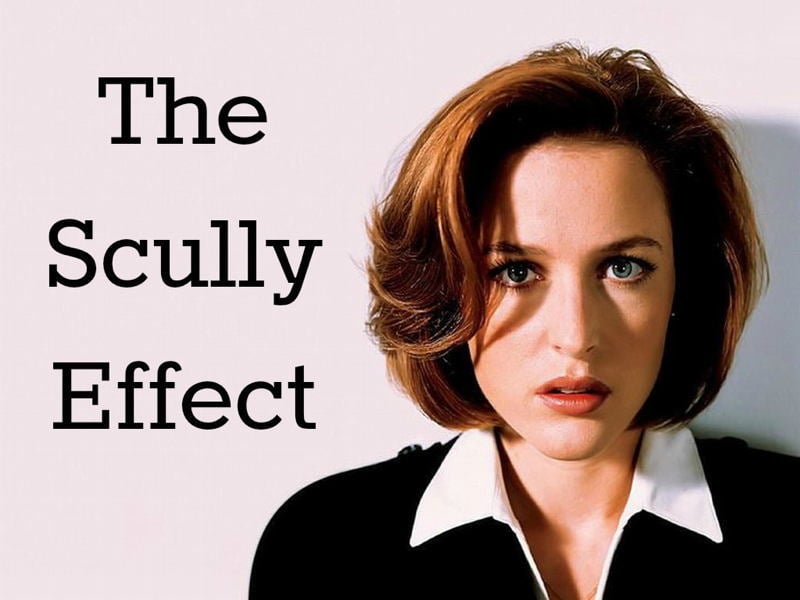 Gillian Anderson was a twenty-four year old ingenue from Chicago when she auditioned for the part of Dana Scully. Even though Anderson told the producers of the show — titled The X-Files — that she was twenty-seven in order to fit the aesthetic of the FBI agent's character, she was still the farthest thing from what they were looking for.
This was 1993. The show's producers had already selected the comely, young David Duchovny for the role of the male protagonist, Special Agent Fox Mulder, and the co-starring role of Dana Scully was meant to be a tall blonde with big boobs, who would be a sexy sidekick for Duchovny.
Given the success of hyper-sexualized shows like Baywatch and the inherently less sexy dynamics of a sci-fi drama series, X-Files producers didn't feel confident that they could succeed without a sexual touchstone in the series' main cast. Cultural interest in STEM (science, technology, engineering and mathematics) that exists in many of today's TV dramas had yet to dominate, so X-Files' creators really didn't know if the show would succeed.
When Anderson showed up to audition, she was almost laughably the opposite of a bombshell: she's 5'3'' in shoes, had mousy hair (that would eventually be dyed red, making the character of Dana Scully one of the most famous red-heads of all time) and wasn't Pamela Anderson beautiful by any stretch of the imagination. She was dressed in a suit that was ill-fitting, one she'd borrowed from a friend, and had cheap shoes. She was the antithesis of sexy.
But something amazing happened when Anderson began to read alongside Duchovny. The immediate chemistry between the two actors completely revolutionized the character of Dana Scully, and suddenly no one in the room could see any other actress bringing her to life on the small screen. Anderson landed the part, which would make her a household name by the end of the decade.
The character of Special Agent Dana Scully, M.D. was presented in the pilot episode of X-Files as a necessary buffer for the brooding, conspiracy theorizing Mulder, whose incessant need to find "the truth" (a concept that encompassed the disappearance of his younger sister as well as a slew of government cover-ups for the existence of extraterrestrials) had begun to grind against his colleagues at the FBI. His superior at the bureau, Assistant Director Walter Skinner, assigns Agent Scully to calm Mulder's enthusiasm with her monotone, hyper-rational verbiage.
Scully, as a character, was a beautiful dichotomy: she was a highly educated medical doctor with an undergraduate degree in physics, yet her childhood as a Catholic "Navy Brat" gave her a certainty in God that constantly put her at odds with Mulder. An atheist, but one who desperately wanted to believe in the mysteries of the universe, Mulder was "the believer" whereas Scully was "the skeptic" – gender reversing tropes.
Scully's presence was constant not just in her appearances, but in her demeanor. She was extremely intelligent, rational and courageous. She held her own in the bullpen of the FBI and one could imagine that if she was in the same universe as The Silence of the Lambs' Clarice Starling, the two women probably would have been good friends. Scully is often, unapologetically, the smartest person in the room. She lives alone in a nice walk-up apartment in Georgetown, spends her evenings reading and cleaning her Glock and tends to have ill-fated romps with men.
She seems relatively nonplussed, as her career is what matters most, and it sort of has to: not only is she Mulder's partner-in-crime, but as a medical doctor she's often the field pathologist, conducting autopsies late into the night.
She does all of this with aplomb and a certain kind of grace that seems to have faded in today's female protagonists. Before Olivia Pope, Temperance Brennan, Patty Hewes, Olivia Benson, Rizzoli and Isles or Fringe, Dana Scully was being a full-time badass without being a bitch.
She carried herself as a highly competent, reliable and loyal woman who rarely caused a scene. She didn't need to: people trusted in her ability, so they listened without being told to. The cool authority with which Scully ruled her career—and her life—made her the pop culture patron saint of women trying to forge a career in STEM fields.
At Comic Con a few years ago, Gillian Anderson was asked if was aware of The Scully Effect: the influx of young women pursuing STEM careers who had grown up watching her as Dana Scully in The X-Files. Said Anderson, "It was a surprise to me, when I was told that. We got a lot of letters all the time, and I was told quite frequently by girls who were going into the medical world or the science world or the FBI world or other worlds that I reigned, that they were pursuing those pursuits because of the character of Scully. And I said, 'Yay!'"
The uptick in scientific girl-power outlasted the series, which came to an end after nine seasons in 2002. The show has continued to inspire, being syndicated and available on Netflix and Hulu, meaning that today's generation of young girls can have Scully as a role model, too.
Websites like Steminist offer profiles of real-life Scullys: intelligent, hard-working and extremely cool women who are on the forefront of scientific innovation. Cosmetic megalith L'Oreal started a fellowship for women in science back in 2003 and, since then, has awarded more than $2 million to female postdoctoral students in STEM fields. If you still can't get enough, DiscovHER compiled their list of the 10 Female Scientists to follow on Twitter. Scully would be proud.
---
Next, check out these 10 cool fringe sciences.