Throughout the early 20th century, St. Louis, Missouri, was among the most progressive and prosperous towns in America. So what turned the Gateway City into a crime-ridden ghost town?
Until the 1950s, St. Louis, Missouri was a bustling hub of industry. Given its location along the Mississippi River, the Gateway City was relatively tolerant and diverse, and so it became a safe destination for African-Americans during the Great Migration from 1910 to 1970.
Today, however, the historic city resembles a segregated ghost town.
For most of the 20th century, St. Louis was a coveted location for its strong, unionized industrial base. The town was ripe with job opportunities, had a flourishing middle class — and seemed to be a manifestation of the American Dream.
But then, St. Louis experienced economic downturns so staggering that only towns like the now derelict Gary, Indiana, could compare. As the city with the highest murder rate per capita outside of South America, St. Louis is considered the murder capital of the United States — and has lost the most residents of any U.S. city since 1950.
"Churches are doing food distribution, hosting job fairs, serving as vaccine clinics," said James Clark of the Division of Public Safety. "We are seeing a change in attitude. We need family accountability, we need neighborhood accountability. We cannot heap the responsibility of violence solely on the police."
So what exactly happened to St. Louis, America's symbol of progress?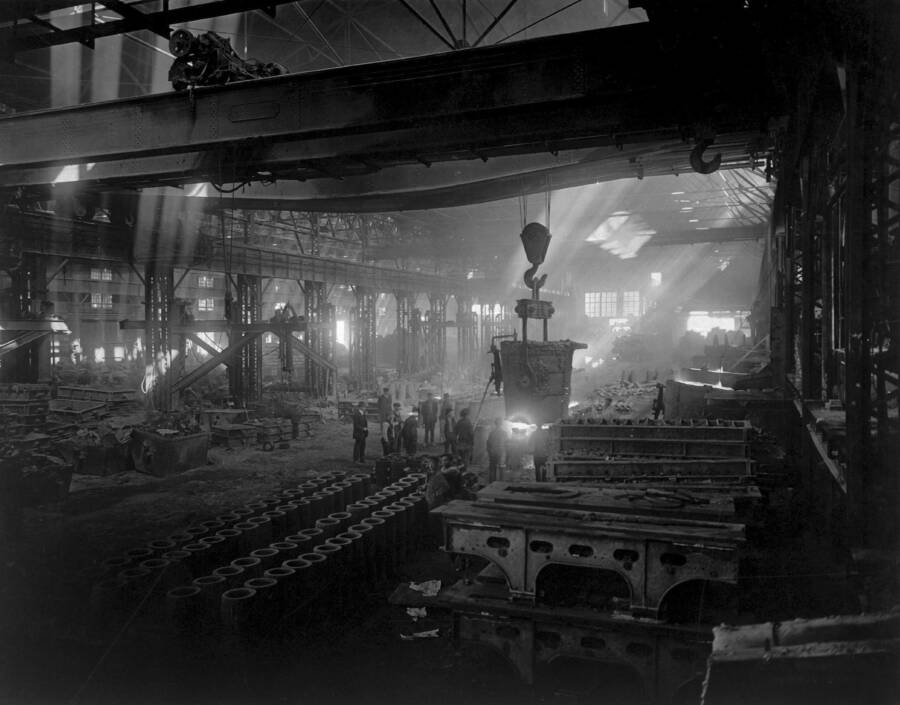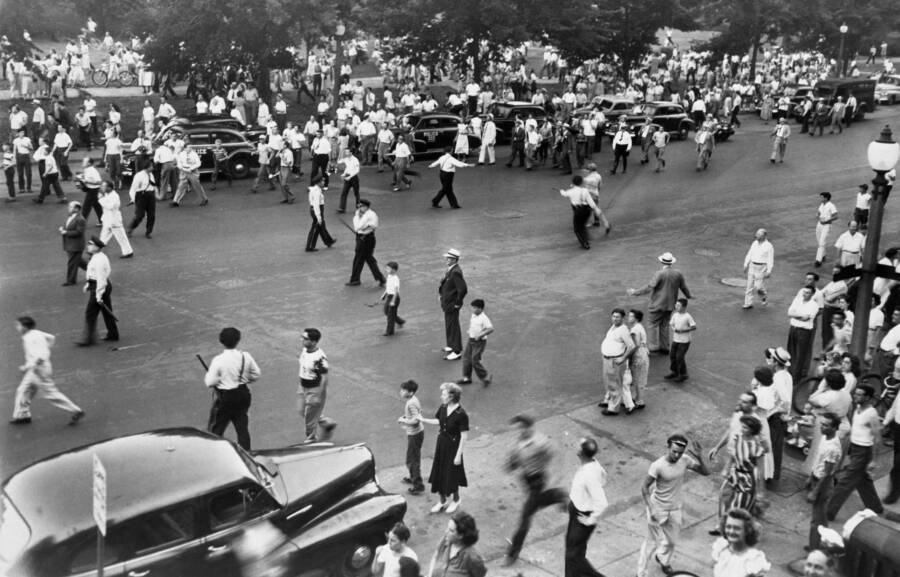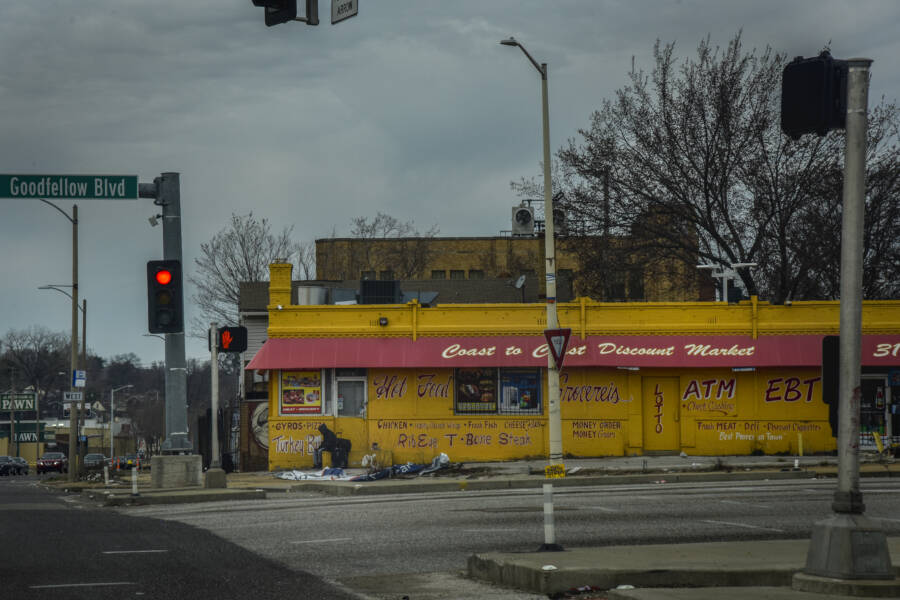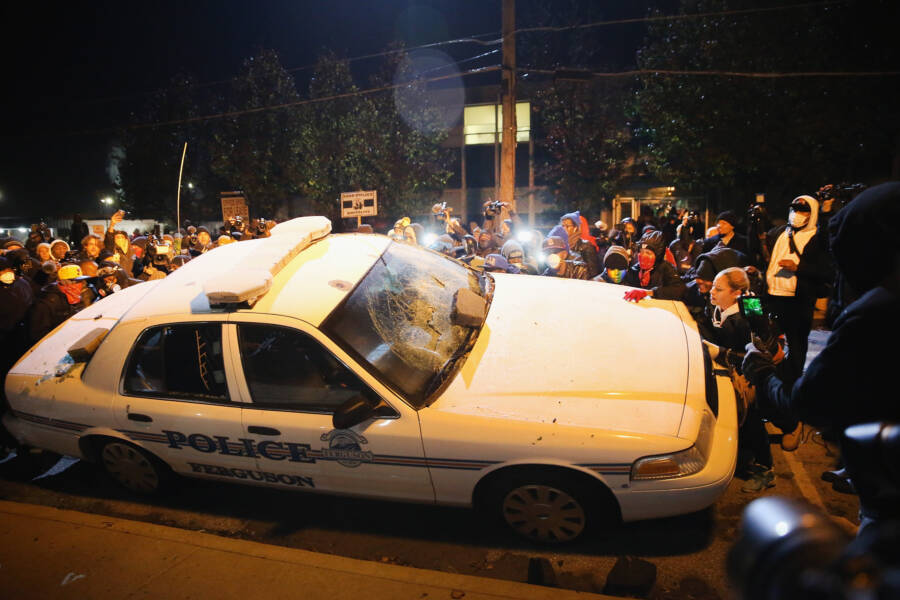 U.S. War Department/Interim Archives/Getty Images
Jahi Chikwendiu/The Washington Post/Getty Images
H. Armstrong Roberts/ClassicStock/Getty Images
Museum of Flight/CORBIS/Getty Images
Joe Sohm/Visions of America/Universal Images Group/Getty Images
Richard Jordan/Hulton Archive/Getty Images
Jahi Chikwendiu/The Washington Post/Getty Images
Spencer Platt/Getty Images
Spencer Platt/Getty Images
Spencer Platt/Getty Images
Joe Sohm/Visions of America/Universal Images Group/Getty Images
Michael B. Thomas/AFP/Getty Images
Joe Sohm/Visions of America/Universal Images Group/Getty Images
Michael B. Thomas/Getty Images
Jahi Chikwendiu/The Washington Post/Getty Images
Andrew Lichtenstein/Corbis/Getty Images
The Early History Of St. Louis
Founded as a fur-trading post by Pierre Laclède Liguest of New Orleans in 1764, St. Louis was named in honor of Louis IX of France. Then Spanish territory, it was retroceded to France in 1800 but acquired by the newly-United States in the 1803 Louisiana Purchase as the seat of Louisiana and Missouri's governments.
With an influx of German and Irish immigrants, St. Louis became a vital river port for fur-trading expeditions and westward expansion. Even when standardized steamboat travel fell into obsolescence with railroad construction in the mid-1800s, St. Louis persevered as a bustling hub of industry.
Meanwhile, African Americans had yet to be liberated from the iron shackles of slavery. And even those living free were still in danger — even in St. Louis, the city of progress. Black residents needed licenses to live there, were banned from testifying against white people in court, and prohibited from seeking education. They commonly endured housing restrictions and curfews.
When the Civil War broke out in 1864, St. Louis became a Union base controlled under martial law. With the passage of the 13th Amendment that finally abolished slavery on Dec. 18, 1865, St. Louis could be remade as a city of equality.
In 1904, St. Louis hosted the Olympic Games, the first on American soil. The Great Migration began six years later, an exodus that was so unparalleled that when it ended in the 1970s, 47 percent of the nation's Black Americans lived in the North and West — and in cities like St. Louis.
Inside The City's Industrialization And Decline
While the Great Depression saw temporary stagnation in the city's growth, the population otherwise steadily rose. This was in part due to major economic upturns that hit the city with the arrival of World War II, when factories were retooled and massive amounts of workers were trained there for wartime resources.
U.S. Cartridge was based in St. Louis, and it produced more than one billion cartridges during the global conflict and became the largest ammunition manufacturer on the planet. Even the outskirts of St. Louis began to flourish, with restaurants, grocery stores, retailers, and pharmacies. Factories of all sorts popped up, too.
When German immigrants Eberhard Anheuser and Adolphus Busch founded Anheuser-Busch in St. Louis in 1852, they couldn't have guessed how economically vital the brewing company would be. One of the first to transport beer across America in refrigerated railroad cars, the firm was the largest national brewer by 1957.
During that time, St. Louis led the nation in food processing, engineering, aviation, advertising, and public relations. It had one of the most educated populations, a completed Gateway Arch by 1967 that bolstered tourism, and a diverse middle class that had weathered economic storms for decades.
At its peak population of 856,796 in 1950, an estimated 13,000 residents inhabited each square mile of the city, with suburban sprawl making up the majority of its living conditions.
But a litany of racist reforms, business practices, and city ordinances have since driven people out of the city. Many of these issues emerged decades earlier, but had long-lasting impacts.
In 1916, for instance, residents voted on an ordinance that prevented anyone from purchasing a home in a neighborhood inhabited by more than 75 percent of another race. While the practice later became illegal, this racial housing segregation saw entire areas of the city left to rot and sowed distrust in the community at large.
Blockbusting, meanwhile, only exacerbated matters. This practice saw building developers convince white people to sell their homes at below-market value by claiming their neighborhoods were being overrun by minorities. Those homes were left standing empty or sold at a profit.
The discriminatory business practice of redlining, meanwhile, saw mortgage lenders and insurance firms refuse to provide residents of certain neighborhoods with loans — as Black people were considered more likely to default than white people.
Meanwhile, corporate titans like Anheuser-Busch, Ralston Purina, and McDonnell Douglas were acquired from companies based elsewhere and subsequently moved their headquarters out of the city. With them went thousands of job opportunities.
The economic downturn that ensued ultimately came to a head at the turn of the century — when drugs, gun violence, and a loss of communal identity took hold. "We removed so-called slum neighborhoods," said Michael Allen, director of the Preservation Research Office. "We have spent enormous sums of public money to spatially reinforce human segregation patterns. We have harnessed architecture as a barrier. And it's been very frightening to see the result."
Indeed, only 292,047 residents now remain in the city — clamoring for affordable housing, social safety nets, and an end to police brutality.
The Murder Capital Of The United States
The St. Louis crime rate has certainly fluctuated substantially over the last four decades. Homicides, for instance, had dropped dramatically during the 1980s — but reached unprecedented heights during the following decade. There were 267 murders in 1993 and an average of 70 deaths for every 100,000 people, making St. Louis the murder capital of the U.S.
The city is also a leader in police brutality. Police officer Jason Stockley fatally shot 24-year-old St. Louis resident Antony Lamar Smith in 2011. His not guilty verdict for first-degree murder spurred peaceful protests that nonetheless saw 160 people arrested during the first three days — and several lawsuits from the American Civil Liberties Union.
In 2020, the murder rate in St. Louis hit a 50-year high with 263 homicides. While lower than the 1993 record, the city is also significantly less populated now than it was then.
But Harvard professor Walter Johnson, who wrote a book about the city's history of systemic racism, is hopeful for the Gateway City's future.
"St. Louis was a staging post for Indian removal and imperial expansion, and its wealth grew on the backs of its poor Black residents, from slavery through redlining and urban renewal." He said. "But it was once also America's most radical city, home to ... the nation's first general strike — a legacy of resistance that endures."
---
After learning about how the once-prosperous St. Louis became the murder capital of the U.S., take a look at New York City during the Great Depression. Then, check out 42 staggering photos of abandoned buildings in Detroit.