Like many steel towns that struggled to stay alive, Gary, Indiana has become a ghostly shell of its former glory.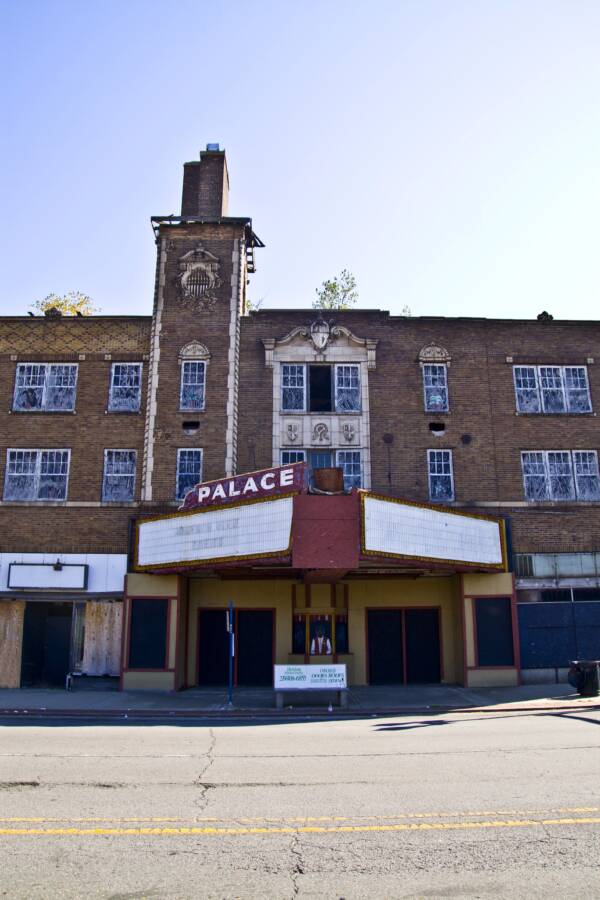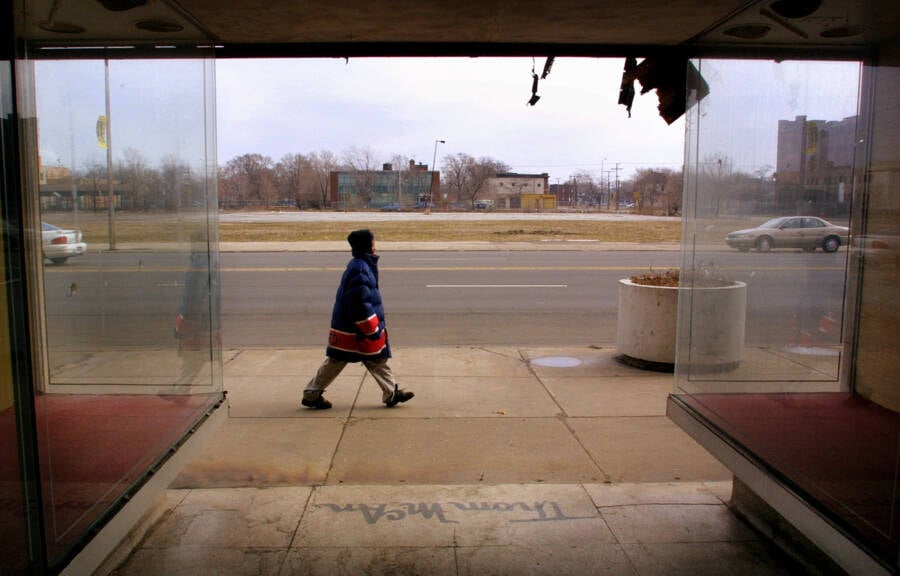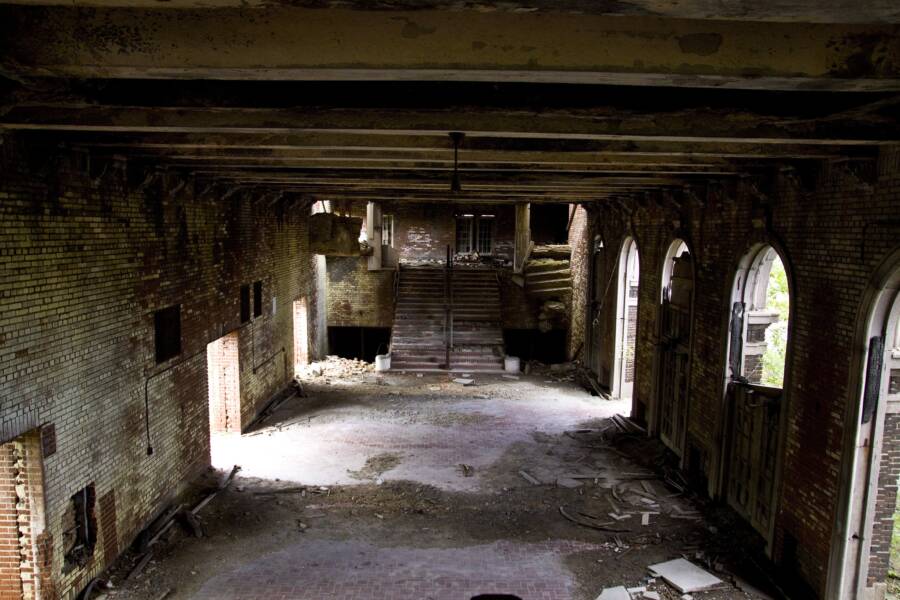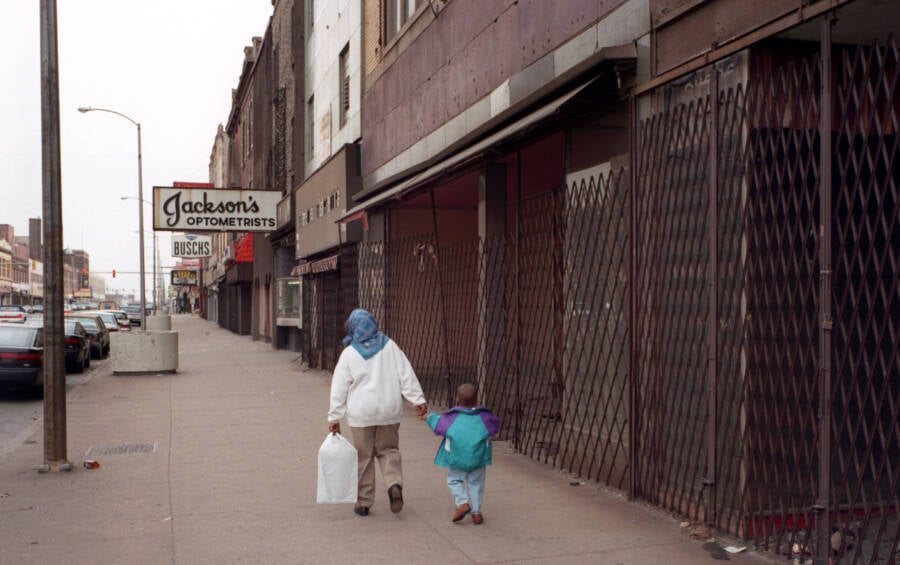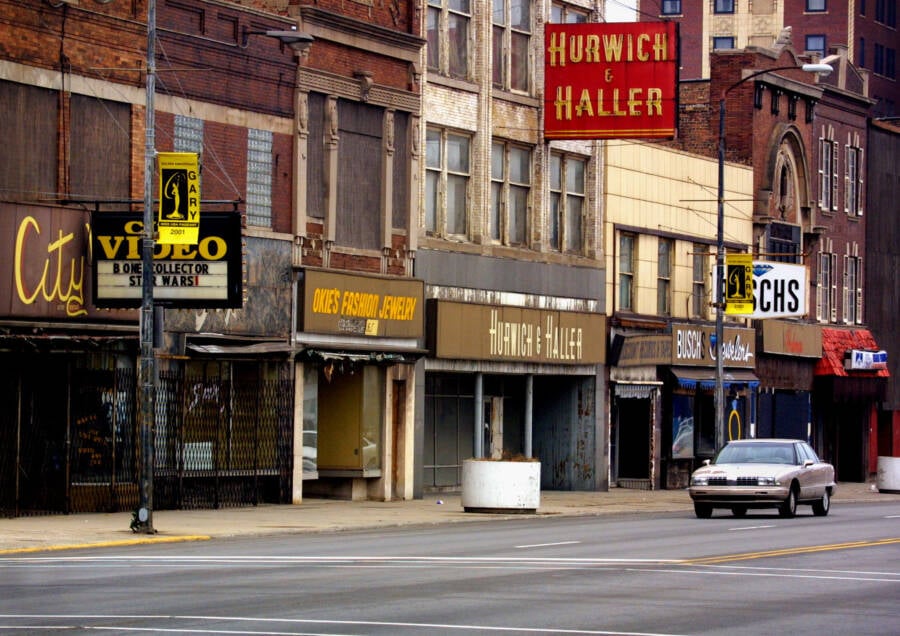 Raymond Boyd/Michael Ochs Archives/Getty Images
Scott Olson/AFP via Getty Images
Raymond Boyd/Michael Ochs Archives/Getty Images
Jerry Holt/Star Tribune via Getty Images
Scott Olson/AFP via Getty Images
Ralf-Finn Hestoft/CORBIS/Corbis via Getty Images
Raymond Boyd/Michael Ochs Archives/Getty Images
Michael Tercha/Chicago Tribune/Tribune News Service via Getty Images
Mira Oberman/AFP via Getty Images
Ralf-Finn Hestoft/CORBIS/Corbis via Getty Images
Raymond Boyd/Michael Ochs Archives/Getty Images
Charles Fenno Jacobs/The LIFE Images Collection via Getty Images/Getty Images
Margaret Bourke-White/The LIFE Picture Collection via Getty Images
Margaret Bourke-White/The LIFE Picture Collection via Getty Images
Chicago Sun-Times/Chicago Daily News collection/Chicago History Museum/Getty Images
Kirn Vintage Stock/Corbis via Getty Images
Ralf-Finn Hestoft/CORBIS/Corbis via Getty Images
Michael Tercha/Chicago Tribune/Tribune News Service via Getty Images
Paul Warner/WireImage via Getty Images
Alex Garcia/Chicago Tribune/Tribune News Service via Getty Images
Alex Garcia/Chicago Tribune/Tribune News Service via Getty Images
Raymond Boyd/Michael Ochs Archives/Getty Images
Gary, Indiana was once a mecca for America's steel industry in the 1960s. But half a century later, it has become a desolate ghost town.
Its declining population and abandoned buildings have lent it the title of the most miserable city in the United States. And sadly, it doesn't seem like the people who live in the town disagree.
"Gary just went down," said longtime resident Alphonso Washington. "Used to be a beautiful place, once in a time, then it just wasn't."
Let's take a look at the rise and fall of Gary, Indiana.
The Industrialization Of America
During the 1860s, the U.S. was experiencing an industrial awakening. The high demand of steel, spurred by the rise in automobile manufacturing and the construction of highways, introduced many new jobs.
To keep up with the growing demand, factories were built across the country, many of them near the Great Lakes so that the mills could access the raw materials of the iron ore deposits. Idyllic areas were transformed into manufacturing pockets. Gary, Indiana was one of them.
The town of Gary was founded in 1906 by manufacturing behemoth U.S. Steel. Company chairman Elbert H. Gary — whom the town is named after — founded Gary right on the south shore of Lake Michigan, about 30 miles away from Chicago. Just two years after the city broke ground, the new Gary Works plant began operations.
The steel mill attracted lots of workers from out of town, including foreign-born immigrants and African Americans who were looking for work. Soon, the town began to flourish economically.
However, the growing number of steel workers in the country led to the demand for fair wages and better work environments. After all, these employees barely had any legal protections from the government and were often forced to work 12 hour-shifts at a meager hourly pay.
Growing discontent among factory workers led to the Great Steel Strike of 1919, in which steel workers in mills across the country — including Gary Works — joined picket lines outside the factories demanding better conditions. With more than 365,000 workers protesting, the massive strike hampered the country's steel industry and forced people to pay attention.
Unfortunately, a mix of racial tension, growing fears of Russian socialism, and an altogether weak workers' union allowed the companies to break the strikes and resume production. And with large orders of steel pouring in, the steel town of Gary continued to prosper.
The Rise Of The "Magic City"
By the 1920s, Gary Works operated 12 blast furnaces and employed over 16,000 workers, making it the largest steel plant in the country. Steel production rose even more during World War II and, with many men drafted into battle, work at the factories was taken over by women.
LIFE photographer Margaret Bourke-White spent time documenting the unprecedented influx of women in the factories in Gary for the magazine, which chronicled "women... handling an amazing variety of jobs" in steel factories — "some completely unskilled, some semiskilled, and some requiring great technical knowledge, precision, and facility."
The flurry of economic activity in Gary attracted visitors from the surrounding county who wanted to enjoy the luxuries that the "Magic City" had to offer — including state-of-the-art architecture, cutting-edge entertainment, and a bustling economy.
Industrial businesses heavily invested in the town's budding infrastructure, with new schools, civic buildings, stately churches, and commercial businesses popping up all over Gary.
By the 1960s, the town had advanced so much that its progressive school curriculum quickly earned a reputation with the integration of skill-based subjects into its curriculum, like carpentry and sewing. Much of the town's then-burgeoning population was full of transplants.
Longtime resident George Young moved to Gary from Louisiana in 1951 "because of jobs. Simple as that. This town was filled with them." Employment opportunities were aplenty and within two days of moving to the town, he had secured work at the Sheet and Tool company.
The steel mill was — and still is — the largest employer in Gary, Indiana. The town's economy has always relied heavily on the conditions of the steel industry, which is why Gary — with its large steel production — prospered for such a long time because of it.
Following the end of World War II, American steel dominated global production, with more than 40 percent of the world's steel export coming from the United States. The mills in Indiana and Illinois were crucial, accounting for about 20 percent of total U.S. steel production.
But Gary's dependency on the steel industry would soon prove futile.
The Downturn Of Steel
In 1970, Gary had 32,000 steelworkers and 175,415 residents, and had been dubbed the "city of the century." But little did residents know the new decade would mark the start of the collapse of American steel — as well as their town.
A number of factors contributed to the demise of the steel industry, such as the growing competition from foreign steel manufacturers in other countries. Technological advancements in the steel industry – especially automation — also played a role.
The first bout of layoffs in Gary came in 1971, when tens of thousands of factory employees were let go.
"We had expected some layoffs but now it seems like this thing is going to be a lot rougher than we had expected," Andrew White, a union District 31 director, told the New York Times. "Frankly we hadn't foreseen anything like this."
By 1972, Time magazine wrote Gary "sits like an ash heap in the northwest corner of Indiana, a grimy, barren steel town," as manufacturers continued laying off workers and reducing production due to declining demand.
By the end of the 1980s, mills in Northern Indiana, including Gary, were making about a quarter of all the steel production in the U.S.
And yet, number of steelworkers in Gary fell from 32,000 in 1970 to 7,000 in 2005. As such, the city's population also dropped from 175,415 in 1970 to less than 100,000 in the same time span, as many of the city's residents left town to seek out work.
Job opportunities went away as businesses closed and crime rose. By the early 1990s, Gary was no longer called the "Magic City" but instead the "Murder Capital" of America.
The town's failing economy and quality of life are no better expressed than through the neglect of its buildings. An estimated 20 percent of Gary's buildings are totally abandoned.
One of the town's most notable ruins is the City Methodist Church, which was once a magnificent house of worship made out of limestone. The abandoned church is now scrawled with graffiti and overgrown with weeds, and known as "God's Forsaken House."
Racial Segregation And The Decline Of Gary
Dissecting Gary's economic decline cannot be separated from the town's long history of racial segregation. In the beginning, many newcomers to the town were white European immigrants.
Some African Americans also migrated from the Deep South to escape Jim Crow laws, though things weren't much better for them in Gary. Black workers were often marginalized and isolated due to discrimination.
By World War II, Gary "had become a fully segregated city with staunch racist elements," even among its immigrant populations.
"We used to be the murder capital of the U.S., but there is hardly anybody left to kill. We used to be the drug capital of the U.S., but for that you need money, and there aren't jobs or things to steal here."
Today, about 81 percent of Gary's population is black. Unlike their white neighbors, the town's African American workers faced uphill battles trying to build a better life during Gary's decline.
"When the jobs left, the whites could move, and they did. But we blacks didn't have a choice," 78-year-old Walter Bell told The Guardian in 2017.
He explained: "They wouldn't let us into their new neighborhoods with the good jobs, or if they let us, we sure as hell couldn't afford it. Then to make it worse, when we looked at the nice houses they left behind, we couldn't buy them because the banks wouldn't lend us money."
Maria Garcia, whose brother and husband worked at Gary's steel mill, noticed the neighborhood's changing face. When she first moved there in the 1960s, her neighbors were mostly whites, some from European countries like Poland and Germany.
But Garcia said many of them left in the 1980s because "they started seeing black people coming in," a phenomenon typically known as "white flight."
"Racism killed Gary," Garcia said. "The whites left Gary, and the blacks couldn't. Simple as that."
As of 2018, about 75,000 people still live in Gary, Indiana. But the town is struggling to stay alive.
Jobs at Gary Works — almost 50 years after the first layoffs in the 1970s — are still being cut, and about 36 percent of Gary residents live in poverty.
Moving Forward
Despite these hard-knock setbacks, some residents believe the town is turning for the better. For a dying city to bounce back is not unheard of.
Staunch believers of Gary's comeback often compare the town's tumultuous history with Pittsburgh and Dayton, both of which prospered during the manufacturing era, then declined when the industry was no longer a boon.
"People have a thought about what Gary is," Meg Roman, who is executive director for Gary's Miller Beach Arts & Creative District, said in an interview with Curbed. "But they're always pleasantly surprised. When you hear Gary, you think steel mills and industry. But you have to come here and open your eyes to see there are more things."
Countless revitalization initiatives have been launched by the local government in the last couple of decades to varying degrees of success. City leaders welcomed a $45 million minor league baseball stadium and even brought the Miss USA pageant to town for a few years.
Some of the town's tall empty buildings are being torn down to minimize Gary's blight and to make way for new, necessary development.
Gary's Miller Beach Arts & Creative District opened in 2011 and has since become a big part of the community's push for growth, especially with the biennial public art street festival, which has attracted considerable attention.
Gary is even taking advantage of many of its ruins through the launch of historic preservation tours, which spotlight the town's once-glamorous, early 20th century architecture.
Additionally, the town continues to make investments in new developments in hopes of breathing new life into the town. In 2017, Gary even pitched itself as a potential location for Amazon's new headquarters.
"My rule is to make investments for the people that are here," said Gary Mayor Karen Freeman-Wilson, "to honor the people that have remained and weathered the storm."
Though the town is slowly coming back from its collapse, it looks like it will need a lot more time before it can shake off its ghost town reputation.
---
Now that you've learned about the rise and fall of Gary, Indiana, check out 26 incredible photos of New York City before it was New York City. Then, discover 34 images of China's massive, uninhabited ghost cities.