These stunning photos reveal just how hard life was for the immigrant occupants of New York's tenement buildings a century ago.
In the late 19th and early 20th centuries, New York City swelled with wave after wave of European immigrants — and many lived in tenement buildings.
These tenements, as defined by the New York State Legislature in 1867, constituted "any building…which is rented…out as the home of more than three families living independently of one another and doing their own cooking upon the premises."
These multiple-occupancy buildings were born out of necessity. As European immigrants poured into the city seeking better lives, landlords converted single-family units into multi-room apartments. For ten dollars per month, up to seven people could live within a space of about 325 square feet — the size of half a subway car.
By 1900, some 2.3 million people — two-thirds of New York City's population at the time — were living in tenement housing, mainly converging in Manhattan's Lower East Side.
The conditions in these buildings were bad to say the least: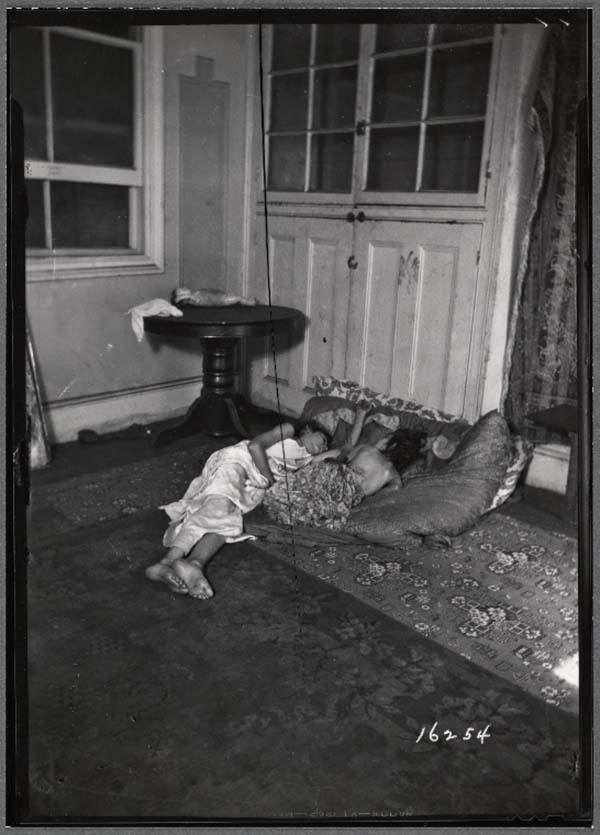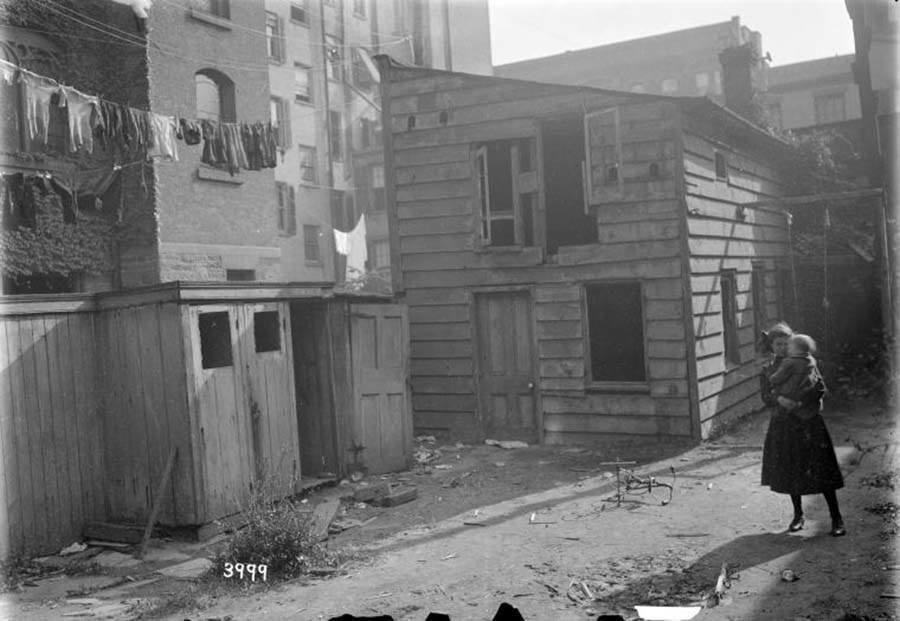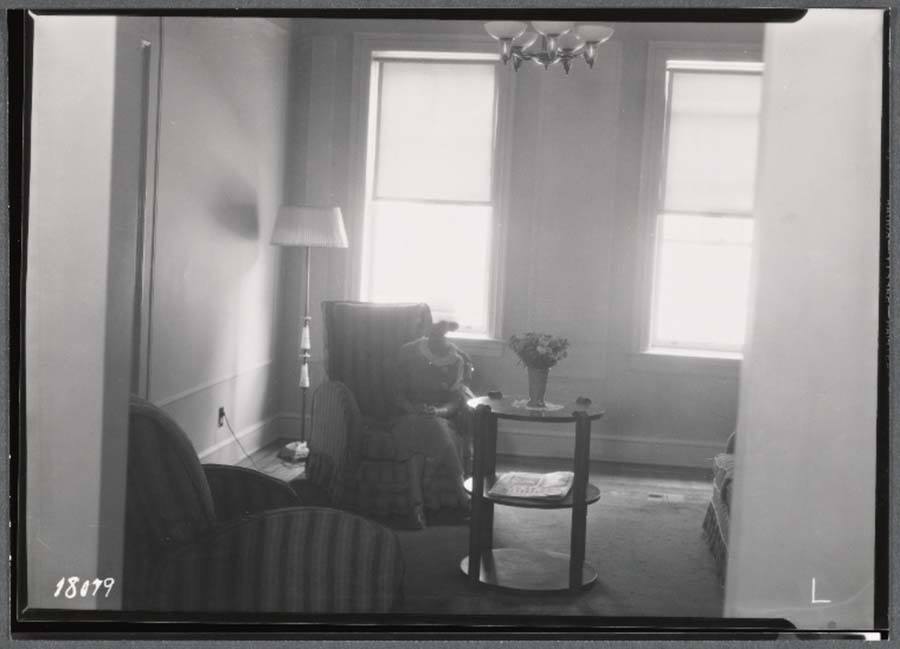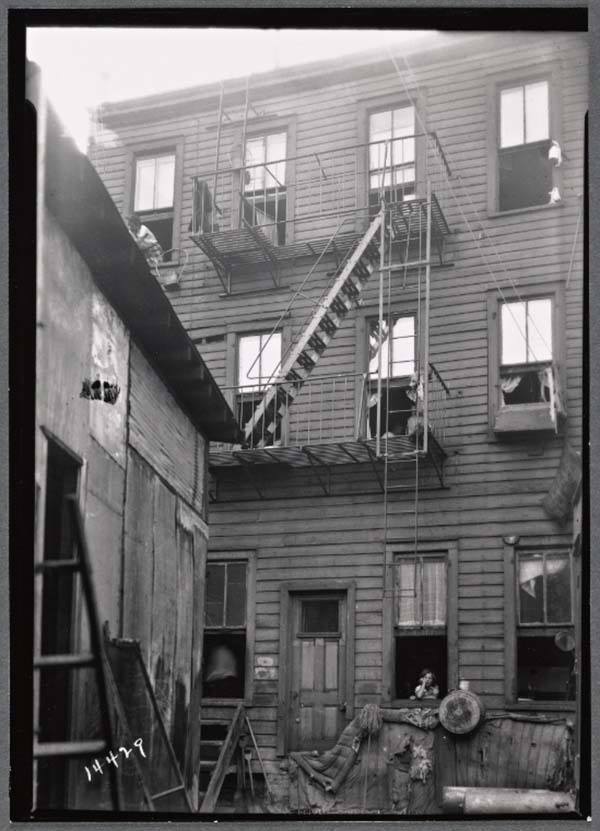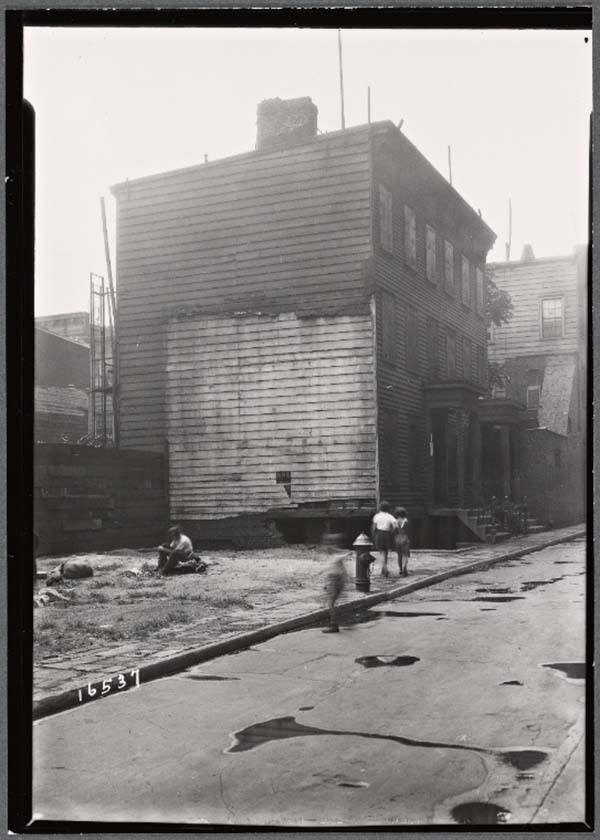 Jacob Riis' book How The Other Half Lives documented the lives of tenement house residents. Riis, a journalist, revealed that sometimes 12 adults would sleep in a space just 13 feet across, and that the infant mortality rate had risen to one in ten.
Laundry hangs above a mother holding her child near some outhouses and a discarded tricycle behind a New York City tenement.
In this photo, probably taken in 1937 by an inspector for the New York City Tenement House Department, a woman poses in her living room. According to the NYPL Digital Collections, the newspaper sitting on the table is announcing John D. Rockefeller Sr.'s death.
A tenement fire escape. The New York State Tenement House Act of 1901 required that tenement buildings include safeguards against fires, including fire escapes.
Around 1934, children walk past an empty lot beside a wood frame tenement building with boarded up windows.
The sunless, filthy bedroom of this man's tenement is also his kitchen.
An intimate look inside the bedroom of a tenement resident.
Tenement buildings were essentially barracks split into spaces hardly big enough for one person but that usually contained as many as 12 people.
A woman and a child smile for the camera in the courtyard of a tenement building where outhouses are lined up.

The Tenement House Act of 1867 required that tenement buildings have one outhouse for every 20 people living there.
A woman stands before a tenement building bedroom door. Photos of her family are visible on her dresser.
An abandoned ice wagon makes a junk yard out of this tenement building.
A New York City Tenement House Department inspector photographs a mother and her two children.
A young boy stands in front of Paramount Laundry, the first floor of an Upper West Side tenement building.
Outhouses in a tenement building backyard.
Women gather around children playing among piled rags in a tenement building backyard. Landlords blamed tenants' "filthy habits" for the buildings' terrible conditions.
The cramped kitchen of a Little Italy tenement.
A inspector with the New York City Tenement Housing Department makes notes in a vacant yard. Inspectors like this one responded to complaints from residents about the conditions in their rooms.
Barefoot women do laundry in the backyard of their tenement building.
A man stands on a tenement building porch, probably in the Bronx.
A man holds a candle in a cluttered tenement building basement.
The rear view of a dilapidated tenement building.
A man smiles from his tenement's kitchen.
A young boy poses for a photo in his tenement's backyard.
Laundry blows in the wind behind this row of tenement buildings.
A young girl watches over her sick father in their New York tenement apartment.

Disease spread easily in tenements; an 1849 cholera epidemic killed 5,000 people, many of them impoverished immigrants.
While the average tenement building's exterior specs could easily make you feel claustrophobic (most were just 25 feet wide and 100 feet long) their interiors were just as jarring. Original tenements lacked toilets, showers, baths, and even flowing water. A single spigot in the backyard provided all the water for the building's tenants to cook, do laundry, and clean.
New York State's Tenement House Act of 1867, the first attempt to reform tenement building conditions, required that tenement buildings have one outhouse for every 20 residents. But no one enforced these regulations. Often, rather than walking all the way downstairs to the backyard, residents dumped chamber pot waste out of their windows.
Bedrooms were often cut off from fresh air, ventilation, and light. Pair that with the fact that most apartments had coal-burning stoves — which choked residents with smoke and blackened the walls — and the people living there were condemned to life inside of what were virtually caves.
The Tenement House Act of 1901 cracked down on lax regulations and set up the Tenement House Department to inspect and enforce new building standards. Now, landlords were required to install at least one window per bedroom and private bathroom per apartment.
But the notoriously stingy tenement building landlords still fought hard against these reforms. For instance, landlords resisted one expensive provision which required that interior rooms have an airshaft, eventually compromising by installing one window in the interior rooms.
By 1904, landlords were required to install toilets in the tenements. But until 1918, there were no laws requiring that even electricity be installed in the apartments.
In 1936, New York City introduced its first public housing project, and the era of the tenement building officially ended. But the squalor that immigrants endured in an attempt to build new lives is immortalized in the haunting photographs that remain to this day.
---
After looking at the tenements of the early 1900s, take a look at some striking Ellis Island immigration photos that reveal exactly the kinds of people who would soon occupy New York's tenements. Then, read up on the Bloody Angle, the spot right in the heart of New York's tenement zone that also became the deadliest street in the history of the United States.