The manic exploits of the Teddy Boys made the whole of Britain fear teens through the '50s.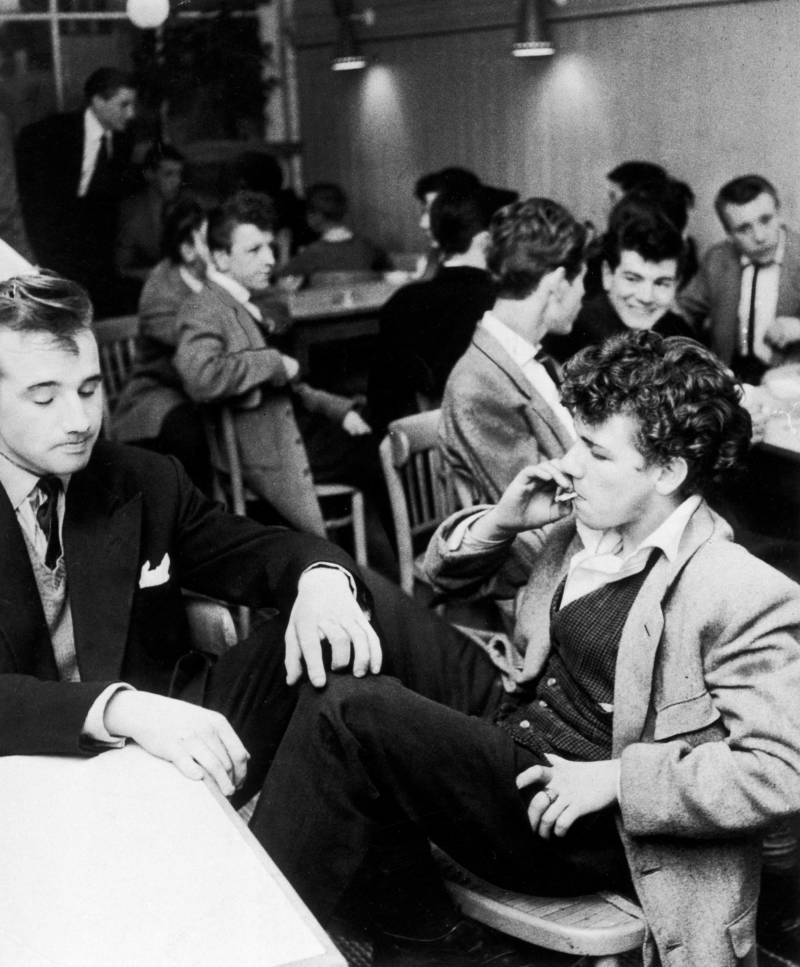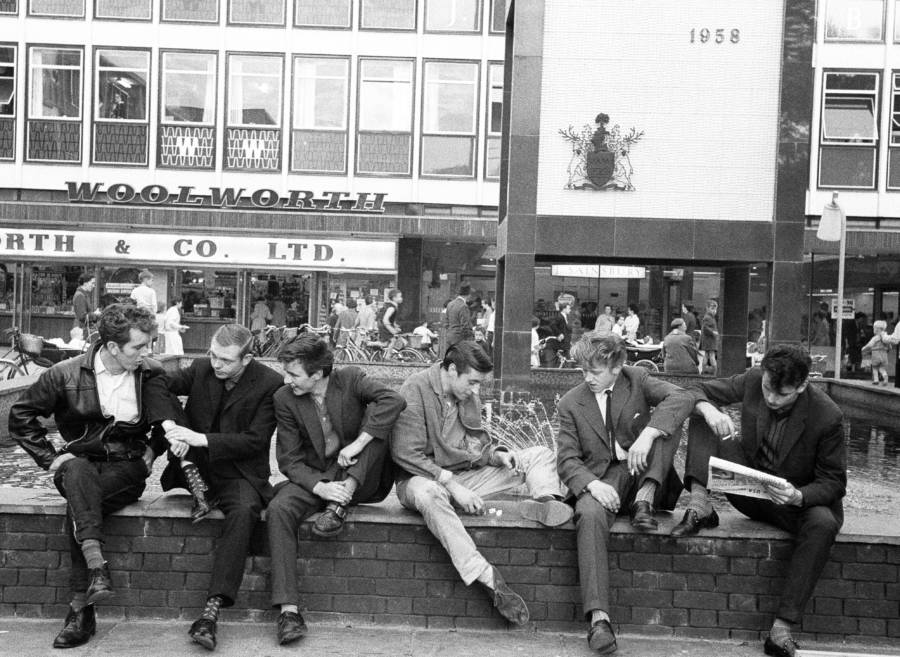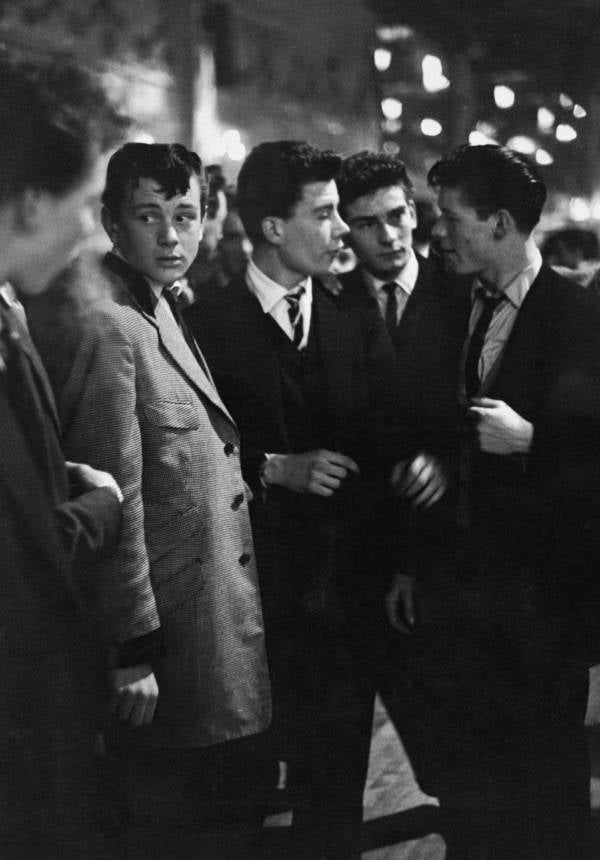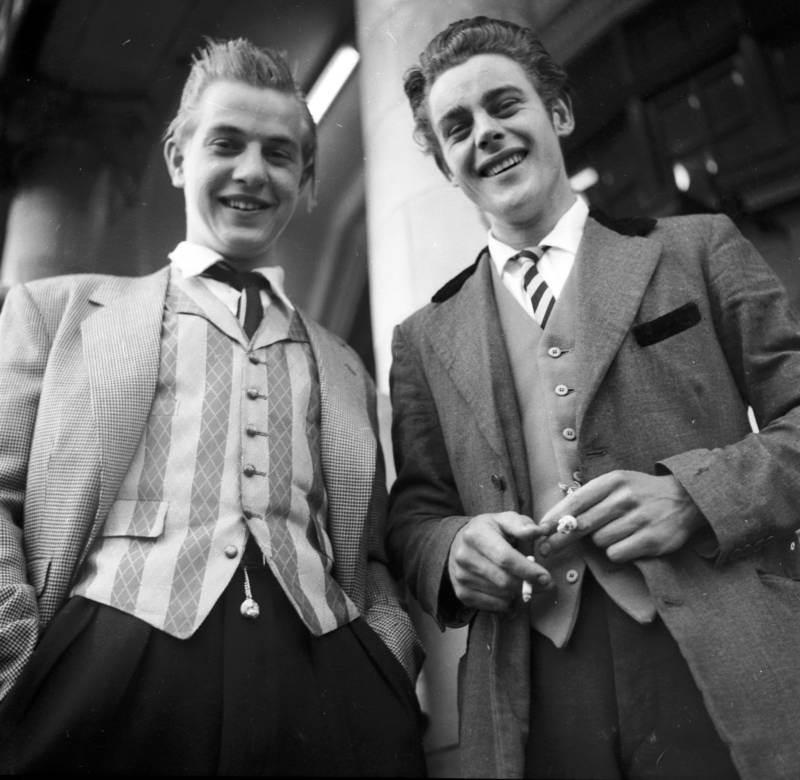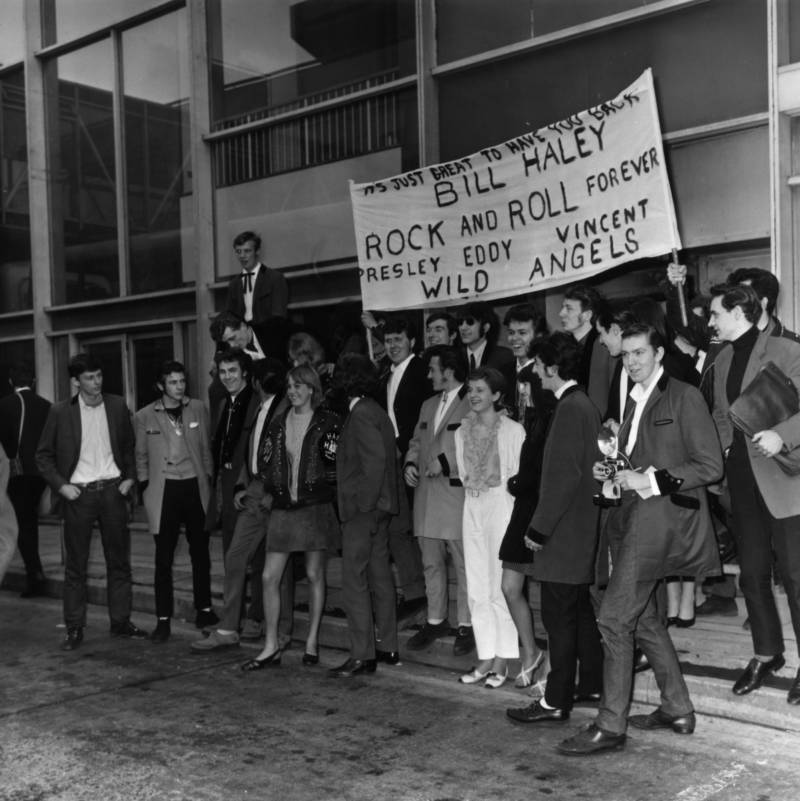 Daily Mirror/Mirrorpix/Mirrorpix via Getty Images
Terry Fincher/Mirrorpix/Getty Images
Picture Post /Hulton Archive/Getty Images
Juliette Lasserre /Getty Images
George Stroud/Getty Images
Haywood Magee/Picture Post/Getty Images
Joseph McKeown/Picture Post/Getty Images
Joseph McKeown/Getty Images
Dieter Radtke - K&K/Redferns
Michael Ochs Archive/Getty Images
Hulton Archive/Getty Images
WATFORD/Mirrorpix/Mirrorpix via Getty Images
Michael Ochs Archives/Getty Images
Fiona Adams/Redferns/Getty Images
Daily Mirror/Mirrorpix/Mirrorpix via Getty Images
Keystone-France/Gamma-Keystone via Getty Images
Carl Sutton/Picture Post/Getty Images
PA Images via Getty Images
Evening Standard/Hulton Archive/Getty Images
Evening Standard/Getty Images
Anwar Hussein/Getty Images
Virginia Turbett/Redferns
PYMCA/UIG via Getty Images
Staff/Mirrorpix/Getty Images
In 1953, a sweeping trend in fashion took over Britain's teen boys. It was an adaptation of Edwardian romanticism; tailored velvet blazers and button-down shirts coupled with drainpipe jeans or trousers, skinny ties, and chunky leather shoes. Top off the outfit with a quiffed up hairdo, and you have the look of a classic Teddy Boy.
However, the Teddy Boy was much more than just a fashion statement — it was an entire British subculture. Born from post-war gloom in the early 1950s, Teddy Boys (Teds, as they preferred to be called) were Britain's original teen subculture. All others; mods, rockers, and punks, can be traced back to this phenomenon. Indeed, even the Beatles have the Teddy Boy fad to thank for their signature styles.
Origins Of The Teddy Boy
The tabloid newspaper Daily Express coined the term "Teddy Boy" in 1954 by shortening Edwardian to Teddy. These fashion-forward working-class teens had their roots firmly secured in music and dancing. Their style was closely identified with their youth and Teddy Boys built their culture around Jazz and skiffle music. However, when early rock-n-roll entered America's scene with the likes of Jerry Lee Lewis, Gene Vincent, Elvis, and Buddy Holly, the Teds found their true sound.
In fact, when MGM released the controversial film Blackboard Jungle featuring rebellious youth and its rock-n-roll soundtrack, Teddy Boys threw chairs and danced in the aisles. Bill Haley's film Rock Around The Clock took Britain by storm next in 1956 and over-exuberant Teds slashed theater seats, lit fireworks, and threw bottles.
The frightening scenes of police battling the rioting kids caused Britain to fear the fad. Subsequently, this ignited a moral panic centered around the so-called "feral youth." Indeed, some who identified as Teddy Boys routinely incited violence. This likely caused dismay for the innocents who just wanted to look cool and dance.
Hooligans And Criminals
Certainly, one of the goals of the Teddy Boys was to put a hardcore edge on the Edwardian style, but they also wanted to glorify the style found in early American gangster movies. As much as rock-n-roll was considered a bad influence on teens, imitating the look of mobsters was more in line with their behaviors. Some formed gangs and fought rivals in violent showdowns.
"You weren't here when the Teddy Boys arrived on the scene in the Fifties," a friend of Rolling Stone writer Jerry Hopkins said. "London doesn't remember them with any fondness... Those crepe-soled shoes they wear, they had razor blades sunk in the toes. No, London doesn't remember the Teds with any fondness."
Historically, some Teddy Boys also held racist views and even attacked immigrants — most notably in the Notting Hill riots of 1958. They displayed hostility towards black families which was inflamed by far-right groups such as the White Defence League. The racial unrest and violent acts peaked that summer as judges handed down harsh sentences for these riotous Teds.
The Look
Teddy Boy fashion was often bespoke and quite pricey, but the upper-class teens who popularized it had disposable income. Wardrobe staples included mostly dark-colored drape jackets; reminiscent of American zoot suits from the 1940s like those worn by the Cotton Club's Cab Calloway. Velvet trim adorned high collars and pocket flaps and narrow or western bolo ties completed the upper wardrobe.
High-waisted trousers often exposed socks, and footwear consisted of polished Oxfords or chunky suede leather shoes called "creepers". Hairstyles included a greased back-and-up look with a quiff at the front and the side — molded to form something resembling a duck's behind from the men's hairstyling product, Brylcreem. Another popular hairdo was the "Boston"; greased straight back and cut straight across the nape of the neck.
Where there are Teddy Boys there are also Teddy Girls. Their style also included tailored jackets and they coupled them with pencil skirts, (later, American poodle skirts) rolled-up jeans, and flat shoes or espadrilles. Finishing touches could be straw boater hats or elegant clutch bags.
The Teddy Boy Fashion Influence On The Beatles
At the time, most members of the soon-to-be Beatles dabbled in the fashionable style of the Teds. John Lennon once said he "was always torn between looking like Elvis and James Dean and looking like an artist."
Original Beatles bassist Stuart Sutcliffe embraced the culture's style and likely influenced the rest of the band to as well.
It was in 1961 that John Lennon and Paul McCartney visited friends in France and saw their hair combed flat over their foreheads. They decided to grow their hairstyle into the same mop-top style. Hence, the Beatle-cut was born.
Even if the Beatles adopted some of the Ted style, the fondness didn't go both ways. By the time the Beatles were making radio waves, the Teddy Boy subculture of the 1950s was no more. Not that they would have appreciated it. Longtime Ted and revivalist William Jeffrey Jr. said, "We bloody loathed the Beatles. They absolutely murdered all the originals—Carl Perkins' 'Matchbox,' 'Long Tall Sally,' the rest. We remembered how much better the originals were."
Ted's Dead
As the original 1950s rock musicians faded away or died, so did the Teds.
"By the end of the decade, it was all over. Buddy Holly, Ritchie Valens, and the Big Bopper had gone down in flames in 1959 ... in 1960 Eddie Cochran wrapped his car around a roadside marker ... Elvis was in the Army, turning into the boy-next-door," Hopkins wrote.
Perhaps the most lasting legacy of the Teddy Boys is becoming the predecessor for so many other British subcultures. What's now known as "Rockabilly" style is still extremely popular — as far as the fashions and music are concerned — and is born right out of Teddy Boy fashion.
Photographer Chris Steele-Perkins has spent extensive time photographing Teddy Boy rock revivalists, especially in the 1970s. He said:
"If you still like early Rock and Roll music for its own sake, why not. It's there to be discovered. It's almost like saying that if you're interested in classical music, you shouldn't be interested in Mozart because it's not new."
---
After learning about the Teddy Boy subculture, read about the post-war British Mod subculture, and then find out how gangster Frank Rosenthal made millions for the mob in Vegas and inspired a blockbuster film.