In 1929, Al Capone was sentenced to a year in this Philadelphia prison. A life of crime doesn't seem all that bad.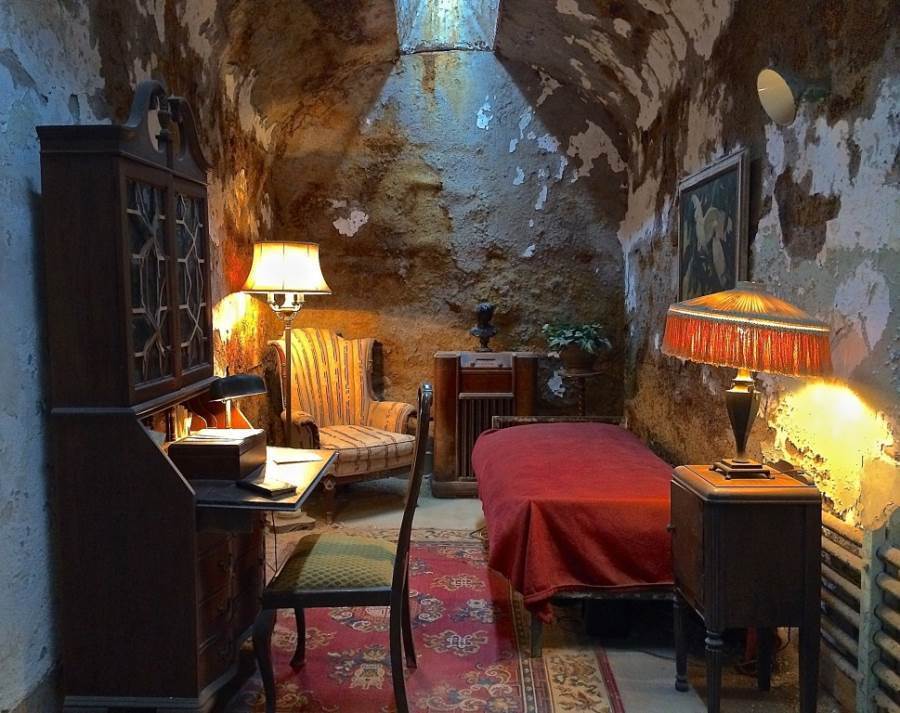 Featured above is Al Capone's prison cell at the now-closed Eastern State Penitentiary in Philadelphia, Pennsylvania. Capone spent nine months of his life there starting in May 1929, after he was convicted of carrying a concealed, deadly weapon.
An August 1929 issue of the Public Ledger implied that Capone received special status in his oriental rug and armchair-filled cell, but to this day ESP challenges that claim. According to ESP reports and news articles of the time, Capone was "accorded no more privileges or recognition than any other prisoner" and "had no better quarters than scores of other men…regular cells may be decorated and furnished by the prisoners with the few luxuries obtainable at the prison store." Believe it or not, those at ESP said that Capone was a "model inmate" who worked hard at his assigned jobs and read a number of good books, including a biography of Napoleon Bonaparte.
Capone made six attempts to exit while at ESP, which challenges the narrative that Capone intentionally had himself arrested in Philadelphia to avoid fallback from the St. Valentine's Day Massacre in Chicago. Said Capone in a 1930 newspaper article, "If I wanted to go to jail, I certainly wouldn't pick one in Pennsylvania. I would have looked around for one where there were more conveniences."
It was also at ESP that Capone donated $1,500 to a new children's hospital and to the families of other inmates. Said one anonymous official at the time, "Through the prison chaplain he has sent money to aid poor families outside. One woman with eight children who was about to be evicted from her home received $200. He paid another's hospital bills and offered her husband a job! This was declined with thanks, nobody knowing just what the 'job' would be."
Capone's motivations for doing things like this aren't entirely certain, but many would later look to Capone as a modern-day Robin Hood (after all, he did start his own Chicago soup kitchen during the Great Depression), which aided in increasing his popularity among those struggling–and stoking their resentment of officials who tried to put Capone back in the slammer.
On March 16, 1930, Capone was transferred to Graterford, where he was released a day later. Over the next decade, Capone would be in a near constant state of imprisonment.