From exorbitant wealth to unspeakable violence, these Al Capone facts reveal a shocking tale of booze, bullets, and blood.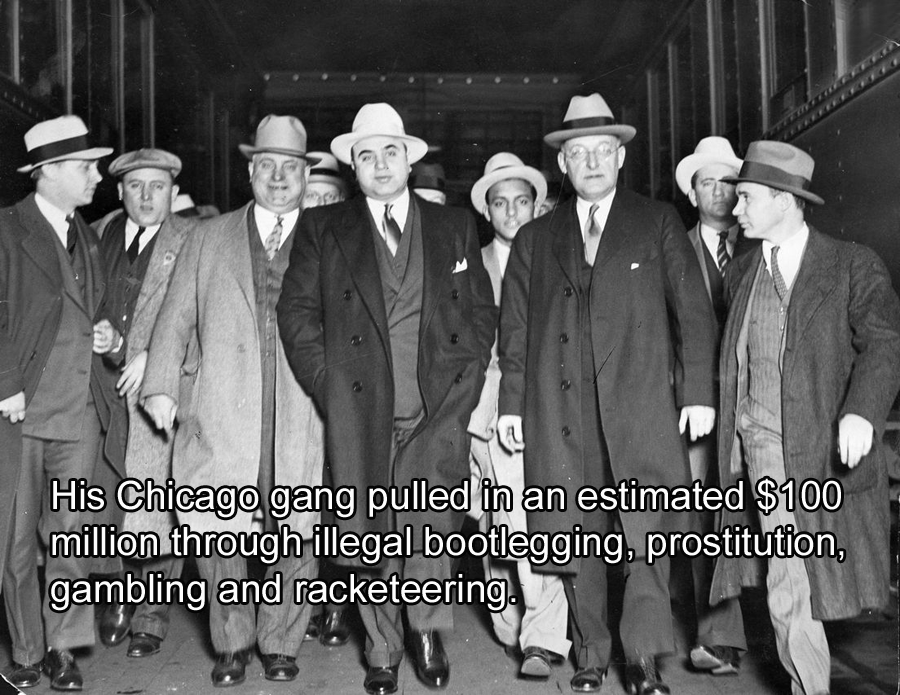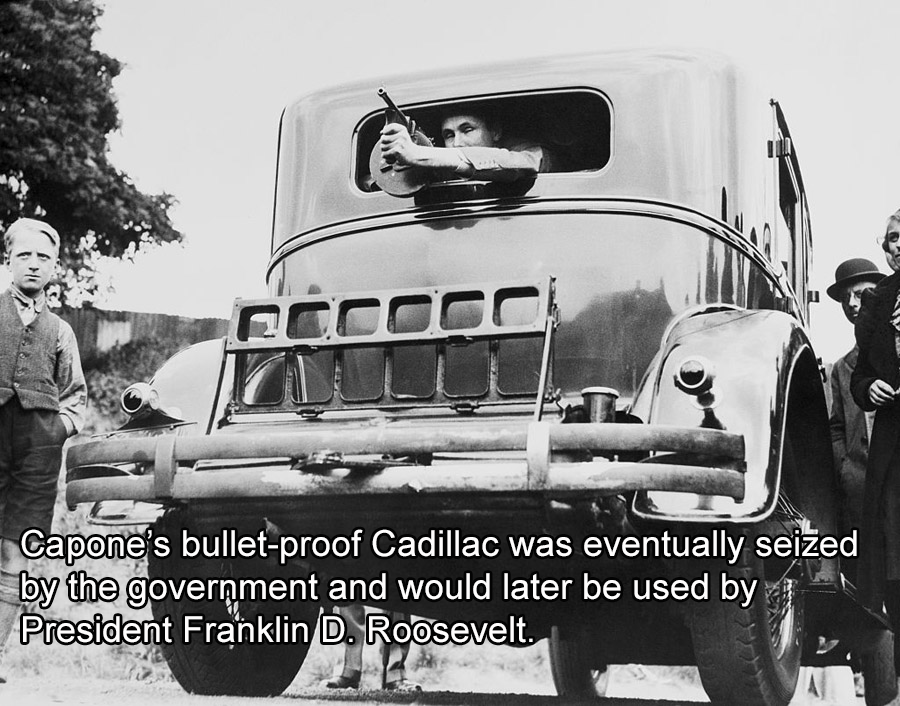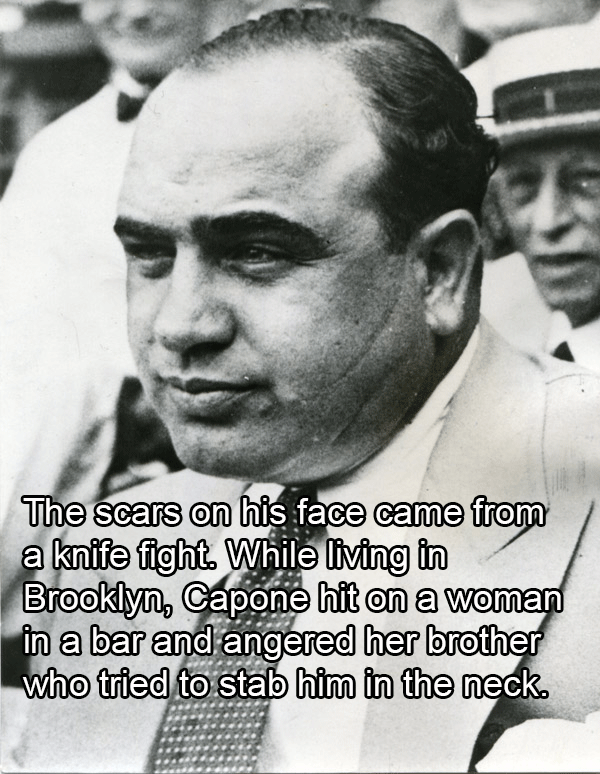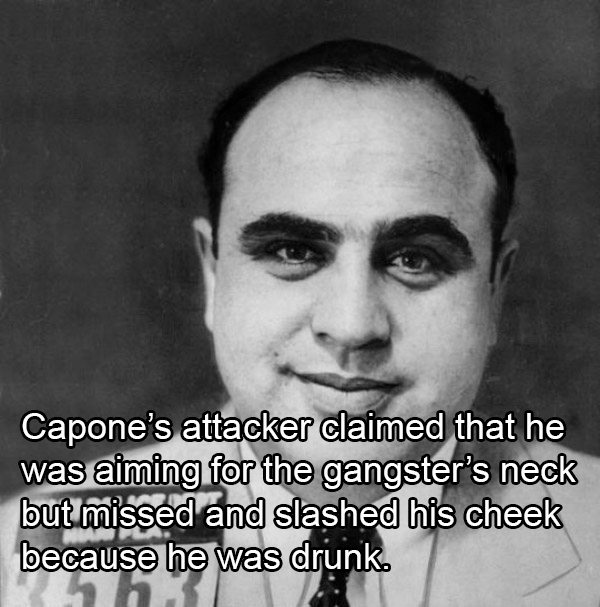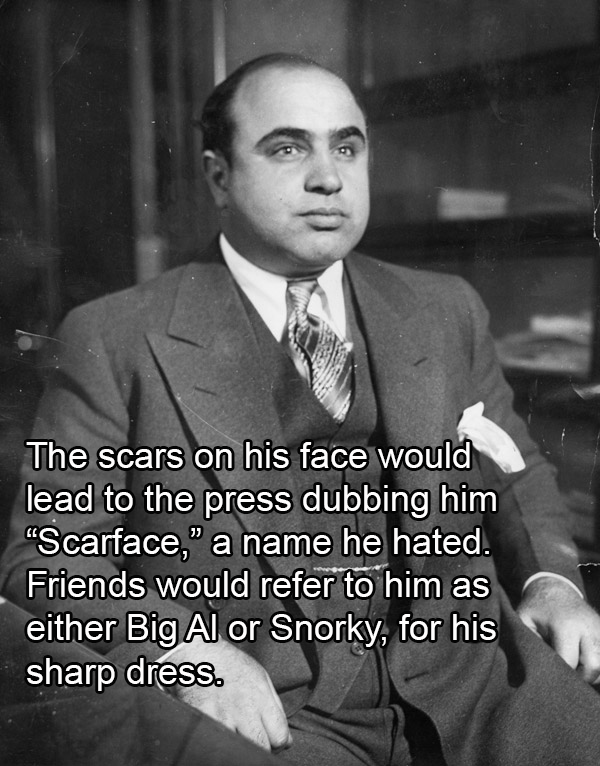 Boston Public Library/Flickr
Bettmann/Contributor/Getty Images
Miami Police Dept./Wikimedia Commons
United States Bureau of Prisons/Wikimedia Commons
National Archives/Wikimedia Commons
Chicago Tribune historical photo/TNS via Getty Images
FPG/Hulton Archive/Getty Images
Bettmann/Contributor/Getty Images
Chicago History Museum/Getty Images
Eastern State Penitentiary
Bettmann/Contributor/Getty Images
Bettmann/Contributor/Getty Images
Boston Public Library/Flickr
Bettmann/Contributor/Getty Images
Boston Public Library/Flickr
No American gangster in history has cemented his place in the public imagination quite like Al Capone — and the facts above prove it. Through his various exploits, especially the sale of illegal alcohol during Prohibition, Capone and his gang pulled in mountains of cash and left trails of bodies in their wake.
Even more impressive than the estimated $100 million (nearly $1.5 billion today) that his illegal activities earned him is the fact that he amassed this enormous wealth in less than a decade.
Had he not built his fortune upon crime, Capone would have been a poster boy for the American dream. Unfortunately for him, he toiled in the Chicago underworld, was imprisoned for tax evasion, and died a delusional and syphilitic man at the young age of 48.
In terms of prominent mob figures from the 20th century, there was truly no one bigger, more boisterous, and historically mined than Al Capone.
The Most Shocking Facts About Al Capone
Born in Brooklyn to working-class Italian immigrant parents, Capone eventually rose to the rarified air of American wealth and power. But before "Scarface" (a nickname he hated) became the leader of the Chicago Outfit, the young man had a relatively normal childhood.
Capone came into the world on Jan. 17, 1899. His father, Gabriel, was part of the massive influx of Italian immigrants who arrived in New York just five years earlier. The resourceful barber and his wife, Teresa, had already been raising two sons — Vincenzo and Raffaele — when Frank Capone was born. Ultimately, Al would be the fourth out of nine children total.
Though they had a rather respectable, hardworking, and professional family, Capone was eager to make something more of himself than his father. Of course, the fact that he would one day become the FBI's "Public Enemy No. 1" was likely not the initial goal — but it certainly came to that soon enough.
After being kicked out of school at age 14 for hitting a teacher, Capone never went back to finish a formal education. He instead began slowly but surely rising in the ranks of the mob — but only after getting his face cut open by a young hoodlum at a brothel-saloon.
After accepting an invitation from fellow gangster Johnny Torrio to work for him in Chicago, Capone began making a name for himself in the Windy City. It was there that he took advantage of the public demand for alcohol during Prohibition — and built a reputation as a sharply-dressed Robin Hood of sorts.
"I'm just a businessman, giving the people what they want," he'd say. "All I do is satisfy a public demand."
As for the mob hits orchestrated by Al Capone, perhaps the most infamous of all was the St. Valentine's Day Massacre. It was this ruthless elimination of rival gang members that truly cemented the mobster as a force to be reckoned with. All but one of the unsuspecting 1920s gangsters were killed.
The Downfall Of Scarface
While he was still a low-ranking thug, he contracted syphilis from a prostitute at a bordello where he worked as a bouncer. He was so ashamed of his disease that he refused to treat it and instead turned his attention to rising to the top in the Chicago underworld.
Meanwhile, his powerful connections within the city government and police made him seemingly untouchable — for a while at least.
In 1931, the man responsible for untold murders and suffering finally found himself behind bars — for tax evasion. Unable to prosecute him for the crimes that built his wealth, authorities were ultimately able to bring him down on the grounds that he hadn't paid income tax on that fortune.
At the same time, his untreated syphilis had begun to seriously damage his brain. After his wife Mae Capone successfully managed to get him out of prison on physical and mental health grounds, he was released early for "good behavior." He spent the rest of his life quietly in Florida.
It was there where Mae Capone served as a full-time caretaker. Besides watching over her ailing husband, she made sure to keep him out of the public eye. If Capone was painted as a delusional blabbermouth, that could make the Outfit regret letting him live.
In the end, Al Capone died of a series of complications. From syphilis rotting his internal organs to a sudden stroke allowing his weakened immune system to develop pneumonia, the man was a mess in the end. Ultimately, it was cardiac arrest on Jan. 25, 1947 that ended his short, fast-paced life.
Discover more about his astounding true story in the collection of Al Capone facts above.
---
After reading these interesting facts about Al Capone, check out the most ridiculous facts about Pablo Escobar. Then, allow these photos to take you inside the mafia in the 1980s.