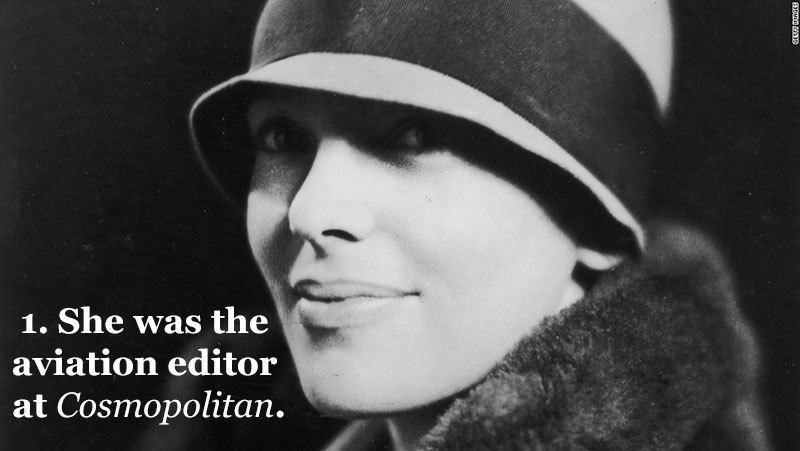 1. She was the aviation editor at Cosmopolitan.
---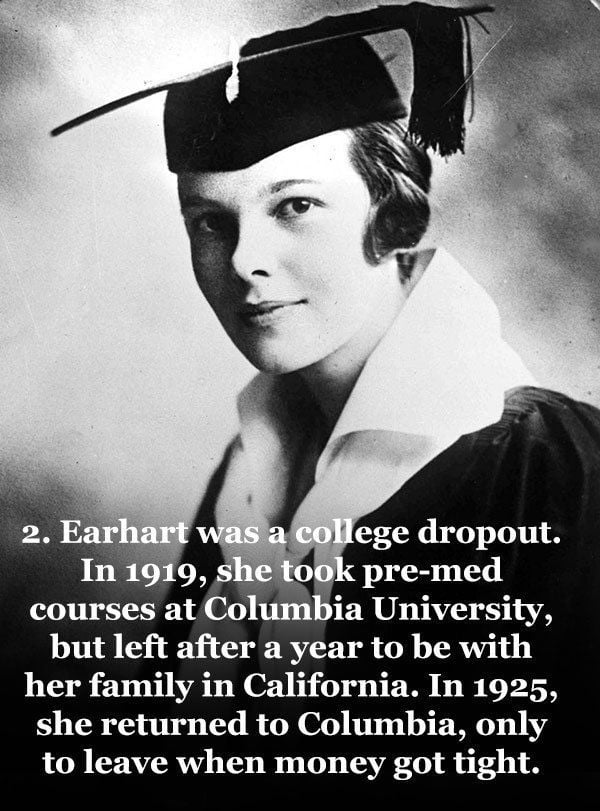 2. Earhart was a college dropout.

In 1919, she took pre-med courses at Columbia University, but left after a year to be with her family in California. In 1925, she returned to Columbia, only to leave when money got tight.
---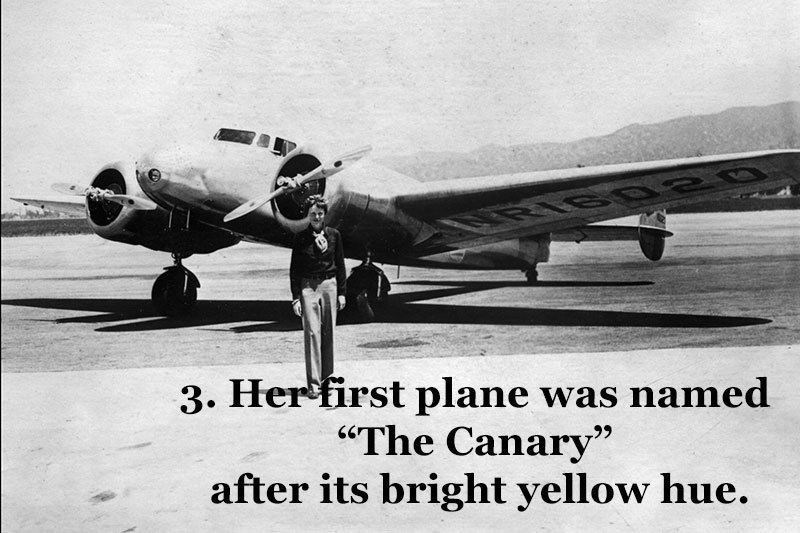 3. Her first plane was named "The Canary" after its bright yellow hue.
---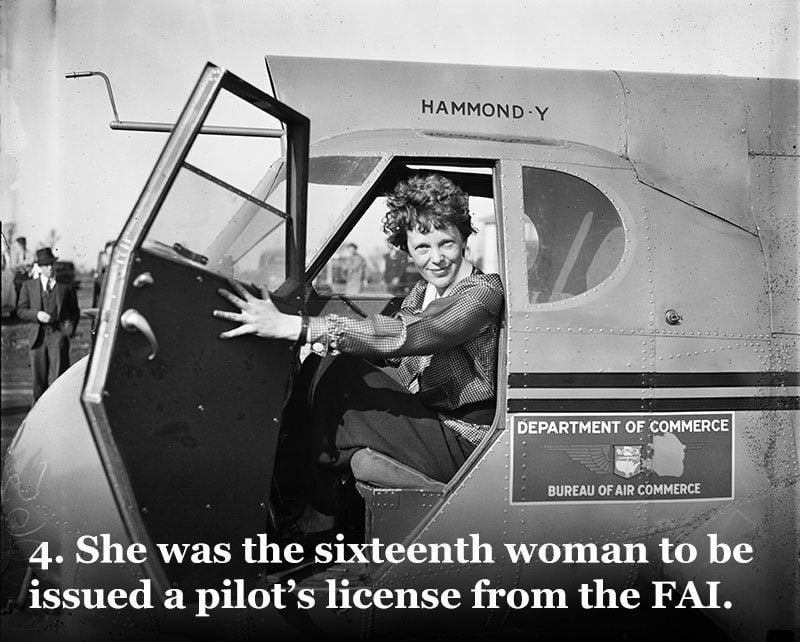 4. She was the sixteenth woman to be issued a pilot's license from the FAI.
---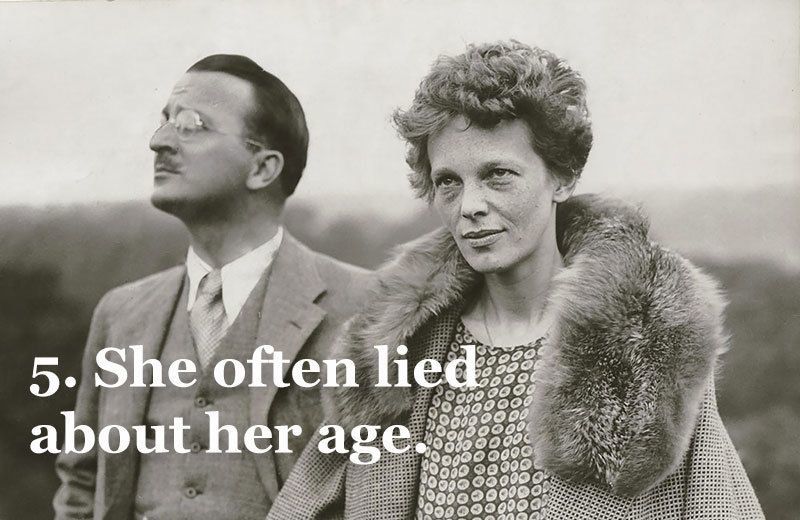 5. She often lied about her age.
---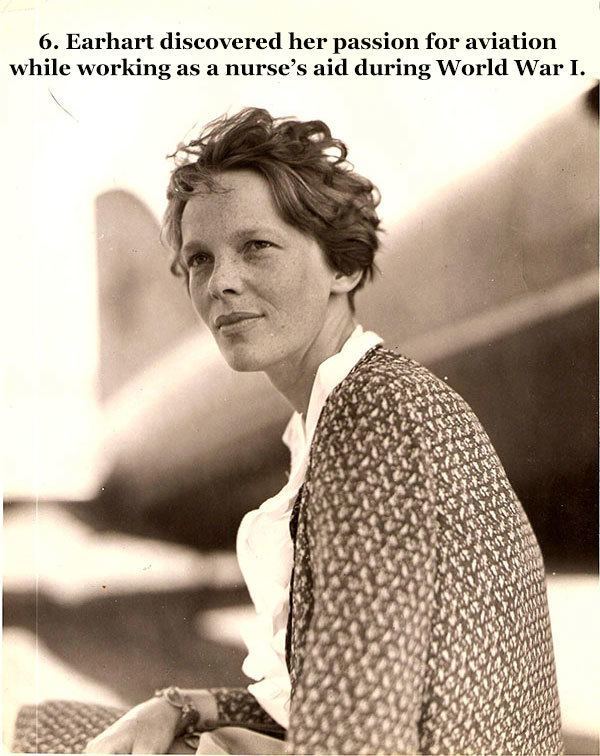 6. Earhart discovered her passion for aviation while working as a nurse's aid during World War I.
---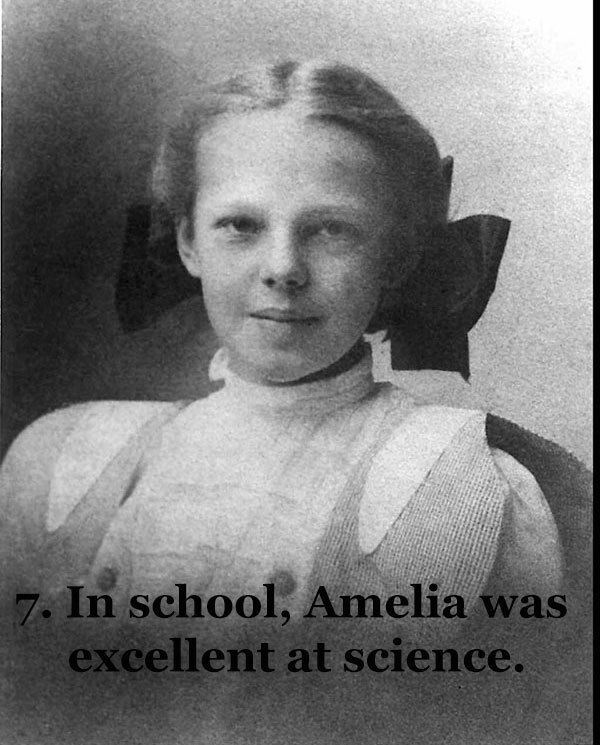 7. In school, Amelia was excellent at science.
---
8. Amelia became friends with Eleanor Roosevelt, who also wanted to fly.
---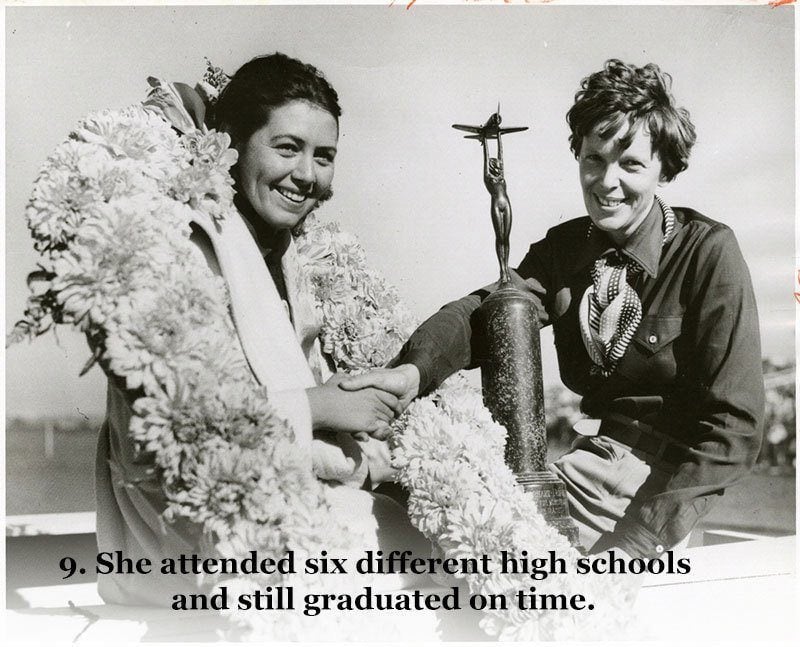 9. She attended six different high schools and still graduated on time.
---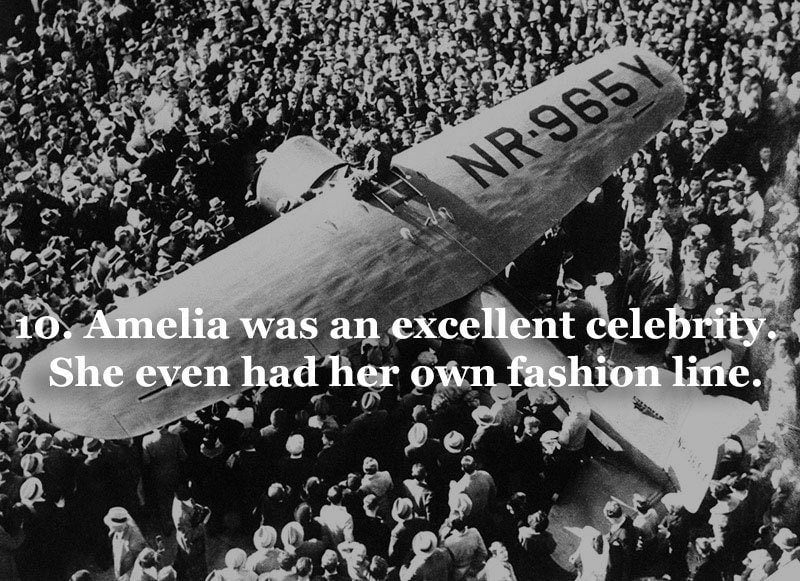 10. Amelia was an excellent celebrity. She even had her own fashion line.
---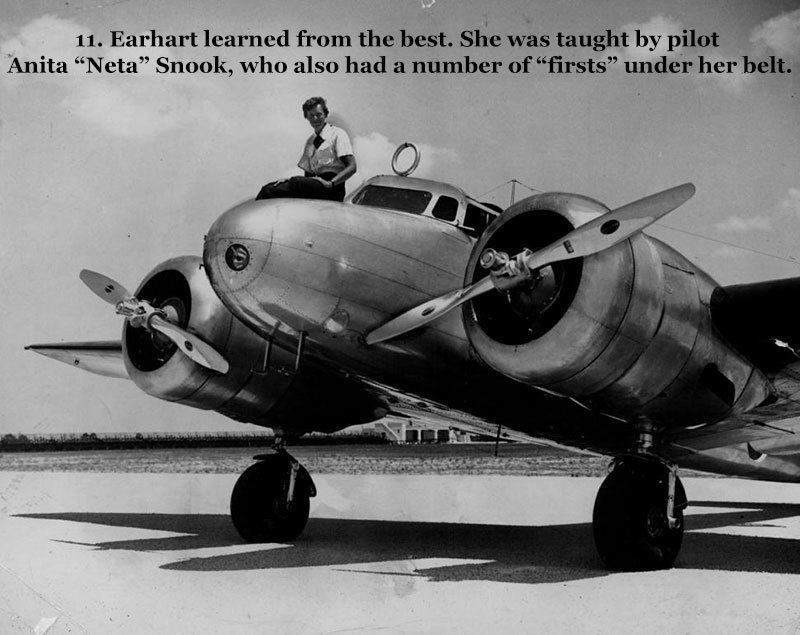 11. Earhart learned from the best. She was taught by pilot Anita "Neta" Snook, who also had a number of "firsts" under her belt. (First woman to own her own aviation company.)
---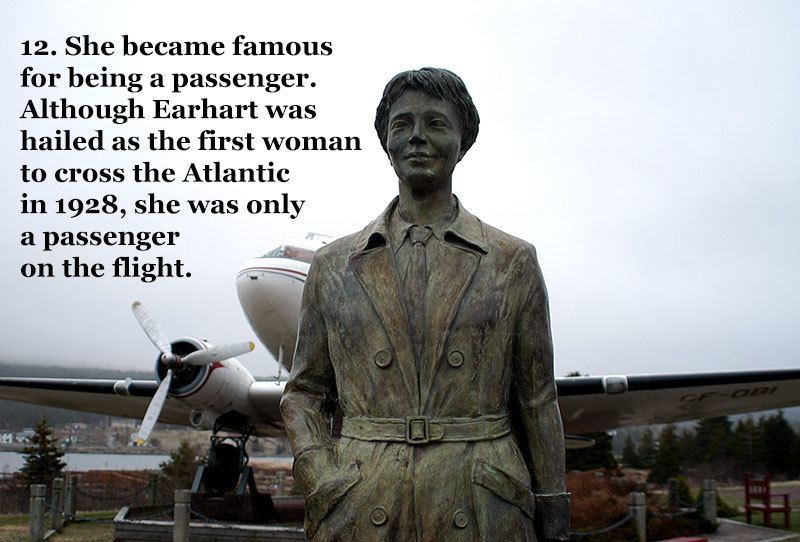 12. She first became famous for being a passenger.

Although Earhart was hailed for being the first woman to fly across the Atlantic in 1928, she was only a passenger in the flight.
---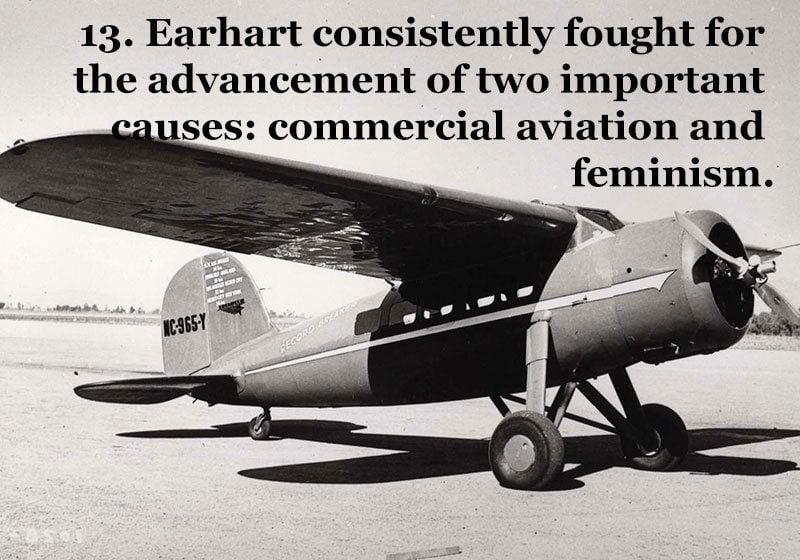 13. Earhart consistently fought for the advancement of two important causes: commercial aviation and feminism.
---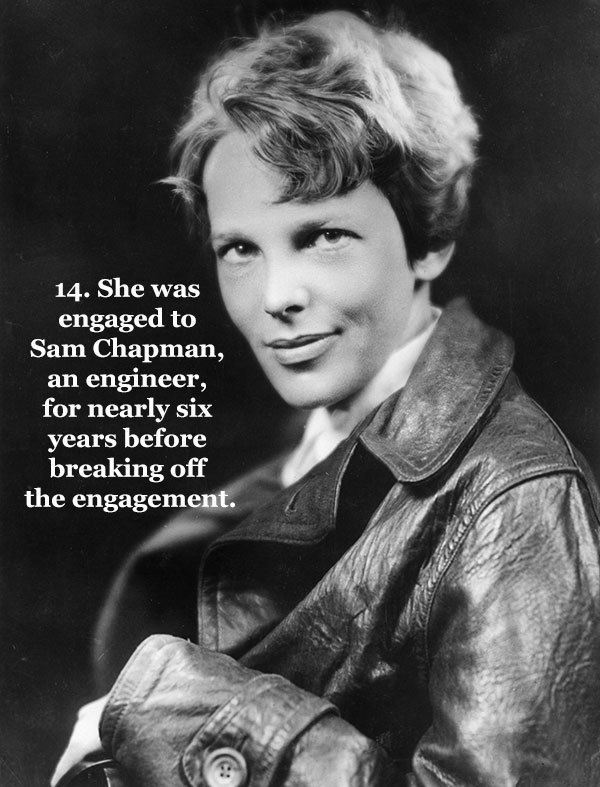 14. She was engaged to Sam Chapman, an engineer, for nearly six years before breaking off the engagement.
---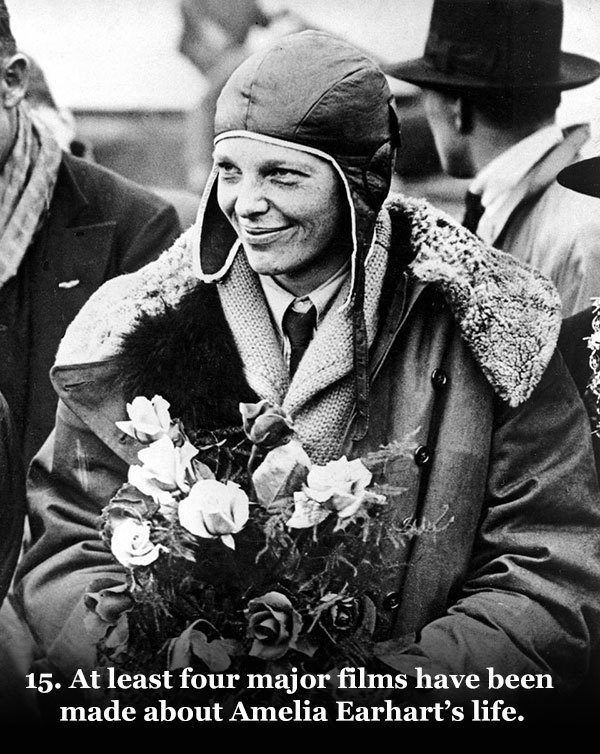 15. At least four major films have been made about Earhart's life.
---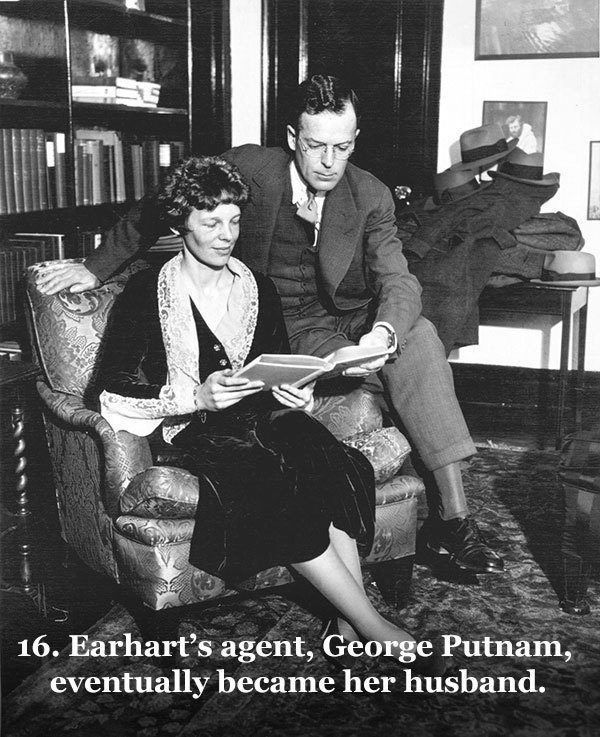 16. Earhart's agent, George Putnam, eventually became her husband.
---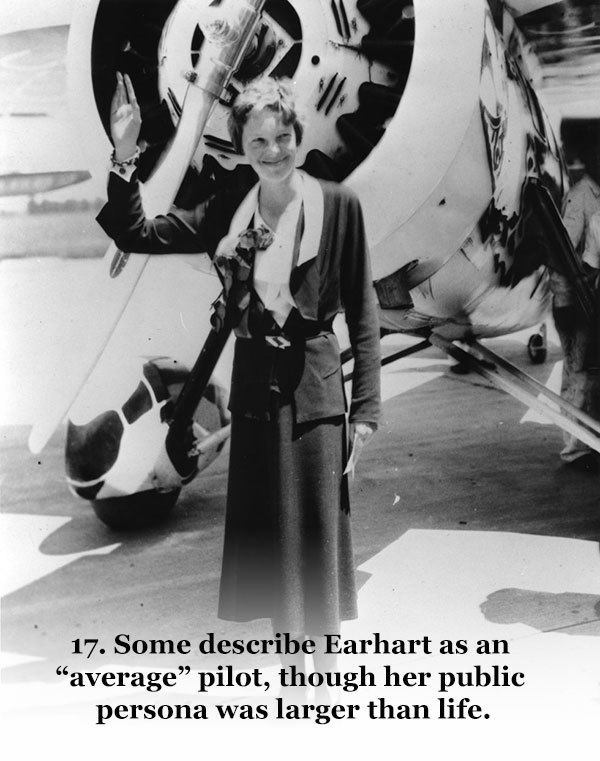 17. Some describe Earhart as an "average" pilot, though her persona was larger than life.
---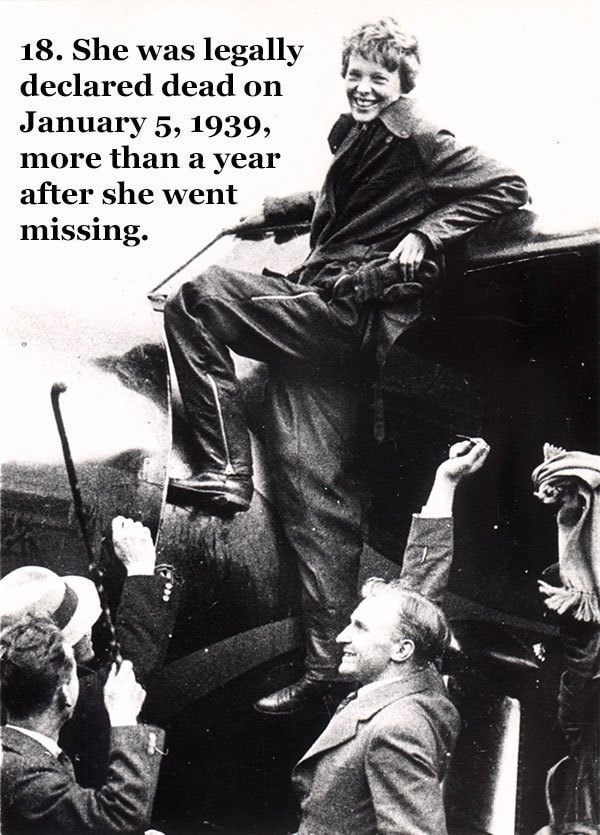 18. She was legally declared dead on January 5, 1939 - more than a year after she went missing.
---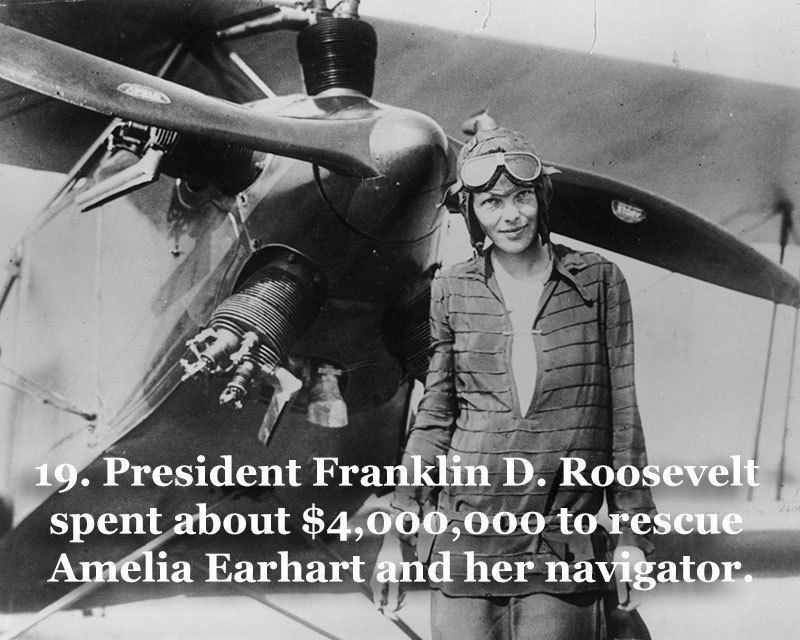 19. President Franklin D. Roosevelt spent about $4,000,000 to rescue Amelia Earhart and her navigator.
---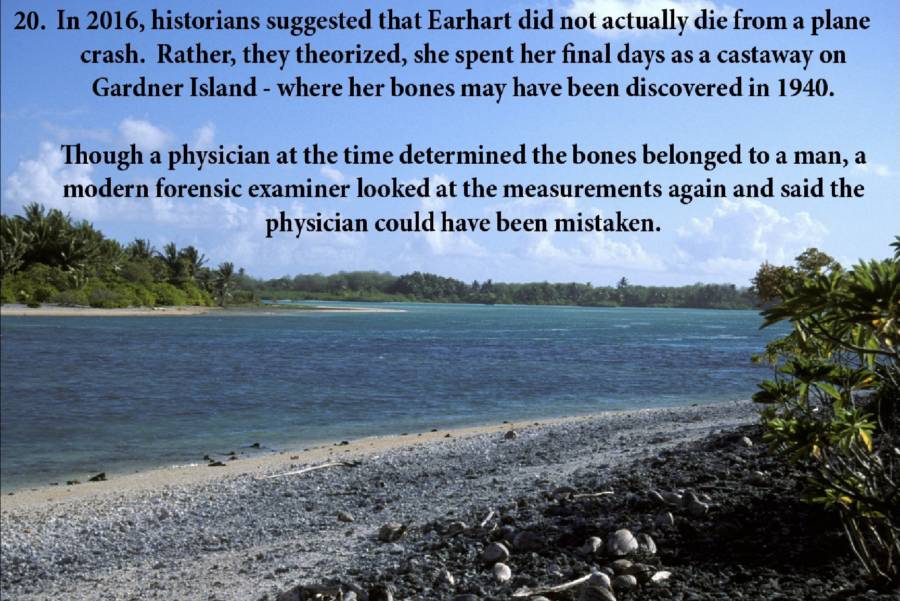 20. In 2016, historians suggested that Earhart did not actually die from a plane crash. Rather, they theorized, she spent her final days as a castaway on Gardner Island - where her bones may have been discovered in 1940.

Though a physician at the time determined the bones belonged to a man, a modern forensic examiner looked at the measurements again and said the physician could have been mistaken.
---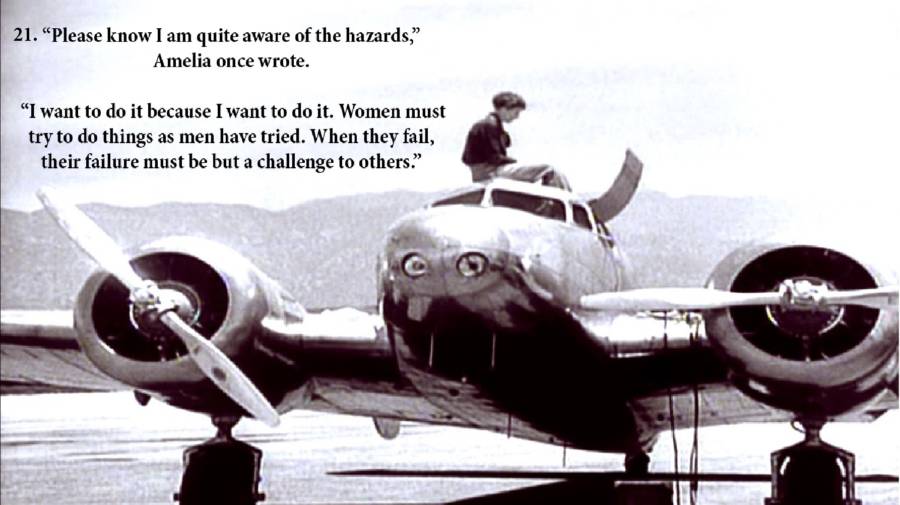 21. "Please know that I am quite aware of the hazards," Earhart once wrote.

"I want to do it because I want to do it. Women must try to do things as men have tried. When they fail, their failure must be but a challenge to others."
---
22. In 2016, another pilot named Amelia Earhart set a world record - becoming the youngest woman to fly 24,300 miles around the world in a single-engine plane.
---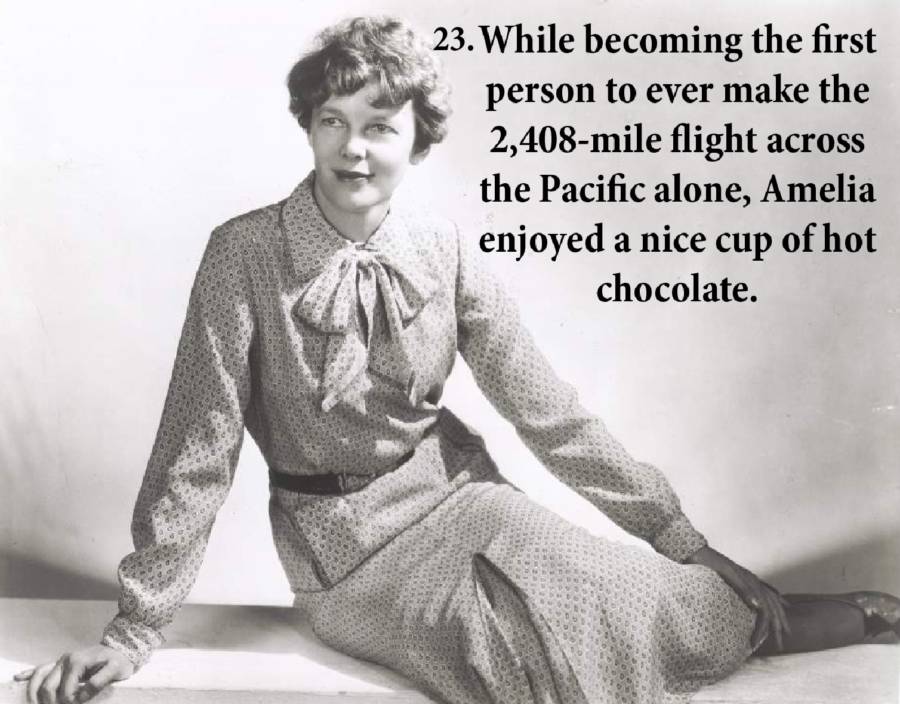 23. While becoming the first person to ever make the 2,408-mile flight across the Pacific alone, Amelia enjoyed a nice cup of hot chocolate.
---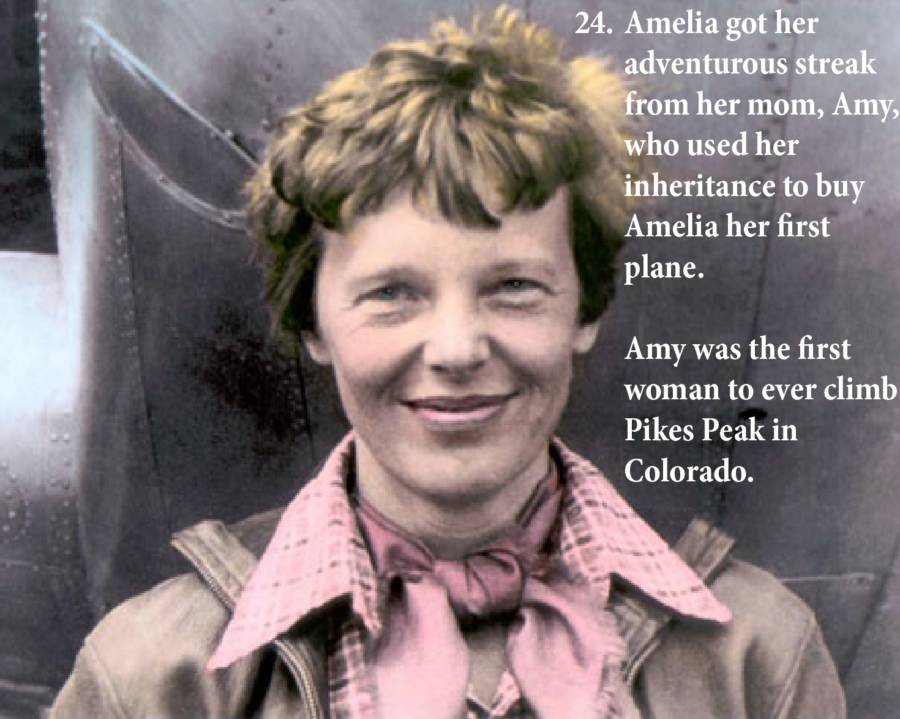 Amelia got her adventurous streak from her mom, Amy, who used her inheritance to buy Amelia her first plane.

Amy was the first woman to ever climb Pikes Peak in Colorado.
---
Nearly 80 years ago, Amelia Earhart attempted to circumnavigate the globe with fatal results. Before that, though, she captured the world's attention by breaking a score of records, expanding popular conceptions of womanhood and writing best-selling books, among a host of other things.
Newly discovered footage of Earhart was recently unearthed, depicting the pilot a few months before her last flight in 1937. The video appears to be shot at Burbank Airport, and features Earhart walking around her Lockheed Electra L-10E.
The son of John Bresnik, one of Earhart's photographers, found the film after going through his deceased father's belongings.
While this discovery will likely prompt another investigation into the exact cause of Earhart's death, we're more interested in her life.
Check out the surprising Amelia Earhart facts above — we guarantee they'll blow your mind.
And here's the new black-and-white footage of Amelia Earhart just before her final flight:
Still intrigued? Many theories seek to explain just what happened to Amelia Earhart on her fateful journey in 1937. Here's one of those hypotheses:
---
After reading these Amelia Earhart facts, learn about these seven other brilliant female aviators who deserve more attention. Then, check out these 33 thrilling images from the wild early days of flight.