Once used as a home for kings and a prison for political dissidents, Bellver Castle has stood on the island of Mallorca for over 700 years.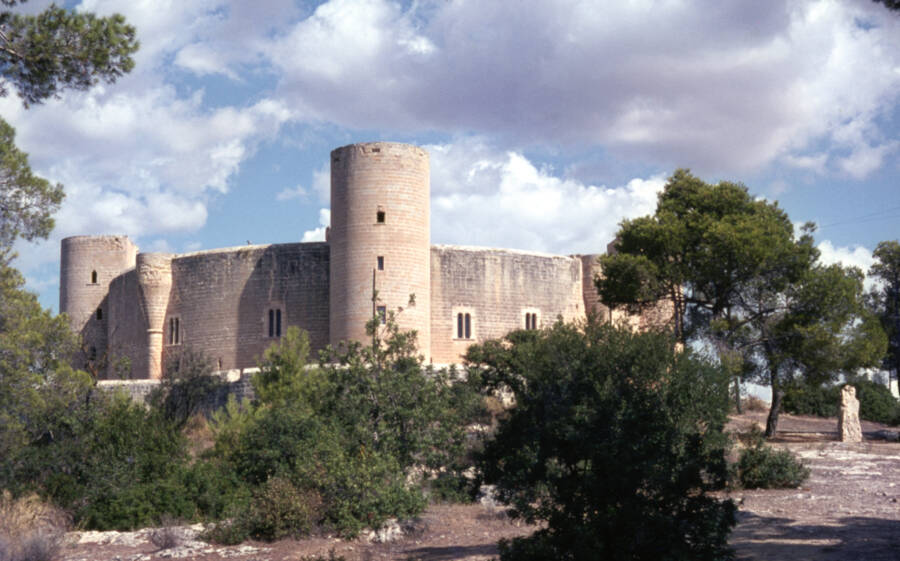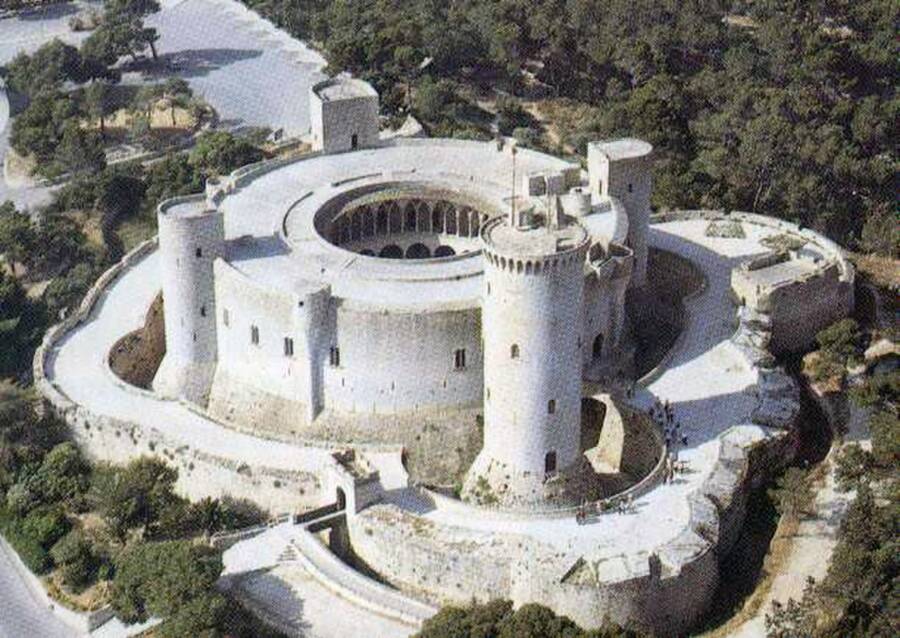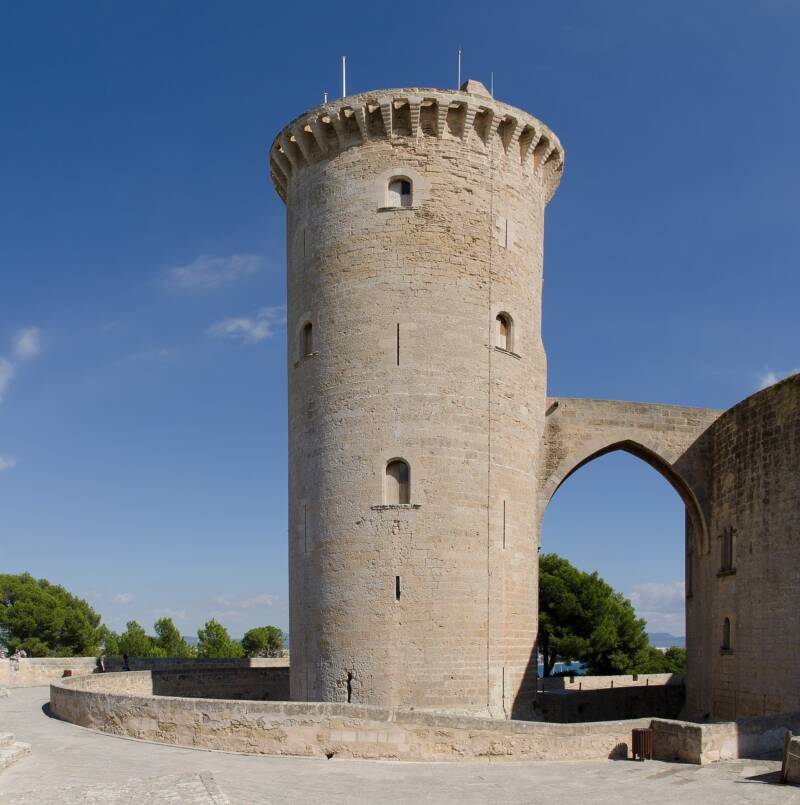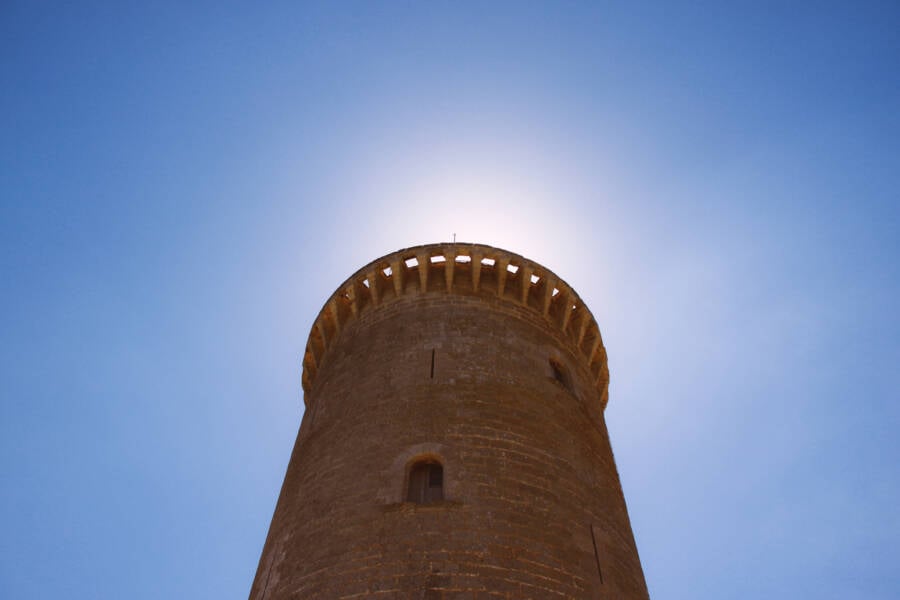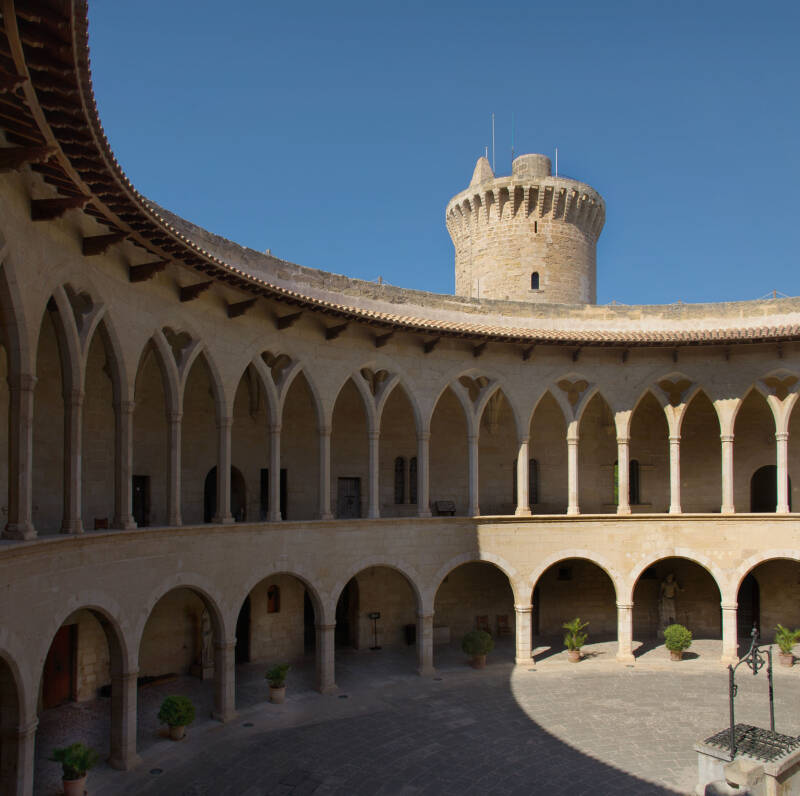 Bellver Castle is known locally among Spanish islanders of Palma, Mallorca, as Castell de Bellver. The Catalan translation of "castle with a beautiful view" is rather apt, as the 14th-century fortress overlooks Palma's port. Constructed from the very rock it was built on, the castle is as picturesque as it is historic.
With a unique circular design, three defensive towers, and a free-standing donjon, the hilltop castle withstood two medieval sieges and only fell into enemy hands once. A walkable museum today, Bellver Castle once served as the island residence for Spanish kings — and a penitentiary for political prisoners.
The History Of Bellver Castle
King James II had more in mind than picturesque views when he chose Bellver Castle's mountainous location. The hilltop altitude of 369 feet also provided the monarch with a perfect defensive position in the event of an attack.
King James II was also eager to make the structure just as palatial as it was fortified, as Castell de Bellver was to become his primary residence when he wasn't on the Spanish mainland. Construction began in 1300 and would largely conclude in 1309, though the detailed ornamentation would take another five years.
James II was not only Mallorca's king but the lord of Roussillon and Cerdanya counties and the dominion of Montpellier. Ultimately, King James II had Bellver Castle built as a hub for him to consolidate his territories.
The monarch chose Pere Salvà to spearhead the project. The architect would prove to be one of the most famous in his field and was mandated to rebuild the Royal Palace of La Almudaina right across the bay while working on the castle's finer details until 1314. As for the Castle's design, the inspiration was ancient.
Historians believe Salvà was influenced by the Herodium which was built by Herod the Great between 22 and 15 B.C. in the Palestinian town of Bethlehem. The ancient complex was both circular and constructed at 2,487 feet above sea level — and served just as much as a palace as a fortress.
Bellver Castle's Sieges
Bellver Castle's first siege occurred in 1343 when Peter IV of Aragon tried forcibly to reintegrate Mallorcan territories into the Crown of Aragon on the mainland. The fortress withstood the attempt, and yet again in 1391 when violent, anti-semitic riots erupted across the island.
Prince Charles of Viana tried to claim the castle for himself in 1459, but his father, King John II, of Aragon ruled otherwise. Ultimately, the fort did fall into enemy hands in 1521 during the "Revolt of the Brotherhoods" — which saw artisan guilds (or Germanies) from the Kingdom of Valencia rise up against King Charles V.
As political power shifted toward the mainland, Bellver Castle began to serve largely as a prison. Notable inmates included Age of Enlightenment philosopher and outspoken statesman Gasper Melchor de Jovellanos and political dissidents during Francisco Franco's dictatorial reign in the 20th century.
Bellver Castle Today
As weapons of war advanced to artillery, the castle was modified to hold battlements on the balconies. Ultimately, Bellver Castle would never need them as the fort was returned to the city of Palma in 1931 and turned into a museum in 1932. After major restorations in 1976, it became the tourist destination it is today.
With eight rooms holding artifacts chronicling Mallorca's Roman, Arab, and Spanish periods and a courtyard that hosts concerts and cultural events, the 700-year-old structure is a marvel — and one offering staggering views of the ocean from an expansive rooftop.
And at $4.50 per entry, a visit is just too good to pass up.
---
After learning about Bellver Castle, take a look at nine abandoned castles that are still glorious in their decay. Next, check out 27 stunning photos of McDermott's Castle in Ireland.