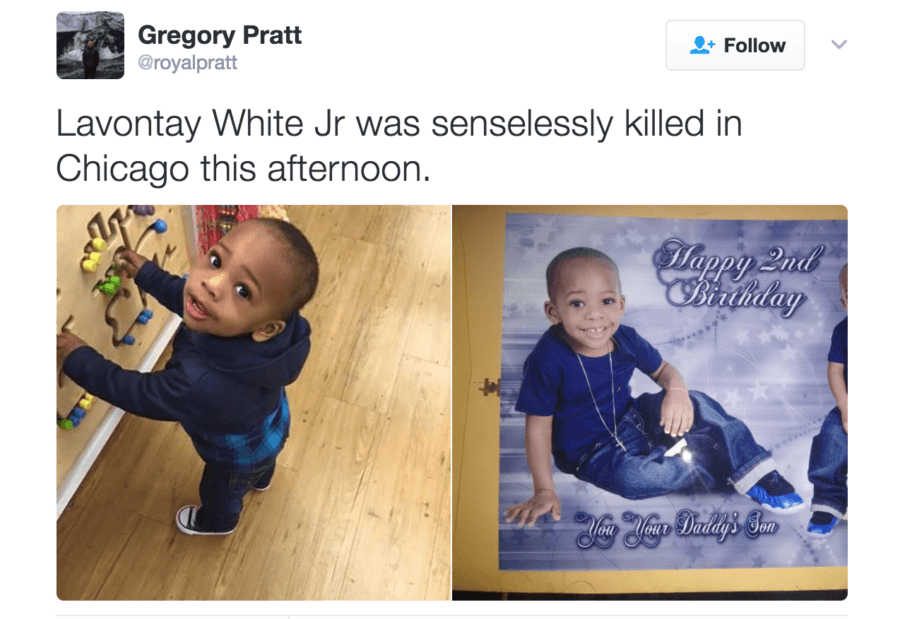 In 2017 alone, there have been 76 homicides in Chicago. The most recent murder was of a 2-year-old boy, Lavontay White Jr.
On Tuesday afternoon, the child was killed in his carseat when a shooter opened fire in an alley on the city's West side, the Chicago Tribune reported.
Police assume the shooter was aiming for Lavontay's uncle, a 26-year-old known gang member who was also killed.
The car was being driven by the uncle's pregnant 20-year-old girlfriend, who was streaming a Facebook live video at the time of the incident.
The video shows the couple laughing and singing along to music. Then, when the red sedan turns, the woman's face abruptly shifts to a panicked expression. She throws open the door as more than a dozen gun shots are fired into the car.
Leaving her boyfriend and the child behind, she runs into a house and the camera goes dark.
"I have a bullet in my stomach," she yells. "I can't breathe."
Though the woman expressed fear that she would be arrested if she went to the hospital, she believed that she made the right decision.
Doctors reported that she and her baby are expected to survive, but the uncle and Lavontay were pronounced dead upon arrival at Stroger Hospital.
The boy was the city's youngest shooting victim since 2013, but he's one of many children who have recently been caught up in the violence.
Just last week, two preteen girls were struck by stray bullets in unrelated incidents. Twelve-year-old Kanari Gentry Bowers was playing basketball at an elementary school when she was shot in the head. Takiya Holmes, age 11, was riding in her family's minivan when she was killed.
The mounting deaths prompted Donald Trump to cryptically threaten, via Twitter, to "send in the Feds!" Though, as several journalists noted, Chicago forces already work with federal agents to reduce violence.
Police Superintendent Eddie Johnson has another idea: gun control.
"The issue is still creating a culture of accountability for people who fire weapons, and we're just not doing that," he said in a press conference, noting that his department had been told new gun legislation would be enacted in January. "I hope our legislative partners are looking right now."
BREAKING: Man killed, toddler and woman injured in North Lawndale shooting: https://t.co/uDB3VbmvU6 pic.twitter.com/8SiSZOe84N

— ABC 7 Chicago (@ABC7Chicago) February 14, 2017
---

Next, read about how half of America's guns are owned by just three percent of the adult population. Then, read a brief history of gun control legislation in America.