In November 2013, an eight-year-old girl from Jiangsu province became the youngest person in China to be diagnosed with lung cancer. While her doctors hesitated to draw a causal relationship between pollution and the girl's cancer, they did say that it was likely due to prolonged exposure to airborne particles from vehicle emissions.
Given how rare it is for a child to have that kind of cancer, its exact causes are still disputed.
Regardless, it helps highlight the very high human costs of "growth above all else" governance that has defined Chinese policy for the past couple decades, and brings renewed attention to Chinese "cancer villages", or areas near pollutive factories with unusually high death rates. Experts estimate that there are approximately 450 of these villages across the country.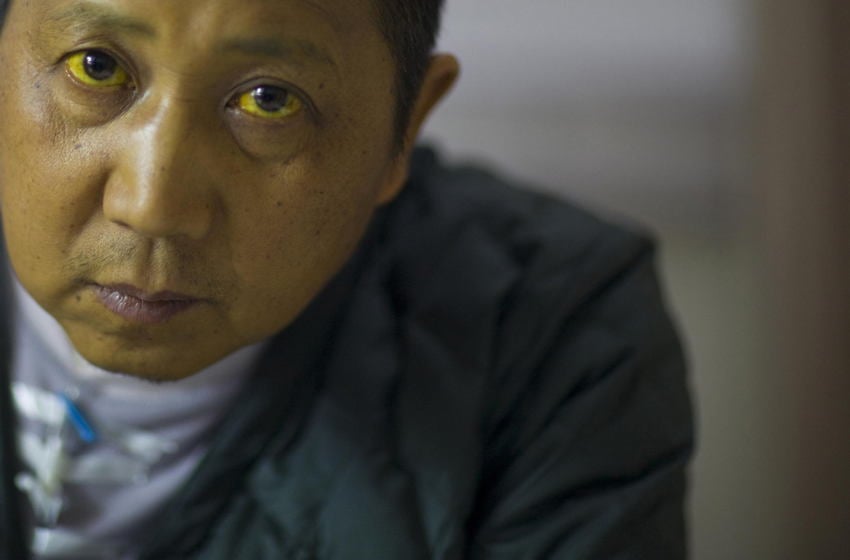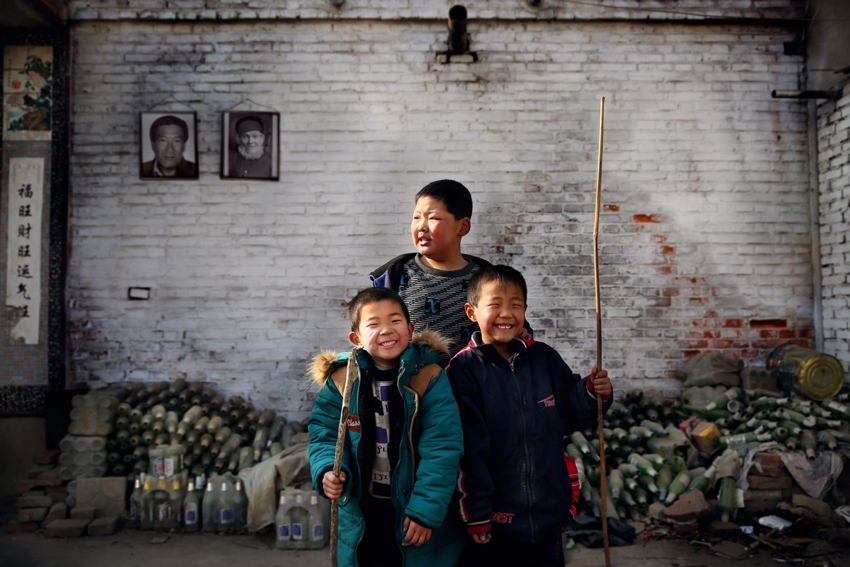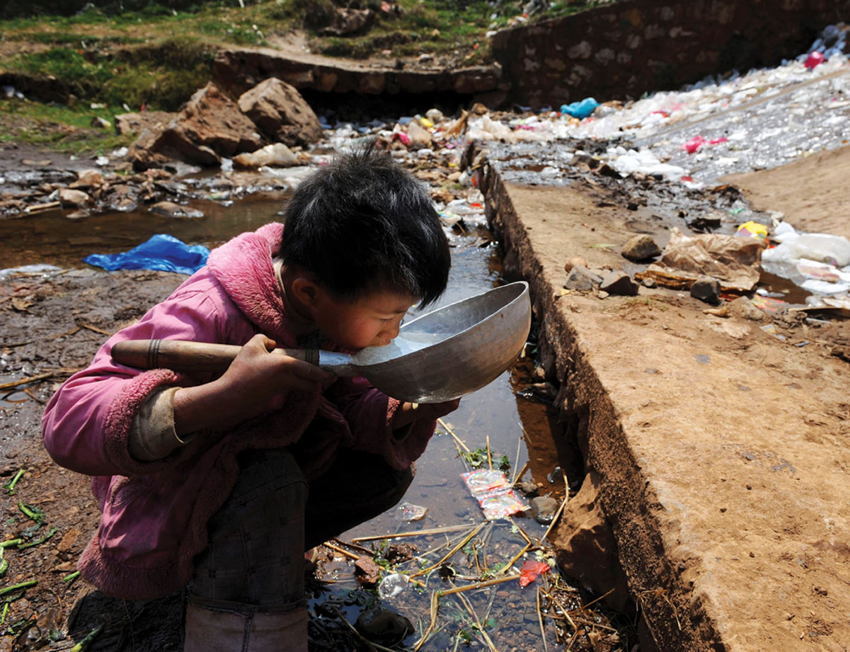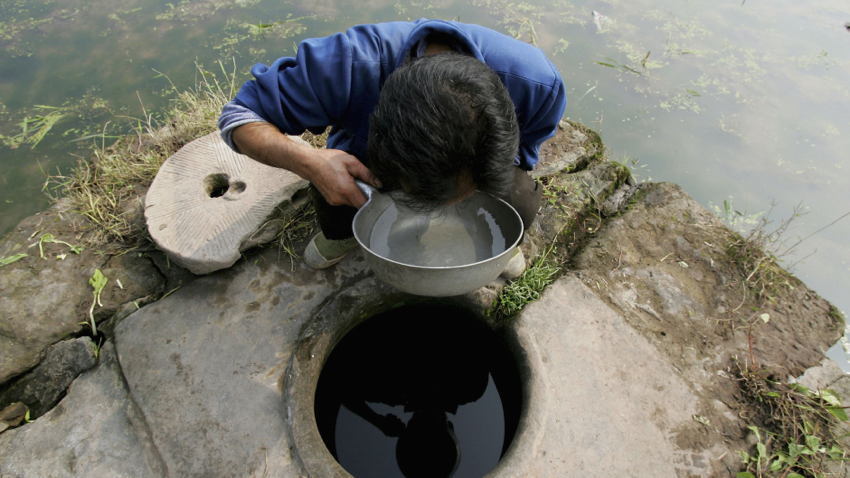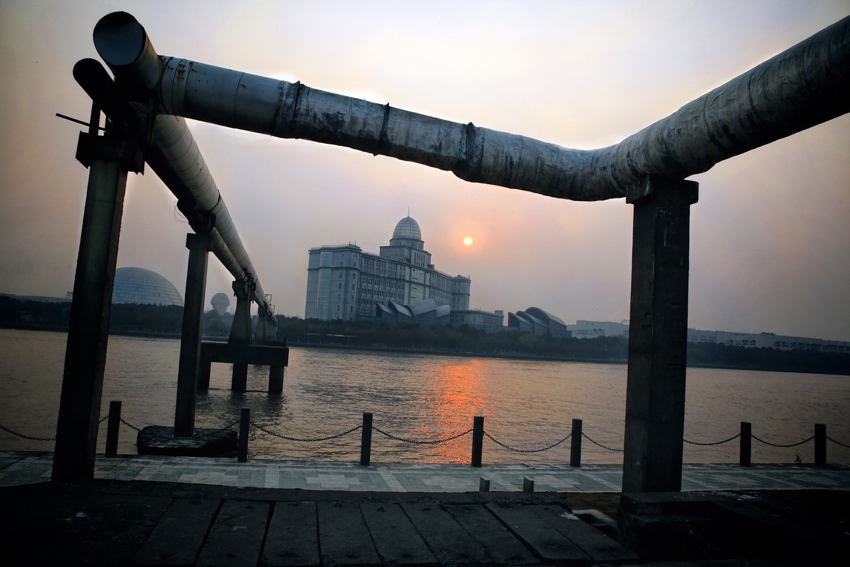 Chen Guokang stares at the camera with yellowed eyes. The 51 year old has been diagnosed with lung cancer, which has since spread to his liver and resulted in jaundice (hence the change in eye coloring). Guokang hails from Sanjiang Village, which suffers severely from water pollution.
These children smile while their elders, both deceased due to respiratory problems, watch over them.
According to the Chinese Ministry of Environmental Protection, 20 percent of Chinese farmland is polluted as a result of industrial policies, farm chemicals and lax environmental regulation.
Arsenic and cadmium have been listed as the primary pollutants.
A hazy dawn near a Ningbo textile factory. Chinese media, academics and NGOs have estimated that there are 459 cancer villages within China.
A steel factory in the outskirts of Beijing creates a waste-filled lake.
Waste enters this Yinzhou lake early in the morning. According to an annual report released by China's Ministry of Land and Resources, 59.6 percent of underground water cannot be used directly for drinking.
The dyes in textile factories often enter waterways, making them blue or purple. They invariably fill them with a number of hazardous chemicals that will be ingested by Chinese who rely on waterways for food and drink.
A woman from Yanglingang Village retrieves water from the Yangtze river. In the past decades, factories have erupted along the river, contaminating it with waste from power and chemical plants, as well as that of paper-making factories. Since the Yangtze, along with the Yellow River, cuts across China, the water pollution is not confined to a specific region. Once the rivers reach coastal cities, the water must undergo a number of treatments before it is potable.
Factory discharge pipes snake around public thoroughfares and into waterways.
An environmental activist surveys pollution levels in wastewater ditches near chemical plants in Wuli Village, Hangzhou City.
A couple looks out to chemical-filled water, used for fishing, near Wuli Village.
Featured above is a cancer victim from Wuxi City, Jiangsu Province. He believes his cancer was caused by water pollution. Many others in his village, located within the vicinity of handfuls of waste-emitting industries, are also stricken with cancer.
Cancer village resident Wang Jinlan was diagnosed with breast cancer in 2005, only for it to return again four years later at a far more advanced state. Four months after this photo was taken, Wang died.
A doctor aids two cancer victims who live together on a boat. The woman, featured on the left, decided to stop seeking treatment. Her husband suffers from esophageal cancer.
Featured above is Guan-yin, a woman whose husband died of stomach cancer and for whom she's fighting in her anti-pollution efforts.
Chinese news agency Xinhua released a sobering figure in June 2013: six people are diagnosed with cancer every minute.
In 2014, the Chinese Environmental Protection Ministry noted that 71 out of 74 Chinese cities monitored did not meet environmental standards.
Pollution is always near in Wuli Village.
Many have dubbed China's pollution problem the "airpocalypse", with Beijing becoming "almost uninhabitable" due to pollution.
Smoke snakes through the air in Shaoxing Binhai's Industrial Zone.
Smog makes mornings and afternoons indistinguishable in many parts of China. Featured here is Wuli Village, Zhejiang Province.
Retirees practice Tai Chi on a hazy morning in Fuyang city, Anhui province.
For many growing up in China, like these kids in Beijing, smog-filled skies are the norm. This has grave implications: toxic smog not only contributes to the four million cases of cancer in China each year, it's also responsible for the closure of schools and can impede photosynthesis, which has the potential to disrupt China's food supply.
Beyond its impacts on health and food supply, toxic smog hampers security. Beijing officials have shown concern that smog may render surveillance cameras useless, effectively inviting individuals to commit crimes with the knowledge that smog will conceal their identity.
In one attempt to combat the air pollution problem, the Chinese government has used artificial rain to disperse smog in populous cities. Of course, enforcement is tricky: since local governments rely on tax revenue from polluters, they aren't inclined to push them too hard for reform.
In February 2013, the Chinese Ministry of Environmental Protection included "cancer villages" in its five-year plan. This was the first time they had been mentioned since 1998, when the concept of cancer villages was first introduced.
Cancer rates in China are rising, and while the exact cause is not known, those aged between 20 and 40 are being diagnosed more frequently than any other age group.
In Beijing, some schools have gone to extraordinary lengths to combat the "airpocalyspe", spending over $5 million on a pair of domes to cover their campuses and give students a sense of "normality" beneath the plumes of smog.
A trash-filled frozen lake in Xingtai, China's most polluted city. In 2013, the city of 7.6 million people had only 38 days when its air quality met national standards.
Toxins have hugged Chinese skylines and streamed through waterways for years, but governmental attention to them has not been as consistent. The Chinese Ministry of Environmental Protection first introduced the phrase "cancer villages" in 1998, to much outrage from other public officials. Millions of lives would be lost and 15 years would pass before the ministry brought them up again in their 2013 five-year plan, the social and economic development initiatives that the Communist Party of China uses to shape the nation's future.
Over the past 30 years, and thanks in part to lax environmental regulations, coal-led industrialization and a surge in car ownership, cancer mortality rates have increased by over 30 percent.
Seventy percent of Chinese lakes and rivers are polluted, with half of its water considered unfit for human contact. Besides the staggering costs on human health, pollution has the potential to pose a great national security threat: some worry that the "smog cloaks" will effectively blind surveillance systems and make China more vulnerable to crime and terrorist attacks.
Others have raised concern that excessive pesticide use and agricultural runoff are contributing to increased rates of desertification, turning arable land into sand that can no longer support life. And if not by land, then by air: others worry that the smog might slow or disrupt photosynthesis, which could have a very negative impact on Chinese food supply--it's the world's largest grain producer--trade, and global food prices.
Simply put: the pollution, the cancer villages and the growing deserts all concern you.
While President Xi Jinping's emissions-cutting agreement with Barack Obama has given many environmentalists and human rights activists a bit of hope for China's future, its enforcement will be quite difficult.
Many local authorities tasked with adhering to future emissions levels are also dependent on tax revenues from local polluters and may not wish to ruffle too many feathers in the name of public health, one whose perceived benefits are not as immediate as a thriving factory.
Others aren't as optimistic. As journalist and cancer villages author Liu Lican has said, "Fundamentally, the situation isn't getting any better. Even if the cancer was caused by pollution that's already gone, maybe gradually more and more of these villages will emerge."
Check out this documentary on Chinese cancer villages below, and then our post on pollution in China:
All images come from Vice, Roads and Kingdoms, and Photos of the Week.