For decades, Cynthia Plaster Caster tracked down legendary rock stars and made plaster molds of their penises.
When it comes to groupies, there's no doubt that rock bands have some of the craziest. Some collect autographs, some collect t-shirts, some even collect locks of hair and used tissues.
And then, there's Cynthia Albritton, known now as Cynthia Plaster Caster, who collects a somewhat different kind of keepsake: plaster molds of famous rock and roll penises. Since 1968, Cynthia has cast over 48 famous rock singers', guitar players', and managers' penises.
Cynthia's decades-long project first started in Chicago while she was attending art school, when a teacher challenged the students to make a plaster cast of "something solid that could retain its shape."
Wanting to do something different than all of her peers, she turned to her love of rock music for inspiration.
Since she was a child, Cynthia had been obsessed with rock music. Then, when she became a teenager, she became obsessed with the "gorgeous men who made the awesome music" she loved. So, she started going to shows and afterparties waiting for someone to notice her.
However, she quickly found that there was a lot of competition at the afterparties. To her dismay, it turned out she wasn't the only young woman trying to make her way back to a rock star's hotel room. So, she decided to find something that would put her ahead of all the rest of those women.
The night after she'd been given her assignment, she attended a Paul Revere and the Raiders concert. At the after-party, she marched right up to the lead singer and guitarist, and, as she put it, asked if she could "cast their solid somethings."
Though she never got to cast Paul Revere or any of the Raiders, she managed to make the impression she'd been hoping for. Word spread in the rock community about the groupie and her unusual art venture, and soon she had a taker.
In 1968, Jimi Hendrix came to Chicago. After practicing her casting techniques — a simple process that involved dipping one's "solid something" into a martini shaker filled with dental-mold gel — on two of her friends, she was finally ready.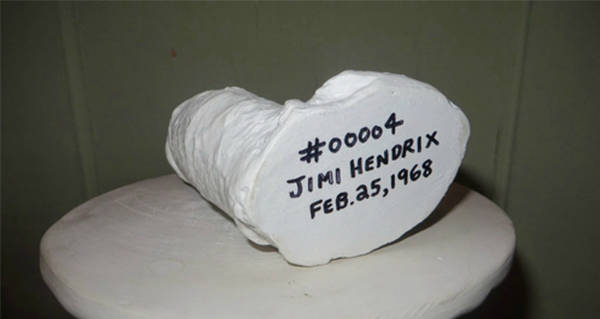 Much to her surprise, Hendrix agreed and became the first rock star to sit for Cynthia Plaster Caster. Even after all these years, Cynthia says Hendrix was her favorite musician to cast. According to her, Hendrix was the most laid back about the ordeal, whereas other musicians like Aynsley Dunbar of Journey were more difficult to deal with.
After Hendrix got his cast, the trend took off, and Cynthia had men from all over the rock world begging for a cast of their own. Artists like Jello Biafra, Chris Connelly, Wayne Kramer, and Jon Langford all asked to model for Cynthia over the years.
Then one day, Frank Zappa reached out to her. Though he had no interest in being cast himself, he saw the commercial value in the casts and invited Cynthia Plaster Caster to Los Angeles to set up an exhibition.
Unfortunately, the grand exhibition Zappa had hoped for never happened. As it turned out, there was a decline in the number of rock musicians who wanted to go to the effort it took to immortalize their penises in plaster if they couldn't keep the results.
In the end, though Cynthia Plaster Caster was left with 48 plaster penises, she had gained a reputation as one of rock music's most legendary groupies.
In 2000, she was able to exhibit her masterpieces at a show in the SoHo neighborhood of New York City, and then again in 2017 at the famous MoMA PS1 in Queens. She also started selling reproductions of the plaster penises, using the original molds, as well as offering commissioned pieces for a small fee. In 2000, she began casting women's breasts as well, though the number of female casts she's made is much smaller than the males.
Currently, her work is not on display, but certain pieces are available for sale on her website.
---
After learning about Cynthia Plaster Caster, check out these rock songs that are actually surprisingly dirty. Then, read about the Swedish park that found a giant wooden penis on their grounds.