Since Venice is built on more than 100 islands, its canals are crucial for transportation, commerce, and emergency services — and the low water levels are causing major impacts.
Venice is famous for its winding canals and romantic gondolas, but the iconic vessels have been grounded recently as the city experiences a period of historic low tide that has left many of its canals dried up, muddy, and untraversable.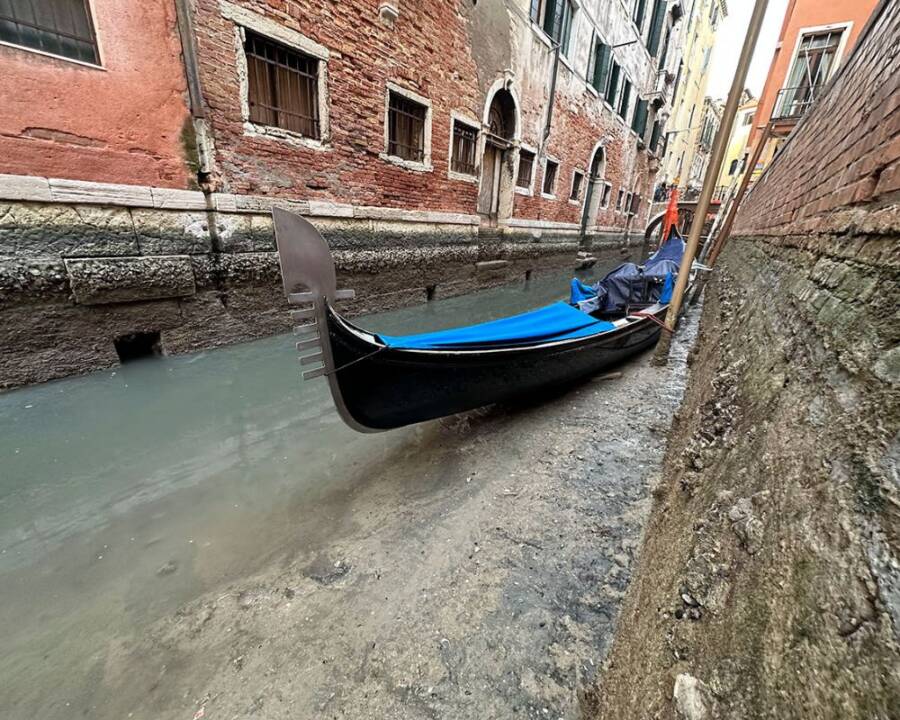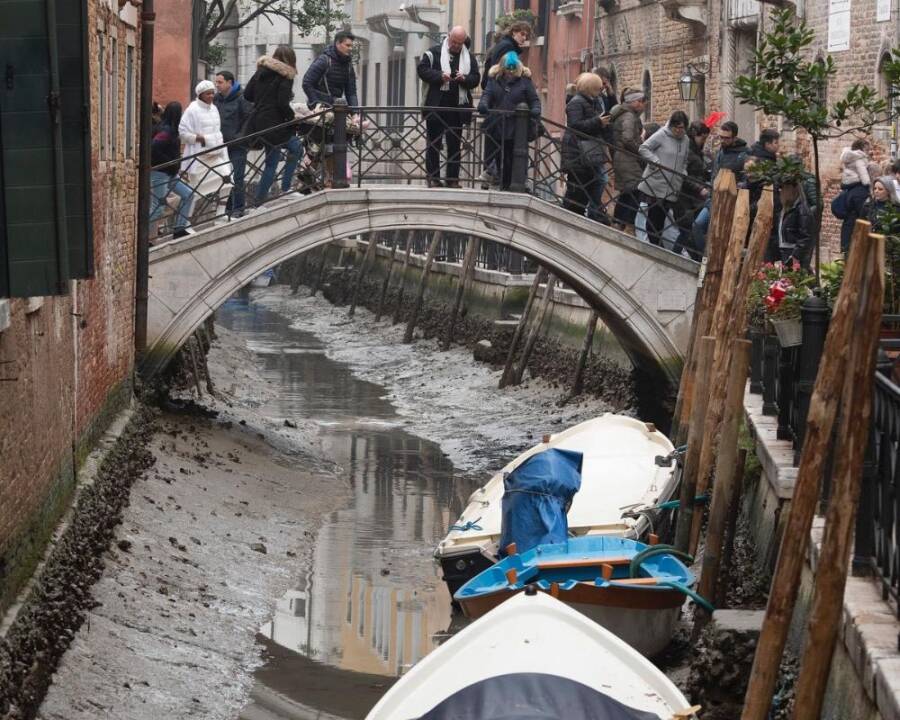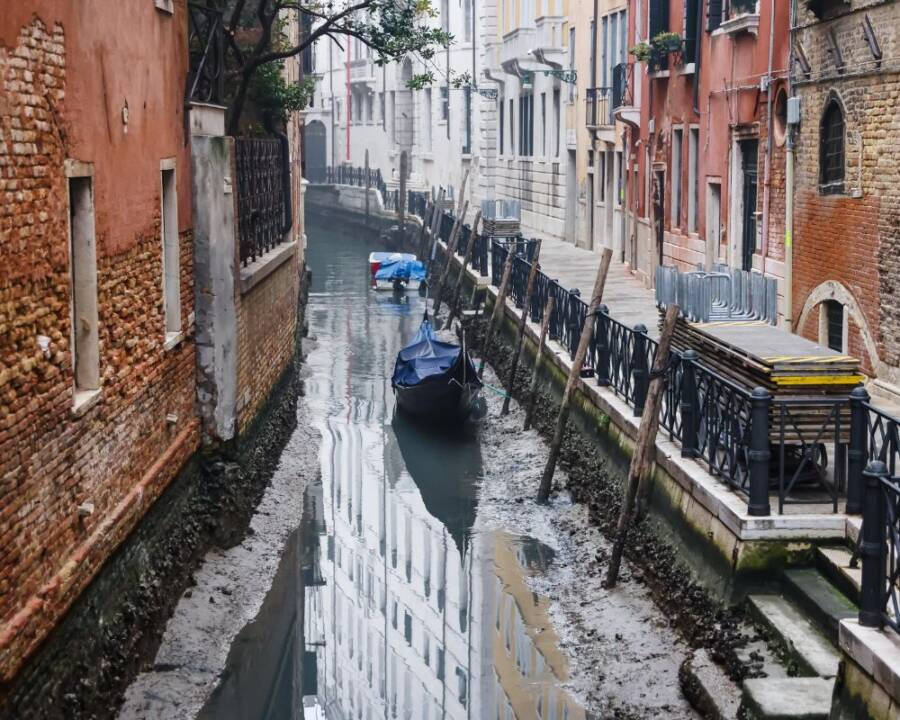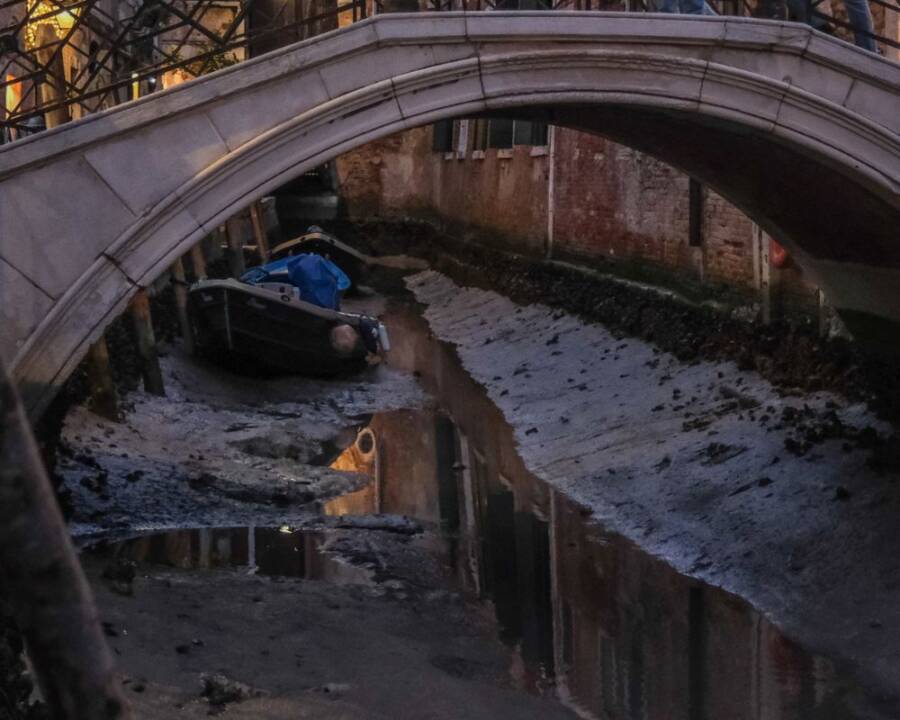 Alessandro Bremec/NurPhoto via Getty Images
Stefano Mazzola/Getty Images
Stefano Mazzola/Getty Images
Alessandro Bremec/NurPhoto via Getty Images
Twitter/El Dato Noticias Morelos
Images of the drought-ridden city first appeared on social media on Feb. 17, 2023. Some photos featured canals with barely a puddle of water in them. Because water levels are so low, many of the city's gondolas, water taxis, and emergency boats are struggling to operate.
The drought has surprised both locals and tourists. As the "City of Water," Venice typically deals with the opposite problem. In 2019, Venice experienced massive flooding that put many parts of the city under six feet of water — the highest levels in 50 years, according to Insider.
Emergency services rely heavily on the canals to transport people in need of medical care to hospitals, respond to emergency calls, and put out fires. Because of this, the lack of water has overwhelmed many first responders.
"Our operators are often forced to stop their craft at a distance and to proceed on foot, in many cases transporting patients by hand," said Paolo Rossi, the head of emergency health services, according to People. "We guarantee every intervention, but we are doing it with an added burden of difficulty."
The city is hoping for a much-needed rainstorm in the next few days. Until then, experts are working on solutions to the issue.
According to Reuters, environmental experts and officials are blaming low tides, a high-pressure system, sea currents, and a full moon for the Venetian drought.
Last summer, Italian officials declared a state of emergency in agricultural areas served by the Po River, which had 61 percent less water than usual. And over the winter, the Alps received 53 percent less snowfall than they typically do, which is also contributing to the region's dry conditions.
However, Alvise Papa, the head of the tides office at the Venice City Council, says the drought affecting nearby lakes and rivers isn't the only thing contributing to the lack of water in Venice. "It is caused by a stationary anticyclone with high pressure that prevents the entry of storm systems in the Mediterranean, halting precipitation and amplifying the low tide," she said.
Because of the alarming frequency of droughts and their extreme effects, many environmentalist groups, experts, and officials are calling for rapid changes.
"We are in a water deficit situation that has been building up since the winter of 2020-2021," climate expert Massimiliano Pasqui from the Italian scientific research institute CNR stated. "We need 50 days of rain."
Legambiente, an Italian environmental group, is calling for rapid climate-change legislation from the government to prevent future issues in the area. On their website, the group lists priorities, strategies, and milestones for preventing droughts like those that are currently impacting northern Italy.
In a strong statement, the group concluded: "No more delays allowed. We need to start preventing the 'water emergency' that will increasingly characterize our territory by stopping to think about it only when the damage has already been done."
---
After reading about the drought in Venice, look at 21 shocking photos of the 2019 Venice floods. Then, learn more about Earth's climate crisis through powerful images from around the world.