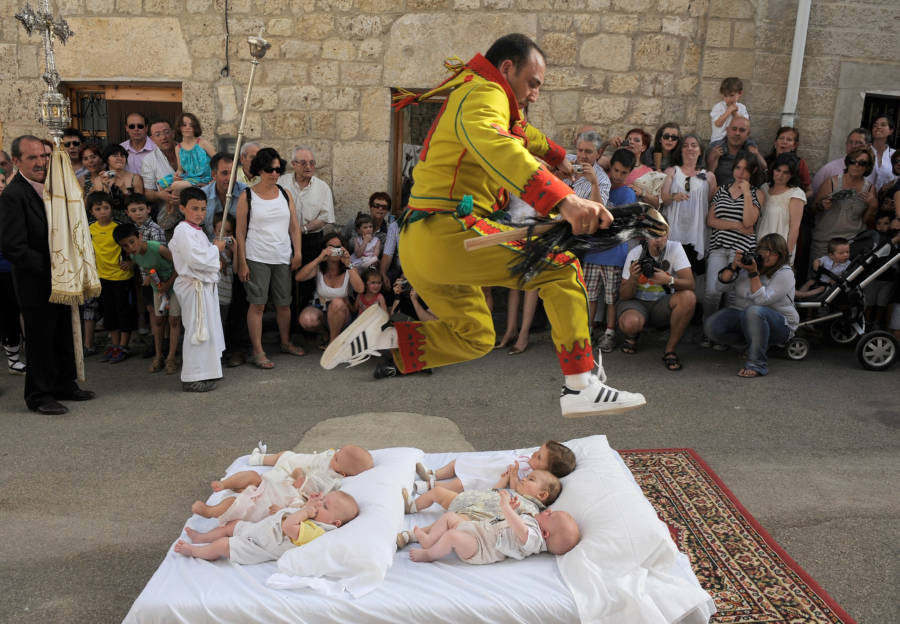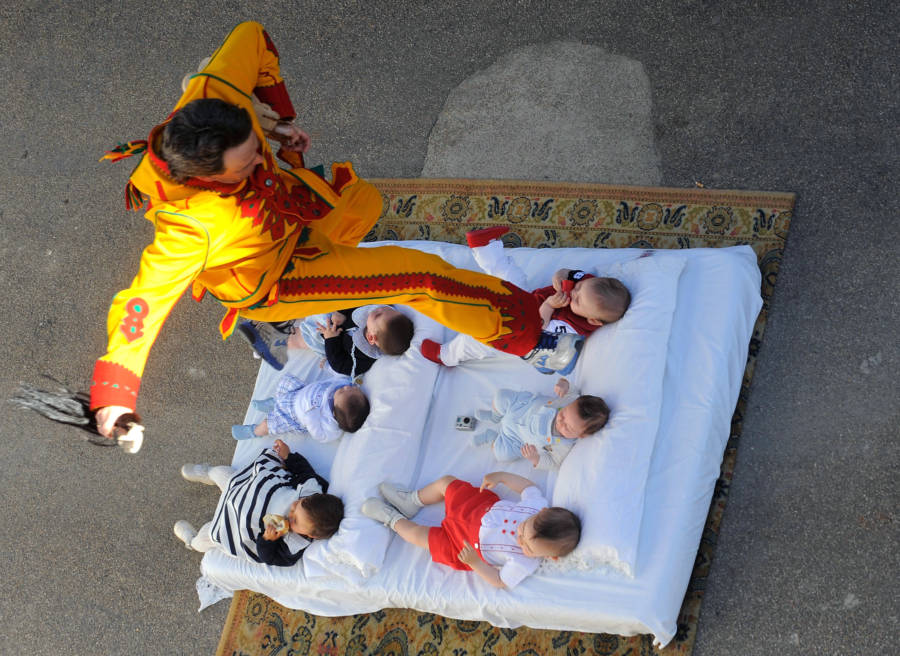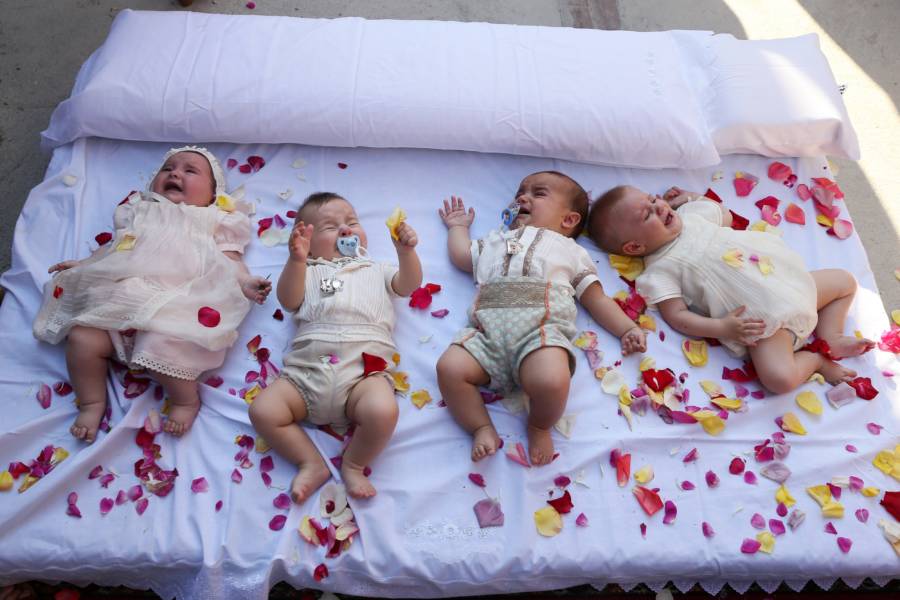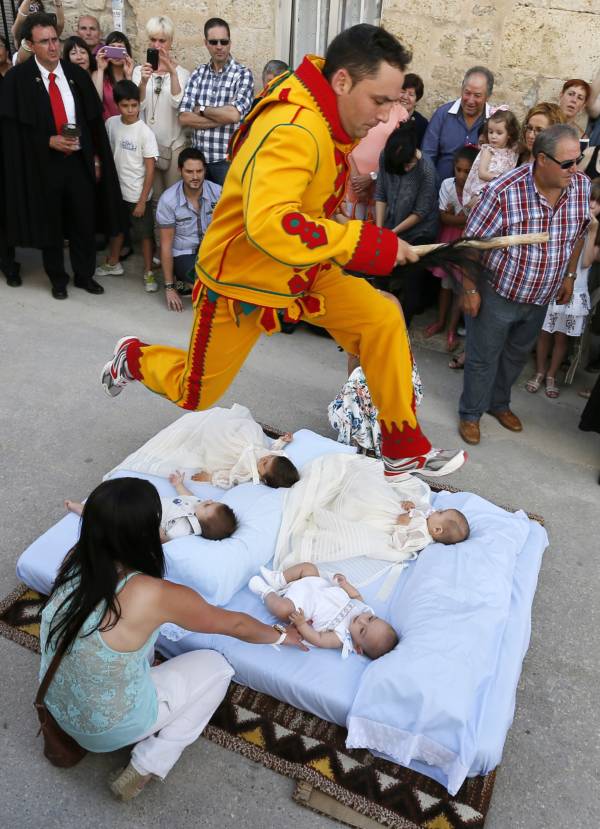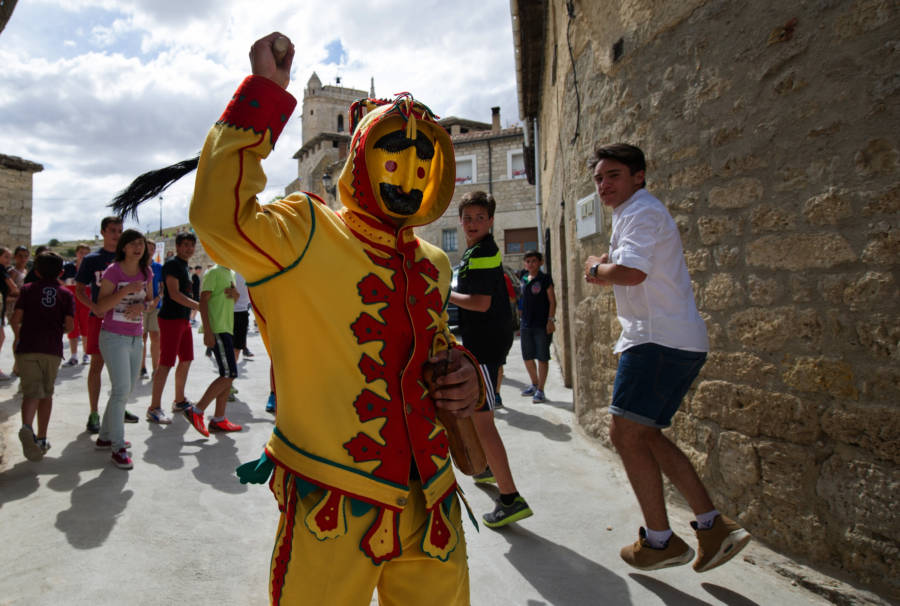 CESAR MANSO/AFP/Getty Images
CESAR MANSO/AFP/Getty Images
ESAR MANSO/AFP/Getty Images
CESAR MANSO/AFP/Getty Images
CESAR MANSO/AFP/Getty Images
GALI TIBBON/AFP/Getty Images
CESAR MANSO/AFP/Getty Images
CESAR MANSO/AFP/Getty Images
GALI TIBBON/AFP/Getty Images
CESAR MANSO/AFP/GettyImages
CESAR MANSO/AFP/Getty Images
With all its tedious rites and rituals, many consider Catholicism to be one of the most boring religions ever. One glimpse at a festival known as El Colacho, however, and boring is probably the last word critics would ascribe to the Catholic Church.
Each spring in Spain, Catholics celebrate the feast of Corpus Christi by -- wait for it -- having men jump over babies. At the tail end of the week-long affair, men in red and yellow suits literally leap over infants laid out on mattresses in the street.
In order for the jumping to take place, parents must first place their babies on a procession route. This one goes throughout Castrillo de Murcia, a medieval village near Burgos, Spain. Not all babies are welcome, however: Only infants born during the preceding year can participate.
Nobody is quite sure where such a tradition, which dates back to 1620, comes from. Still, some locals say it originated as a form of, let's say, adventure baptism. The red-suited men represent the devil, and by jumping over the babies, somehow absolve the infants of sin. Locals add that the rite supposedly ensures infants a safe passage throughout life and protects them from evil demons and sickness.
Not all Catholics are fans of the tradition, however. Pope Benedict, who resigned in 2013, asked Spanish priests to downplay any connection that Catholicism may have with the ceremony because the Roman Catholic Church teaches that only a water baptism can save a baby's soul from eternal damnation.
Nevertheless, El Colacho carries on to this day. See for yourself in the photos above.
---
Intrigued by this look at El Colacho? Next, check out Spain's Jarramplas Festival where villagers pelt a monster with 22 tons of turnips, before looking at these adorable photos from Thailand's Monkey Buffet Festival.