These Frida Kahlo photos prove that the renowned Mexican artist lived a painful yet profoundly influential life.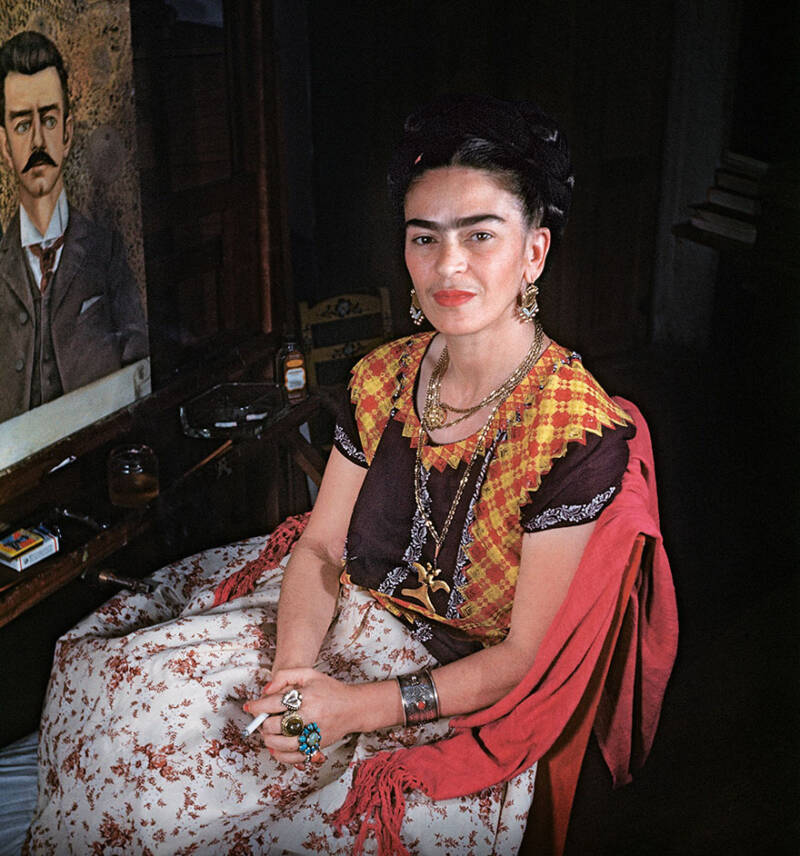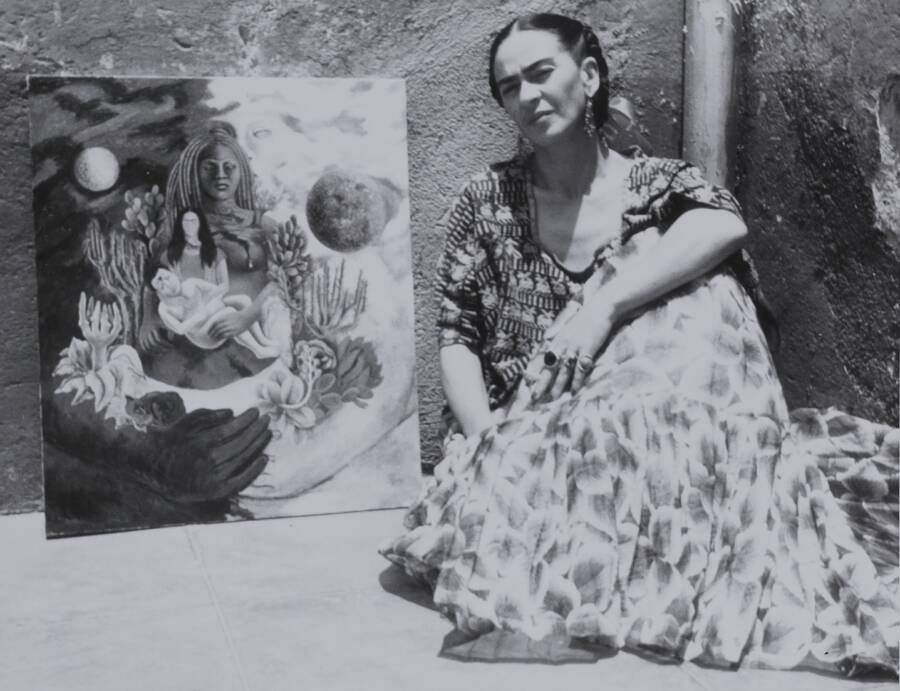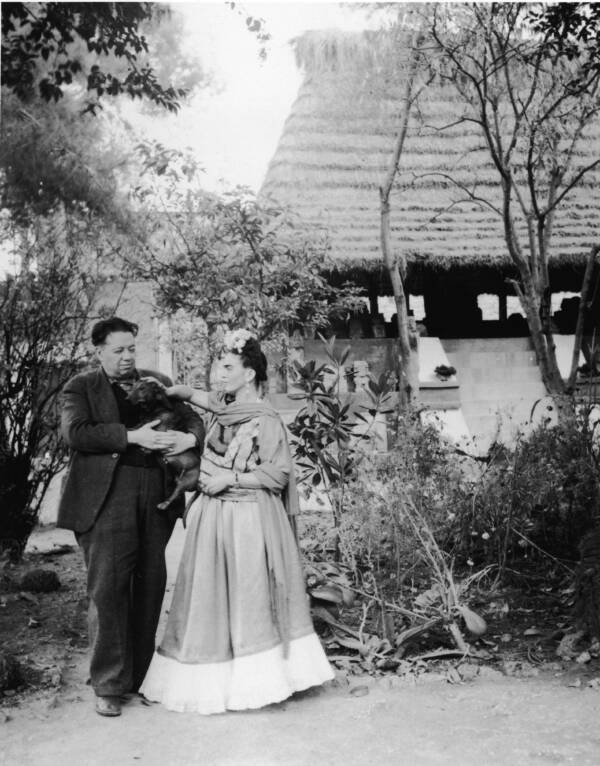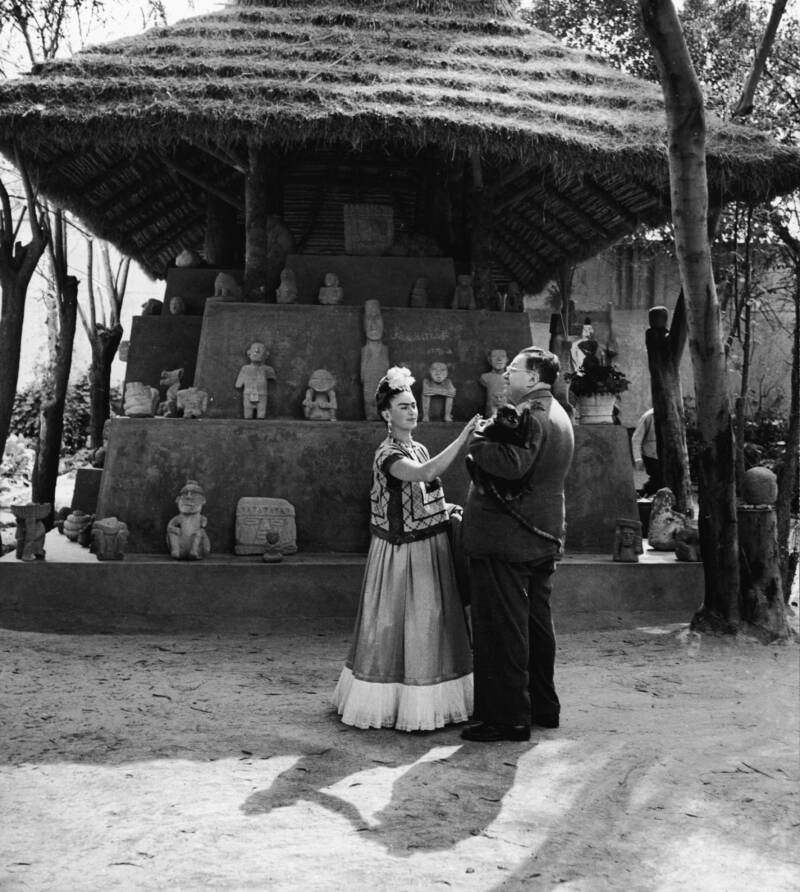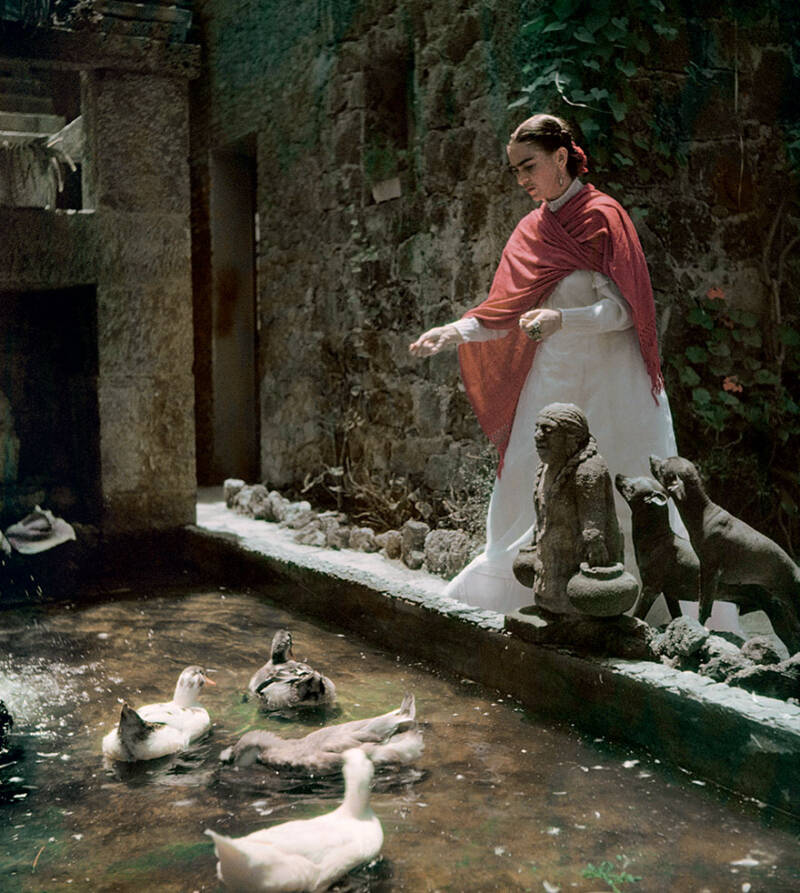 Hulton Archive/Getty Images
Graphic House/Getty Images
Flickr/Rubi Joselin Ibarra and Arturo Alfaro Galán
Ivan Dmitri/Michael Ochs Archives/Getty Images
Dan Brinzac/New York Post Archives /(c) NYP Holdings, Inc. via Getty Images
Hulton Archive/Getty Images
Wallace Marly/Hulton Archive/Getty Images
Hulton Archive/Getty Images
Universidad Carlos III de Madrid © Archive Diego Rivera and Frida Kahlo, Banco de Mexico
Universidad Carlos III de Madrid
Gisele Freund/Rubi Joselin Ibarra
Libby Rosof/Vicente Wolf Photography Collection
Libby Rosof/Vicente Wolf Photography Collection.
Libby Rosof/Vicente Wolf Photography Collection.
Ivan Dmitri/Michael Ochs Archives/Getty Images
Universidad Carlos III de Madrid
Sandra Gonzalez and Edward Weston
During her lifetime, Frida Kahlo produced some 200 striking works of art, which have been widely described as surrealistic. But the iconic Mexican painter never saw her pieces as things that she imagined.
"I don't paint dreams or nightmares, I paint my own reality," Kahlo said.
Kahlo lived a colorful life: She traveled the world for work, grew a fantastical garden, and enjoyed infamous affairs with both men and women. Yet she was tormented by the endless pain caused by a horrible accident that changed her life.
The Early Life Of Frida Kahlo
Before she became "Frida," she was born Magdalena Carmen Frieda Kahlo y Calderón. She came into the world on July 6, 1907, as the third child of four daughters.
Although most often identified by her Mexican heritage, Frida Kahlo was also German on her father's side. He was an immigrant named Guillermo Kahlo, who had moved to Mexico in 1891. Her mother was Matilde Calderón, a devout Catholic of primarily indigenous as well as Spanish descent.
Frida Kahlo was a remarkably bright child with an adorable face. Her intelligence and bold temperament deepened her emotional bond with her father, with whom she remained close to even as she got older. Kahlo's physical health, however, plagued her entire life.
After contracting polio at age six, Kahlo's right leg was withered and her right foot was stunted. Nevertheless, she maintained an active childhood playing soccer, swimming, wrestling, and more. To explore her creative side, her photographer father also taught her proper camera techniques at an early age. She also took drawing lessons from a family friend.
In 1922, Frida Kahlo enrolled in Mexico's elite National Preparatory School, where she met muralist Diego Rivera, who later became her husband. In his autobiography My Art, My Life, Rivera recalled their encounter at her school — where he had been asked to work on a project.
He wrote, "All of a sudden the door flew open, and a girl who seemed to be no more than ten or twelve was propelled inside... She had unusual dignity and self-assurance, and there was a strange fire in her eyes."
Sadly, three years later, Kahlo found herself the victim of a horrible accident between a bus and a streetcar where she was impaled by a steel handrail. It went in near her hip — and came out the other side. She suffered horrendous injuries, especially to her spine and pelvis.
In many ways, it was a miracle she had survived, though she had to go through an intense recovery phase, which forced the active tomboy to be bedridden for months. But it was during the initial year of recovery that she first put brush to canvas, and expressed her pain — both physical and emotional — through art.
Frida Kahlo's Portraits
As an artist, Frida Kahlo is known for her distinct surrealist style imbued with vibrant colors, which harken to her indigenous heritage. It is a technique that was formed as she began to acquaint herself with the canvas during her recovery years. The accident had indelibly changed the young creative.
To her then-boyfriend Alejandro Gómez Arias, Kahlo wrote, "Life will reveal [its secrets] to you soon. I already know it all... I was a child who went about in a world of colors... My friends, my companions became women slowly, I became old in instants."
Her injury was so severe that she was unable to sit up straight for months, and she was required to wear a stabilizing corset made out of hard plaster.
To allow her daughter's creativity to flourish while confined to the bed, Kahlo's mother set up a portable easel and installed a mirror to the underside of Kahlo's bed canopy, which enabled her to paint herself while laying down. Many of Frida Kahlo's paintings were self-portraits.
"I paint self-portraits because I am so often alone, because I am the person I know best," the artist confessed years later. Indeed, it is estimated that about 55 of her paintings she produced during her life were self-portraits.
The personal anguish she magnificently translated into her art resonated with the public. As a result, Frida Kahlo's self-portraits later became her most popular paintings. Among her most esteemed works are the The Two Fridas (1939), Self-Portrait With Thorn Necklace and Hummingbird (1940), and Broken Column (1944).
Much like the style of dress she became known for, Frida Kahlo's art was imbued with her politics. As she became comfortable in her skin as an artist in post-revolutionary Mexico, many of the country's intellectuals whom Kahlo befriended were embracing Mexico's traditional roots or "Mexicanidad."
Her communist beliefs and Mexican nationalism are visibly ensconced in paintings like her Self-Portrait on the Borderline Between Mexico and the United States (1932) and My Dress Hangs There (1933).
Frida And Diego
Another big influence on Frida Kahlo's art was her tumultuous relationship with her husband, the acclaimed Mexican artist Diego Rivera.
After their serendipitous encounter at Kahlo's school, Kahlo and Rivera — who were 20 years apart in age — began an affectionate relationship as the two ran in similar social circles. When Kahlo began to pick up the paint brush more frequently as she recovered, Rivera visited her at her family's Casa Azul more often.
Rivera was already an established artist at the time. But he was enamored by Kahlo's natural gift and encouraged her artistry as much as possible.
"It was obvious to me," Rivera later wrote, "that this girl was an authentic artist." Frida Kahlo's friends were displeased with their courtship and made their feelings plainly known.
A friend of Kahlo's called Rivera "a pot-bellied, filthy old man." When she and Rivera married in 1929, her parents referred to the union as "marriage between an elephant and a dove," an obvious jab at the couple's mismatched appearance.
But Kahlo's and Rivera's spirits were inseparable and they shared a strong love and respect for each other. Yet that did not prevent woes in their marriage.
"It is not worthwhile to leave this world without having had a little fun in life."
Diego Rivera was a renowned philanderer as was Frida Kahlo, who had affairs with both men and women during their troubled marriage. Their union was also tormented by Kahlo's miscarriages — its symbolisms apparent in her paintings — due to infertility possibly caused by her accident. The couple divorced in 1939 only to remarry the following year.
"There have been two great accidents in my life," Kahlo once said. "One was the streetcar, and the other was Diego. Diego was by far the worst." Still, they remained devoted to their love and their art.
Rivera wrote tenderly of his wife's work while recommending the paintings to his friend:
"I recommend her to you, not as a husband but as an enthusiastic admirer of her work, acid and tender, hard as steel and delicate and fine as a butterfly's wing, loveable as a beautiful smile, and profound and cruel as the bitterness of life."
The Legacy Of Frida Kahlo
Frida Kahlo died at the age of 47 on July 13, 1954. The official cause of death was pulmonary embolism set on by pneumonia, but some people suspected that she had overdosed on painkillers and committed suicide.
After her death, Frida Kahlo's portraits have become some of the most recognizable artworks in the world. While she sold few paintings during her life, her work is now exhibited alongside esteemed artists like Salvador Dalí and Georgia O'Keefe. Her individual pieces now sell for millions of dollars.
As Janet Landay, a curator at the Museum of Fine Arts in Houston, put it: "Kahlo made personal women's experiences serious subjects for art, but because of their intense emotional content, her paintings transcend gender boundaries. Intimate and powerful, they demand that viewers — men and women — be moved by them."
Kahlo's gripping artwork has also found its way into the pop culture lexicon of the 21st century. But the adoration for her work has also given way to an obsession that borderlines commodification of the artist's image.
In 2002, Mexican actress Salma Hayek portrayed the late painter in the feature film Frida. Nowadays, items like bags, T-shirts, and mugs with Frida Kahlo's unmistakeable face are highly sought-after merchandise.
The capitalization of an anti-capitalist artist is an irony that many observers have pointed out and sparked critical discussion about art, remembrance, and the self-autonomy of women artists.
Nevertheless, fans of her work can rejoice in the fact that an indigenous queer artist like Frida Kahlo has become such a recognizable talent — even though it happened decades after she passed.
---
Now that you've witnessed the life of Frida Kahlo, check out the quintessential photos of surrealist artist Salvador Dalí. Then, read how Picasso's electrician hoarded 271 of the artist's works in his garage.