The Mermaid Inn has housed pirates, gangsters, and even Queen Elizabeth I. Some say the inn still houses a few of these characters today — albeit, in ghost form.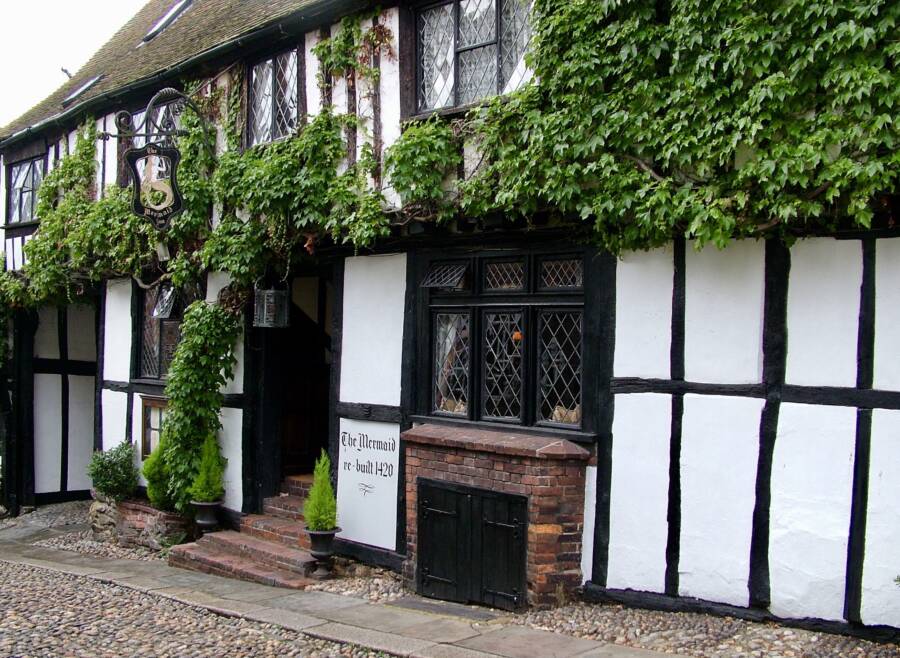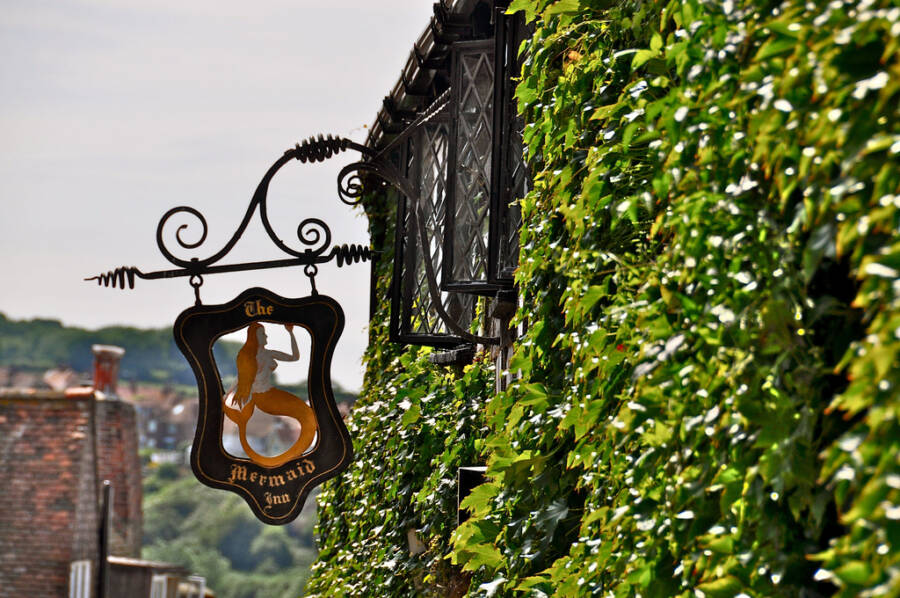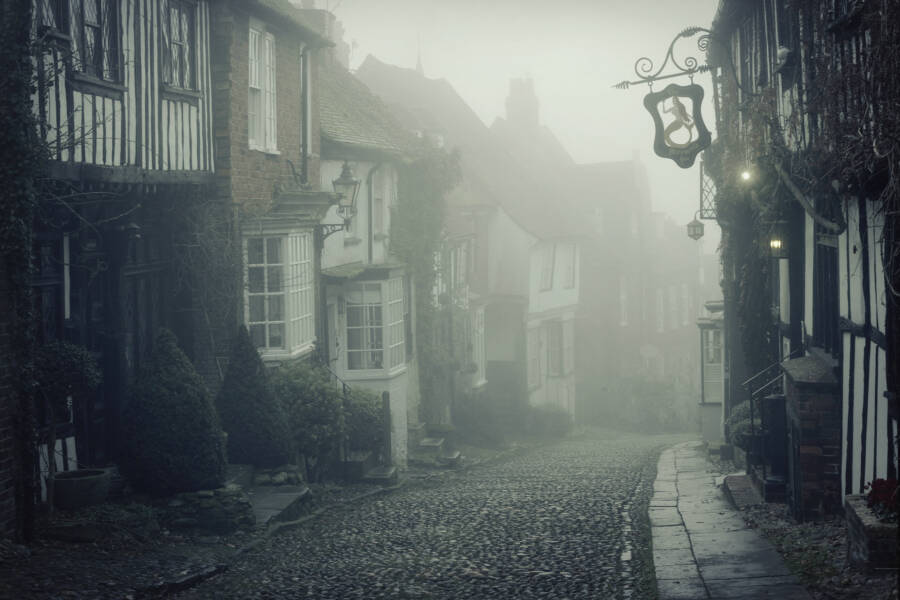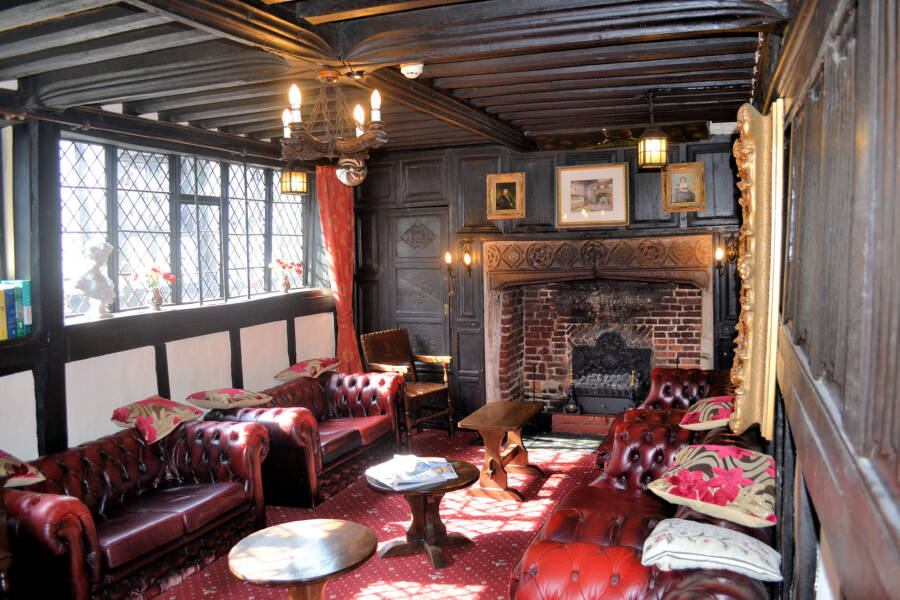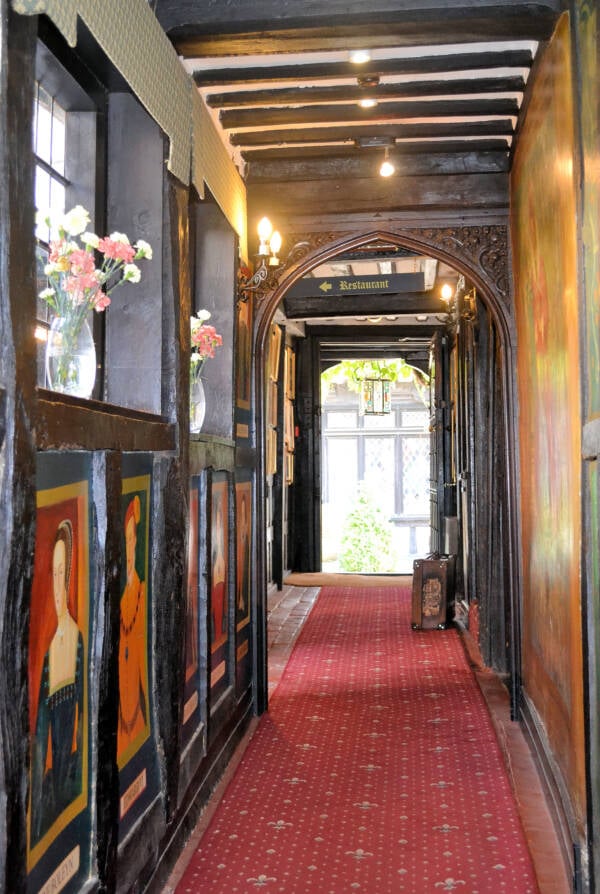 Tony Hisgett/Wikimiedia Commons
Tony Hisgett/Wikimiedia Commons
The LIFE Picture Collection via Getty Images
Simon Carey/Wikimedia Commons
If the Mermaid Inn's 600-year-old lath and plaster walls could speak, they'd have countless stories to tell. However, most of those stories remain locked behind secret chambers, hidden in priest-holes, or behind sliding wall passages.
It's all too fitting that this 15th-century English port hotel once ruled by smugglers and pirates would have so many secrets. But what's most chilling is that this supposedly haunted inn is said to still house many of these medieval outlaws — in ghost form, that is.
The Colorful History Of The Haunted Mermaid Inn
Just off the Port of Rye in East Sussex rests the quaint Mermaid Inn. It was once a popular alehouse for medieval sailors, but it feels like the haunt could have always stood on this rudimentary, cobblestone street.
The Mermaid Inn was actually built sometime during the 12th or 13th centuries. The dating varies, but a popular notion is that the stone cellar dates all the way back to 1156. The inn was known in its heyday for its custom-brewed beer and cheap lodging — at just a penny a night.
But in 1377, the French burned down almost the entire town of Rye.
The few citizens set about rebuilding the town, which naturally included the Mermaid Inn in 1420. By the 16th century, the very neighborhood in which it stood was renamed Mermaid Street in its honor.
Ultimately, the Inn ceased to operate by 1770. It was not until 1993, when the current owner purchased it, that it once again opened its doors.
It looks today just as it did back then. Perhaps that's why the old ghosts refuse to leave.
The Hawkhurst Smugglers
As a port town, Rye served as an integral pawn in the king's service when it was returned to England from France in 1247.
Nearly surrounded by water, such coastal towns formed a confederation for the Crown's military and trade purposes. The main obligation of ports like Rye was to provide ships for the king's service. In return, port towns received the privilege of being tax-exempt and basically received a free pass on bad behaviors.
Rye thus became a hotbed of smuggling activity. Smugglers snuck tea, tobacco, silk, and spirits into 18th-century England and though overwhelmed by the sheer number of smugglers, officials nonetheless confiscated these things when they could.
One infamous gang of smugglers, known as the Hawkhurst Gang, chose none other than the Mermaid Inn to become one of their primary hangouts. The gang terrorized southeast England from 1735 until 1749 with their notorious violence and they intimidated other guests at the Inn by drinking with their loaded weapons on the table.
According to legend, officials confiscated tea from the Hawkhurst's ship, which the gang famously stole back from the King's Custom House in Poole.
A lot of people ended up dead at the hands of this gang, too. The Hawkhurst gang buried an elderly official named William Galley alive after he attempted to out a gang member known as "Diamond." A shoemaker in possession of the gang's smuggled goods and who had been called as a witness against the gang was also brutally murdered.
These atrocities were in part thanks to Jeremiah Curtis, who was one of Hawkhurst's most brutal members. He beat Richard Hawkins, a farm laborer suspected of having stolen two bags of the gang's tea, to death. Hawkins was later found in the pond of a politician's estate weighed down with rocks.
Fellow gang leaders Arthur Gray and Thomas Kingsmill would face justice for their crimes by being executed in 1748 and 1749. Kingsmill's spirit, however, is said to live on in the Mermaid Inn.
The Hauntings At The Mermaid Inn
Chambermaids once only dared enter room five of the Mermaid Inn in pairs, after a fellow maid was murdered there by a smuggler after she spoke of his exploits. Thomas Kingsmill reportedly haunts a rocking chair in Room 17. Curiously, no one quite remembers what happened to his wife.
Besides the dead maid in Room five and the rocking chair in room 17, hotel patrons have reported seeing a mysterious "lady-in-white" walking through doors at the hotel and stopping at the foot of their beds. The figure also sometimes sits in a chair by the hotel's fireplace.
Several men have appeared to walk through walls, some with women and children in tow.
There's said to be a ghostly woman who moves clothes around. Also, several patrons staying in the "James' Room" wake in the morning to find their clothes — left on a bedside chair — soaking wet.
One pair of travelers told The Sun: "When my partner sat in the chair to take a photo she felt something push into her and turned cold. When we looked back at the photo it freaked her right out."
The photo contained strange, unexplained orbs floating around the room.
The Sun Online crew stayed at the Mermaid Inn after seeing the hotel on an episode of Most Haunted. They set up a camera to record the famed self-rocking chair during the night.
"Most chillingly," they later reported, "our night vision camera - set up to capture any ghostly figures - managed to eject its tape in the dead of the night...Despite needing a hard push of a button to do so, and the battery being fully charged." They continued: "As morning broke, we tried to replay our footage but the screen gave instruction to 'reinsert the cassette.'"
---
Next, find out about the 7 spookiest and most haunted hotels in the world. Then, get ready to be scared as you read these 11 real-life ghost stories.