Though it has been left largely uninhabited since the 18th century, the towering Hohenzollern Castle remains one of Germany's most visited palaces for its fairytale views.
Atop a formidable hill surrounded by Germany's Black Forest rests the high-walled fortress of Hohenzollern Castle. It towers regally over the town of Bisingen on a mountain of its own name, "Burg Hohenzollern," and is bound by the Rhine Valley to the west and the south.
The castle is the ancestral seat of the former royal German dynasty known as the House of Hohenzollern, and today it is owned by Prussian Prince George Frederick, the current head of the Prussian branch of the Hohenzollern family. When he's visiting, the royal family flag flies high on Hohenzollern tower.
The beautiful, neo-gothic castle made of golden-hued bricks sees hundreds of thousands of tourists a year. It contains a sizeable art collection, a treasure trove of jeweled items, and an open-air cinema. In addition, it even has its own brewery, and a custom brew named Pruessens.
But despite its magnificent features and Medieval history, Hohenzollern palace has not been formally lived in for centuries.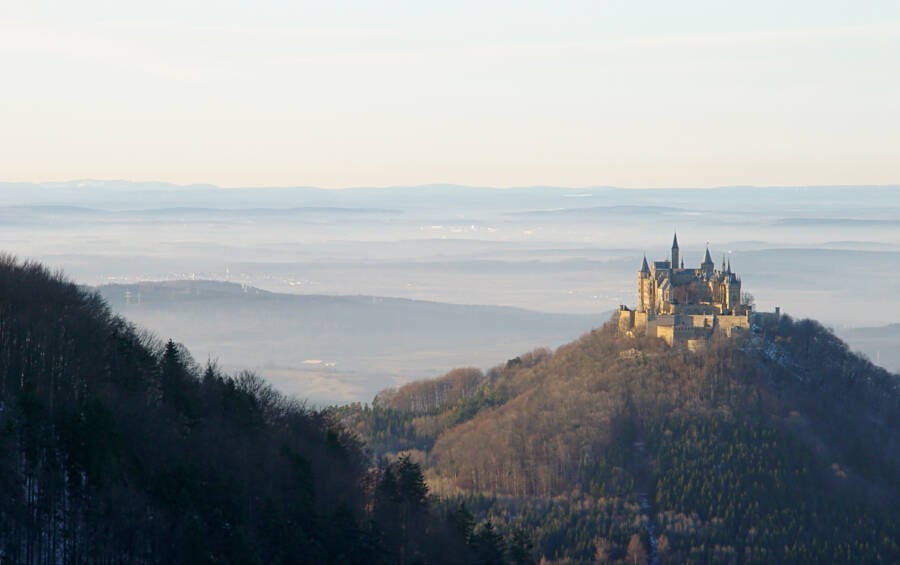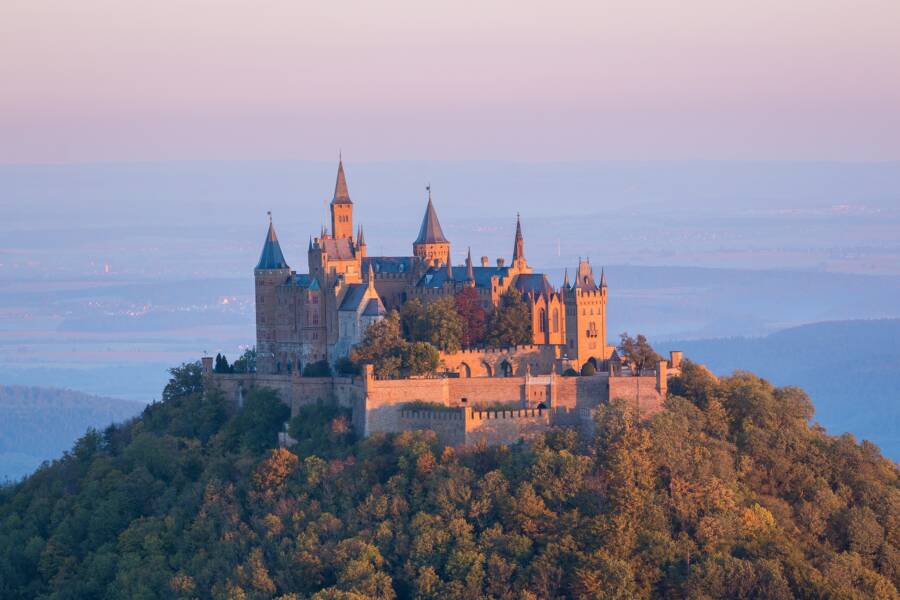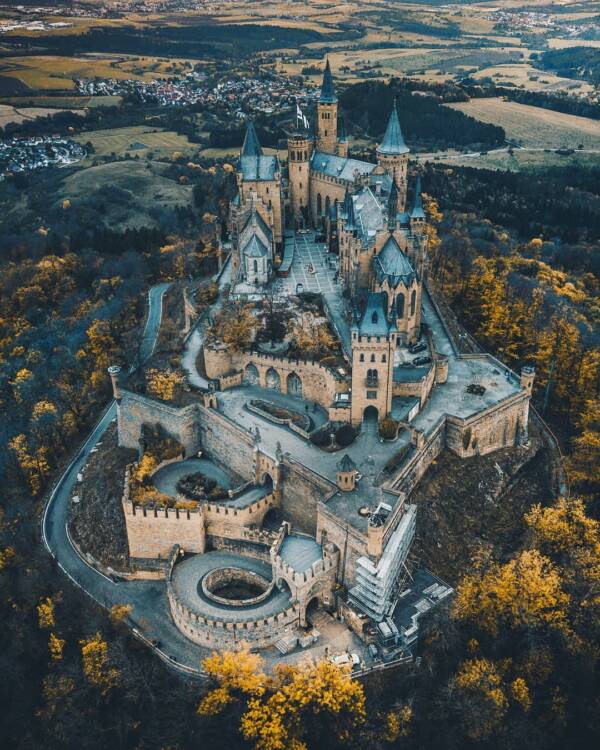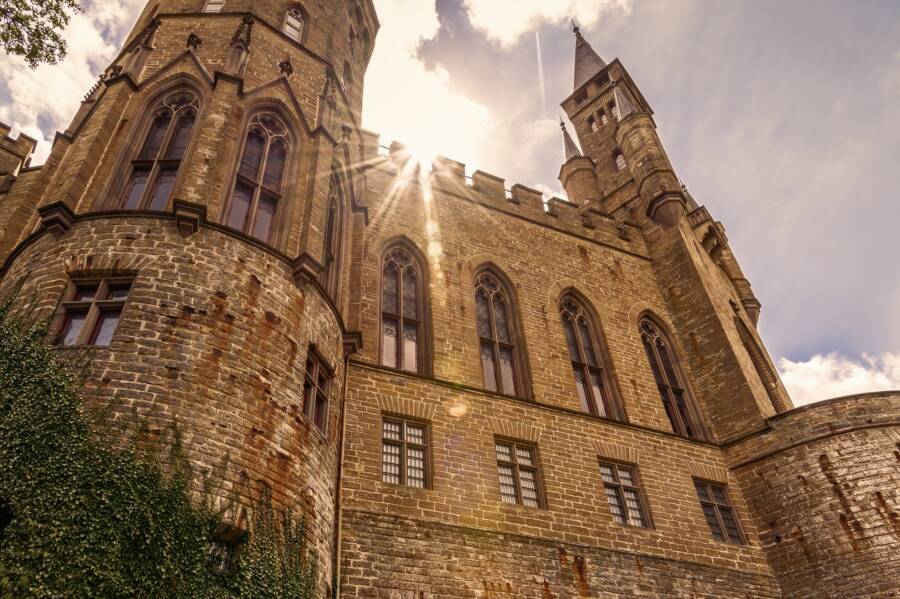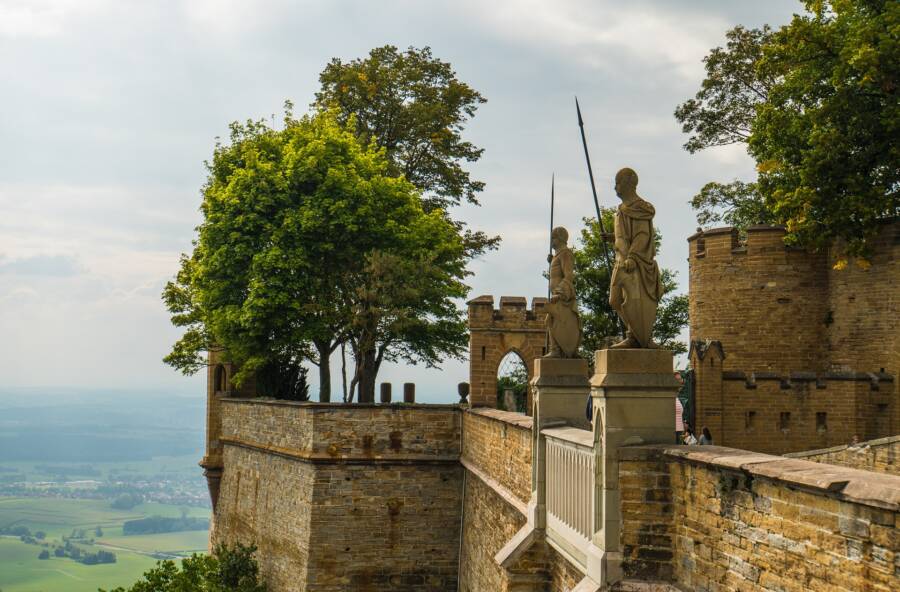 Rainer Zenz/Wikimedia Commons
Bookplaces/Wikimedia Commons
Runner1928/Wikimedia Commons
Rainer Halama/Wikimedia Commons
Runner1928/Wikimedia Commons
Dr. Tentatively/Wikimedia Commons
böhringer friedrich/Wikimedia Commons
Joachim Fenkes/Wikimedia Commons
Rebecca Beiter/Wikimeda Commons
Der gestiefelte kater/Wikimedia Commons
Olga Ernst/Wikimedia Commons
The Storied History Of Hohenzollern Castle
Hohenzollern Castle is the third of three hilltop palaces that were built on the Hohenzollern mountainside, all named for the royal German family Hohenzollern.
The mountain on which this regal palace resides is known in German as "Burg Hohenzollern," or Hohenzollern mountain.
History's first mention of the castle here occurs in the early 11th century, and it was considered "the most fortified house in all of Germany." But then, the palace was completely destroyed in 1423.
Construction on a second castle began in 1454. However, in 1634, this castle fell under Austrian control for the next hundred years. After this, it was occupied by French soldiers and then returned to Austrian control after the War of the Austrian Succession.
By this time, it was rarely occupied, and the formidable palace started to fall to ruins after the last Austrian owner left it in 1798.
Then, Hohenzollern scion Crown-Prince Frederick William IV of Prussia built the castle that currently stands on Hohenzollern Burg. He traveled through southern Germany to explore his family's roots in 1819; climbing to the top of Mount Hohenzollern to claim his ancestral home.
Ever the romantic, he entered the castle's ruins and watched the sunset from one of the castle bastions. He realized he needed to restore Hohenzollern Castle to its former glory.
He hired architect Friedrich August Stüler, who designed the castle in the ornate style of English Gothic Revival and it was completed in 1867. Oddly enough, however, no king has ever lived in this current incarnation.
The current owner, George Frederick, is the great-great-grandson and historic heir of Wilhelm II, the last German Emperor and King of Prussia who, as the eldest grandchild of Queen Victoria, renounced the throne and went into exile at the end of World War I in 1918.
To this day, no one occupies the palace year-round, and other than tourists, few know what its gilded halls hold.
Magnificent Designs Sit In Isolation Atop Burg Hohenzollern
Tourists are largely prohibited from taking photos of the castle's interior, and we must rely more on written descriptions and released videos to see the grandeur inside instead.
The castle, though unoccupied, is nonetheless outwardly fortified with battlements and towers. And it boasts 140 rooms, gilded coffered ceilings, and marble columns inside.
Portraits of Prussian royals adorn the walls. An external stairway leads to the Ancestry Hall, which holds the royal family tree and crests in a color-coded and organized fashion.
Next comes the Count's Hall, which features rib vaulting, pointed-arch windows, and original wood flooring. Tourists must put special slippers on their feet when they enter here in order to protect it.
There are two chapels with breathtaking stained glass windows and a library decorated with murals of the Hohenzollern family history.
The queen's bed-chamber is one of the most beautiful rooms in the palace with its gilded ceilings. The king's bed-chamber, however, is somewhat modest. It was reconstructed more as a memorial than an actual sleeping chamber.
All in all, the interior is just as beautiful as you'd expect a royal castle's interior to be.
Is Hohenzollern Castle Haunted?
Certainly, with a history as long and complex as Hohenzollern Castle's, it might not be so surprising to learn that many consider the fortress to be haunted.
Some report that there is a "Lady in White" who haunts not only the castle but also the royal family. As the story goes, Albrecht von Hohenzollern, the Duke of Prussia and son of Frederick IV, was in a relationship with Countess Kunigunde von Orlamonde at some point during the 14th century. The widowed countess was a mother of two children.
Albrecht and the countess were enamored with each other, but his parents opposed the marriage. Albrecht told his love that "if it were not for four eyes between us," then he'd marry her. The countess took the phrase "four eyes between us" to mean her children, and so she murdered them by poking their eyes out with a golden needle.
Of course, Albrect was horrified that the countess could commit such an action, and broke things off with her. The countess fled to the Vatican to find forgiveness, and the Pope ordered her to build a monastery and commit her life to prayer.
It's said she became the abbess of a Cistercian convent where she stayed until she died in 1351. Coincidentally, the habit worn by the Cistercian Order is pure white.
After the countess's death, legend has it that she began haunting all the castles belonging to the Hohenzollern dynasty. As an apparition seen in flowing white robes, she brought bad luck and even death to anyone who saw her.
As ghost stories go, it's a doozy. That said, it's likely not true. Historians insist that Countess Kunigunde von Orlamonde was, in fact, childless.
Nonetheless, the history of Hohenzollern Castle is certainly a checkered one, with or without ghost stories.
---
Next, look through these nine eerily abandoned castles. Then, find out about Castle Itter and why it saw Americans and Nazis fighting side by side.