When elephants are driven from their migratory paths and natural habitats by industrialization, both humans and elephants pay a terrible price.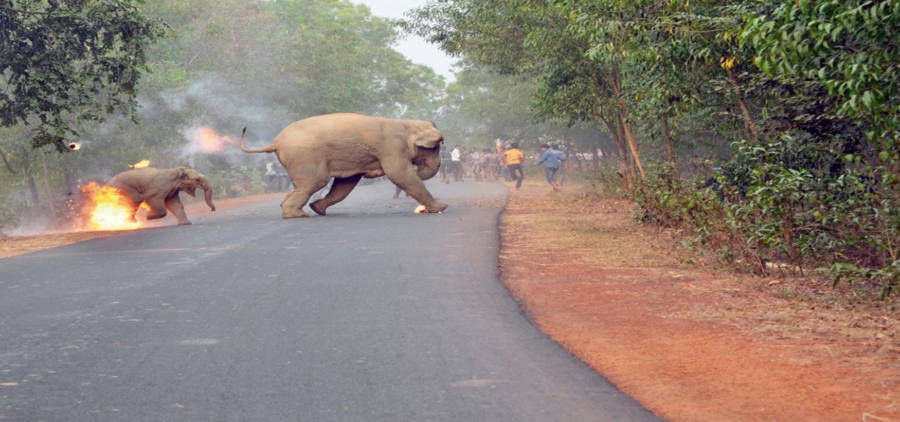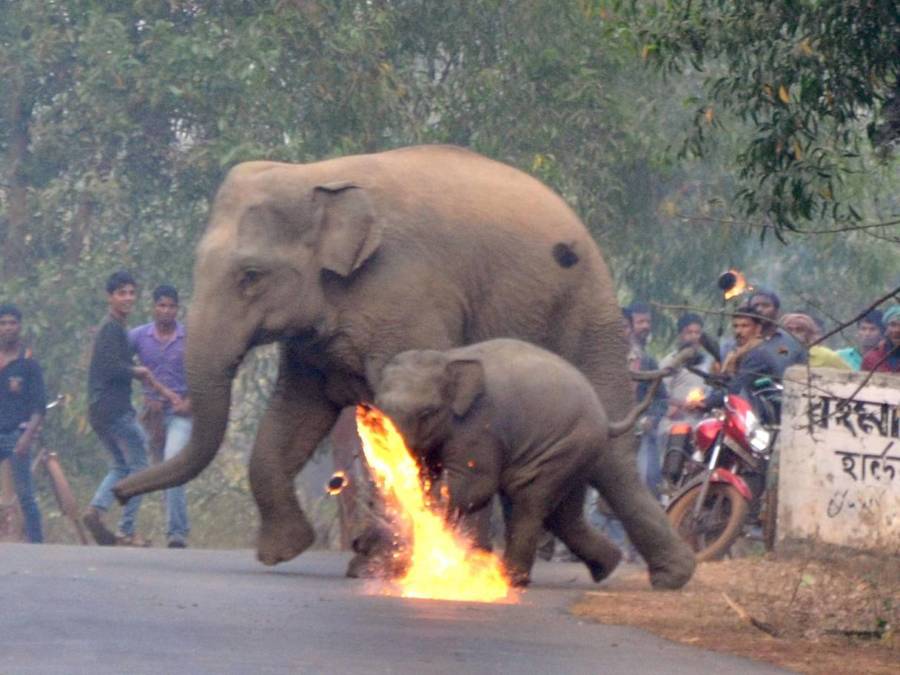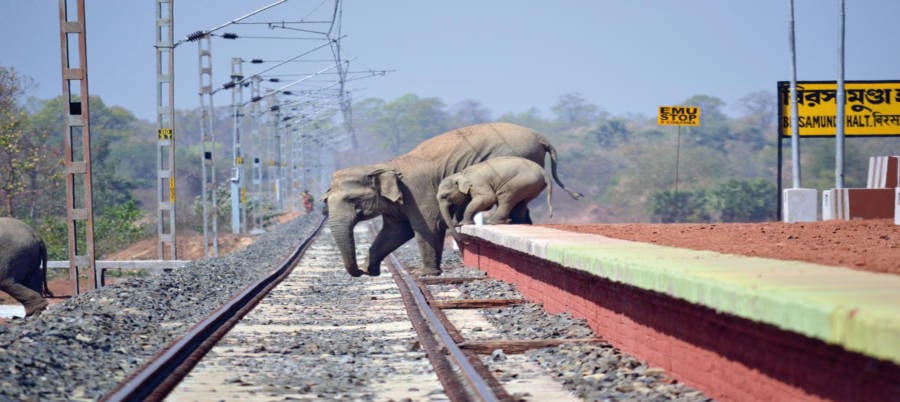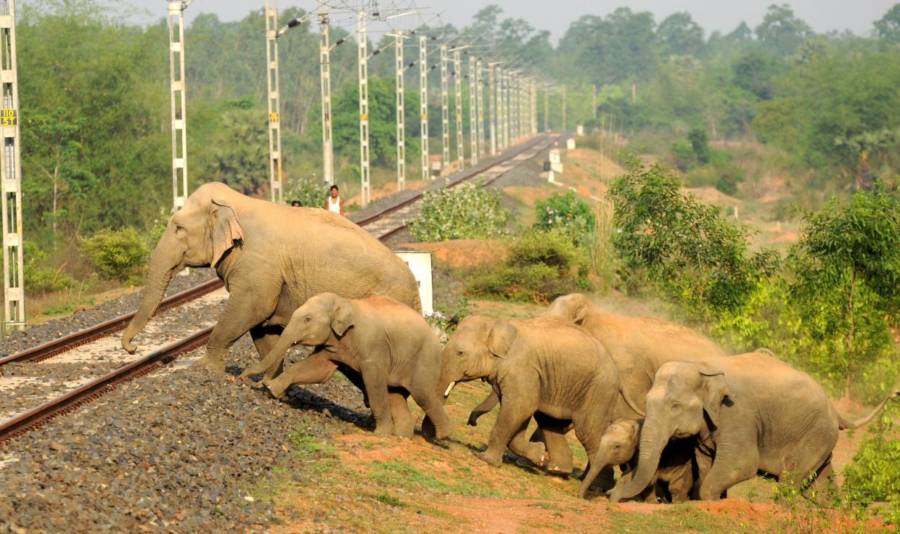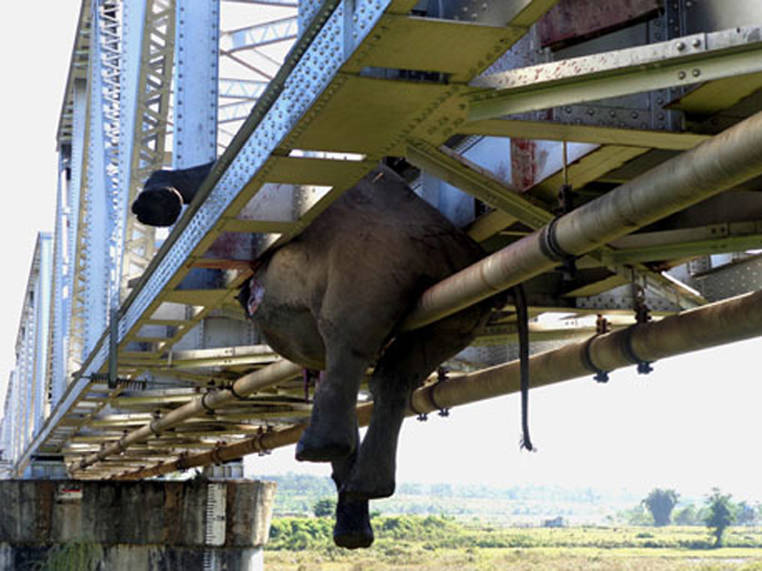 Biplab Hazra/Quartz India
Biplab Hazra/Quartz India
Biplab Hazra/Quartz India
Biplab Hazra/Quartz India
Centre for Wildlife Studies
Avijan Saha/Nikkei Asian Review
DIPTENDU DUTTA/AFP/Getty Images
Centre for Wildlife Studies
Centre for Wildlife Studies
Biplab Hazra/Quartz India
Shariq Allaqaband/ Barcroft India / Getty Images
Daniel Berehulak/Getty Images
India is home to an excess of 27,000 Asian elephants — over half of the world's population. The species is already endangered due to deforestation and industrialization of their habitat. This encroaching manmade boundary has caused a mounting conflict between man and elephant, and it is one that has wrought violence and heartbreak.
The Human-Elephant Conflict In Villages
The elephant's traditional routes from one forest to another throughout the country are called corridors and these are now blocked by developing villages, railroad tracks, mines, and agricultural areas. As a result of this, elephants are forced into Indian villages and farmland.
Farmers livelihoods are consequently destroyed when elephant herds trample or eat their crops, and in some cases, the farmers' lives are at stake by stampedes and attacks.
In fact, many elephants are learning to eat directly from the farms. Young elephants grow up grazing these easily accessible crops and it becomes a natural habit for them to continue to default to these farms as they grow older and have their own babies.
Some farmers in the West Bengal area have decided to take these matters into their own hands. They throw firebombs at the animals and chase them with stakes to keep the elephants at bay, and often, elephants die as a result of these methods.
"The villagers are desperate ... the per acre compensation for [elephant] damage is much lower than in other states," explains Biswajit Mohanty, secretary of the Wildlife Society of Odisha. "They try to throw those fireballs; they have steel rods dipped in kerosene and they have got a pointed tip and sometimes they poke the elephants when they come close."
Indeed, the Supreme Court of India has even ruled these methods as "barbaric".
Though India's Supreme Court has buckled down on elephant treatment on the farms, villagers aren't the only source of strife for the animals.
The Impacts Of Modern Life
The railroad between Siliguri and Alipurduar has claimed the lives of many elephants. In fact, between 2009 and 2017, approximately 120 of the total 655 recorded elephant deaths in this conflict were due directly to train accidents.
Yet, railway officials refuse to take the blame for the blood of elephant herds who attempted to cross the tracks. The trains travel at high-speeds and receive no warning when elephants — or any living thing — is blocking their way.
Photographer Atish Sen witnessed the scene where some elephant corpses were being removed. "I have never seen such a ghastly incident. Elephants were literally chopped into pieces," he said.
Even farmer's innocent fences can be a danger to the elephants, as they can become entangled, strangled on their own weight, and die.
Hope For A More Peaceful Coexistence In The Future
Organizations like Project Elephant, the World Land Trust, and the IFAW are working on legal protections for elephant corridors.
The Wildlife Trust of India has brought the plight of the animals into focus. "Elephants are a keystone species," The WTI writes on their website.
Their nomadic behavior – the daily and seasonal migrations they make through their home ranges – is immensely important to the environment." The group also rehabilitates people who have been affected by the overwhelming human-elephant conflict in these corridor areas.
In the meantime, alternative methods to discourage elephants from invading populated areas have found some success. Flashing disco lights keep elephants from entering farmland in Kerala's Wayanad district. Beehive fences, equipped with both real and fake beehives work in accordance with an elephant's natural fear of bees.
As long as humans continue to deliver humane and empathetic ingenuities to alleviate this human-elephant conflict, there should be a resolution to the violence — and perhaps a harmonious way of life for the elephants and humans alike — in the near future.
---
Next, find out why African Elephants are becoming tusk-less, then read about what Calvin Klein perfume has to do with a man-eating tigress in India.