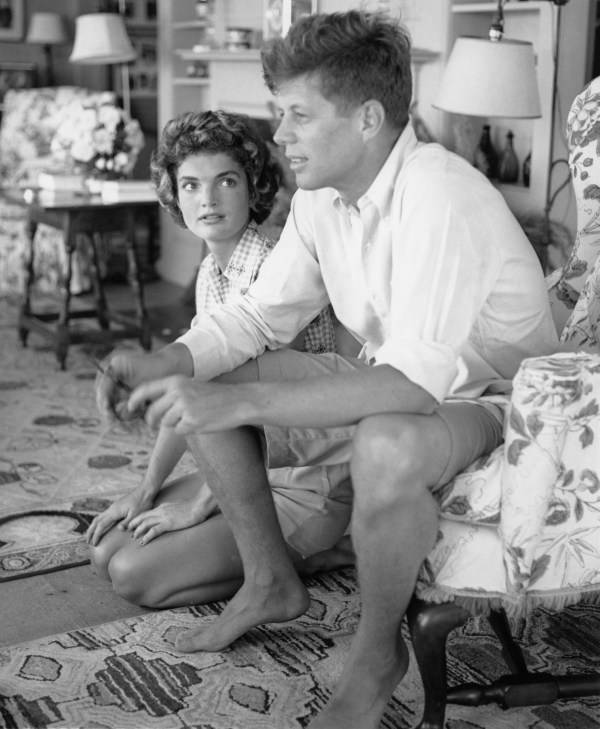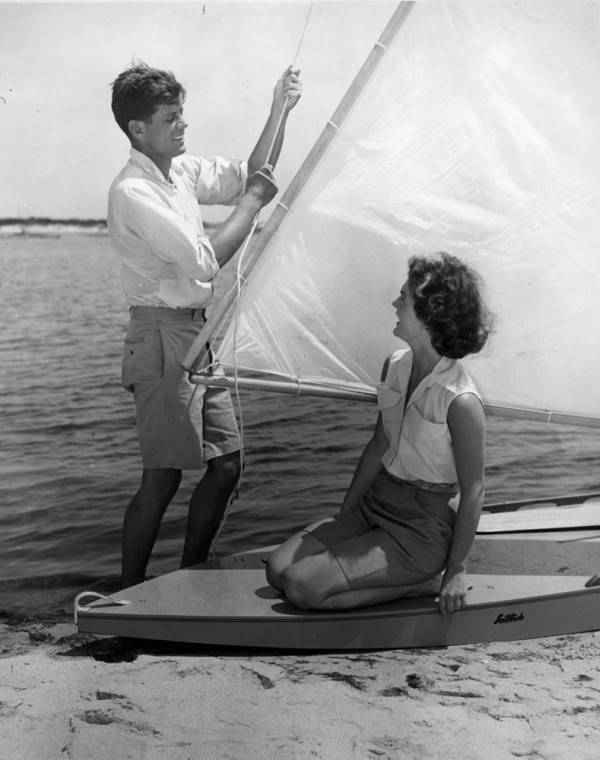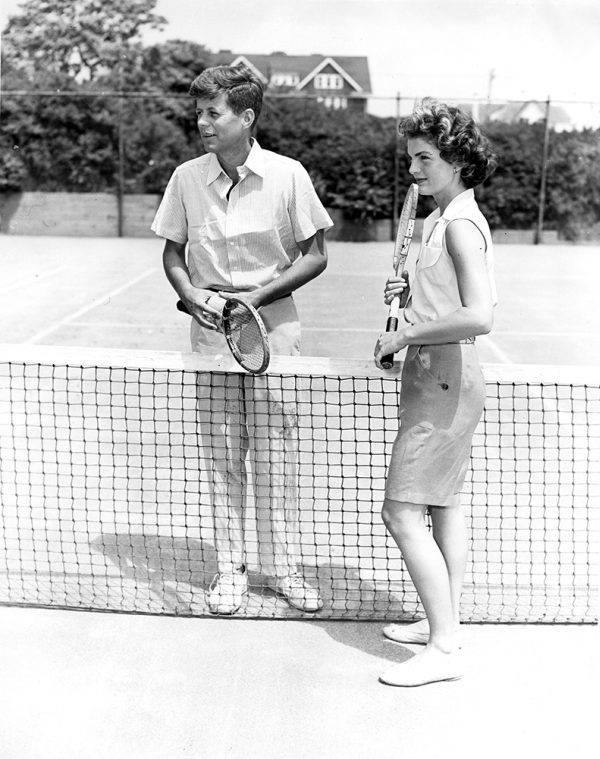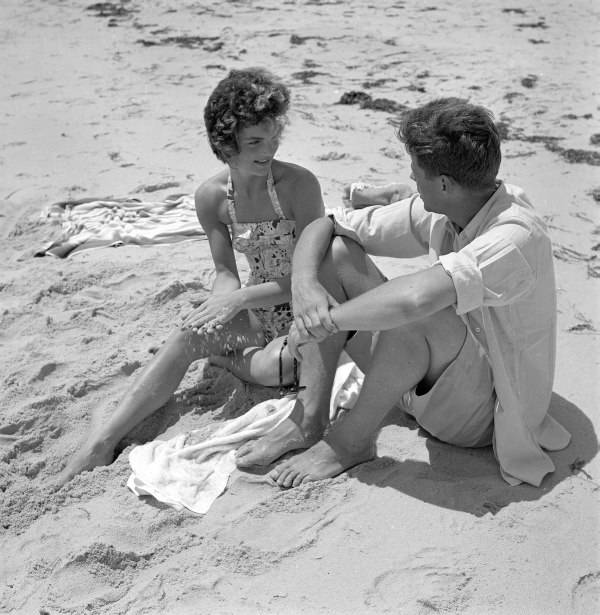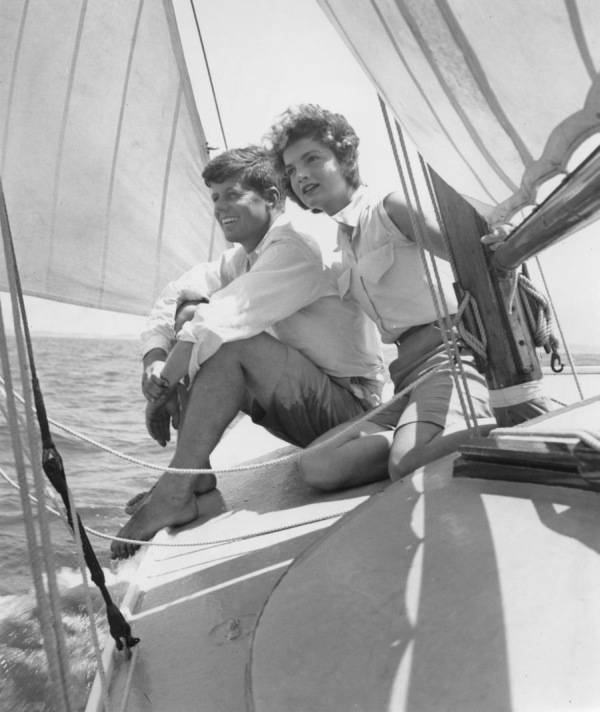 John F. Kennedy Presidential Library and Museum
John F. Kennedy Presidential Library and Museum
John F. Kennedy Presidential Library and Museum
Toni Frissell/Library of Congress
John F. Kennedy Presidential Library and Museum
Toni Frissell/Library of Congress
Toni Frissell/Library of Congress
John F. Kennedy Presidential Library and Museum
John F. Kennedy Presidential Library and Museum
Verner Reed/The LIFE Images Collection/Getty Images
Ed Clark/The LIFE Picture Collection/Getty Images
Abbie Row/John F. Kennedy Presidential Library and Museum
Don Johanning/John F. Kennedy Presidential Library and Museum
Abbie Rowe/Wikimedia Commons
Cecil Stoughton/Wikimedia Commons
Robert L. Knudsen/John F. Kennedy Presidential Library and Museum
Cecil W. Stoughton/Wikimedia Commons
They met over asparagus at a dinner party in 1952: future commander-in-chief John Fitzgerald "Jack" Kennedy, a 35-year-old congressman from Boston, asked Jacqueline "Jackie" Bouvier, a 23-year-old photographer from Newport, out on a date while leaning across the table, ostensibly in search of the vegetable.
She thought he was "charming [and] handsome[,] but a hopeless flirt." But John didn't give up hope in his pursuit of Bouvier, and ultimately proposed a year later. He sent a letter to his best friend, Paul "Red" Fay, asking for advice ahead of the nuptials:
"Your special project is the bride's mother -- one fine girl, but who has a tendency when excited to think I'm not good enough for her daughter and talk too much -- talk just too much. As I am both too young and too old for all this, I will need several long talks on how to conduct yourself during the first six months, based on your actual real-life experience."
John's conduct as a husband, and Jackie's response to it, has been grist for the rumor mill for decades. Books have been written exclusively about his many alleged infidelities, from their courtship days in the early 1950s, through his presidential win in 1960, right up until his assassination in 1963.
Who can say how much, exactly, Jackie knew about all of this, or how much of it was even true, but she later admitted that their marriage was always out of the ordinary for its time and place, calling it "a rather terribly Victorian or Asiatic relationship ... which I think's the best."
But John's love for Jackie appeared, by all accounts, genuine, even if he was a serial philanderer, as The Atlantic wryly notes:
"On the night of their 10th anniversary, he'd been in such a swivet about what to give her that he locked himself in his bedroom trying to choose the right gift. In the end he gave her an Egyptian snake bracelet, but he also considered keeping an Assyrian horse bit, because he wanted to try out the ancient artifact on [his daughter] Caroline's pony to see if it really worked. (The rich are different from you and me.)"
Their all-too-brief time together, raising a family in the White House, was later dubbed "Camelot," which invoked the impossibly attractive and noble figures from Arthurian legend upon which the pair seemed modeled.
Following the assassination, journalist and historian Theodore White published an interview with Jackie that sourced the "Camelot" nickname:
"At night, before we'd go to sleep, Jack liked to play some records; and the song he loved most came at the very end of this record. The lines he loved to hear were: Don't let it be forgot, that once there was a spot, for one brief shining moment that was known as Camelot."
Historian Arthur Schlesinger, Jr. later noted that "The [Camelot] image was not perhaps, on analysis, all that romantic. King Arthur's Camelot concluded in betrayal and death."
But none of the photos in the gallery above, as you'd expect from the most photogenic First Family in U.S. history, hint at any unhappiness or restlessness under the surface or foreshadow the destruction to come. They instead capture a couple, both too young and too old, in a brief shining moment, in the process of becoming icons.
---
Still curious? Check out galleries of John and Jackie capturing their most iconic moments. Want to dig deeper? Explore the dark side of John's father, Joseph Kennedy.