A new Gallup study reveals the dire state of obesity in America and which states are the worst offenders. How does your state measure up?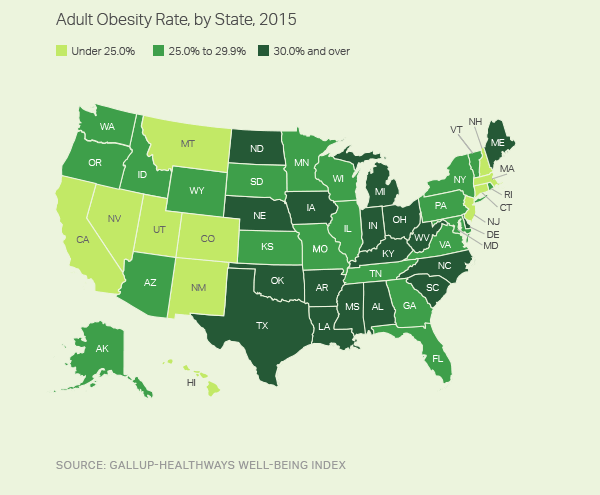 A new study from Gallup-Healthways reveals which U.S. states are most obese, which are least, and the generally dire state of obesity in America.
In terms of obesity rate (with "obese" referring to a BMI greater than or equal to 30), West Virginia is the fattest state, with a 37 percent obesity rate, while Hawaii is the leanest, with an obesity rate of just 18.5 percent. See more complete rankings below: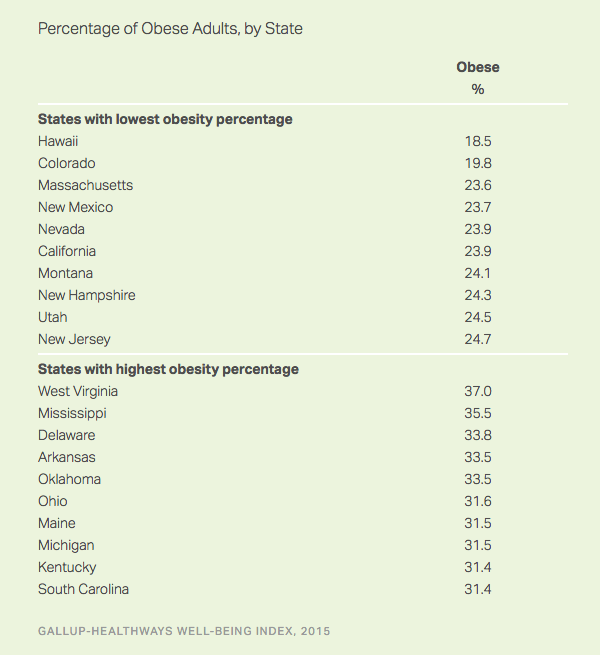 What's more, the new study reveals some alarming — though, sadly, predictable — trends about obesity in America.
Only two U.S. states, Colorado and Hawaii, have obesity rates under 20 percent, and only 11 states have an obesity rate under 25 percent — and they're all located either in the Northeast or the West.
On the other hand, Southern states have the highest obesity rates. In Mississippi, Arkansas, Oklahoma, and surprisingly, Delaware, one in three adults are obese.
Moreover, no matter the region, obesity in America is getting worse. The national obesity rate reached an all-time high of 28 percent in 2015, up from 25.5 percent in 2008.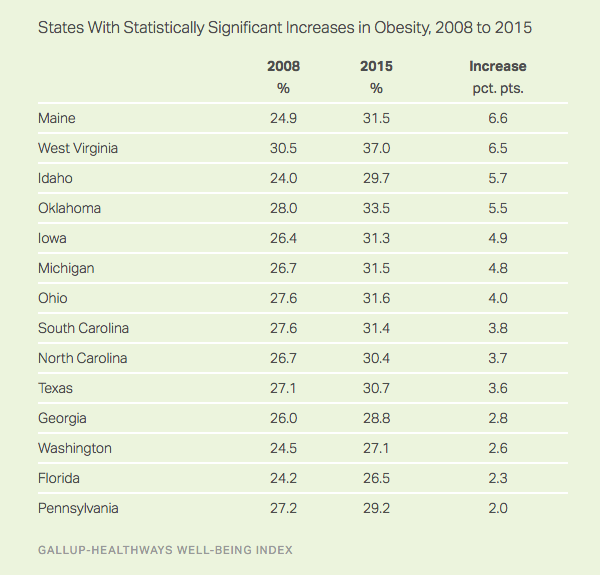 And all of this obesity, according to the new findings, makes for a staggering $104 billion per year in healthcare costs directly related to obesity. Although, some have even estimated that those costs range between $147 billion and $210 billion each year.
America's obesity stats look even worse when compared to obesity rates across Europe. Compared to America's 28 percent, the U.K. sits at 24.9 percent, with the highest rate in Western Europe, with Spain at 24.1, Germany at 21.3, and France at 15.6.
But still, obesity is a global problem. According to the World Health Organization, global obesity has more than doubled since 1980, and as of 2014, 12 percent of adults over the age of 18 were considered obese.