These stunning pictures of Paris in the 1960s reveal the world's most glamorous city in its both coolest and most tumultuous decade.
Not unlike its Western "great power" counterparts, 1960s France was a time of economic gains and social upheaval. Under the presidency of Charles de Gaulle, the country rebuilt itself from the destruction wrought by World War II, becoming more prosperous and less reliant on countries like the United States along the way.
But as the nation physically rebuilt itself, other foundations cracked — particularly in Paris. In what The New York Times has called a rare, national "examination of conscience," in May 1968, students and workers of varying politics rose up against the conservative (if not repressive) government of De Gaulle and, as one of their slogans went, "[demanded] the impossible."
This revolt — based largely around labor strikes and student protests against capitalism and consumerism — took some of the air out of de Gaulle's authority. And while the uprising fizzled out in a physical sense some weeks later, the May 1968 uprising ushered in new ways of thinking and expression — be it in French new-wave cinema or psychedelic music — which remain to this day.
As the following photos show, while the classic Haussmann-style façades served as the backdrop of 1960s Paris, it was new thinking that really defined the era: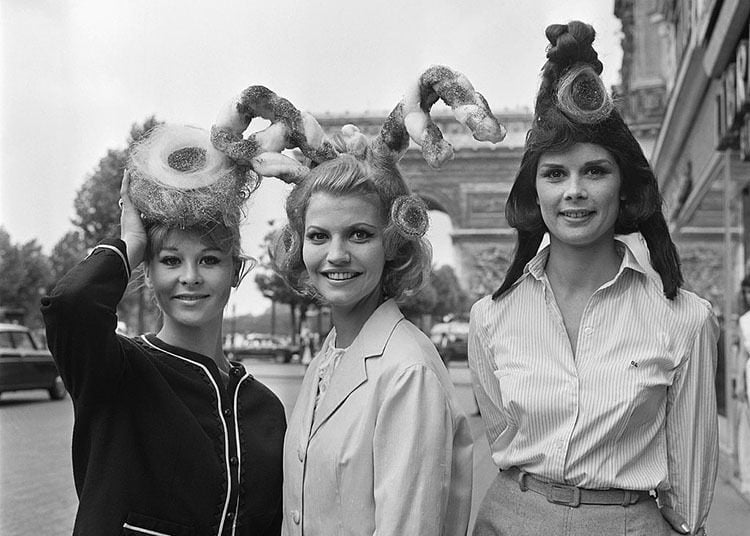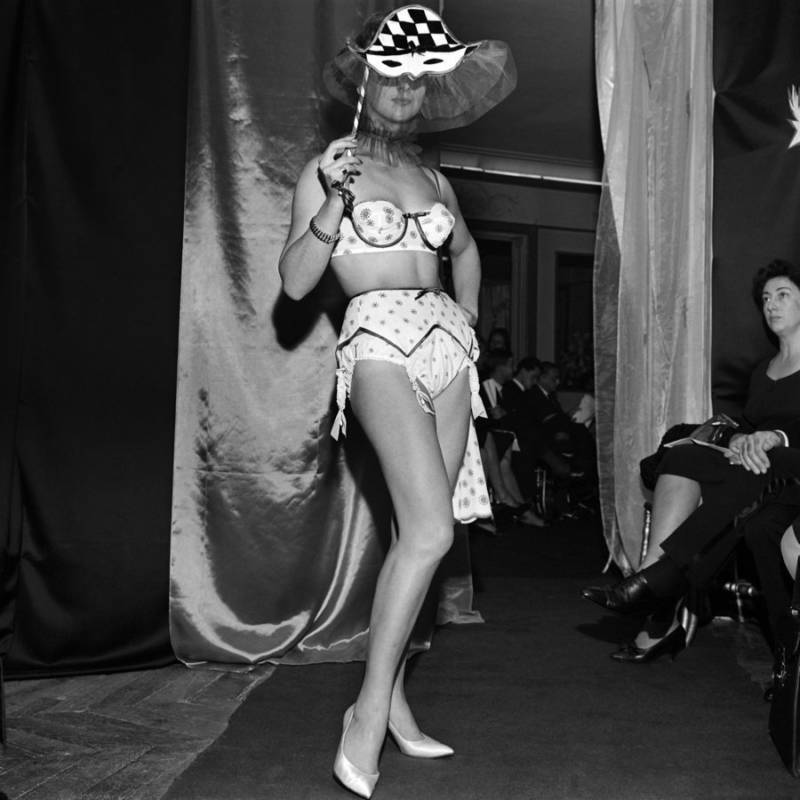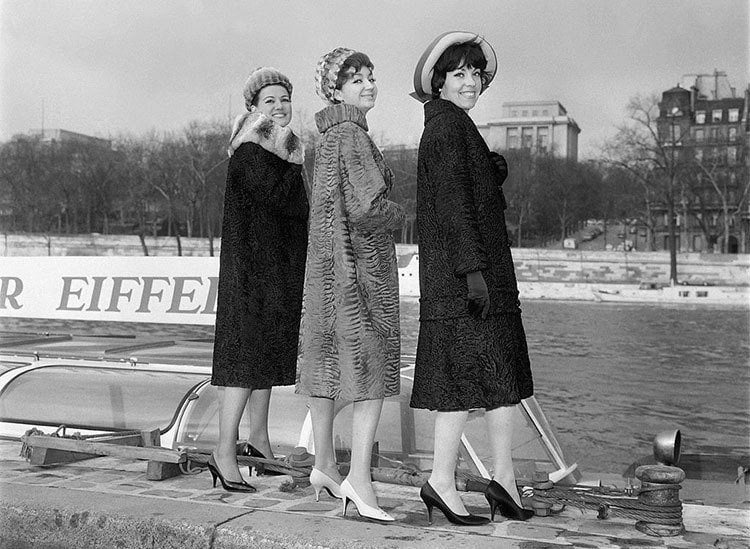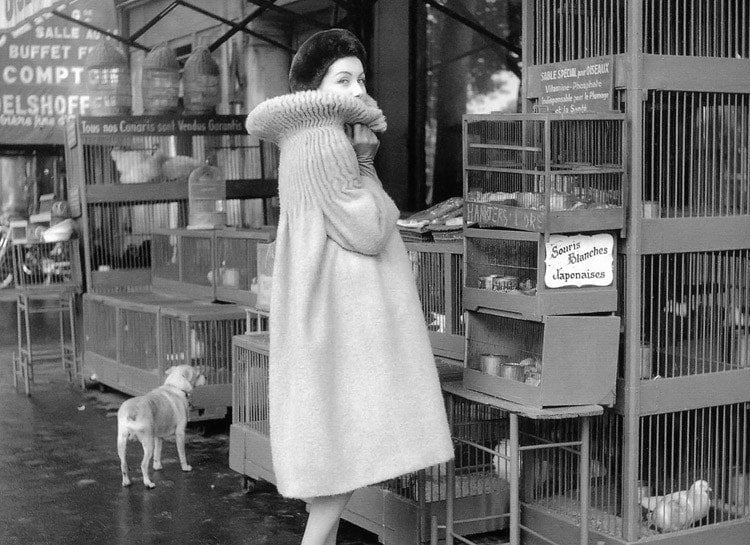 Models pose on July 12, 1962. AFP/Getty Images
A model poses at a lingerie showcase for the French brand Charmereine in 1961. STRINGER/AFP/Getty Images
Models present three "Brunschick" astrakhan fur coats on the banks of the Seine River, March 3, 1962. AFP/Getty Images
Model photographed by celebrated German photographer Willy Maywald, 1960. Ŧhe ₵coincidental Ðandy/Flickr
Models don rather mod clothing in the 1960s. Getty Images
Printemps department store — one of the premier shopping experiences in 1960s Paris. Roger Wollstadt/Wikimedia Commons
French singer Edith Piaf performs on stage at the Olympia Concert Hall on December 30, 1960. STF/AFP/Getty Images
Actor Michel Duchaussoy, 1964. ARCHIVE/AFP/Getty Images
From Bob Dylan's May 24th Paris stop on his 1966 world tour. Paul Townsend/Flickr
From left to right: Italian actress Elsa Martinelli, French singer Francoise Hardy, French actress Catherine Deneuve, and dancer Zizi Jeanmaire attend the Yves Saint-Laurent fashion show on February 2, 1967. STRINGER/AFP/Getty Images
Fashion journalist Marie-Jacques Perrier attending a dinner at Paris's Plaza Athénée hotel, 1962. Robert Perrier/Wikimedia Commons
Brigitte Bardot rehearses a TV show for Christmas at the ORTF (French Radio and Television Broadcasting) studio in Paris, December 3, 1967. AFP/Getty Images
French theater director Jean-Louis Barrault rehearses his show "Rabelais" at the Elysee Montmartre Theatre, November 22, 1968. STRINGER/AFP/Getty Images
Actors during an April 1969 rehearsal of the musical "Hair." STRINGER/AFP/Getty Images
Press photo of Natalie Wood on the Paris set of Blake Edwards' "The Great Race." Wood wrapped up her last day of dialog work on November 27th, 1964. Upon her return, Wood was taken to the emergency room after she swallowed a bottle of prescription pills. Wikimedia Commons
French actors Jean-Louis Trintignant and Valerie Lagrange sit during the filming of 1967's "Mon amour, mon amour" directed by Nadine Trintignant. STRINGER/AFP/Getty Images
From left to right: French athletes Roger Bambuck, Claude Piquemal, Jocelyn Delecour, and Marc Berger pose after winning the 4 x 100 metres relay at the European Championships in Paris, June 8, 1967. STRINGER/AFP/Getty Images
The striking workers' sign translates as "Factory Occupied by the Workers." Student and worker protests hit full force in mid 1968. BeenAroundAWhile/Wikimedia Commons
A student sits on the knee of Victor Hugo's statue in the Sorbonne courtyard during a demonstration on May 14, 1968. AFP/Getty Images
Ballot boxes and iron cupboards lie on the water of the pond at Vincennes University on June 6, 1969, following confrontations between far-left students belonging to the organizations that boycotted university members and elections. AFP/Getty Images
Picture taken on May 13, 1968 shows Daniel Cohn-Bendit, an anarchist student and a 1968 student movement far leftist leader, holding a rally at the peak of the student movement, during the demonstration organized by the French workers unions CGT, the CFDT, FO, and the FEN which also calls for a general strike. AFP/Getty Images
Daniel Cohn-Bendit and other students protesting at the Sorbonne on May 6, 1968. AFP/Getty Images
Police survey the damage of riots that took place in the Latin Quarter on the night of May 11, 1968. AFP/Getty Images
Picture taken on May 6, 1968 shows protesting students fighting with police in the rue Saint-Jacques. AFP/Getty Images
Demonstrators arrested during a march gathering between 20,000 and 30,000 pro-Front de Liberation Nationale (FLN) Algerians on October 17, 1961.

In the midst of the Algerian War -- which saw the FLN fighting for Algeria's independence from France -- French police cracked down on Algerians living in France. As many as hundreds may have been killed on this one October night.Fernand Parizot/AFP/Getty Images
Police vans and army vehicles parked in front of the improvised sorting center of the Paris "Palais des Sports" where Algerian demonstrators were detained during the Algerian Independence march of October 17, 1961. AFP/Getty Images
Hundreds of people demonstrate in the streets near the Sorbonne to protest against police racism during a recent demonstration for Algerian independence, November 1961. STF/AFP/Getty Images
French President General Charles de Gaulle gestures during a TV speech on December 31, 1962. AFP/Getty Images
At the end of this street is the Panthéon, a burial spot for French notables. Roger Wollstadt/Flickr
The Boulevard des Capucines is one of the city's four grand boulevards — if it looks familiar, that's because Monet painted it in 1873. Roger Wollstadt/Wikimedia Commons
The Pont Au Change bridge in 1960. In "Les Miserables," police inspector Javert throws himself into the Seine River upon realizing he cannot turn Jean Valjean over to the authorities. Roger Wollstadt/Wikimedia Commons
The Paris metro in 1960. The 1950-1980 population boom caused the metro to be very crowded during rush hour. In the '60s, the solution was to join existing suburban lines to new underground portions in the city center. Wikimedia Commons
Café Le Buci, 1963. This café is still in business today. Photo: Rob Ketcherside/Flickr
One of the major public sqaures in Paris, the Place de la Concorde. Roger Wollstadt/Wikimedia Commons
The Ecole Militaire (military school) was founded in 1750. Napoleon graduated from the institution, only taking him one year to complete his courses instead of the normal two. Roger Wollstadt/Flickr
The Montmartre funicular, above, takes passengers from the bottom of the large hill (Montmartre) to the top, near the foot of the Sacré-Cœur basilica. The train looks quite different today due to remodeling. jhm0284/Wikimedia Commons
Vendors in Les Halles, Paris' famed food market. Roger Wollstadt/Wikimedia Commons
A street scene at the corner of the Cafe Le Buci and the Le Libraire du Globe bookstore. Rob Ketcherside/Flickr
Originally built in 1615 for Louis XIII's mother, the Palace of Luxembourg has since been a prison, a museum, the seat of the French Directory, and the residence of Napoleon Bonaparte. Roger Wollstadt/Flickr
The Arc de Triomphe from the east side. The Avenue des Champs-Élysées (known for its theaters, cafés, and luxury shopping) lies beyond the arch. Roger Wollstadt/Flickr
Café Relais Odeon, Paris, June 1963. Rob Ketcherside/Flickr
---
Enjoy these pictures of Paris in the 1960s? Next, check out vintage photos of Baghdad, Afghanistan and Iran -- all were much different from what they're like today.