When the local government in Taiwan threatened to demolish Huang Yung-Fu's home, he began painting — and created the world-famous Rainbow Village.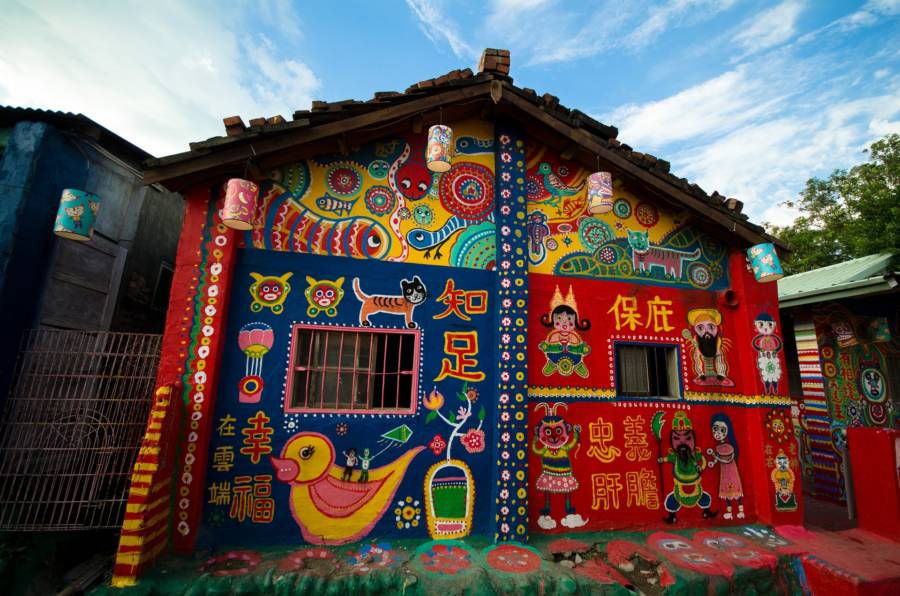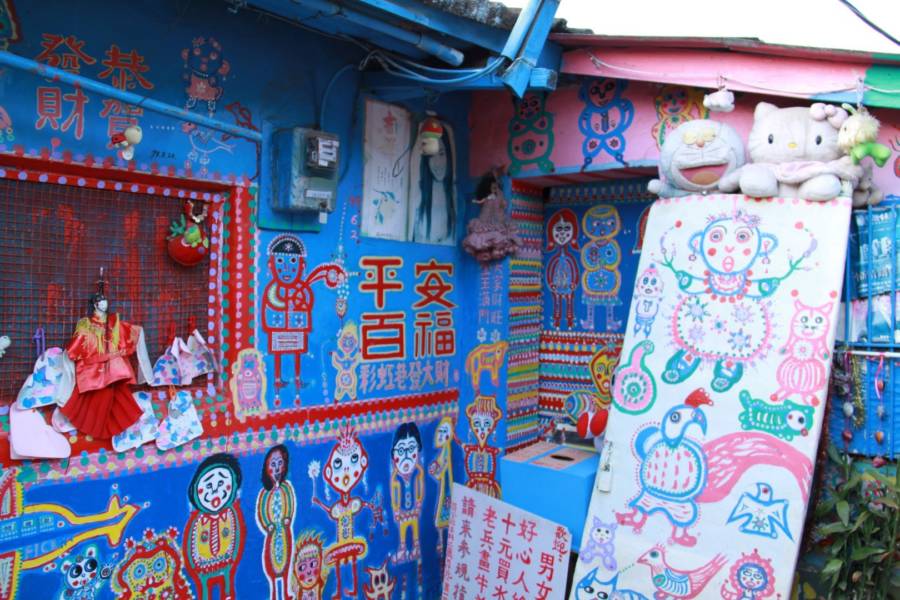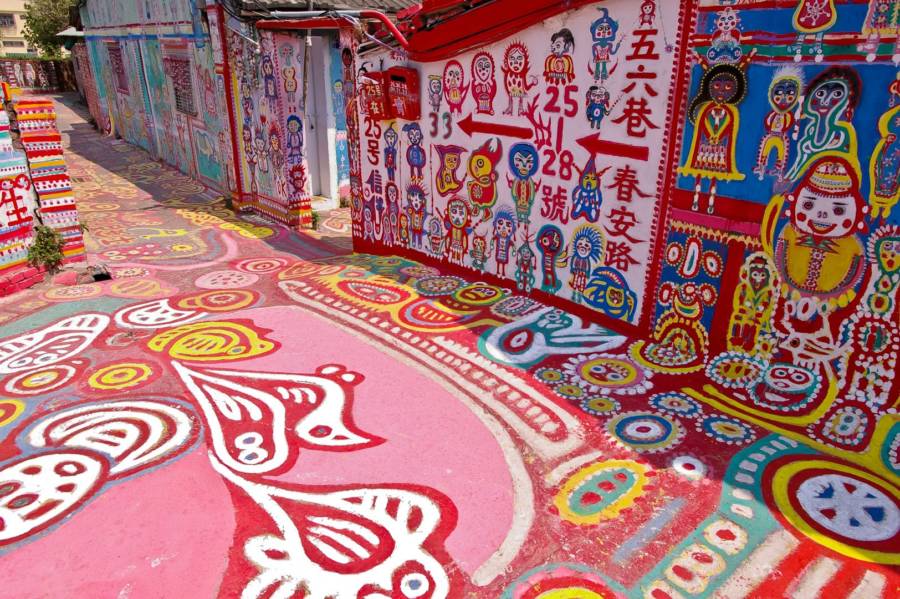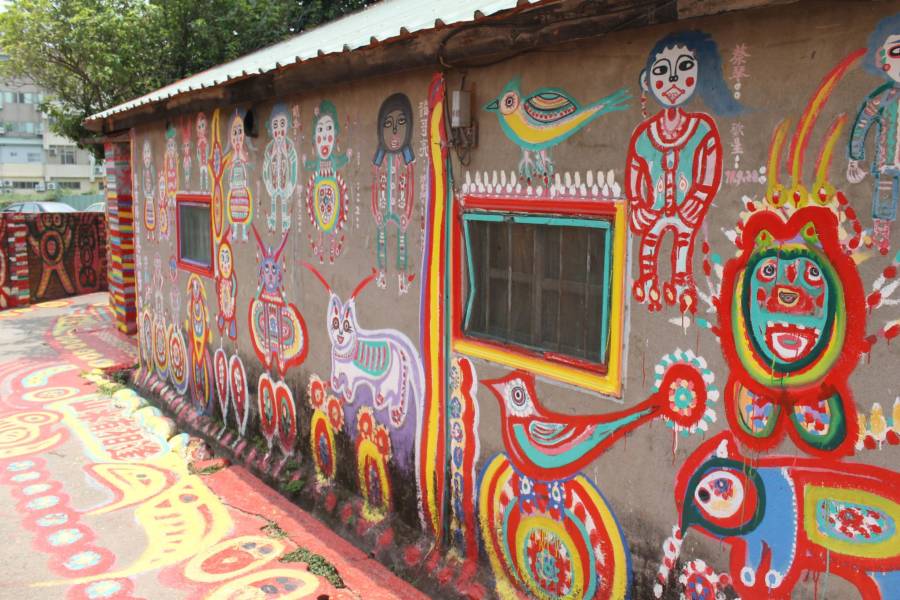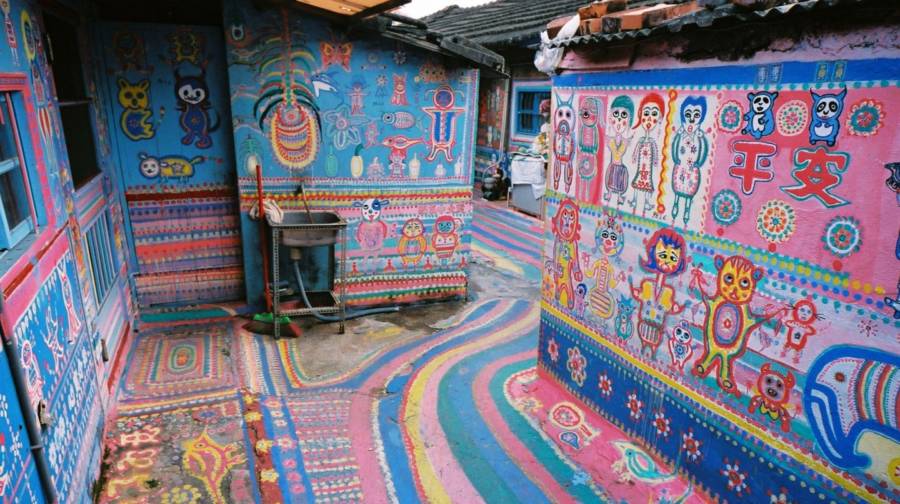 Huang Yung-Fu wakes up well before dawn every day. He grabs his paintbrush, and reports for duty. This early-to-rise habit stems from the 96-year-old's military career, but these days "duty" means something different. It means adding more layers of color to his one-man "Rainbow Village" in Taiwan.
"There are many things that I can't do anymore, but I can still paint," Huang says. "It keeps me healthy, and adding a little color can turn something old into something beautiful."
Huang's village in the Nantun District of the city of Taichung was once home to 1,200 households of Chinese veterans who fought for the Nationalist Party. When Mao Zedong's Communist Party came to power, Huang and his fellow Nationalist soldiers were forced to flee to Taiwan. His was one of many hastily built villages that was meant to be a temporary refuge for the soldiers, but ended up being a permanent.
But by the early 2000s, most families had left and real estate developers had acquired almost every home — except Huang's. In the summer of 2008, when he received an eviction notice from the government, he stayed put.
Lonely but determined to stay in his home, Huang painted a bird on his bungalow wall. He was not a trained painter but his father had taught him to draw a bit when he was a very small boy. He found painting eased the loneliness a bit.
So he picked up a paintbrush and began painting. Everything.
The Beginning Of Taiwan's Rainbow Village
The small bird on his bungalow wall turned into cats, birds, and people. Bright paintings began flowing from Huang's brush onto vacant buildings, onto the sidewalks, and into the park. Multi-colored Chinese characters and whimsical figurative motifs danced upon every surface.
One night, a student from nearby Ling Tung University stumbled upon Huang diligently painting under the moonlight. Upon learning of the elderly man's solitary fight to keep the government's bulldozers away one brushstroke at a time, the student spread the word about the Rainbow Village.
Huang became known as Grandpa Rainbow, and students started fundraising for his paint and supplies.
"People were amazed at this artist's passion and touched by students trying to help an old man," said Andrea Yi-Shan Yang, chief secretary of Taichung's Cultural Affairs Bureau. "As news of 'Grandpa Rainbow' spread, it soon became a national issue. He had our entire society's attention and compassion."
Some local students also campaigned to save the village from demolition and recognized as a cultural area — and they succeeded. In October 2010, the mayor of Taichung officially recognized the Rainbow Village as a public park.
The Elderly Artist And His Fans Save The Rainbow Village
The village is more beautiful than ever thanks to one man's whimsical artwork. More than a million people visit every year to take photos of what is definitely one of the most Instagram-able villages in the world.
But the best part is that Huang gets to keep his home.
"The government has promised me they will keep this house and this village," he said. "I was so happy and thankful."
And he doesn't have to live alone anymore: In 2013, during a hospital stay, he met the love of his life in the nurse taking care of him. They soon married, and now "Grandma Rainbow" shares Huang's bungalow.
Huang usually meets with tourists in his signature buttoned-up collared shirt and flat cap, his hands stained with paint.
For almost 10 years, the artist has relied on donations left in a box outside his bungalow. Now, a group of young people assists him in selling postcards and illustrations. Any leftover proceeds that don't go toward his supplies are donated to local organizations that help elderly people.
Huang's Inspiration
Maintaining this colorful village requires a lot of work and energy. But Huang says he will be painting even when he's 100 years old — because painting is what keeps him young.
In fact, all of his artwork is inspired by his childhood memories. This lifelong soldier had not picked up a paintbrush in more than 70 years. Yet here he is, painting his younger siblings, his pets, and his favorite teachers from when he was a boy.
"People who come here sometimes compare his art to Spanish painter Joan Miró or Japanese animator and film director Hayao Miyazaki," said Lin Young Kai, a helper at Rainbow Village. "He just paints what he feels and what he remembers."
If you visit Taiwan's Rainbow Village, you can find Huang's bungalow by searching exterior walls for a painting of a smiling soldier holding a paintbrush.
---
Next, get a glimpse of Peru's Rainbow Mountain — a mountain that no one had even seen until 2013. Then, read about this artist who can recreate entire cities from memory.