The cat, named Sweet Tart, beat out 13 dogs, a peacock, a different cat, and a goat for the title.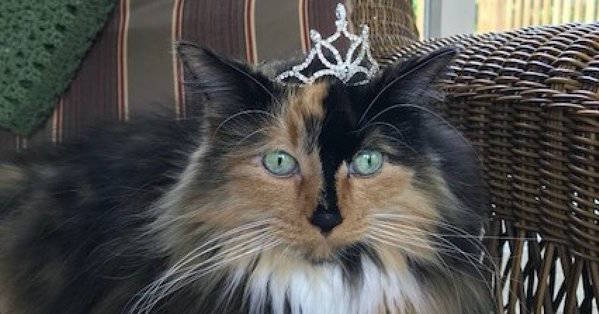 A recent headline reads more like it was ripped from The Onion but it's absolutely true. A cat named Sweet Tart was elected as mayor of Omena, a small rural town in northwest Michigan.
There were 13 dogs, a peacock, another cat, and a goat were also on the ballot, but Sweet Tart was the ultimate winner in the mayoral race. The small town with a population of 250 to 300 people has been electing mayors of the non-human sort for more than a decade.
The election is actually run by the Omena Historical Society and acts as a fundraiser for the organization. For each vote that's cast, $1 is collected and proceeds go towards the society's endowment fund.
"This is by far our largest total," Keith Disselkoen, the society's president, told WPBN. The election has reportedly raised more than $7,000 this year.
Omena also elected a vice mayor, second vice mayor, press secretary, and a special assistant for fowl issues — all of whom are non-human. The fowl issues assistant — as you may have guessed — is a chicken named Penny.
The Omena Historical Society's website lists all of the candidates up for election, along with their previous political backgrounds and why they should be elected in their respective races.
Sweet Tart's profile reads, "I have had experience with governing/supervising my household. And having been Vice Mayor for 3 years, fulfilling all my expected duties, I know I could handle the Mayor position."
Online reaction to Sweet Tart's election has been enthusiastic:
https://twitter.com/imanmatay/status/1022972220296060929
https://twitter.com/AlisunJane/status/1022230776656658446
This isn't the first time that an animal has been elected mayor of a town in the United States. Mayor Stubbs, a cat, was the mayor of Talkeetna, Alaska for nearly two decades. He served as mayor of the town with a population of about 900 until he died at age 20 in 2017.
Although these animals are publicized as the political leaders of their respective towns, Sweet Tart and other pet mayors simple hold ceremonial titles.
So who's actually responsible for the decision-making in these towns? One plausible explanation is that because the majority of these towns are small, a larger government body (the county mayor, for one) is what is actually managing these areas.
But that doesn't mean that these cat mayors can't serve a function in these tiny communities. Mayor Stubbs, for one, had an actual office that would attract townspeople and tourists alike to come in and visit him.
Talkeetna also sold buttons and other Mayor Stubbs souvenirs, which presumably generated revenue for the town that might have not been possible if it weren't for their feline mayor. As one Talkeetna townsperson explains, the election of Mayor Stubbs was a "a PR scam."
These small towns likely wouldn't even be talked about if it wasn't for their odd non-human mayoral elections, and very well may attract tourism that wouldn't exist otherwise.
PR stunt or not, these cat mayors are serving their communities in an incredibly unique way.
---
Next, read about 10 other animals that have held political office. Then, check out the story of the beer-drinking bear Wojtek, who served in the Polish army during World War II.