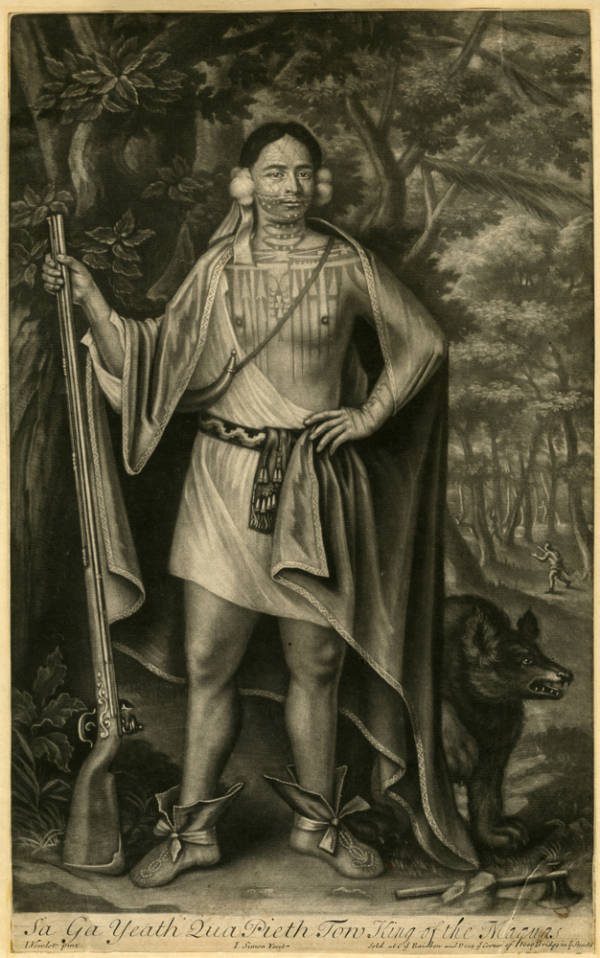 Tattoos were once used as a form of identification.

Native Americans who couldn't read English would sometimes draw pictures of their tattoos in lieu of signing their names.

Drunken sailors would also rely on tattoos to prove their identity, since they often failed to keep track of physical documents.

Then, with the 1936 invention of social security numbers, all kinds of people were going to parlors to get the eight digits permanently painted into their skin.
---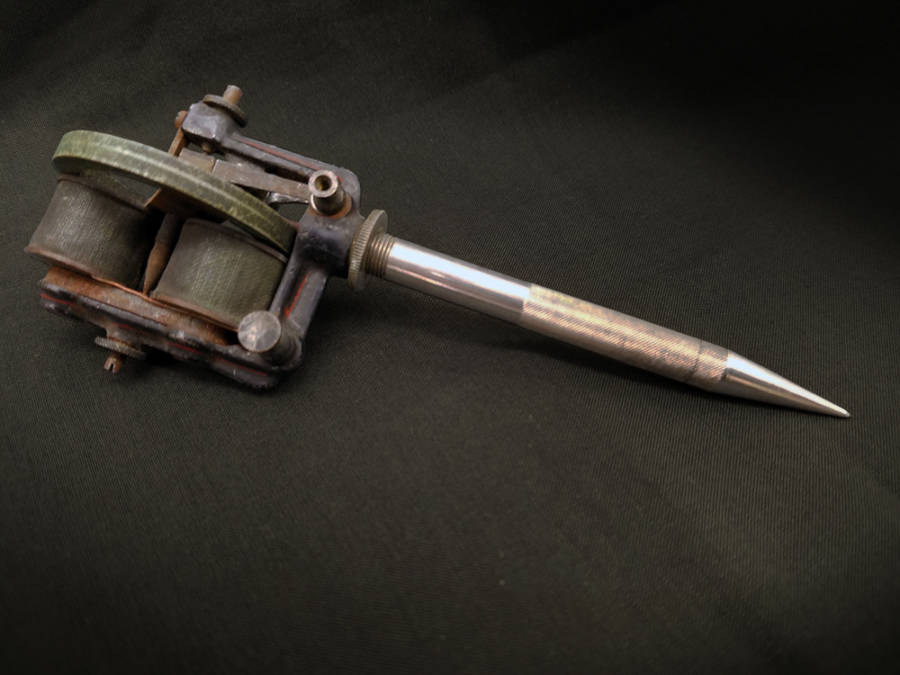 You've definitely heard of the person whose breakthroughs allowed for the invention of the tattoo gun.

The electric pen – which revolutionized the art of tattooing by making it quicker, cheaper, and accessible to everyone – was actually invented by Thomas Edison.

Though the famous mind behind the lightbulb had intended the creation to reproduce handwritten manuscripts, he accidentally ended up giving himself a few tattoo dots as he was testing it out.
---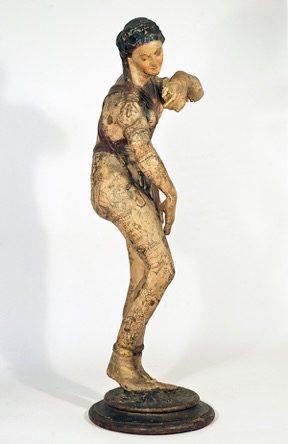 They used to be a symbol of "high class" in America.

After the Prince of Wales got tatted up on an 1862 visit to Jerusalem, many other royals around Europe quickly followed suit.

By the 1890s, members of American high society were desperate to get in on the trend.

New York locals offered the artist behind some of the royal ink $12,000 to open a shop in the city.

By 1900, 75 percent of the Big Apple's most fashionable women sported designs ranging from birds to butterflies to calligraphy.
---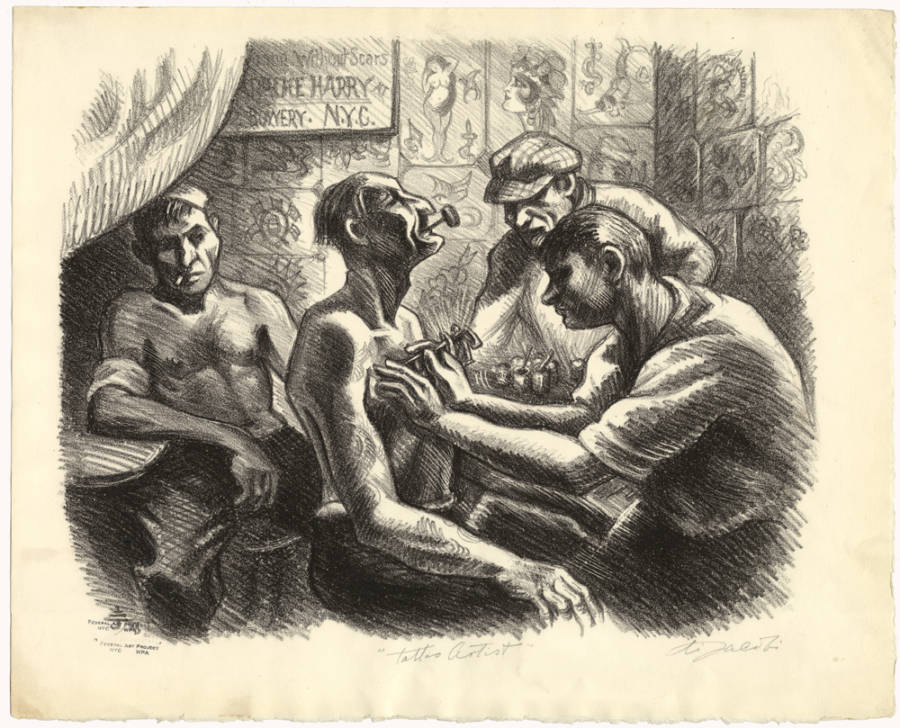 Some tattoos needed wardrobe upgrades.

During wartime, soldiers keenly missed the company of women. But with tattoos of naked or scantily clad ladies, they never had to feel so alone again.

Eventually, the Navy banned the ever-present porn. So soldiers hoping to make it into that prestigious class needed their tattoos to clean up their act. A booming "cover-up" business began with soldiers paying tattoo artists to put some clothes on their lady friends.

When one artist was charged with spreading disease due to unclean needles, he argued that he was doing "essential war work." His fine was reduced and he was told to carry on.
---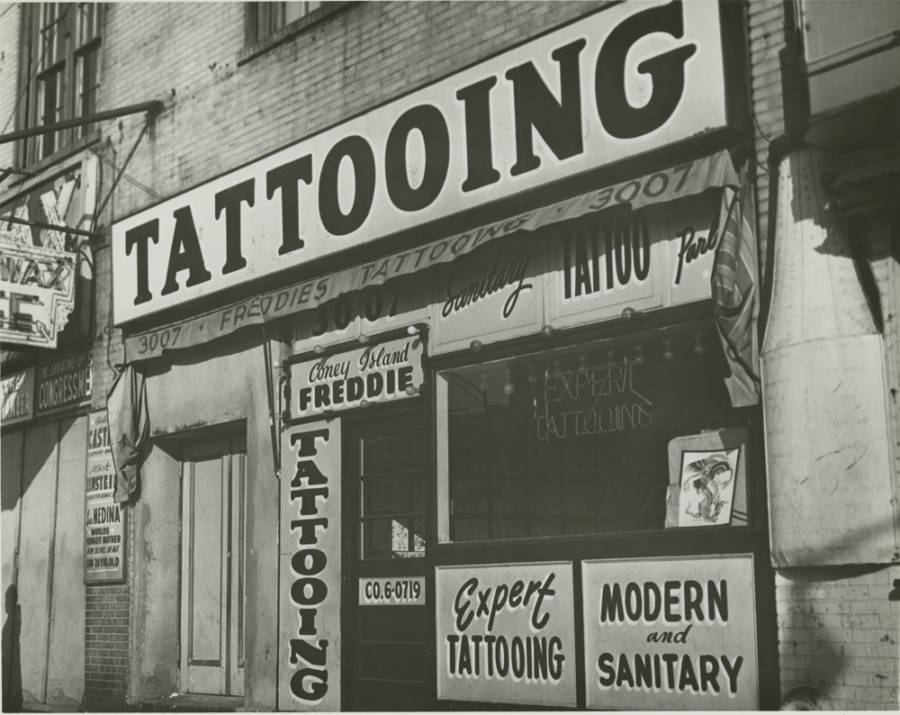 You know the Macy's logo? Yeah, that's a tattoo.

R.H. Macy got the five-pointed red star tattooed on his hand as a teenager on a whaling ship in 1837.

The star was thought to symbolize the American flag and the compass rose.
---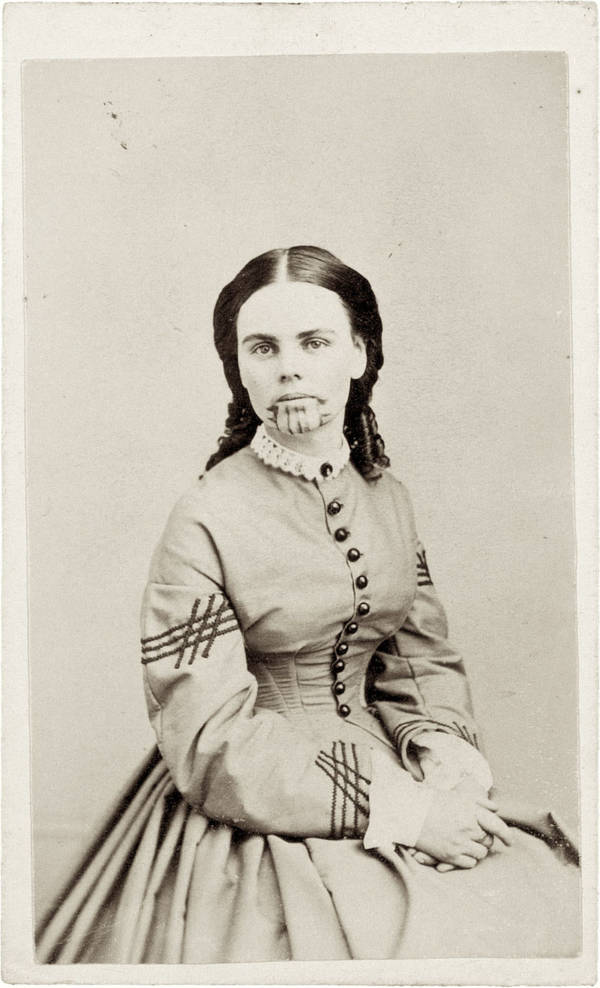 ---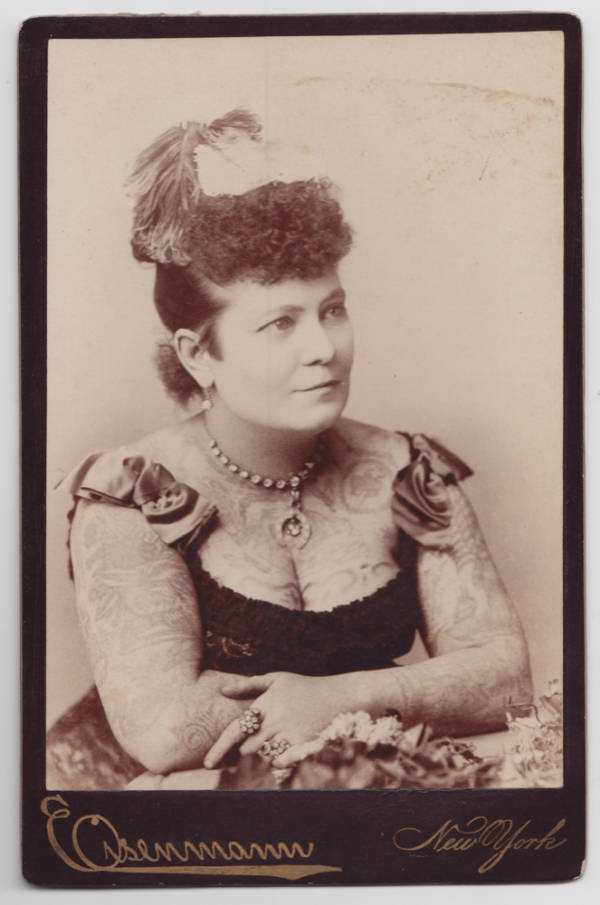 Having tattoos was once a full-time job.

Sailors were the first to realize that their heavily inked bodies were so intriguing to the general public that people would pay to get a closer look.

Eventually, sideshow acts began popping up all over the city.

Nora Hildebrandt (pictured) holds a legacy as "the first professional tattooed lady."

Trying to cash in on the fame of Olive Oatman, she spread rumors that she had been kidnapped, tied to a tree, and forcibly tattooed once every day for a year.

In reality, she was mostly inked by her own father – America's first tattoo artist.
---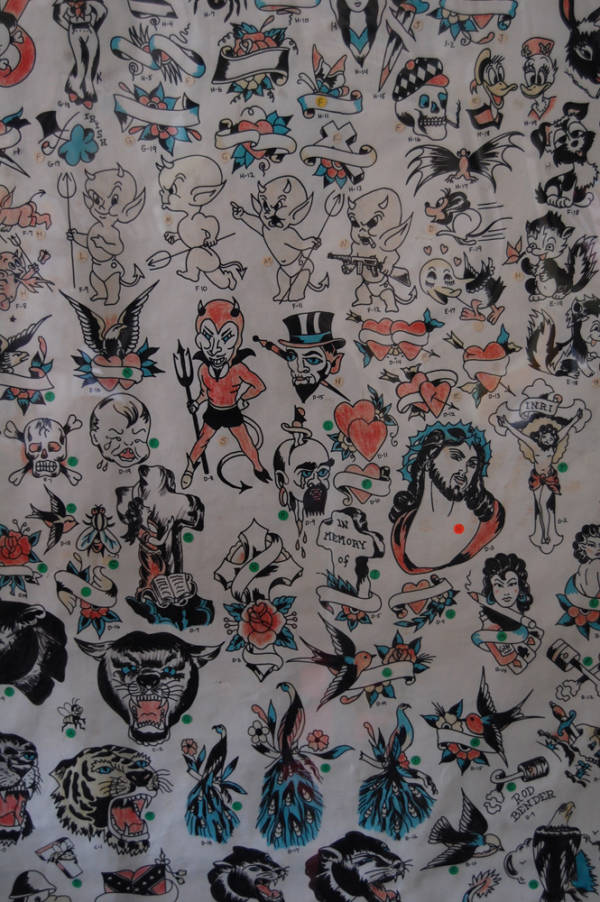 Tattoos were banned in New York from 1961 until 1997.

Though the ban was reportedly a response to outbreaks of Hepatitis B, undercover shops persisted and were rarely shut down by police.

Pictured: Tattoo designs were drawn on this window shade in the 1960s so they could be easily hidden in case of a raid.
---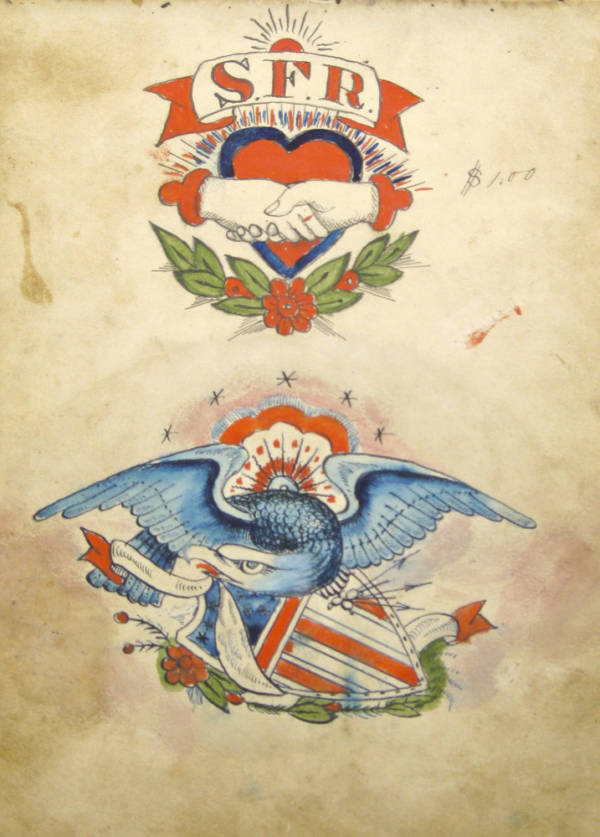 At least one president had one.

Can you guess which U.S. President sported his family's seal on his chest? Most history buffs wouldn't be surprised.

Theodore Roosevelt, the universally accepted tough guy of the Oval Office, is the only confirmed president with ink. But rumors suggest Andrew Jackson and Franklin D. Roosevelt had secret body art.

Pictured: Tattoo drawings from the late 1800s.
---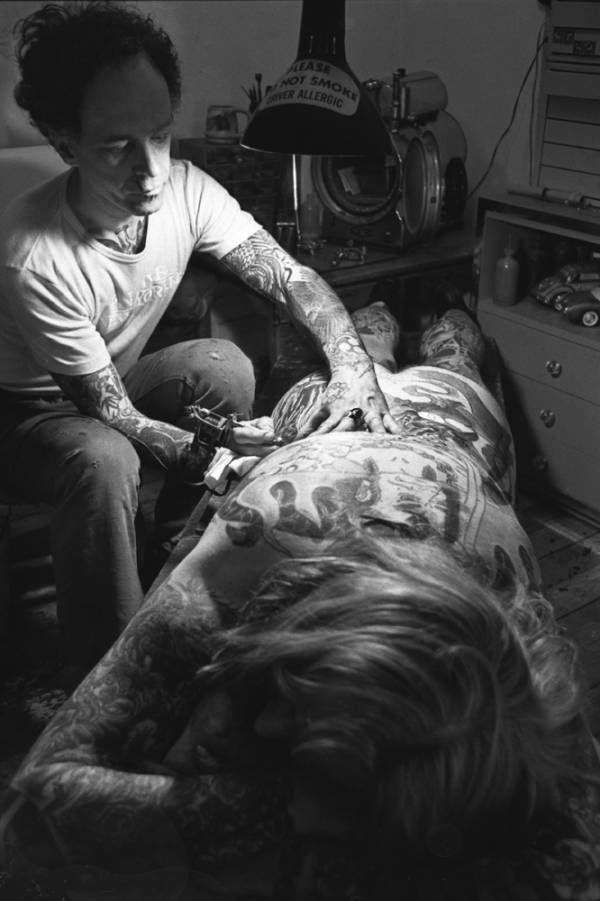 Women and tattoos go way back.

The idea that ink is a sign of promiscuity, which is still commonly held today, began in the mid 1900s.

There were even several instances when New York courts ruled against a woman plaintiff seeking harassment charges solely because of her body art.

Eventually though, women reclaimed the use of ink as a sign of power and independence – with many of the gallery's portraits featuring survivors of breast cancer who have tattooed over their scars.
---
Cristian Petru Panaite was always intrigued by his grandfather's tattoo.
It was a fairly small depiction of a woman and – although his grandfather didn't like to discuss it – Panaite knew it must have been hard to get in 1950s communist Romania.
With this as his only window into the tattooing world, the New York Historical Society's assistant curator grew up with little understanding of the traditions and culture surrounding the art of getting inked.
Now, after a year of careful preparation for the museum's "Tattooed New York" exhibit, which opened at the beginning of February, Panaite has an entirely new appreciation for what is perhaps the world's most personal art genre.
With a centuries-old plot featuring sailors, Native American kidnapping, presidents, sideshow acts, and possibly some Hepatitis B –- the history of tattoos is a story that even people who already have tattoos probably don't know the half of.
It's such an inspiring tale, in fact, that after only one month of tracing it, Panaite was in a studio getting a tattoo of his own -- a tribute to his mother. Then, with a few more months of tattoo education, the previously skeptical curator added a second. He says he's already got ideas for his third, and maybe fourth.
So, here we've compiled the ten most interesting tidbits from 300 years of tattooing in New York. Fair warning, this content has been proven to inspire tattoo addiction.
---
Intrigued by this look at tattoo history? Next, take a look at this mesmerizing slow-motion footage of a tattoo artist at work. Then, learn about Maud Wagner, the United States' first female tattoo artist. Finally, have a look at the most amazing facts you'll ever read.