Man's best friends may be more beneficial to the medical world than we think.
For the animal lovers among us, no matter how dark the world seems, pets always seem to be there to lick away our tears and ease our burdens — so much so that they sometimes make great therapy assistants in legitimate medical contexts.
Study after study published within recent years has reviewed data from dozens of sources and concluded that patients suffering from everything from Alzheimer's to autism to schizophrenia to depression to Down syndrome receive statistically significant benefits from therapy animals in between 90 and 100 percent of cases.
While pets' therapeutic capacities are well known at this point, what remains comparatively less known is when and why exactly we first decided to allow dogs in our hospitals.
The use and prevalence of therapy animals today can be traced back to a single mental health facility in northern England and one overlooked child therapist in New York.
Soon after opening in 1796, York Retreat became renowned for its humane treatment of mental health patients, which was virtually unheard of throughout the 18th and 19th centuries. Unlike patients at other facilities, York's patients were free to walk about the compound's grounds, where many of them interacted with the small, domestic animals within its courtyards and gardens.
Doctors soon found that these animals had an astounding effect on the patients, not only serving as way to help them socialize, but also in simply perking up their fallen spirits.
In spite of these observations and the fact that a few other English facilities copied the approach, it wasn't until the 1960s that an American child therapist by the name of Boris Levinson happened upon a similarly chance realization that laid down the foundations of modern animal-assisted therapy for years to come.
During one of his sessions with a nonverbal little boy, Levinson's pet dog, Jingles, happened to be in the room. At one point Levinson left the room, then came back to find the boy attempting to communicate with Jingles. The doctor was stunned.
Levinson then introduced Jingles to other nonverbal children and received similar results. The idea was that children could easily open up to a nonaggressive entity — such as an animal like a dog — without anxiety or feeling as if they were being pressured, threatened, or judged.
Although Levinson's attempts at presenting these findings to the American Psychological Association were largely written off at the time (Sigmund Freud's therapy work with his dog, Jofi, was, however acknowledged not too long after), he has now earned himself the title "father of animal-assisted therapy" after publishing his discoveries about the importance of human/animal bonding.
In therapy animals' early days, when Levinson conducted his pioneering work, there weren't too many rules and restrictions on the animals' use and training. Today, however, with the field of animal-assisted therapy codified and overseen by entities like the American Humane Association and the ASPCA, therapy animals have their work cut out for them.
Not only must today's therapy animals show unparalleled obedience without a lick of aggression throughout their entire history, they must also have a welcoming demeanor in order to ensure a positive experience for the patients they'll be working with.
And, contrary to popular belief, this doesn't apply only to dogs, but also to the guinea pigs, rabbits, horses, pigs, llamas, and even dolphins that represent just a handful of the creatures that can be trained as therapy animals of various sorts — and with the ability to operate in many different kinds of facilities — around the world today: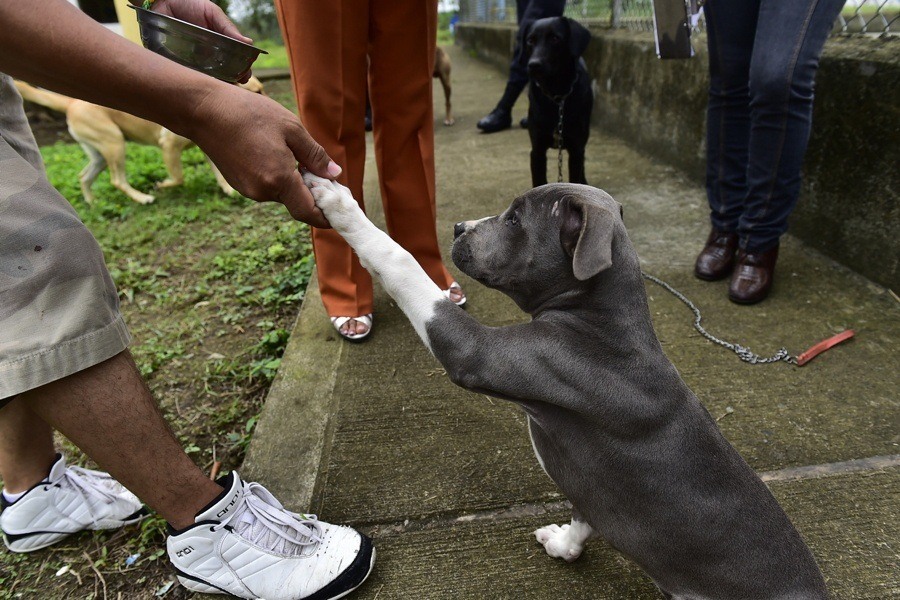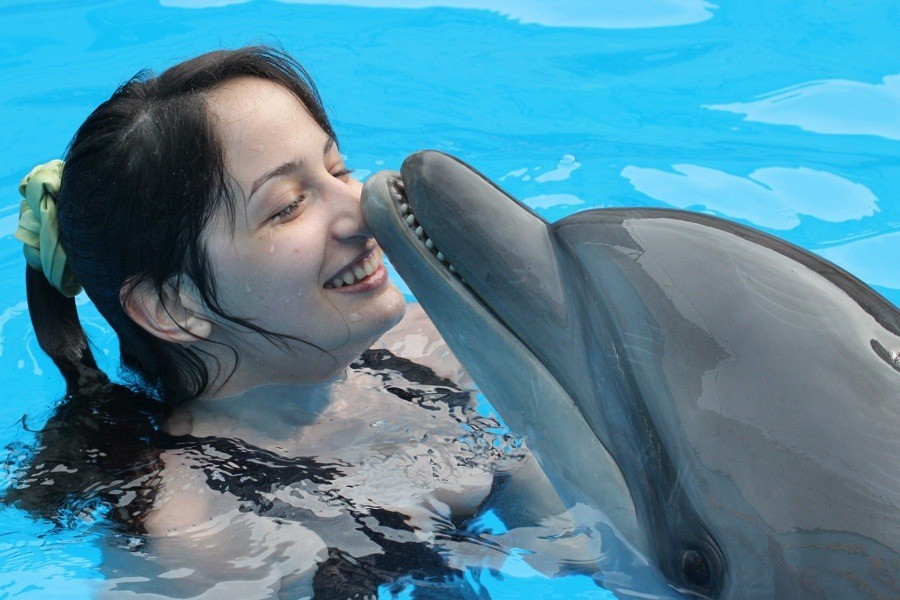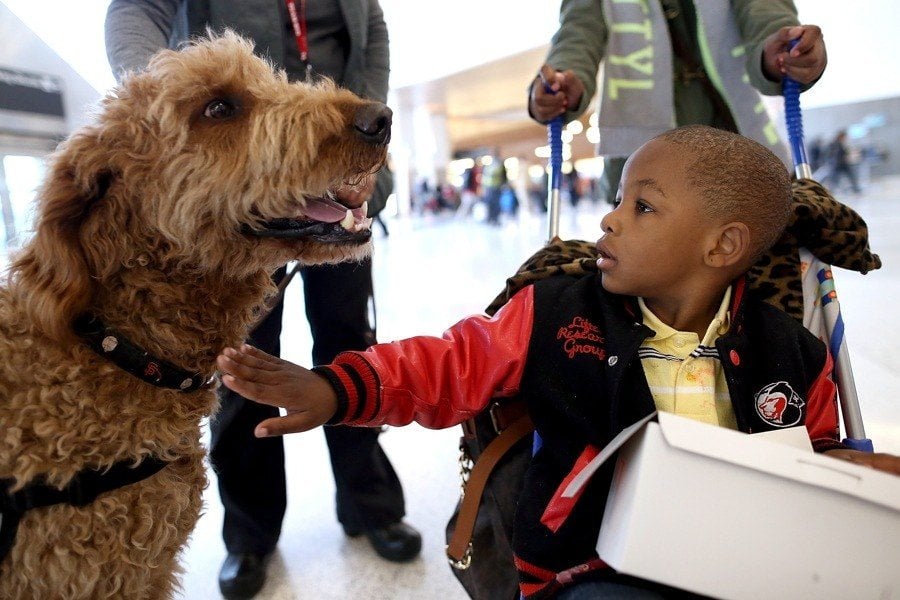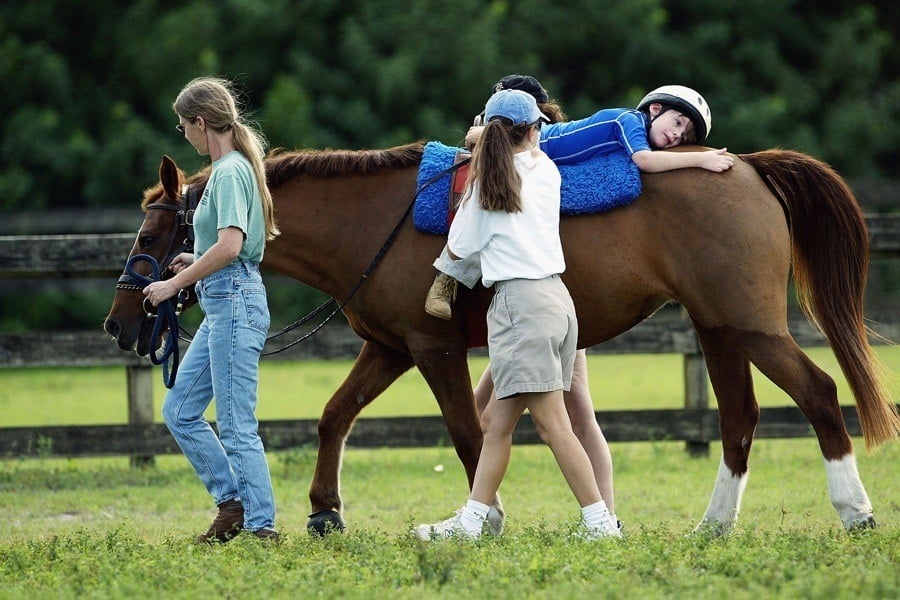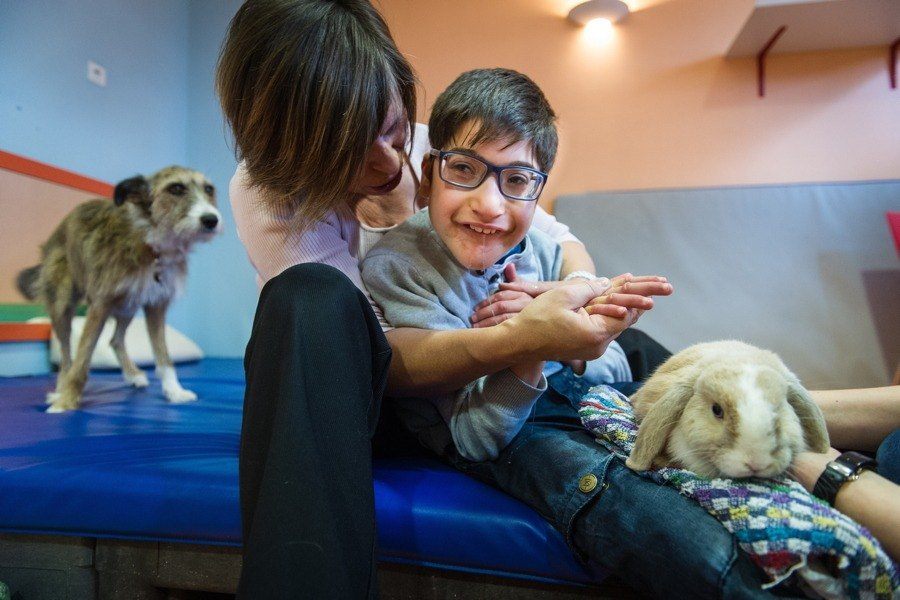 RODRIGO BUENDIA/AFP/Getty Images)
YURIY LASHOV/AFP/Getty Images
Justin Sullivan/Getty Images
SEBASTIEN BOZON/AFP/Getty Images
Justin Sullivan/Getty Images
Stephen Chernin/Getty Images
RODRIGO BUENDIA/AFP/Getty Images
PETER KOHALMI/AFP/Getty Images
MIKHAIL MORDASOV/AFP/Getty Images
William B. Plowman/Getty Images
SEBASTIEN BOZON/AFP/Getty Images
ADALBERTO ROQUE/AFP/Getty Images
SEBASTIEN BOZON/AFP/Getty Images
RODRIGO BUENDIA/AFP/Getty Images
DIBYANGSHU SARKAR/AFP/Getty Images
RODRIGO BUENDIA/AFP/Getty Images
ROMEO GACAD/AFP/Getty Images
That said, dogs remain the most common therapy animals and consistently exhibit success in improving a patient's quality of life, whether it's in developing motor skills, building trust or facilitating communication. Cats are also a popular choice, as they're noted for reducing anxiety in patients and are thought to be especially beneficial to nursing home residents.
Whether cats or dogs or a creature far less common, all of today's therapy animals bring with them their own unique benefits and types of treatment. It can be something as small as encouraging a depression patient to go on more walks or as monumental as teaching nonverbal children how to express themselves.
Ultimately, all of this is thanks to a single facility in England 220 years ago, and to its small group of animals, who helped open the world's eyes to the specific kinds of compassion, patience, and therapeutic skills that it seems only animals can provide.
---
Next, take a look at some of the most incredible miniature therapy horses. Then, meet two of history's greatest war heroes from the animal kingdom: Wojtek the bear, the beer-drinking, cigarette-eating Polish soldier of World War II; and Sergeant Stubby, World War I's most decorated dog soldier.