José Franco Guerrero first began planting cypress trees in 1936. Now, the cemetery features 300 larger-than-life tree sculptures.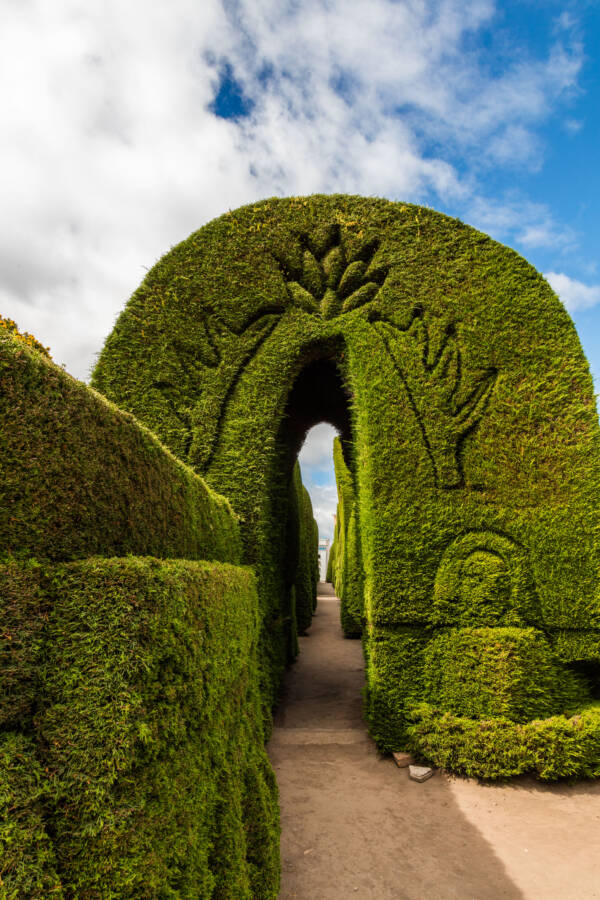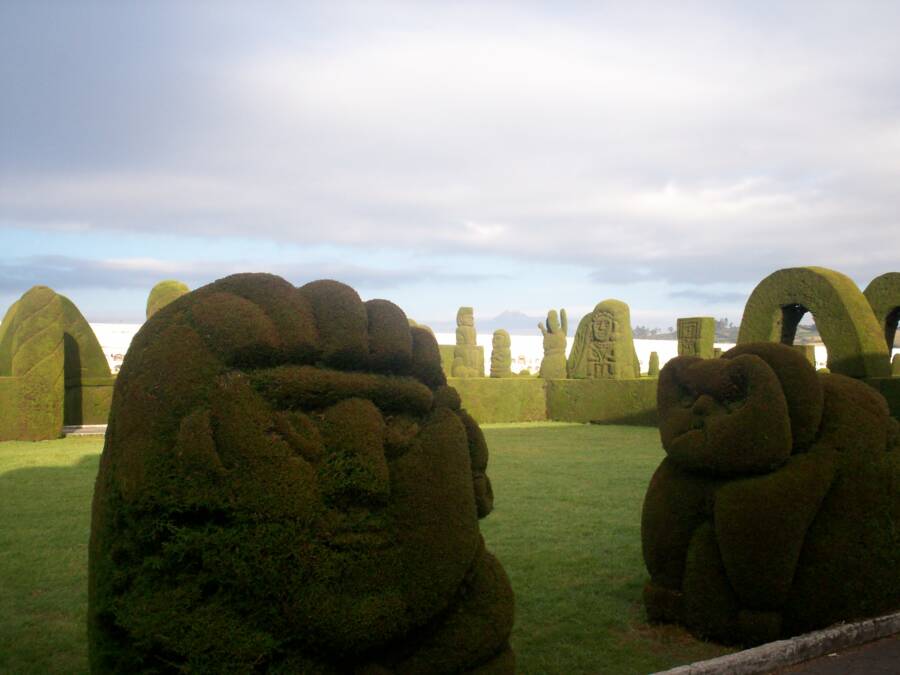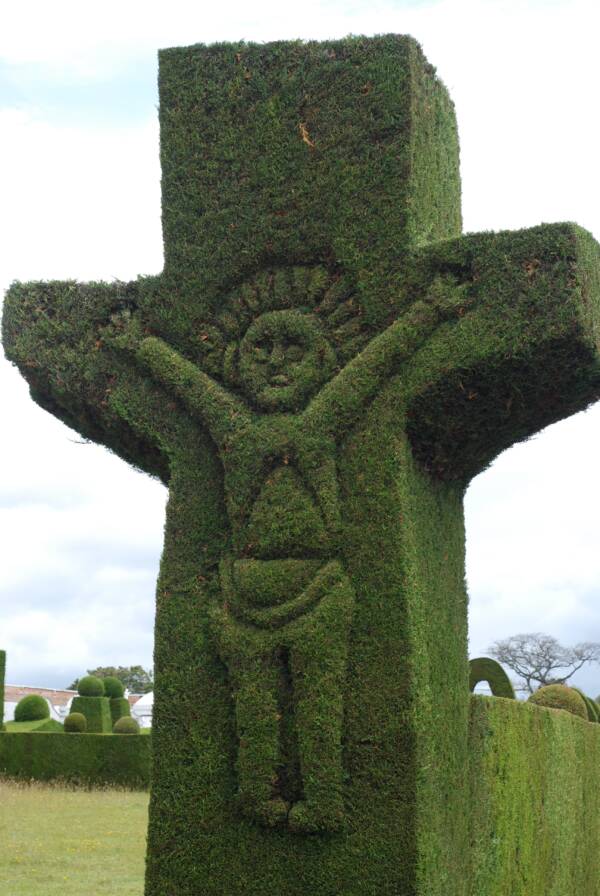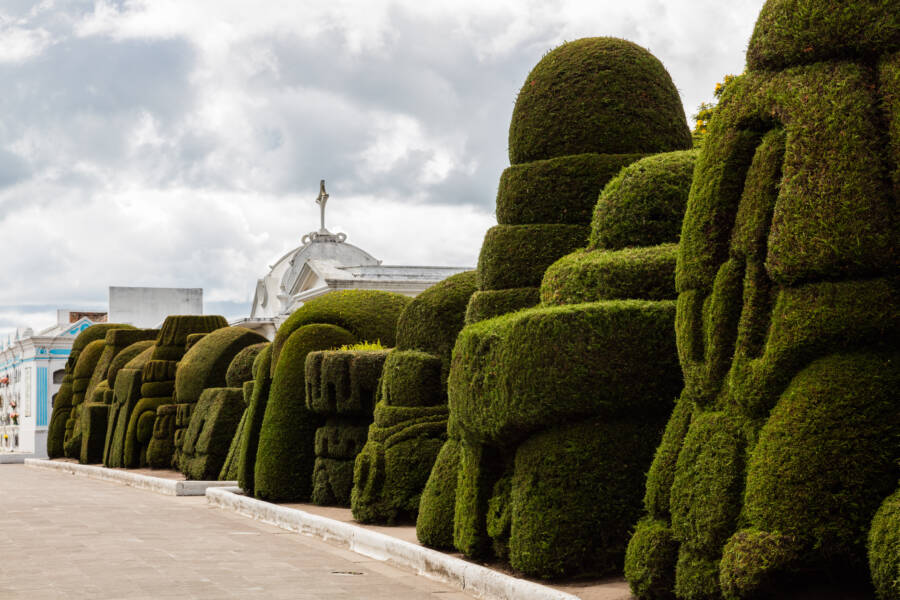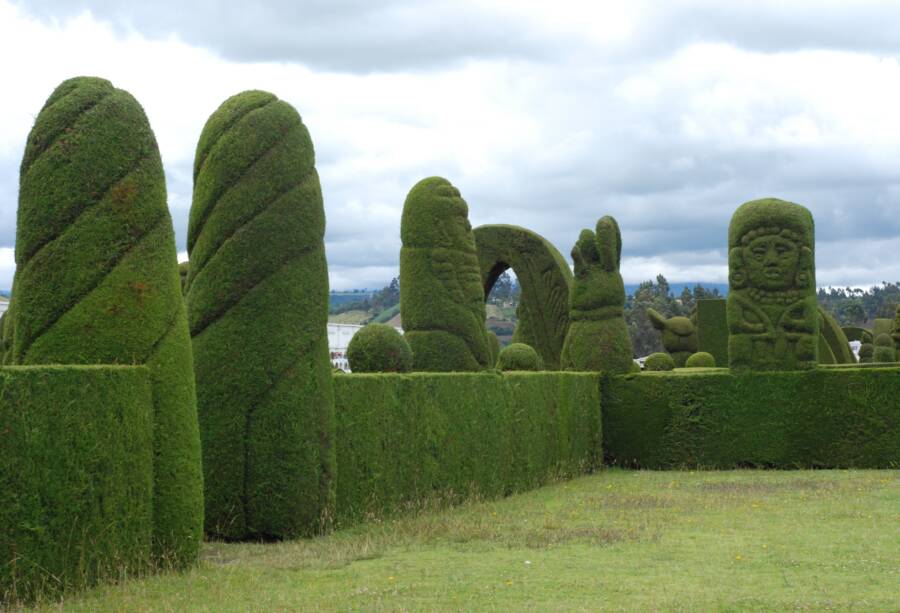 Diego Delso/Wikimedia Commons
Marrovi/Wikimedia Commons
Diego Delso/Wikimedia Commons
Diego Delso/Wikimedia Commons
Daniel Romero/VW PICS/Universal Images Group via Getty Images
Diego Delso/Wikimedia Commons
Diego Delso/Wikimedia Commons
Diego Delso/Wikimedia Commons
Diego Delso/Wikimedia Commons
Diego Delso/Wikimedia Commons
Daniel Romero/VW PICS/Universal Images Group via Getty Images
Diego Delso/Wikimedia Commons
Diego Delso/Wikimedia Commons
Diego Delso/Wikimedia Commons
Even if you're not a fan of graveyards, the Tulcán Cemetery is a must-see — but not for its creepy mausoleums or any other macabre fare. No, the reason this Ecuadorian cemetery is a bucket-list top five is simply because of its trees.
The Tulcán Cemetery is a masterpiece of landscaping and its 300 topiaries defy the imagination.
Back in 1936, the cemetery's gardener and caretaker, José María Franco Guerrero, planted hundreds of cypress trees around the graves. Then, he made all of them into works of art: Incan symbols, weird creatures, geometric shapes, etc.
Guerrero died in 1985 and was put to rest among the masterpieces he'd created.
José Franco Guerrero Revives The Tulcán Cemetery
The Tulcán cemetery was built on the remains of an older graveyard that was destroyed in a 1923 earthquake. It is situated on eight acres, far away from the city to avoid infecting residents in the case of an epidemic.
Josè Maria Azael Franco Guerrero was the Tulcán Municipal Park Director when the cemetery reopened in 1932 and he recognized that there was something special about the soil there: it is high in calcium carbonate. Cypress trees grow like crazy in the stuff, so Guerrero began planting cypress trees in 1936.
Guerrero knew he wanted to create "something grand" for the cemetery, but he likely didn't realize how much of his life this desire would occupy.
What started as a few cypress trees and shrubs morphed into a wonderland of breathtaking artwork.
Guerrero wasn't altogether new to horticulture or topiary art. He had studied under Don José Tamayo, a specialized horticulturist. However, the Tulcán Cemetery was largely a learn-as-you-go — or grow activity for him.
But Guerrero did recognize that he'd embarked on a mission that was bigger than himself. He even began training one of his sons to take over the gardens after he died. In the end, each of his five sons assisted in the cemetery's upkeep in their father's honor.
Ecuador's Institute of Cultural Heritage recognized Guerrero's work in 1984. They declared the topiary gardens at Tulcán Cemetery a "Cultural Heritage of the State." Later that same year, the Ministry of Tourism proclaimed the garden a site of national interest.
Guerrero died in 1985, the year after he gained recognition.
Up Close With The Topiaries
Guerrero has converted the grounds of the cemetery into a maze of sorts through dense hedges and towering topiaries. He created a number of unique sculptures in addition to traditional geometric shapes.
The garden includes animals, angelic forms, and other creatures inspired by Incan, pre-Columbian, and Arabic totems. The cemetery features more than 300 mythological and traditional sculptures.
Dr. Edgar Anderson, the former director of the Missouri Botanical Garden, called Tulcán Cemetery one of "the most extreme examples of topiary work that he had ever seen from the Americas."
Many topiaries are more than 12 feet in height and they extend over 200 feet from either side of the entrance. The oldest section of sculptures in the cemetery is named God's Altar — and it is largely considered to be Guerrero's masterpiece.
Outside of God's Altar, the cemetery is organized into several sections by decorative hedges. The rest of the land is left for burials. After all, this gorgeous place is a graveyard — even if it's sometimes easy to forget that amidst all the art.
Between the gigantic topiaries are beds of flowers and areas of lush grass. The grounds directly around the topiaries are covered in white sand or other contrasting materials.
Guerrero's Legacy
https://www.youtube.com/watch?v=B6CGHo5gdY8
After Guerrero's death, a local gardener in Tulcán named Lucio Reina began to work on the second section of the graveyard called Memorial Park. It's common for tourists to climb onto the burial niches here to take souvenir photos. Officials don't seem to mind the practice, but some feel it is disgraceful to the dead.
The east side of the cemetery is still under construction. Workers started planting trees there about 10 years ago, but the trees are not yet mature enough to sculpt.
Meanwhile, Guerrero's five sons continue to maintain the cemetery and oversee the creation of any new topiaries.
In 2005, Ecuador renamed the graveyard the José María Azael Franco Cemetery. It only seems fitting.
The gorgeous garden stands as a testament to Guerrero's foresight, his tireless work, and how from his incremental tweaks and trimmings there came a flourishing masterpiece.
Of course, Guerrero himself is interred in this stunning cemetery of his own design. His headstone's epitaph contains the apropos inscription: "In Tulcán, a cemetery so beautiful that it invites one to die!"
Indeed.
---
Next, find out how scientists are growing trees from 2,000 year-old seeds found in the dead sea scrolls. Then, visit the world's largest crypt, the Paris catacombs, though these 28 fascinating photos.