Vincent "The Chin" Gigante headed one of New York's biggest mafia families. But when the feds tried to catch him, he faked insanity to stay out of jail.
An old man wandering around in his pajamas, a bathrobe, and a ratty pair of house slippers muttering nonsense to nobody in particular is a fairly typical sight in New York City, but Vincent Gigante was anything but typical.
Wandering the streets of Greenwich Village in an elaborate performance of insanity, Gigante eluded prosecution for decades as he grew the Genovese crime family into an expansive criminal empire that is thought to have brought in more than $100 million a year at its height, making him one of the most successful and notorious mafia Dons in the nation's history.
The Early Career of Vinny "The Chin" Gigante
Born in New York City in 1928, Vincent Gigante was one of five sons of Salvatore and Yolanda Gigante, both first-generation immigrants from the Italian city of Naples.
While his parents were honest workers—Salvatore was a watchmaker and Yolonda a seamstress—Gigante's life of crime began shortly after he dropped out of high school at age 16 to become a boxer.
Nicknamed "The Chin"—inspired by his mother's heavy-Italian pronunciation of the diminutive of the Italian form of his name, Vincenzo—Gigante would go on to win 21 of 25 fights in his brief career. An able boxer, it would be his battles outside of the ring that would quickly become his life's work.
A powerful mafia boss by the name of Vito Genovese took a liking to the young boxer and became a mentor to the Gigante. Gigante, in turn, took his mob apprenticeship seriously, getting himself arrested seven times before he turned 25 for crimes ranging from auto-theft to arson.
By the 1950's, Vincent Gigante had risen to become a full-time gangster, working as an enforcer for the Genovese family, where his career in the mafia took its turn into history.
The Attempted Murder Of Frank Costello
Though named for him, Vito Genovese wasn't the founder of the Genovese crime family. Charles "Lucky" Luciano founded the family in the 1930s and put Genovese in charge of it as he built up a sprawling international criminal empire that made him the most powerful Mafia Don of the 20th century, possibly ever.
In the 1940s, however, Luciano's luck in the U.S. finally ran out and after a brief stint in prison, he was deported back to Italy. Shortly thereafter, he appointed Frank Costello to head up the Genovese family—to the chagrin of Genovese, who had plans of his own for the city.
Genovese was a loyal subordinate to Luciano, but he didn't appreciate Costello's ascension. Though it would take nearly a decade, Genovese was determined to take Costello out of the picture and would eventually turn to Gigante on May 2, 1957, to make it happen.
On the evening of May 2nd, Costello returned home after enjoying a dinner out with his wife and a few friends. As Costello's taxi arrived at his building and Costello made his way to the front door, a black Cadillac slowly pulled up to the curb behind it.
As Costello entered the vestibule of the building, a shot rang out. Staggering into the lobby, Costello collapsed onto a leather couch while a gunman ran out the door and jumped into the waiting Cadillac, which immediately sped away.
Though the intent was clearly to murder Costello, the bullet only grazed his skull and he survived the assassination attempt. Police officers questioned Costello about the man who tried to kill him, but he repeatedly told them that he never got a good look at his attacker; he even claimed to not have heard the gunshot.
Police were more successful with the doorman, however, who described the gunman as a six-foot-tall man with a stocky build. The New York Police Department put 66 detectives on the case, and soon the doorman identified Vincent Gigante as the shooter.
Gigante was arrested and was tried for attempted murder in 1958. Even with the doorman's identification, however, prosecutors couldn't secure a conviction since Costello maintained that he could not identify his attacker, though, and without a positive identification, Gigante was acquitted.
According to reporters in the courtroom, following Gigante's acquittal, Gigante was overheard saying to Costello, "Thanks, Frank." Costello clearly took the hint from Genovese and retired soon afterward, leaving Genovese as the undisputed boss of Luciano's legacy in New york.
Genovese would not enjoy his time at the top for long, however; at least not as a free man. In 1959, Gigante and Genovese would both be convicted in federal court on charges of heroin trafficking. Gigante was sentenced to seven years —about half that of Genovese's—after the sentencing judge read a slew of letters attesting to Gigante's good character and work on behalf of New York City youth.
Vincent Gigante was paroled after five years, and Genovese died a few years later, in 1969, the same year Gigante began his notorious, decades-long ruse.
The Oddfather
In 1969, Gigante was indicted in New Jersey for a bribery scheme in which members of the Old Tappen Police Department would tip him off whenever he was being surveilled. Now a capo—or captain—in the Genovese family, his higher profile brought a lot more heat than a foot soldier had to contend with, so Gigante went big and began his now-infamous pretense of mental illness to avoid prosecution.
His lawyers presented reports from psychiatrists at his trial that he suffered from paranoid schizophrenia, and he was declared unfit to stand trial and the charges against him were dropped.
His power and influence within the Genovese family grew over the next decade or so and—according to mob informers—Vincent Gigante took over complete control of the family in a peaceful transition following the retirement of the Genovese family boss, Philip Lombardo, due to declining health.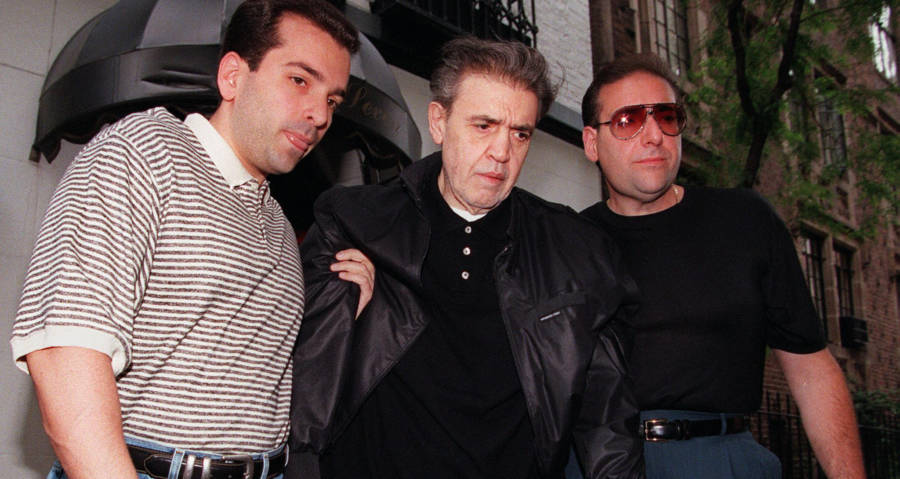 Upon assuming control, Gigante established strict internal security protocols. No one was to say his name, instead they were to touch their chin or form the letter 'C' with their hand if they ever needed to refer to him.
Gigante also stepped up his public performance of mental incapacity, wandering around Greenwich Village in his pajamas and bathrobe, talking to parking meters, and urinating in the street.
Gigante's family were an integral part of the ruse, with his younger brother, Louis—a Roman Catholic priest—repeatedly attesting to Gigante's various mental illnesses.
"Vincent is a paranoid schizophrenic. He hallucinates. He's been that way since 1968," he said, swearing that his brother took several medications to treat his debilitating conditions, adding considerable credibility to the mobster's defense in court.
Psychologists and other mental health professionals attested to Gigante's condition, claiming that he had been in and out of psychiatric hospitals more than two dozen times between 1969 and 1995.
Meanwhile, Gigante grew the Genovese crime family into the largest Mafia family in the country. Gigante expanded the operations of the family in all areas, from loan-sharking bookmaking to extortion and bid-rigging for New York City infrastructure contracts.
Under Gigante's leadership, the criminal enterprise brought in around $100 million a year at its height, making it the most lucrative Mafia enterprise in American history.
The Feds Finally Bring Vincent Gigante To Justice
The elaborate pretense of insanity that Vincent Gigante put on for decades was put to its ultimate test in 1990 when he was indicted on federal charges in Brooklyn, NY with 14 other defendants for a bid-rigging scheme for multi-million dollar contracts with the New York City Housing Authority to install new windows in public housing units.
Those charges were followed up in 1993 with an indictment that charged him for ordering the murders of several mobsters and conspiracy to commit murder in three other cases—including ordering a hit against John Got, the boss of the Gambino crime family after Gotti assumed control after assassinating the previous family boss, Paul Castellano.
For years, Gigante's lawyers presented concocted evidence of Gigante's unfitness, but in 1996, the federal judge in the case had enough, ruling that Gigante was mentally competent to stand trial. Gigante was convicted of racketeering and conspiracy to commit murder on July 25, 1997, and sentenced to 12 years in prison.
Later that year, the sentencing judge in Gigante's case said, "He is a shadow of his former self, an old man finally brought to bay in his declining years after decades of vicious criminal tyranny."
Gigante was said to continue to run the Genovese family from prison until 2003. That year, Gigante finally copped to faking his insanity in a plea deal on obstruction charges stemming from the 1990 and 1993 charges.
Gigante's lawyer said after the plea, "I think you get to a point in life – I think everyone does – where you become too old and too sick and too tired to fight."
Vincent Gigante died in prison soon after, in 2005, after a more than 50-year run as one of America's most notorious mobsters.
His legendary life of crime has been recreated several times in film and television, including episodes of Law and Order and a turn as Bumpy Johnson's antagonist in the Epix crime drama "Godfather of Harlem," and lives on as one of the most infamous Mafia stories of all time.
---
Now that you're done learning about Vincent Gigante, check out more stories of famous criminals, like "pure evil" Sean Vincent Gillis. Then, learn about the sad death of Joyce Vincent.