These vintage crime scenes are a reminder that history is indeed fluid, and what you might see as picturesque today has a bloody history.
Unarguably the center of American capitalism as we know it, it should come as no surprise that New York City is constantly reinventing itself.
What may have been the site of a brutal shoot-out a few years ago could be a quiet residential neighborhood today, and eventually the site of a slew of rowdy bars or cosmopolitan boutiques tomorrow. Given its amorphous nature and equally diverse history, photographer Marc A. Hermann decided to blend the past with the present in this fantastic photo series.
Says Hermann, "New York is constantly changing and transforming, and tragedies that affected individuals' lives are forgotten. We may stand on what was once the site of a horrific murder and not even know it, simply because life goes on."
These vintage crime scenes are a reminder that history is indeed fluid, and what you might see as picturesque today may very well be endowed with an incredibly bloody history: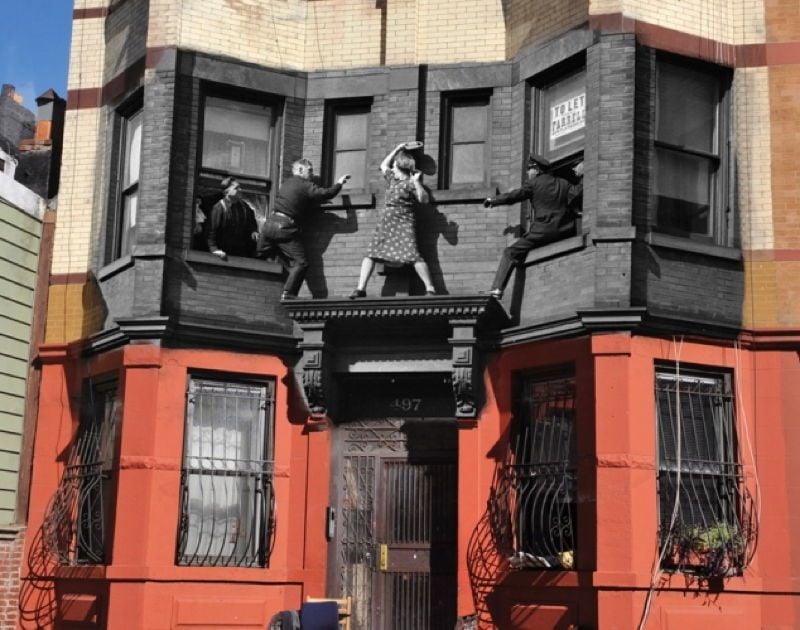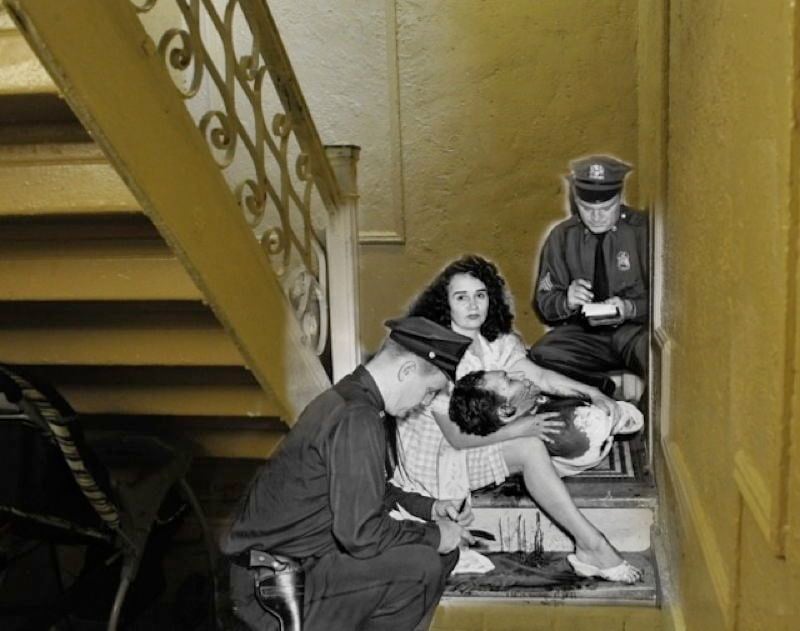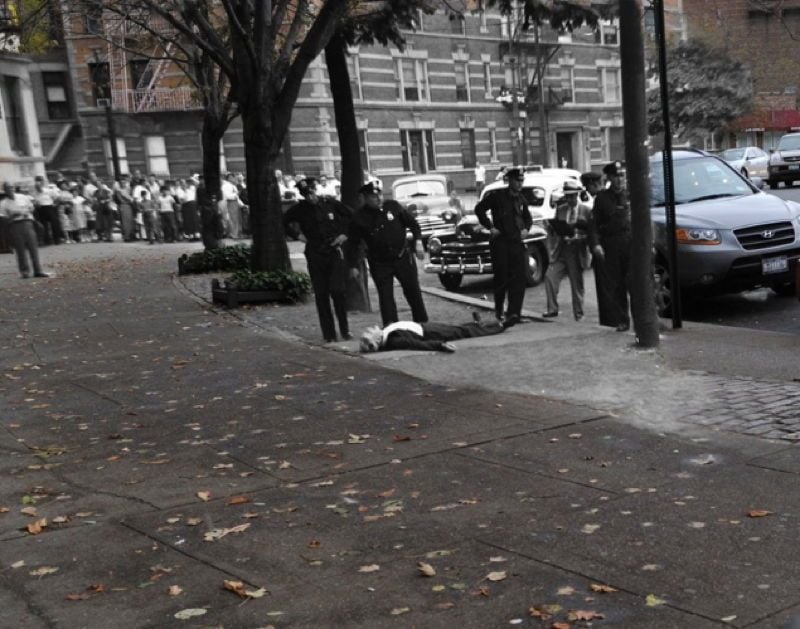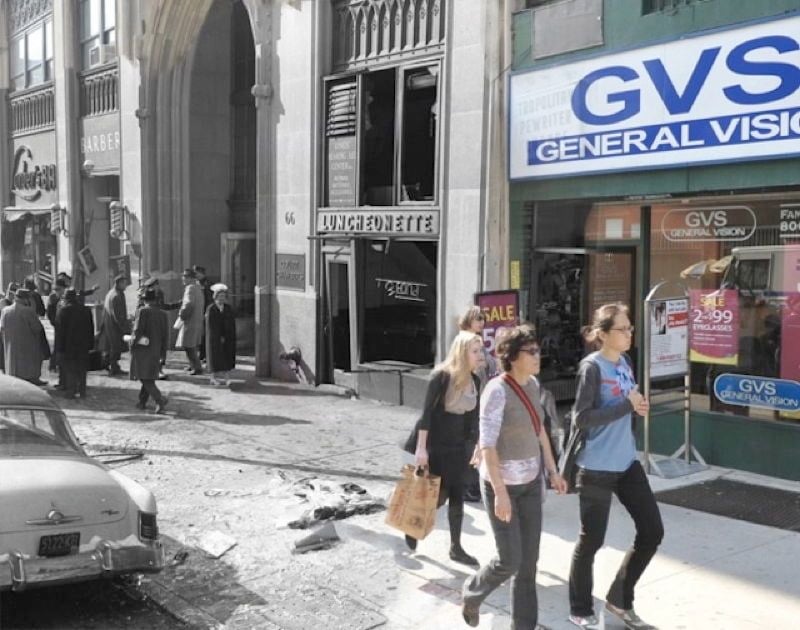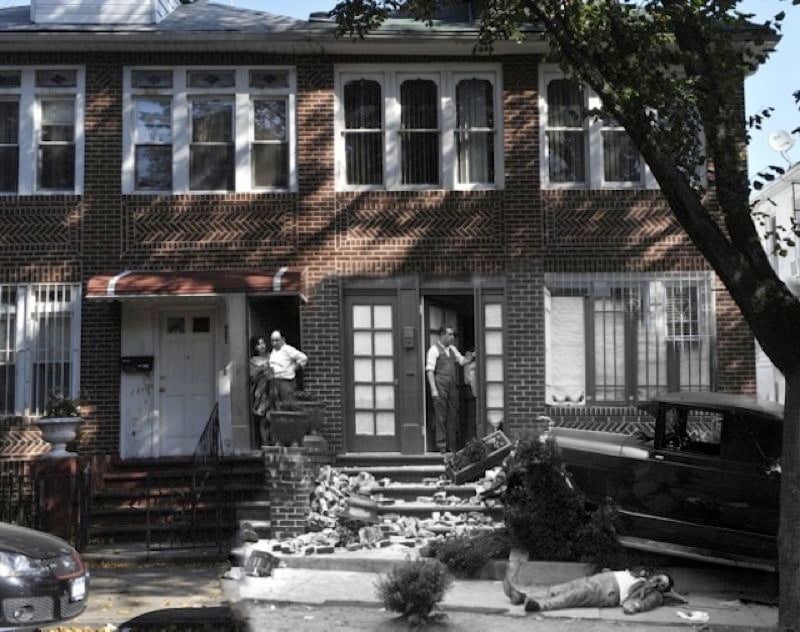 Brooklyn, 1942: Edna Egbert resists police by climbing onto her ledge.
The Bronx, 1961: Josephine Dexidor holds her boyfriend's bleeding body. He had just been shot by Dexidor's incensed husband.
Prospect Park, 1950: Cops arrive at the scene of Detective Michael Dwyer's suicide.
Downtown Brooklyn, 1961: The aftermath of a massive gas explosion. Over two dozen were injured.
Brooklyn, 1928:The scene of infamous gangster Frankie Yale's death. The crash didn't kill him; rather, it was the massive gunshot wounds he suffered while driving.
Manhattan, 1958: Six were killed during a massive fire at Elkins Paper & Twine Co.
Park Slope, 1960: A plane crash quickly ended this Brooklyn neighborhood's characteristic calm. United Airlines Flight 826 and Trans World Airlines Flight 266 saw their end in the Big Apple, resulting in the loss of over 130 lives.
Brooklyn, 1957: The body splayed in the entry way is none other than that of a fallen gangster.
Brooklyn, 1959: A mother mourns the loss of her three-year-old daughter after she was struck and killed by a passing car. The little girl was riding a tricycle.
The Bronx, 1961: The Fulton Fish Market, overcome with flames. The buildings still stand--and are occupied--to this very day.
Marc Hermann, the photographer of this series, with other New York-based photographers of yore.
For more of the seedy side of the Big Apple, check out our other posts on 1970s New York and when the New York City subway was the most dangerous place on Earth.