The Parkland Shooter Is Getting Fan Mail From Teenage Girls — Including Nudes
Mass murderer Nikolas Cruz is receiving stacks of fan mail, dozens of love letters, and hundreds of dollars in commissary money from fans across the country.
Since his incarceration, Cruz, who killed 17 people and injured 17 more when he opened fire at Marjory Stoneman Douglas High School in Parkland, Fla. on Feb. 14, has become something of an icon to fascinated people across the country. Teenage girls, women, and even some men have been writing to the Parkland shooter declaring their support, offering their friendship and sending him encouragement.
Some of them are also sending him their photos or notes about themselves, most of which are highly suggestive. On March 15, Cruz received a letter from a teenager who claimed to be attracted to him.
"I'm 18-years-old. I'm a senior in high school," she wrote. "When I saw your picture on the television, something attracted me to you."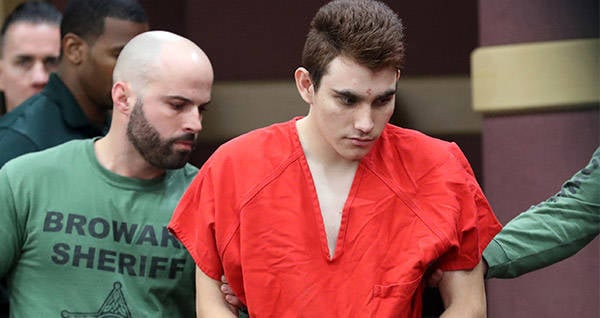 "Your eyes are beautiful and the freckles on your face make you so handsome," she continued, before going on to describe herself. "I'm really skinny and have 34C sized breasts."
Another woman enclosed suggestive photographs of herself, including a shot of her cleavage, one of her backside, and another of her in a bikini eating a Popsicle.
In addition to sending physical mail, fans of Cruz have banded together online, starting multiple support groups on Facebook and other social media outlets. One group, titled "Nikolas Cruz for Punishment or Apologize," has over 1,000 members and regularly posts messages of encouragement for the killer. Many people also use it to post photos of Cruz, calling him "cute" or "handsome."
Some fans have even created merchandise, featuring the hashtag "#NikFam," and other messages of support.