Dating as far back as the Paleocene era, Badab-e Surt remains one of Iran's most popular tourist attractions — and sadly one of the least protected.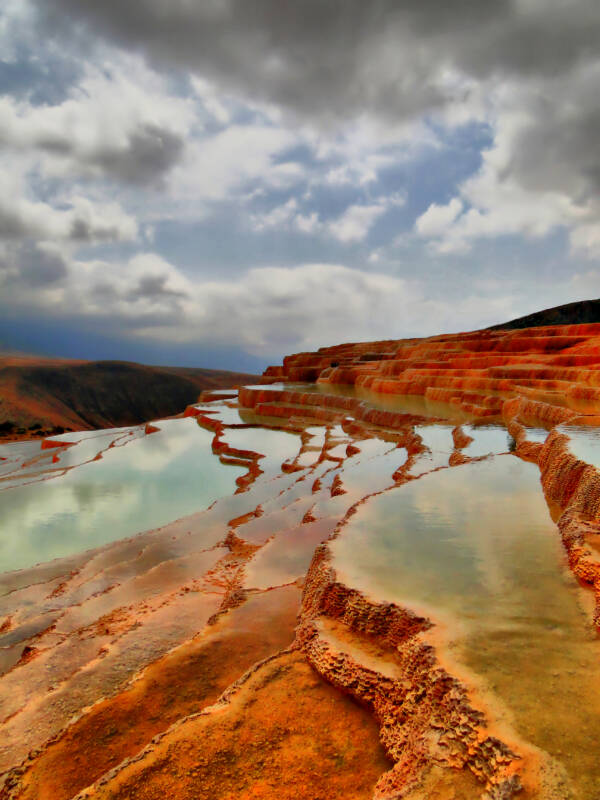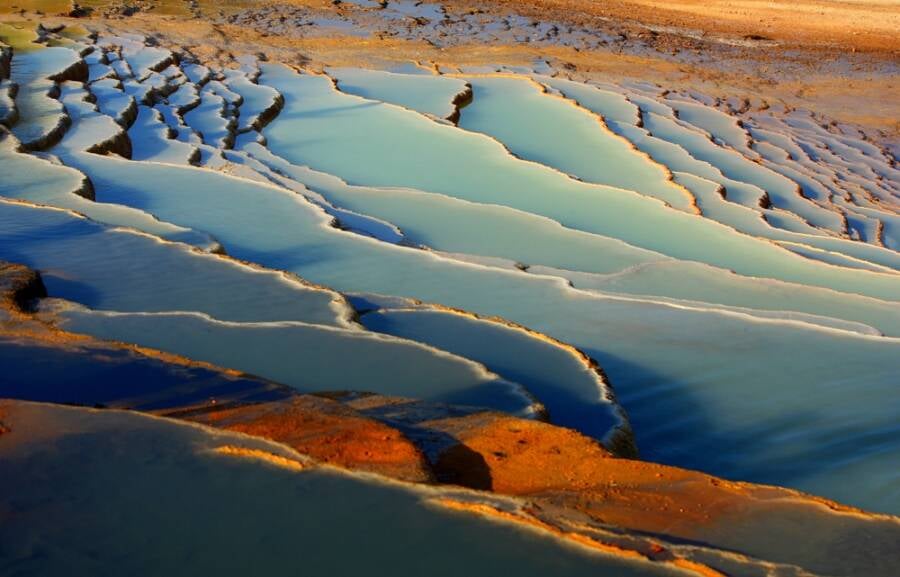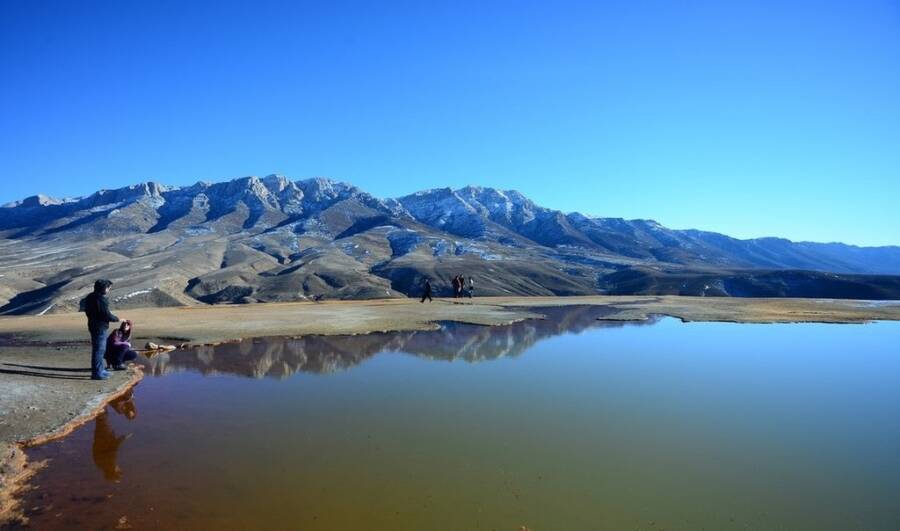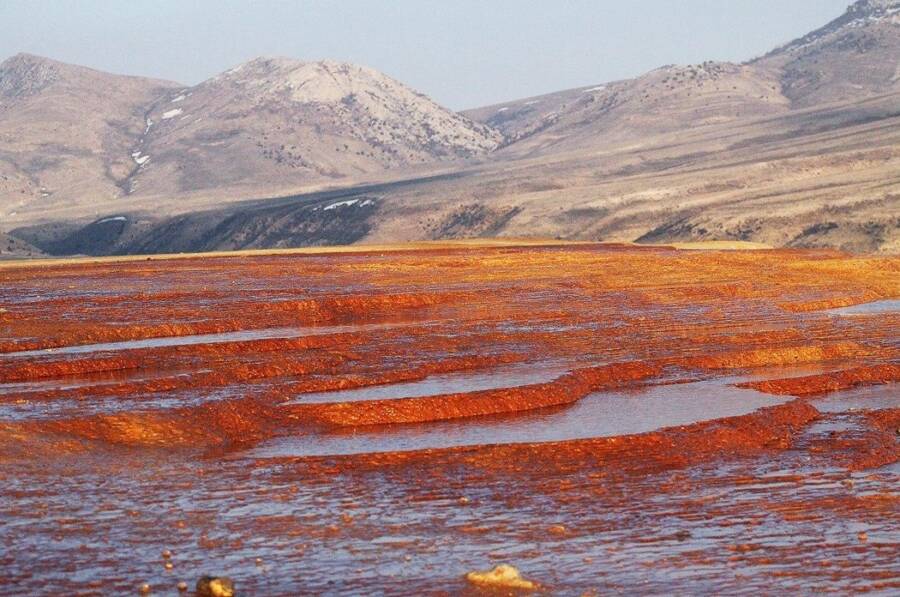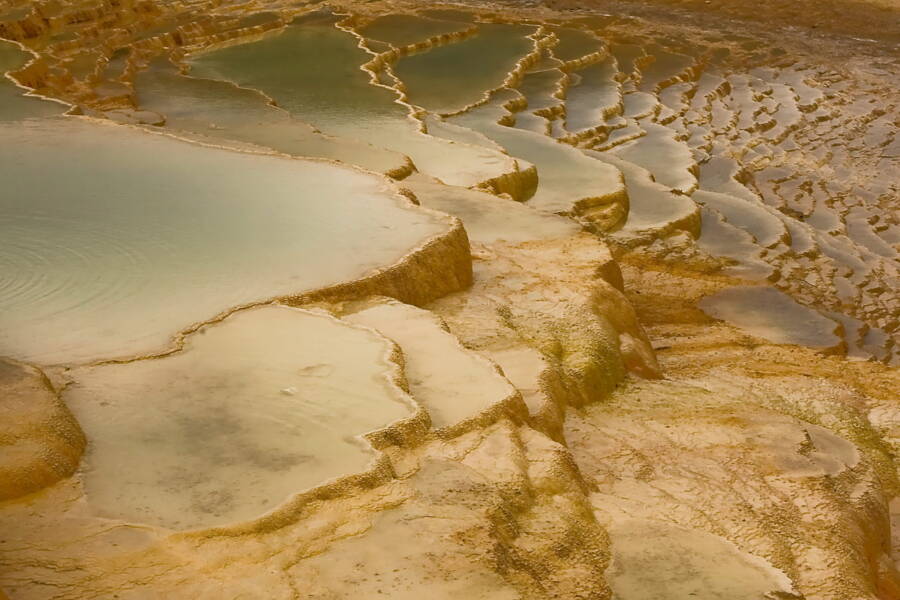 Iran's stunning Badab-e Surt is truly a natural masterpiece. One of the only terraced hot springs in the world, the cascading terrain is one of the most popular tourist attractions for visitors of the country.
Considering its beautiful color palette, it's not hard to see why.
Badab-e Surt: The Terraced Hot Springs Of Iran
Badab-e Surt is named for a Persian compound of "Bad," which means gas, and "ab", which means water. That essentially translates to "fizzy water," which is a reference to the spring's carbonated mineral water. Meanwhile, "Surt" is an old name for the nearby Orost Village, and also a Persian word for "intensity."
Nestled in the northern province of Mazandaran, Badab-e Surt is about 230 miles from the capital city of Tehran. It is one of the country's most marveled sites.
The geographic landmark's unique cascading shape combined with the reflection from its water surface makes it look like mirrored steps.
The water that flows through Badab-e Surt originates from two different mineral hot springs. These hot springs have been actively spewing water and sediment for thousands of years.
The terrace levels of Badab-e-Surt are formed from travertine, a sedimentary rock deposited by flowing water from its mineral springs. As the hot water cooled over the years, it left behind its carbonate minerals in a jelly-like substance that eventually hardened to craft the staircase shape.
The water inside each terrace appears clearer as the terrain gets closer to the ground because the heavier minerals spewed out of the springs are typically deposited at the top steps.
The two hot springs of Badab-e Surt are quite different from each other. One of them contains salt water and is believed to have healing properties for conditions such as rheumatism. The other spring, however, has a sour taste and gives off an orange hue due to its iron oxide sediment.
Indeed, the terraces of Badab-e Surt display spectacular bright hues of orange, yellow, and red based on the sediments deposited at each level. Reflections from the sky above sometimes add blue and gray to the mix as well.
The rich colors of Badab-e Surt's terraces provide a stunning contrast to the glistening surface of the water that flows from its springs.
Preservation Efforts
The natural beauty of Badab-e Surt has made the cascading springs a valuable tourism attraction for Iran. A somewhat similar site in Turkey known as the Pamukkale formed sometime in the second century B.C. and it is now a protected UNESCO World Heritage Site.
Other known water terrace sites include: Italy's Bagni San Filippo, Mexico's Hierve el Agua, China's Huanglong Travertine Pools, and the Mammoth Hot Springs in the U.S. New Zealand's Pink and White Terraces were originally thought to have been destroyed by a past volcanic eruption, but portions of the site were uncovered by a team of researchers in 2011.
Although Iran's Badab-e-Surt was registered as a natural site in 2008 by Iran's Cultural Heritage, Handicrafts and Tourism Organization (ICHHTO), it has not been granted the same protections that Pamukkale has as a World Heritage Site.
Hence, conscious preservation efforts must be made to safeguard the natural wonder from being destroyed.
In 2018, ICHHTO allotted 20 billion rials or the equivalent of $475,002 to restore the infrastructure around the springs.
According to Seifollah Farzaneh, head of the provincial ICHHTO office, the funds are planned to be used for building infrastructure around Badab-e Surt, including access roads, water transfer pipes, and solar panels to enhance lighting around the site.
Because of the site's lack of legal protections, local residents have acted as unofficial guardians of the geographical wonder, keeping an eye on overzealous tourists so that they remain mindful of its safekeeping.
Hopefully these gorgeous cascading terraces of Iran's Badab-e Surt will be given legal protection in the near future as they are truly beautiful.
---
Now that you've marveled at the terraced hot springs of Badab-e Surt, discover Iceland's rugged landscape in 30 fantastic photos. Then, take a look at some of the world's strangest natural places.