Developed by the erosion of some of the world's oldest rocks, it's hard to believe that Karijini National Park was once an ancient seafloor.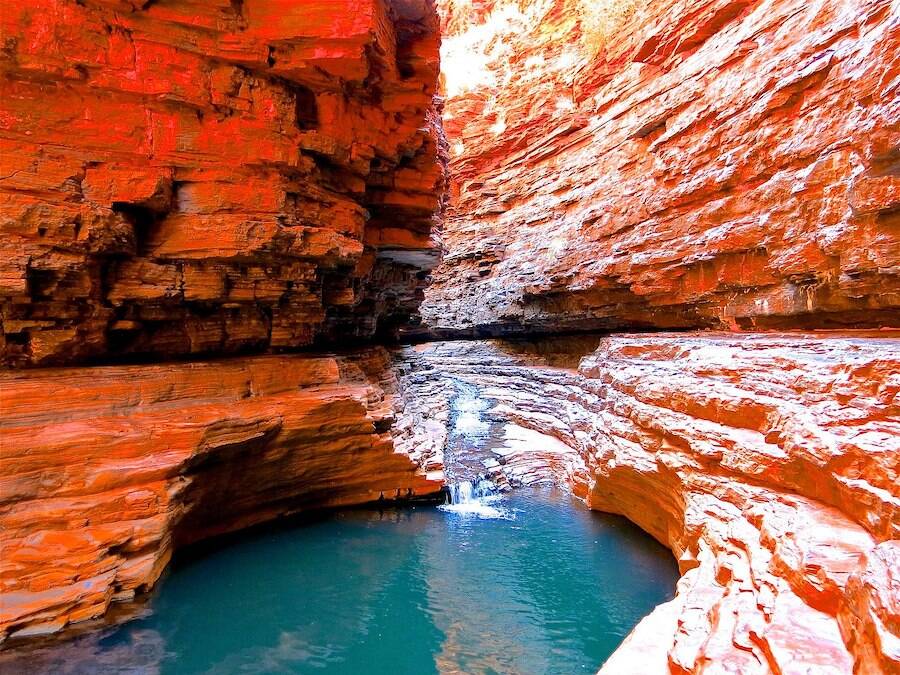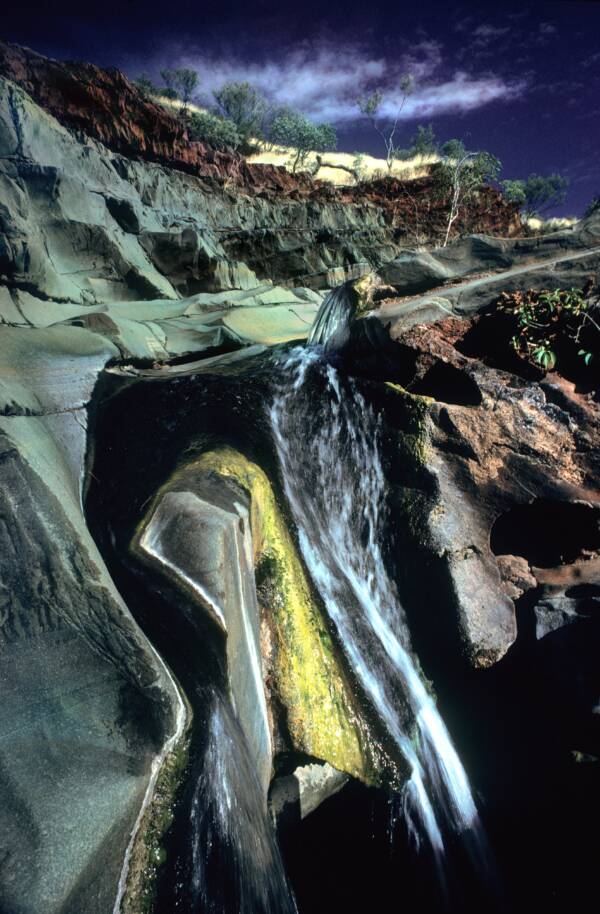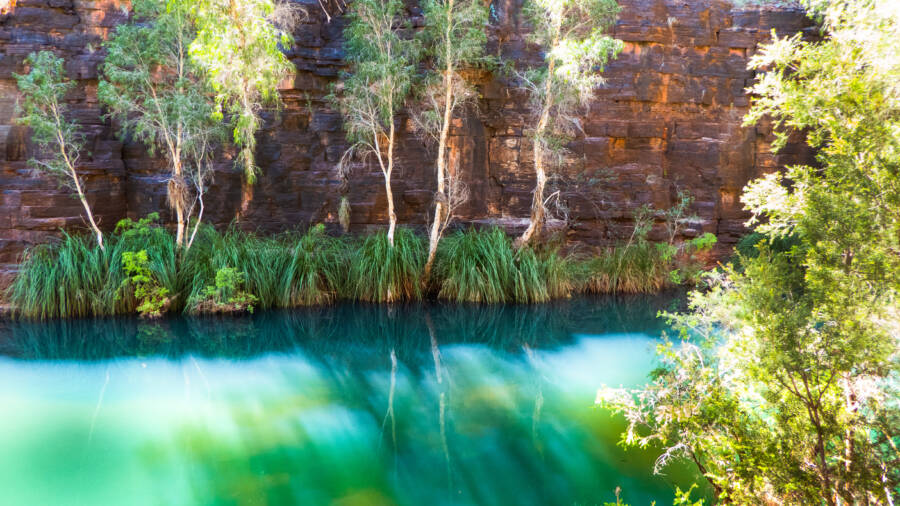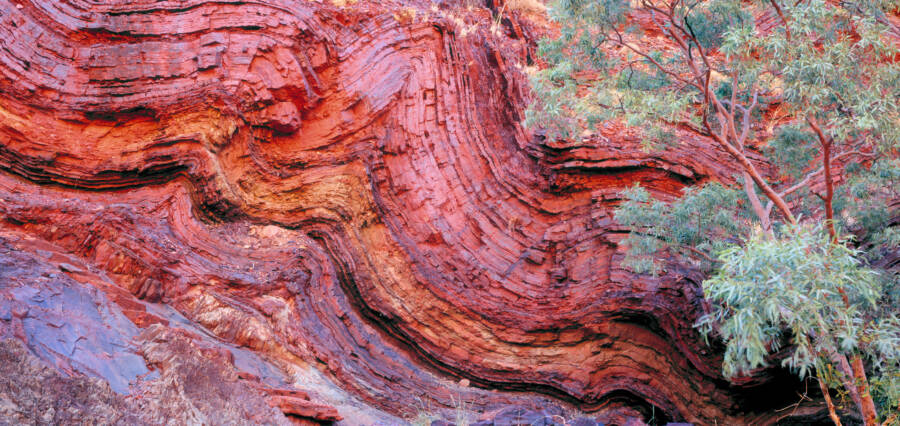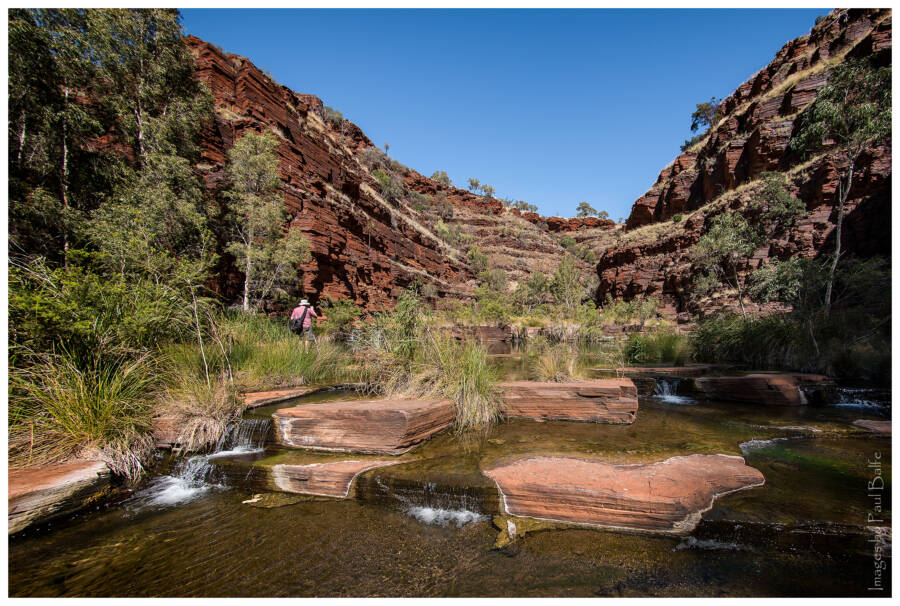 Auscape/Universal Images Group via Getty Images
Paulkyranc/Wikimedia Commons
Auscape/Universal Images Group via Getty Images
JOUAN/RIUS/Gamma-Rapho via Getty Images
Auscape/Universal Images Group via Getty Images
Auscape/Universal Images Group via Getty Images
Gypsy Denise/Wikimedia Commons
Warren Poole/Wikimedia Commons
Covering about 2,400 square miles, Karijini National Park in Western Australia packs quite a punch. Its vast wilderness contains stunning gorges, mountains, and crystal-clear pools.
Considered a tropical semi-desert, Karijini is known for its hiking potential, and doing so in the deep chasm of Hancock Gorge has been described as a "journey to the center of the Earth."
It is truly a historic landscape — as the slow process of erosion has painstakingly etched it from rocks that are over 2 billion years old.
This rock originated as fine-grained sediments on an ancient seafloor when the atmosphere contained far less oxygen than it does now. Only simple bacteria and algae existed when nature formed these rocks.
Over time, horizontal compression buckled and cracked the rock before it rose to form dry land.
Karijini National Park also goes to great lengths to preserve another piece of its history, originally belonging to the area's Aboriginal communities. The park honors the Banyjima, Kurrama, and Innawonga peoples — whose occupation of Karijini dates back more than 20,000 years.
Karijini National Park's Landscape
The gorges and their trails are some of the main highlights of the park, and each gorge is a bit different.
Hancock Gorge's trail is one of the most challenging due to its steep descent. However, it ends at Kermit's Pool — a natural swimming hole that is easily one of the most photogenic places within Karijini.
Dales Gorge is home to Fortescue Falls, the park's only permanent waterfall. Visitors can take a trail from the start of Fortescue Falls to the Circular Pool lookout. From here, you can enjoy Dales Gorge in all its glory.
Hamersley Gorge is located in the northwestern part of the park. It is more remote and further afield than other gorges, but still offers fabulous views of the colorful rocks. The waterfalls and peaceful pools make this gorge even more picturesque.
Flora And Fauna In Karijini
Though the climate in Karijini is considered semi-desert, plants can bloom beautifully in the space — especially after it rains.
Yellow-flowering cassias, northern bluebells, wattles, and purple mulla-mullas dot the rocky outcroppings. Other natural vegetation in the park includes spinifex, mulga, ghost gums, and fig trees.
A sampling of the animals that live inside Karijini includes rock-wallabies, red kangaroos, pythons, geckos, and several species of bats and birds. Clearly there are numerous wildlife species that call this area of the outback home.
One particular substance that's technically neither flora or fauna is the highly controversial blue asbestos. This natural danger exists in the wild in many places, including Western Australia.
Blue asbestos deposits have been found inside park limits, and it is a touchy subject for those who remember the nearby mining town of Wittenoom. Authorities closed down the town in the 1970s due to the toxicity of mining the mineral.
While the amounts found inside the park are not a likely source of concern, experts recommend that visitors leave it undisturbed — and warn that inhaling it may increase cancer risk.
Australia is famous for being home to some dangerous creatures, including snakes, jellyfish, and crocodiles. However, you're unlikely to actually encounter any of these creatures in the park.
Aboriginal History And Cultural Experience
The park itself was founded as The National Park in 1969. But in 1991 the park was renamed to Karijini National Park — in recognition of its Aboriginal history. (The Banyjima people's name for the Hamersley Range is Karijini.)
During the 20,000 years of native occupation, Aboriginal land management practices like fire-stick farming resulted in the diverse vegetation found in the park today.
The park now holds a festival called the Karijini Experience. It's a cultural immersion celebration, a mostly free event that allows people to immerse themselves in the music, food, and art of the native Aboriginal people.
If you visit Karijini National Park and need some upscale digs, the park has an Eco Retreat that offers just that.
Designed to be kind to the environment, guests at the retreat stay in deluxe tents or camp sites. Facilities here incorporate eco-friendly practices that ensure the sustainability of ancient landscapes.
Karijini Eco-Retreat returns benefits to the Gumala Aboriginal Corporation, which represents the collective interests of the Aboriginal people of the region.
Clearly, Karijini National Park is a national treasure in Australia — not just for its astounding beauty but also for its invaluable history. Hopefully this natural wonder will remain preserved for years to come.
---
Next, find out what Mother Nature did to China's abandoned Gouqi Island once all the people left. Then, observe the Japanese snow monkeys inside their very own park.