He is well known for his bifocals and quippy cartoons, but these facts about Benjamin Franklin reveal a much more eccentric man.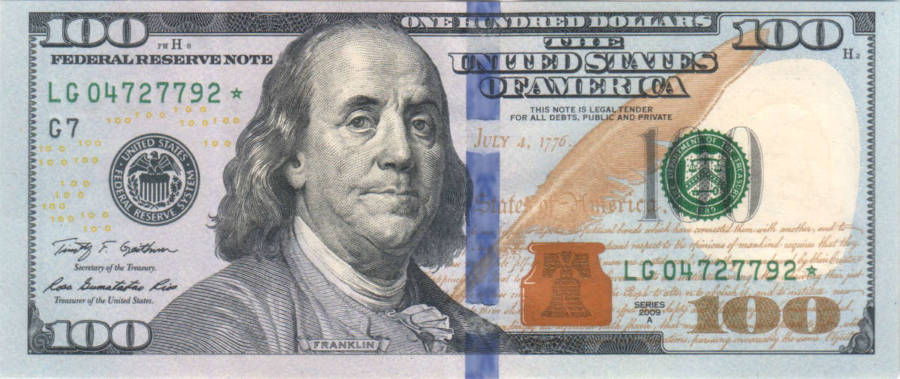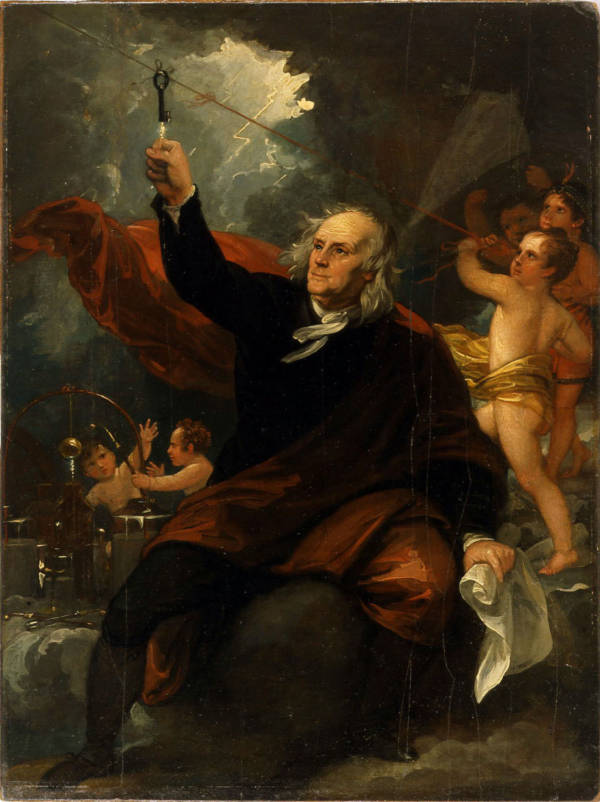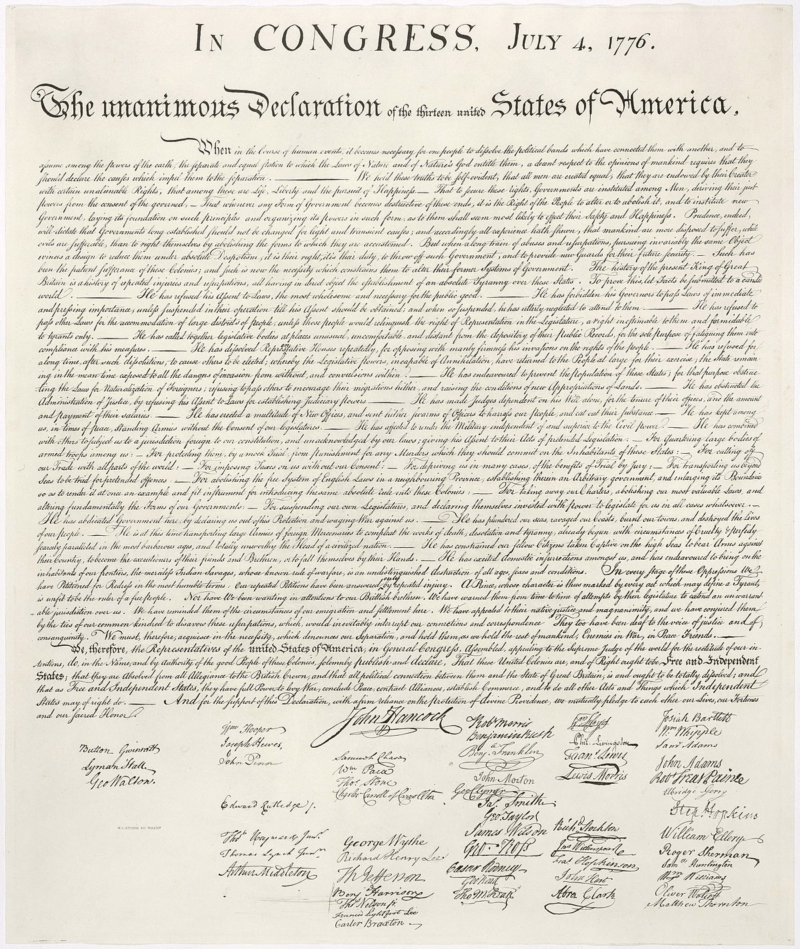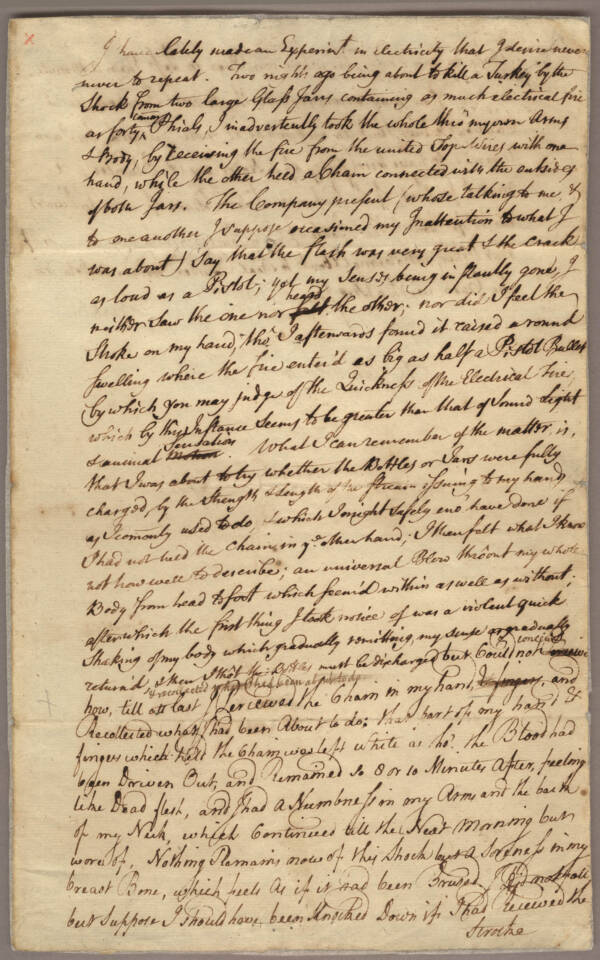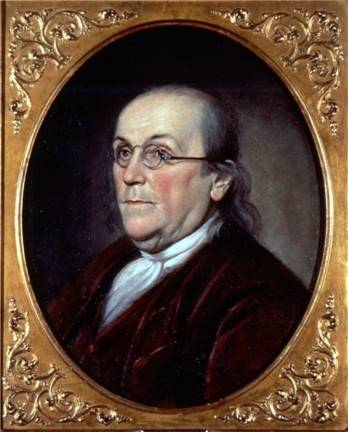 By 1785, he was the richest person in America.
But he could have been a lot richer if he wanted to be.
He was the only founding father to sign all four key documents in the founding of the U.S.
He almost died trying to electrocute a turkey.
The Massachusetts Historical Society
He published his obscene writing many times.
Franklin also wrote an essay titled "Fart Proudly."
He created the first political cartoon published in the colonies.
He invented the odometer.
Smithsonian National Postal Museum
He suggested something similar to Daylight Savings Time.
Franklin was the 15th child of 17.
He was an early proponent of inoculation.
He invented the flexible urinary catheter.
He only had two years of formal education.
He "retired" at the age of 42.
His secret identity was a woman named Silence Dogood.
He wasn't into the whole "revolution" idea at first.
His son was a British loyalist.
He started the first volunteer fire department in America.
He was a champion chess player.
Was the first Postmaster General of the United States.
Franklin was a fashion icon in Paris.
He perfected the glass harmonica.
He spent his later years as a devoted abolitionist.
He shrewdly left huge sums of his money to his home cities.
He lived his life according to 13 rules.
He wanted to change the alphabet.
He liked to take air baths.
He liked to get philosophical over drinks.
He stored the remains of 10 people in his basement.
Benjamin Franklin, the bespectacled inventor remembered for his contributions to early America, is a crucial figure in the history of the nation's founding. His exploits and accomplishments are so well known that he's often jokingly referred to as the "only U.S. President to have never been U.S. President."
Outside of politics, Franklin invented a slew of devices still used today and heroically refused to patent them so that they could freely benefit the people. From devising his own odometer in order to improve early American postal routes to mastering five languages in order to refine the alphabet, his pioneering work remains staggering to this day.
Whether it's his political triumphs, scientific breakthroughs, or his colorful personal life, these are some of the most surprising facts about Benjamin Franklin, America's favorite renaissance man.
Lesser-Known Facts About Benjamin Franklin's Early Years
Benjamin Franklin was born on Jan. 17, 1706, in Boston, Massachusetts, when what would become the New England state was still known as the Massachusetts Bay Colony. Franklin's father, Josiah Franklin, was married twice. He had seven children with his first wife and 10 more with his second. Franklin was the 15th of 17 and the youngest son.
Though he learned to read quite young and was a promising student at the Boston Latin School, Franklin's father had a failing candle and soap shop that needed all the help it could get, so Franklin dropped out of school at age 10 to work full-time. It quickly became clear that dipping wax did not intellectually stimulate him enough.
Franklin's father subsequently apprenticed the 12-year-old at the print shop of his older brother James. Though he learned a lot about newspaper publishing, Franklin was routinely beaten by his brother, who also refused to publish any of his writing.
When he was 16, Franklin resourcefully published his own work by submitting stories under the pseudonym Mrs. Silence Dogood to his brother's paper, The New-England Courant. Readers loved it. Franklin eventually grew too tired of his brother's "harsh and tyrannical" behavior and fled Boston in 1723, breaking his contractual obligation to his brother as his apprentice.
After visiting New York and New Jersey, Franklin settled in Philadelphia where he worked for another publisher — before making his mark on the world of politics.
How Franklin Struck It Rich In The Publishing World
Shortly after moving to Philadelphia, Franklin began courting his landlord's daughter, Deborah Read. Meanwhile, Pennsylvania Governor William Keith encouraged Franklin to set up his own print shop, so the young inventor traveled to London for supplies.
But when Franklin arrived, Keith pulled out his funding, leaving Franklin stranded in London. When he finally returned to Philadelphia in 1726, he found that Read had gotten married.
But the pair nevertheless rekindled their romance. Read refused to recognize her lawful husband as her spouse and took Franklin as her common-law husband, instead. Together they had a son who tragically died from smallpox at age four.
Meanwhile, Franklin and a friend opened their own print shop in 1728. They published books and government pamphlets, and Franklin was named the official printer of Pennsylvania in 1730. He formed the "Junto," a self-improvement group that met weekly to discuss philosophy and politics.
He also purchased The Pennsylvania Gazette from his former boss and transformed it into the most popular newspaper in the colonies. He launched his wildly popular Poor Richard's Almanack in 1732 which set him on the path to immeasurable riches.
Franklin's Biggest Inventions And Political Triumphs
In the 1740s, after finding success in publishing, Franklin largely pivoted to science and entrepreneurship.
His first invention was the Franklin stove, which was designed to require less fuel while providing more heat. He invented bifocals, a glass harmonica, and a flexible urinary catheter.
By 1748, the 42-year-old became one of the wealthiest men in Pennsylvania. That same year, he purchased the first of many slaves to help him at his print shop. Later in life, he would become an abolitionist and free his slaves.
In 1754, Franklin published what is largely considered to be the first printed political cartoon in the United States. He published the famous "Join or Die" illustration in his own paper with the aim of unifying the colonies during the French and Indian War.
At the same time, Franklin became an experienced politician in Philadelphia's city council, a justice of the peace, and represented the state at the Albany Congress. He used his political intellect and publishing power to help shape the trajectory of the fledgling nation.
In 1775, he reached the heights of political power when he was elected to the Second Continental Congress. There, he helped speerhead the revolution, signed the Declaration of Independence, and co-authored the U.S. Constitution in 1787.
He was the oldest delegate to do so — at 81 years old — three years before he died of gout at the Philadelphia home of his daughter.
---
After brushing up on these remarkable Benjamin Franklin facts, read up on the dark side of Thomas Jefferson. Then, check out these George Washington facts that may surprise you.