In a pinch, 19-year-old party girl Caresse Crosby invented the bra and changed women's wear forever.
It's the turn of the 20th century and you're getting ready for a formal party. If you're like most women, you'd suck it up and don a corset. If you're Polly Crosby, however, you'd muster up some nearby fabric and create an article of clothing that would go on to change women's fashion.
A Party Girl Invention
Born Mary Phelps Jacobs on April 20, 1891, Polly "Caresse" Crosby's inventive, distinctive character may have been genetic.
After all, the New Rochelle, New York native stemmed from a long line of notable ancestors, including a knight from the Crusades-era, a Civil War commander, and Robert Fulton, an inventor credited with developing a commercially successful steamboat, as well as some of the first naval torpedoes ever used by the British Royal Navy.
After just 19 years of a relatively carefree life, Caresse Crosby would patent the bra as we know it today.
Of course, she did not actually invent the cloth and wire contraption: The earliest devices can be traced back to the kalasiris of ancient Egypt, the half-sleeved kanchuckas of 1st century India, and the basic bikini-bands worn by female athletes in 14th century Greece.
Nor, for that matter, was Crosby even the first person to patent the idea. That title belonged to another New Yorker, Brooklynite Henry S. Lesher, who patented the idea in 1859. Lesher's design, known as a "breast pad and perspiration shield," featured inflatable rubber pads.
A few years later, a New Jersey man named Luman L. Chapman improved on the whalebone and fabric corset by adding "breast puffs," which he believed would reduce the pain and discomfort of the traditional torso-enveloping variety. Needless to say, neither Chapman's nor Lesher's designs took off.
This left Crosby's design, which received critical acclaim and thus granted her the de facto title of being the first to invent the bra as we know it today.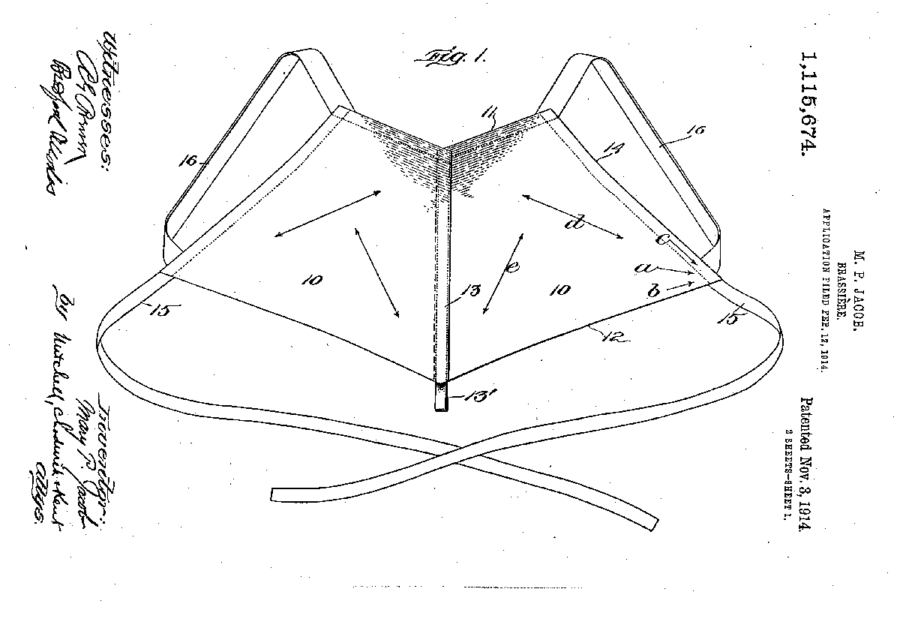 Crosby's gender likely contributed to the success of her design, which she created to resolve a fashion problem of her own.
While preparing for a debutante's ball, the 19-year-old was unsatisfied with the way her gown looked over the bunched, bulky, and uncomfortable whalebone corset that women often wore at that time. With the help of her maid, Caresse Crosby fitted a new design over her own body, creating cups out of silk handkerchiefs, and straps from ribbon, thread, and pins.
Not only did she invent the piece in one sitting, Crosby wore it out to the ball that night. Her new look gathered immediate attention and interest from her fellow attendees, both for its practicality and innovation. Realizing that she may have been onto something, she named her creation the "Backless Brassiere," filed a patent request on January 12, 1914, and received an approval later the same year on November 3.
Right from the jump, the Backless Brassiere was a hit. "…It was lightweight [and you would] tie it around your neck," associate professor at Buffalo State University Lynn Boorady said in an interview with Time. "It looks like a halter top bikini, I guess, but not quite so conforming."
To bring the invention to scale, Crosby quickly started the Fashion Form Brassiere Company in Boston, which employed women to construct the garments. But before she reaped the benefits of the Backless Brassiere's impressive rise to fame, Crosby sold the patent to the Warner Brother Corset Company for $1,500. The bra would earn them over $15 million over the next 30 years.
This may seem like a crushing blow, but Polly Crosby was not your ordinary gal: Indeed, her life was as much about reinvention as it was invention.
Shortly after the dissolution of Crosby's marriage to Richard Peabody, she met a man named Harry Crosby. The two fell in love immediately, married in 1922, and moved to Paris, where they lived an indulgent life filled with drinks, drugs, an open marriage, and wild parties with guest lists that included Salvador Dalí and D.H. Lawrence.
During this time, Crosby took not only her husband's surname but gave herself a new name, Caresse (though she had reportedly considered calling herself Clytoris, a name that later went to her dog).
The Crosbies quickly made a name for themselves in the publishing world, showcasing not only their own poetic works through their company, Black Sun Press, but the words of many prolific writers still celebrated today, such as Ezra Pound, Lewis Carroll, Anaïs Nin, and Charles Bukowski to name a few.
But then, tragedy struck at what could be considered the height of the couple's publishing career. On December 10, 1929, 31-year-old Harry took his own life in a suicide pact with his mistress at the time, Josephine Noyes Rotch.
Dealing with her grief the only way she knew how, Caresse Crosby , as she was then known, threw herself into her work, creating an additional publishing house called Crosby Continental Editions that published paperback books by European writers in addition to American novelists William Faulkner and Dorothy Parker. She reportedly played a large part in the creation of Henry Miller's Opus Pistorum before returning to the United States in the 1930s, where she founded Portfolio magazine.
Mary Phelps Jacobs, also known as Polly Peabody and Caresse Crosby, died in Rome in 1970 at the age of 78.
Before passing, a documentary called Always Yes, Caresse was filmed, and her memoir, titled The Passionate Years, was penned and published.
---
After learning about the life of Caresse Crosby, the woman who invented the bra, check out all the other inventions brought about by women (that you probably didn't know about). Then, read up on the surprisingly weird history of breast implants.