From engineering marvels like Tower Bridge to the horrific slums that housed the city's poor, here's what London really looked like during the Victorian era.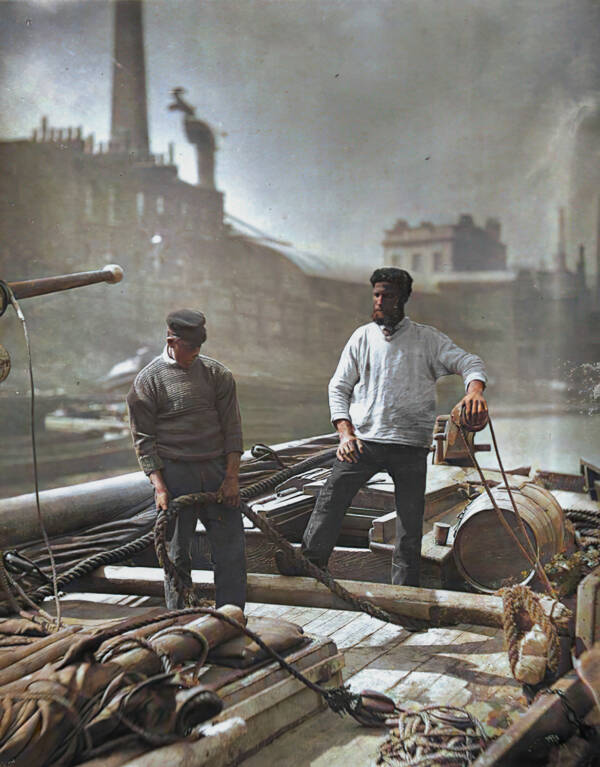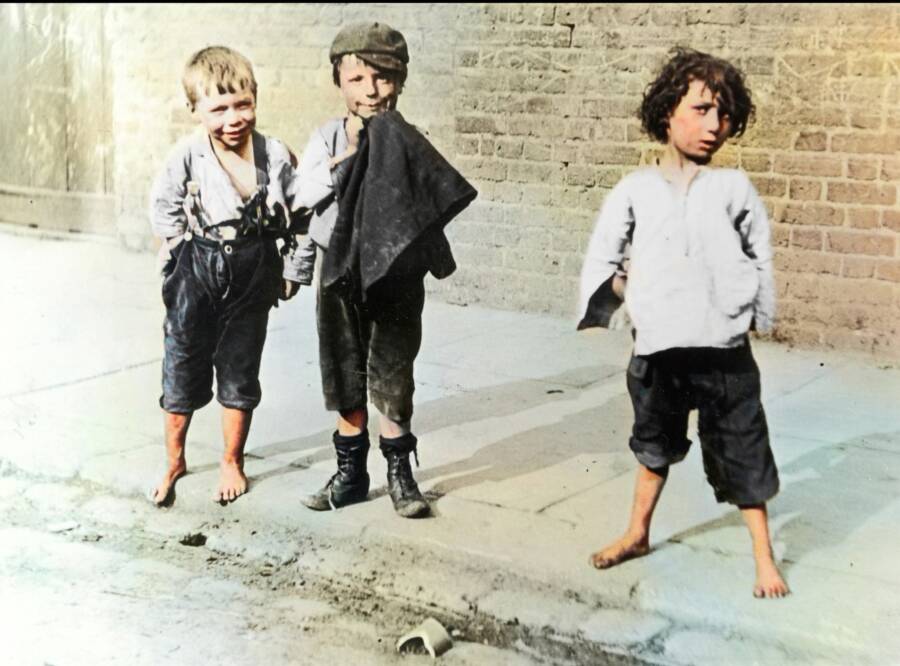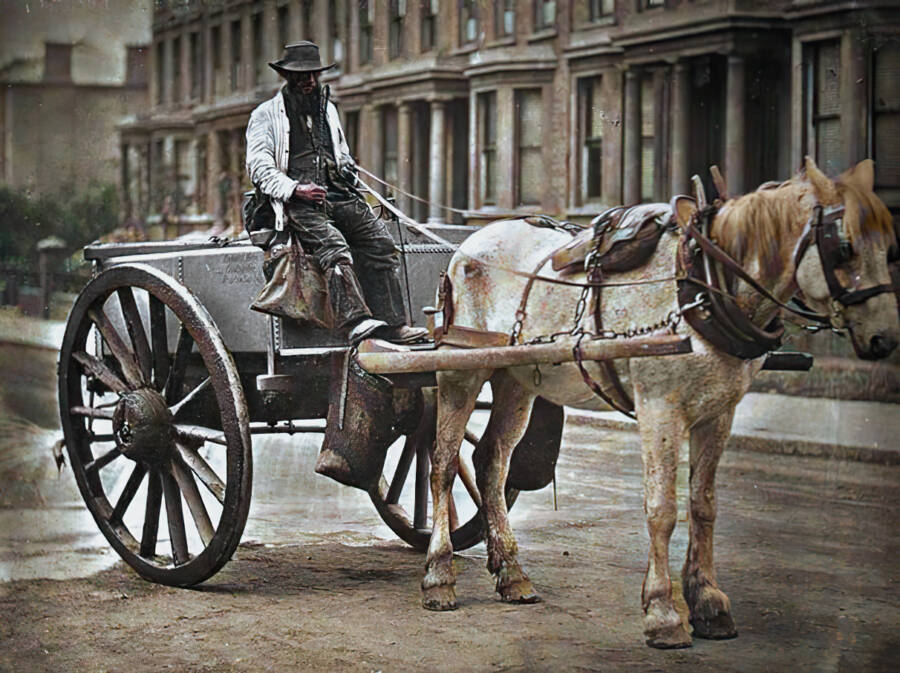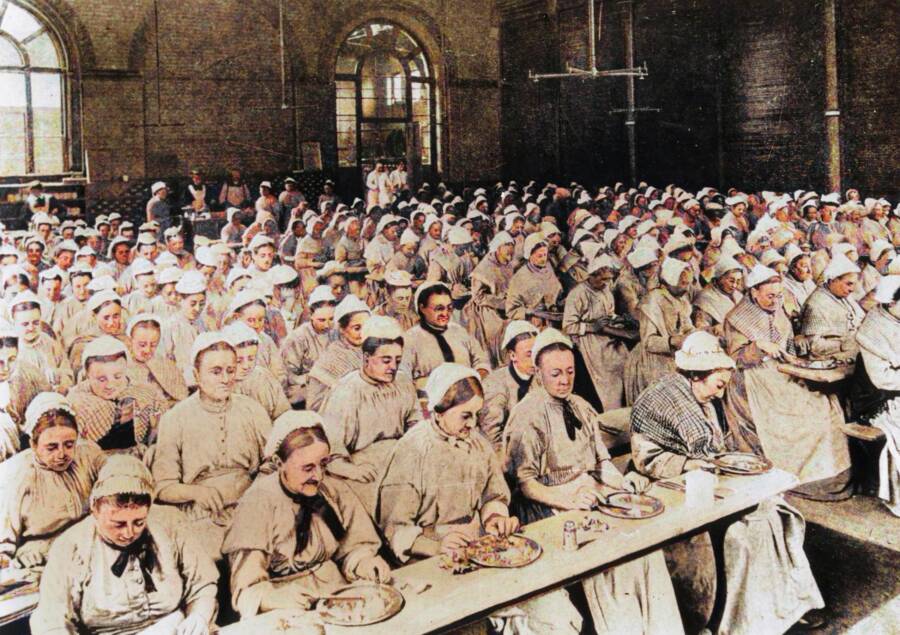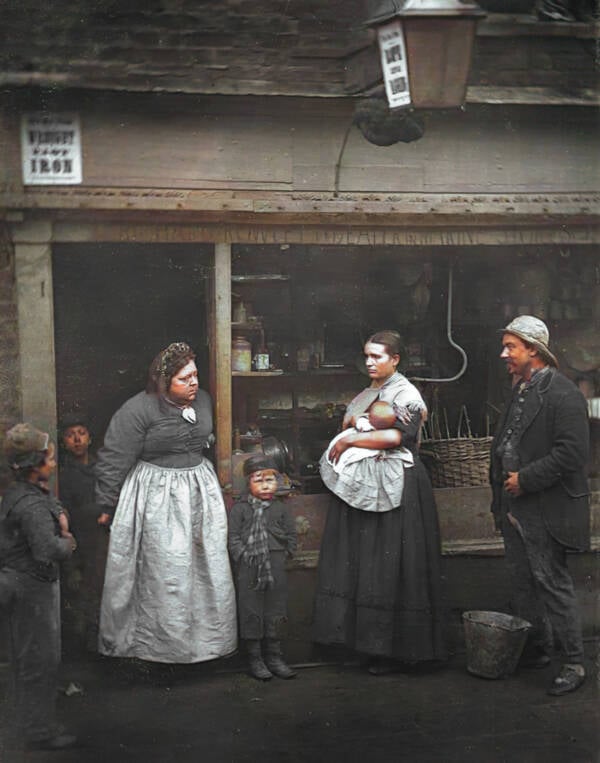 Hulton Archive/Getty Images
General Photographic Agency/Getty Images
The Print Collector/Getty Images
London Stereoscopic Company/Hulton Archive/Getty Images
London Stereoscopic Company/Hulton Archive/Getty Images
Hulton Archive/Getty Images
Photo by Hulton Archive/Getty Images
Hulton-Deutsch Collection/CORBIS/Corbis via Getty Images
London Stereoscopic Company/Hulton Archive/Getty Images
During the Victorian era, England was the world's preeminent power and London was its bustling metropolis. But underneath all the opulence that a global colonial empire afforded, there was a vast underbelly of destitution and poverty in the city.
These 43 colorized photos of London paint a rare picture of what life was really like at the turn of the 20th century. They capture everything from the newly constructed Tower Bridge to the city's worst slums.
Explore the real streets of Victorian London in the gallery above.
The Rapid Modernization Of Victorian London
At the start of the 19th century, London was already big and bustling — and it was expanding quickly. Between 1815 and 1860, the population had grown three-fold to reach over 3 million people. And by the time the 20th century began, the population had swelled to 6.5 million.
How did London grow so big, so fast? First off, many people flocked to the city in search of better wages. In 1881, the London census recorded that 25 percent of all Londoners had been born in non-metropolitan Britain. Many of them were women, who came to London to work as domestic servants.
Immigrants from abroad also came to London in droves. By 1901, the city was home to 27,400 Germans, 11,300 French, and 11,000 Italians, as well as 33,000 people who had been born in British colonies or dependencies. Many of these people were seeking refuge from political instability.
Jewish people, who were fleeing oppression in Eastern Europe, also moved to London around this same time period. By 1901, there were around 140,000 Jews living in the metropolis.
London, as a port city, was also home to a small contingent of adventurous sailors from all around the world. By the river, you were likely to find people from Asia, Africa, and the Caribbean.
Not only did the city grow in terms of its population, but it also grew in physical size. In 1851, London covered about 122 square miles. By 1896, the city stretched across 693 square miles.
Part of London's land growth was driven by the emergence of new suburbs. Starting in the early 19th century, many people sought to escape the dirty city air by moving further away from the city center. If they needed to work somewhere in the heart of the city, they simply commuted by omnibus.
The opening of the London Underground in 1863 gave many people an even easier way to get to work — and a reason to move even further away from the center of town. But despite the development of new public transportation options, London remained a crowded, bustling city.
As London grew, so did its infrastructure. In the late 19th century, the London Bridge was the main way of crossing the River Thames. But London's expanding population meant that this bridge had become congested. In just a 24-hour period, an estimated 110,000 pedestrians went across.
As a result, other bridges were constructed, including the famous Tower Bridge in 1894. Still, the London Bridge remained clogged for years.
London's Growing Pains: Poverty, Pollution, And Deadly Diseases
The glamour of London's rise at the turn of the century had a darker side. While the city was renowned for its splendor and worldliness, many residents experienced extreme poverty, disease, and choking pollution.
One of the worst slums in London was St. Giles. Life here was so grim that "St. Giles" became a byword for poverty. In 1847, a medical report described St. Giles as "a disgrace to a civilised country." And in 1849, residents wrote to The Times: "We live in muck and filth. We aint got no priviz, no dust bins, no drains, no water-splies, and no drain or suer in the hole place."
By the end of the 19th century, an estimated 35 percent of Londoners lived in utter poverty. Officially, these residents were classified into three categories: poor, very poor, and semi-criminal. Homeless people were often called "crawlers" — since they were forced to "crawl" from place to place.
People lived close together, often in subpar conditions, which made them vulnerable to disease. Smallpox was rampant in Victorian London, along with tuberculosis, cholera, and typhoid. By the mid-19th century, the average life expectancy at birth was just 40 for men and 42 for women. Even the very wealthiest Londoners weren't safe from falling deathly ill during epidemics.
And even those who managed to avoid serious illness had to deal with the suffocating pollution. The air was often choked with smoke from coal-fires, which created eerie fogs across the city. Charles Dickens described the air in his Dictionary of London, writing: "Nothing could be more deleterious to the lungs and the air-passages than the wholesale inhalation of the foul air and floating carbon which, combined, form a London fog."
Jack London, another writer, described the air quality of Victorian London in his book The People of the Abyss: "The air he breathes, and from which he never escapes, is sufficient to weaken him mentally and physically so that he becomes unable to compete with the fresh virile life from the country hastening on to London Town to destroy and be destroyed."
London had long suffered from bad air — but the population boom in the 19th century meant more people, more fires, and more toxic "fog."
The Public Health Acts of 1872 and 1875 sought to combat some of these squalid conditions. After these acts were passed, all new residential accommodations had to have running water and proper drainage. Authorities were also required to maintain sewers throughout the city.
Victorian London was full of contradictions. As the biggest city in the world, it drew people from all over who wanted a fresh start. Life in the city wasn't easy — and some never found what they were looking for. But if you wanted to take your best shot at "making it," London was the place to go.
---
After looking at these colorized photos of Victorian London, check out the dark history behind "London Bridge Is Falling Down". Then, read about Phossy Jaw, a condition that affected factory workers during the 19th century.